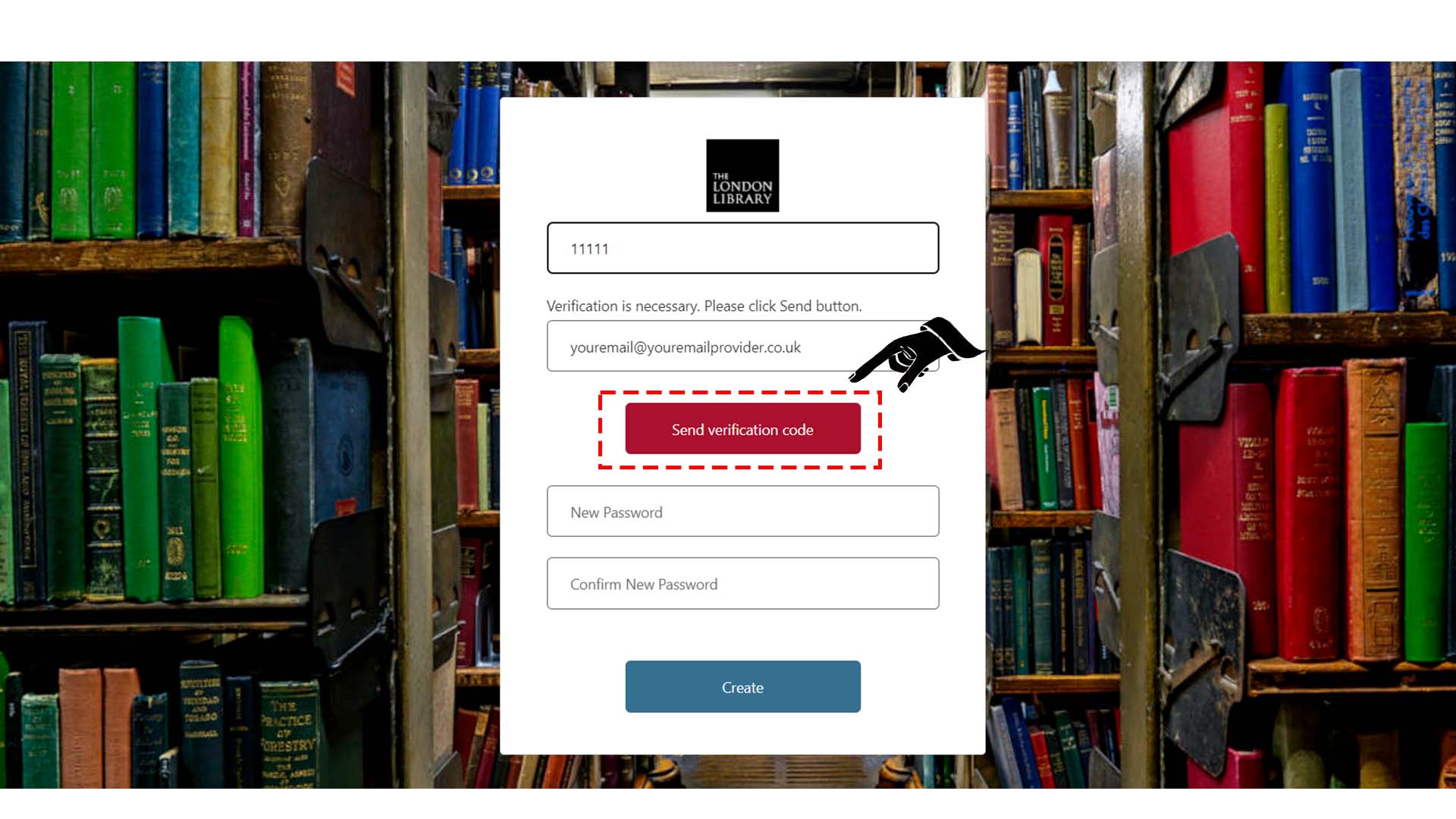 As a membership organisation we take the security of your data seriously and as such we have upgraded our systems to meet modern security standards. The legacy systems had reached end-of-life and could no longer be supported. These upgrades mean you willno longer use your membership number and PIN to log into Catalyst or our electronic resources.
From now on, in order to access the full range of electronic resources and catalogue features you will need to sign up to the new Members Sign In service. This will allow access to all of our online resources with one set of account credentials.
How to Sign Up for Catalyst
From the London Library

website

, click on the

Sign in to Catalyst link in the top right corner

which takes you to the Registered Member's Login.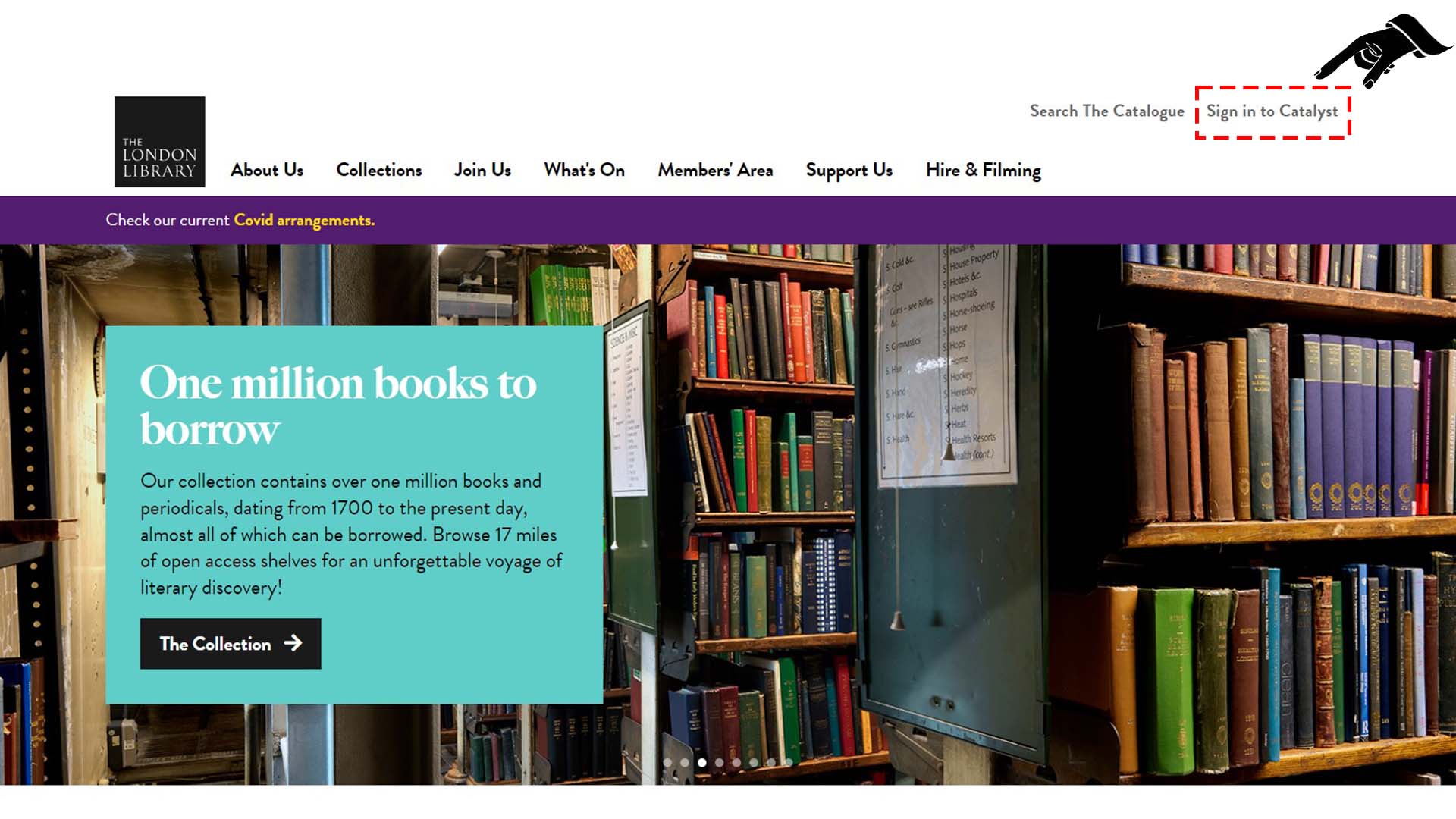 Then click the red

s

ign up now

button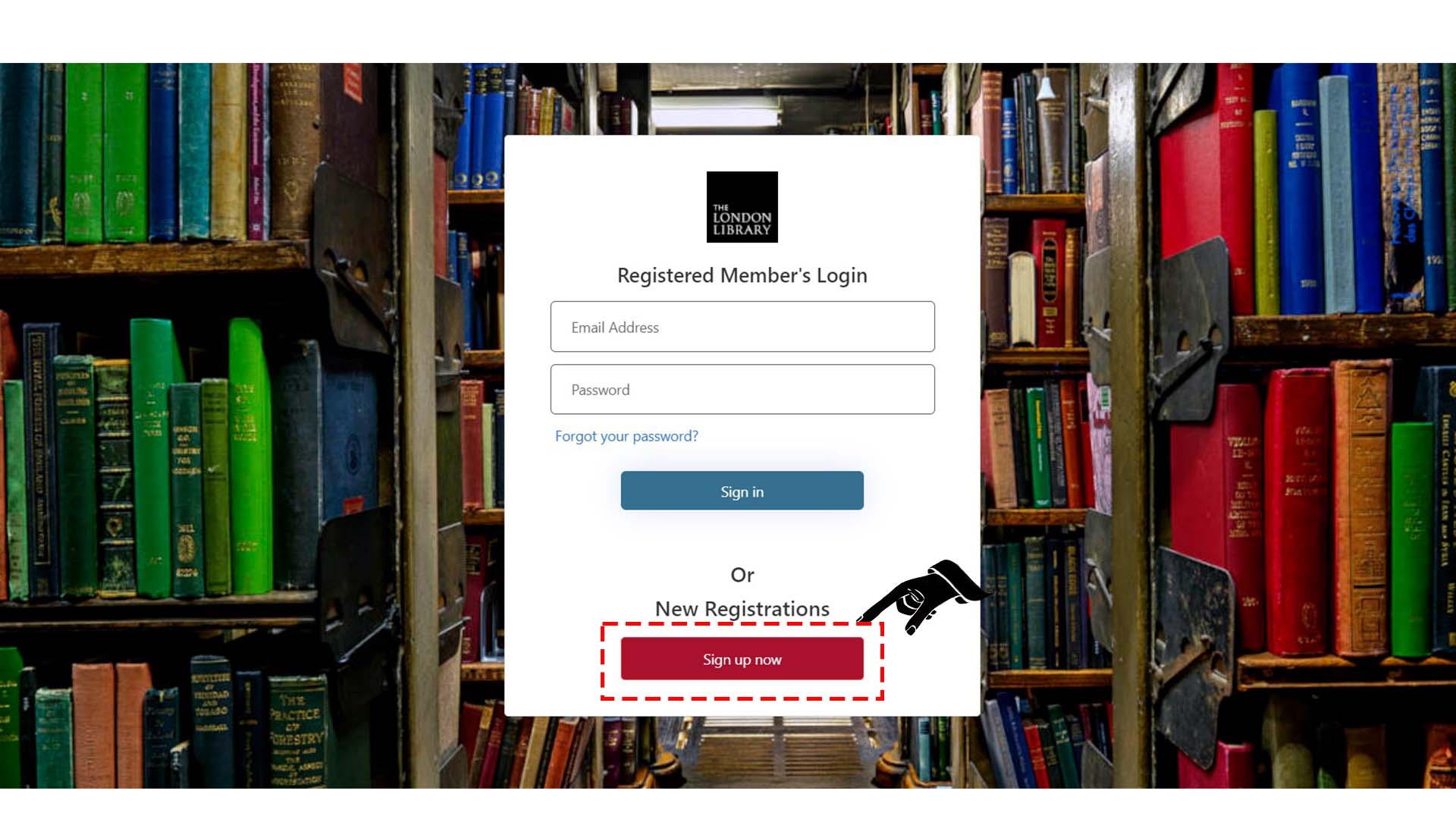 Enter your

5-digit

Membership Number (this is on your Library card)

and your email

address.

It is important that you

enter your email address using only lowercase characters.

Institutional Representatives will need to sign up to the new single sign on service using their 5

-

digit membership number and the email address they registered with the Library. Once you have created a unique password you and your Nominee(s) need to use this email address and password combination to sign in on subsequent occasions.

Then click

the red

send verification code

button

.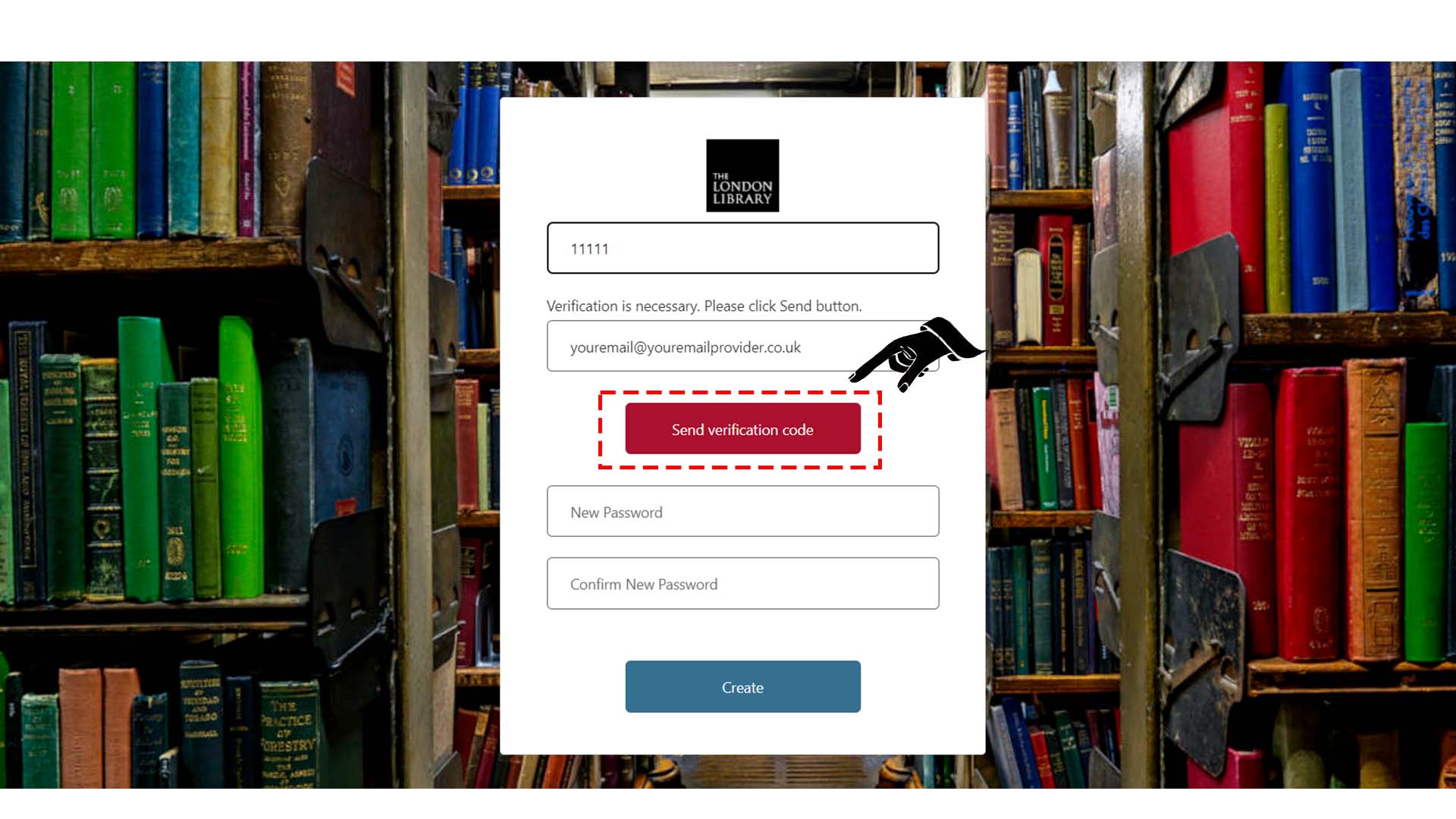 If the email address

is the same as the one recorded

on your membership record you will be sent a verification code to your inbox. The code is valid for 10 minutes. If you do not use it within that time you will need to press send verification code again and enter the most recent code.

If you cannot sign in with your

gmail

or

ymail

email address please try entering

googlemail

or

yahoomail

instead.

Please note, if you experience a 'Log in failed' message please ensure you have removed any capital letters from your email address.

If you have no email address recorded on your membership, or if you wish to update it, please contact our Membership team

(020) 7766 4720 /

This email address is being protected from spambots. You need JavaScript enabled to view it.
Enter the code that was emailed to you and click verify code.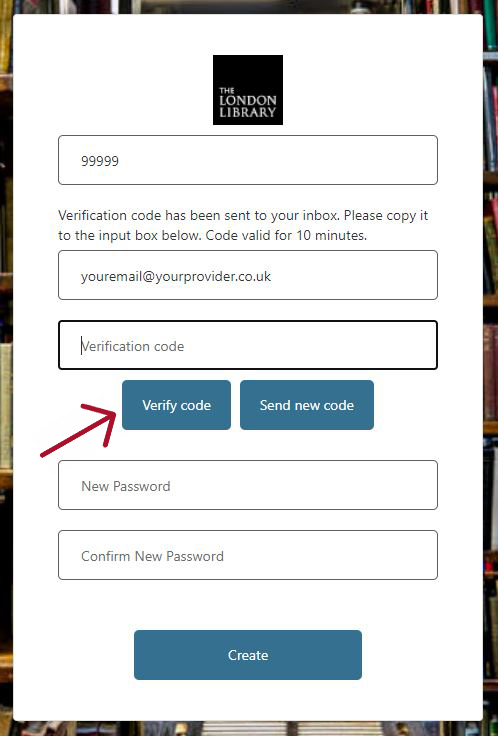 When your code has been verified you can continue to set your own password
This needs to be at least 8 characters in length and could take the form of a passphrase, three unlinked words that are memorable and meaningful to you but to no one else (for example, redbracketscissors). You do not need to include any numbers, capitals or punctuation unless you wish to.
Click create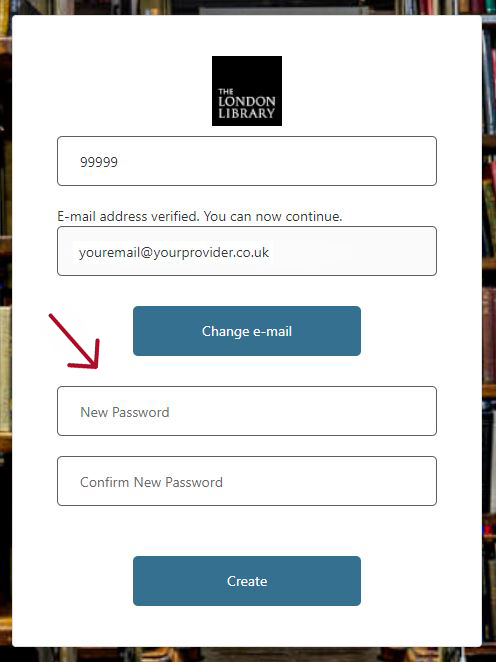 The signup is now complete and in the future you should use this email and password combination to log into the Library's electronic services. If you forget your password, you can use the Forgot your password? option on the sign in page to reset it.
If you have any problems with the sign up process, please contact This email address is being protected from spambots. You need JavaScript enabled to view it. and we will be glad to help you.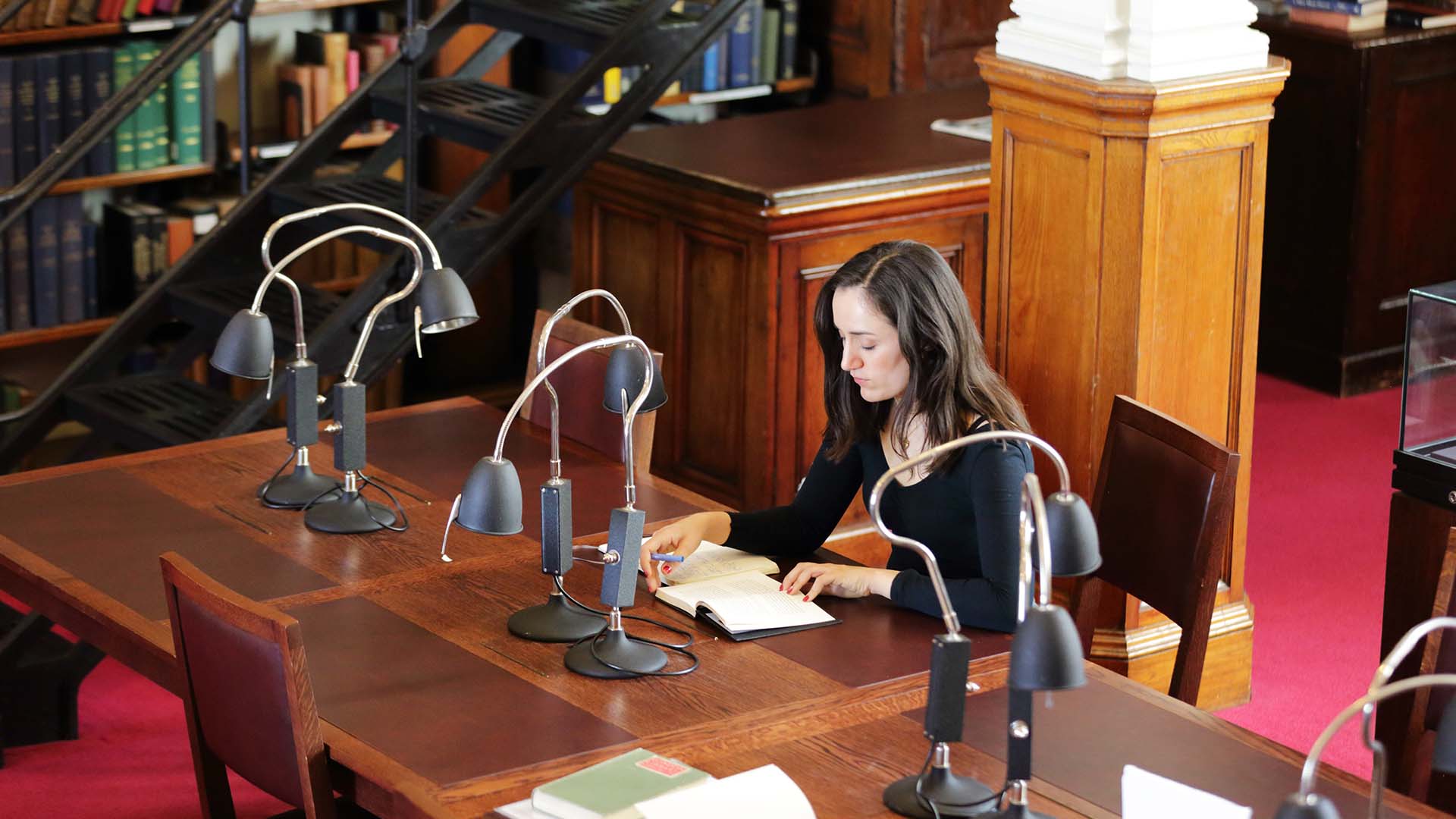 Welcome to the 2022/23 Emerging Writers Programme cohort
We are delighted to announce the newest members of our flagship Emerging Writers Programme, now in its fourth iteration, which supports writers at the very start of their careers. The Programme is a unique opportunity which offers writers, in all genres, one year's free membership of The London Library and includes writing development masterclasses, literary networking opportunities, peer support and guidance in using the Library's resources. With its rich cultural heritage, extensive open access book collection, dedicated writing spaces and its diverse community of established writers, the benefits of Library membership are invaluable.
Forty participants were selected from a field of almost 950 applicants by a panel of judges comprising YA novelist and essayist Yassmin Abdel-Magied (Chair), non-fiction writer Simon Garfield, playwright and novelist Nell Leyshon, poet Rachel Long, screen and children's writer John McNally and literary agent Eli Keren.
This year's cohort is working on perhaps the most diverse array of projects yet. Spanning the globe from the US to India, the Philippines to Israel, France to Trinidad, they explore the Troubles and the Arab Spring, twelfth-century York, nineteenth-century Northumberland and present-day London; and they delve into topics as diverse as neurology, art, cryogenics, the countryside, sexuality, storytelling, selkies, bats, whales and a platypus.
Of the forty writers, eleven are novelists, eight are writing for stage/screen, seven are working on non-fiction or graphic non-fiction, five are short story writers, five are writing for children or YA and four are poets. The writers span an age range of early twenties to early fifties.

Two bursary funds were available to support members of the cohort who may face financial, health, or any other barriers that would prevent them fully accessing the Programme. The Emerging Writers Programme Access Bursary has been generously funded by the International Friends of The London Library to help support those participants most in need and the Virago Participation Bursary has been generously funded by Virago Press to support Black women and Black writers from under-represented genders.
The 2022/23 London Library Emerging Writers Programme is only possible because of the generous support the Library has received from the International Friends of The London Library, the Peter Stormonth Darling Charitable Trust, the Julio and Maria Marta Nuñez Memorial Fund and other anonymous donors. If you are interested in supporting the Emerging Writers Programme please contact fThis email address is being protected from spambots. You need JavaScript enabled to view it. or donate online.
VIEW THE 2020/21 COHORT and ANTHOLOGY
VIEW THE 2019/20 COHORT and ANTHOLOGY
Read more: The London Library Emerging Writers Programme mainpage
We are delighted to publish the second volume of New Voices Rise, an anthology of exciting new writing by participants from the second cohort of The London Library's Emerging Writers Programme 2020/21.
Contributors for the new anthology are:
Gaar Adams, Ayad Andrews, Krystle Zara Appiah, Helen Bain, Naina Bajekal, Marta Bausells, Zakia Carpenter-Hall, Flora Carr, Sarah Clegg, Chez Cotton, Benjamin Cusden, Beth Emery, Charlotte Forfieh, Russell Franklin, Marina Gerner, Carole Hailey, Lucian Huxley Smith, Daniel Marc Janes, Aaron Kilercioglu, Lanikai Krishnadasan Torrens, Lily Levinson, Freya Mavor, Shakira Moise, Nancy Netherwood, Charlotte Newman, Yosola Olorunshola, Anna Parker, Hannah Partos, Kate Perry, Amy Powell Yeates, Natalie Rule, Lisa Smith, Ana Soria, Natalie Whittaker, Matt Wixey and Nathan Lucky Wood.
New Voices Rise vol II is available as a PDF, an eBook on Kindle (costing £2) and you can view it here on Issuu.
You can also enjoy reading New Voices Rise vol 1, featuring writing by the inaugural cohort of The London Library Emerging Writers Programme 2019/2020.
With contributions from 35 writers spanning prose to poetry, non-fiction to YA, stage to screen, this is a feast of words and creativity from an exciting array of bright new talent.
Featuring work by: Bebe Ashley, Isabelle Baafi, Alex-David Baldi, Erika Banerji, Carmina Bernhardt, Helen Bowell, Megan Buskey, Sian Chaney-Price, Hattie Clarke, Abass Collier, Swithun Cooper, Natasha Cutler, L M Dillsworth, Joanna Dobson, Karim Flint, Emily Ruth Ford, Anita Goveas, Alice Hughes, Anna Kahn, L Kiew, Lou Kramskoy, Madi Maxwell-Libby, P T McCarthy, Amber Medland, Carly Minsky, Qudsia Mirza, Mónica Parle, Xenobe Purvis, Mandy Rabin, Sabrina Richmond, Laura Sanchez, Lucy Steeds, Deborah Torr, Mia Vigar and Jeremy Wikeley.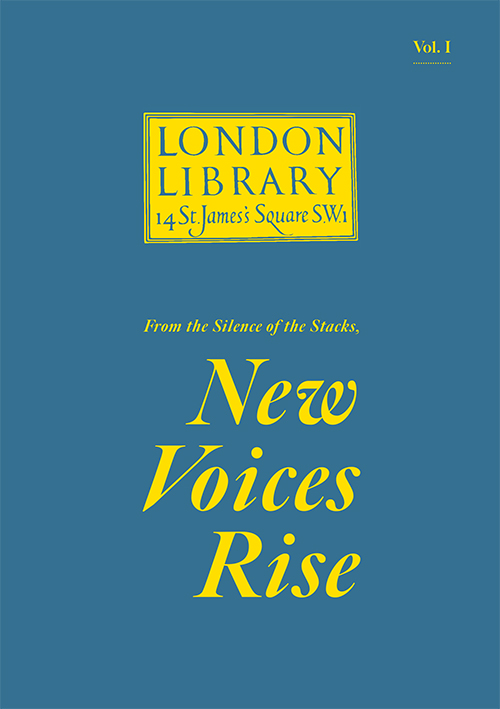 In this blog from 2014, Helen O'Neill looked at Christmas advertisements in 1914 and the depiction of the famous Christmas Truce.
In the five days preceding 12 December 1914 the Post Office reported that 250,000 parcels had been sent to troops at the Front and the following week 200,000 more were despatched along with two and a half million letters. The Post Office increased its van fleet by half to cope with demand, and as rail services were disrupted by the war and vehicles were in scarce supply, post was transported in a range of conveyances including open cars and furniture vans.
So how did the recipients of these letters and parcels spend Christmas 1914? Christmas adverts in the pages of The Times in December 1914 include household brands such as Boots, Perrier, Oxo, Bovril, Horlicks, Burberry's, Moss Bros and Shell, to name a few, which capitalised on their presence and use at the Front. From Burberry fleece lined gabardine trench coats to Shell fuelling the ambulances of the Allied forces, the adverts are rich in detail, many using soldiers' testimonies as proof of their efficacy. Acquasctuum, Burberrys and Moss Bros all advertised officer's kit. Burberry used no less than six quotes from those on active service as endorsements, including this from A.D.P. of the 16th Battalion London Regiment: "All officers coming out for the winter should have a Burberry with detachable fleece lining and Gabardine overalls. They will be covered in mud the first hour in the trenches but Gabardine dries well and the mud drops off."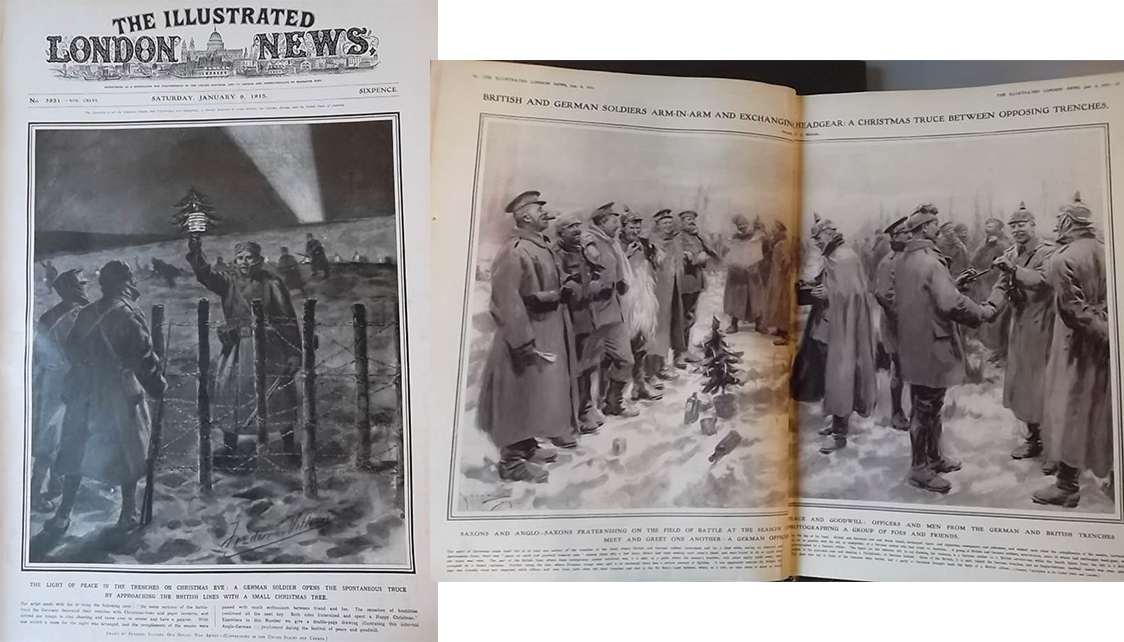 (L: The cover image of The Illustrated London News on January 9 1915 depicted a German soldier opening the truce by approaching British lines with a small Christmas tree. R: Christmas True depicted in The Illustrated London News showed German and British soldiers meeting in No Man's Land shaking hands and exchanging headgear. The etching was taken from a photograph taken during the truce. The figure on the extreme left is a German soldier in a British service cap and the fourth figure from the left is a British soldier wearing a Pickelhaube or German helmet.)
If testimonies from the Front were not suitably persuasive Burberry had a secret advertising weapon in the shape of Antarctic explorer and national hero, Ernest Shackleton: "Gabardine is a lightweight weatherproof material of such remarkable warmth-maintaining powers that Sir E. Shackleton recently said nothing would induce him in polar regions to use any substitute even if the price of gabardine doubles and the substitute were offered free of charge."
Benson's advertised an "essential" part of an officers' kit – an "active service watch" with fully luminous figures and hands so that the time could be seen at night. Boots ran several versions of an advert for its own brand of British cologne: White Heather and Jersey Castle under the header "No more German eau de cologne". Food stuffs featured too.
Oxo adverts claimed to be "exactly suited to the needs of our men at the Front – made in minutes and sustains with bread and a few biscuits for hours". If a few minutes were not to be had, Horlicks Malted Milk tablets were advertised as "invaluable to any soldier in the field. Most efficient at relieving hunger and thirst and preventing fatigue". Horlicks offered free post to the Front if the name, regimental number, brigade and division of the soldier was supplied. Bovril used a military metaphor in its advertising asking "Are your communications threatened? Build up the defensive forces of your body. Bovril is and has always been at the Front." Paisley Flour addressed itself to mothers of sons on active service in an advert that encouraged the baking and sending of home-made cake to the Front:
"You could not offer your boy in camp or at the Front any greater treat than a good wholesome home-made cake like those he used to get at home. Send him one this week with Paisley Flour"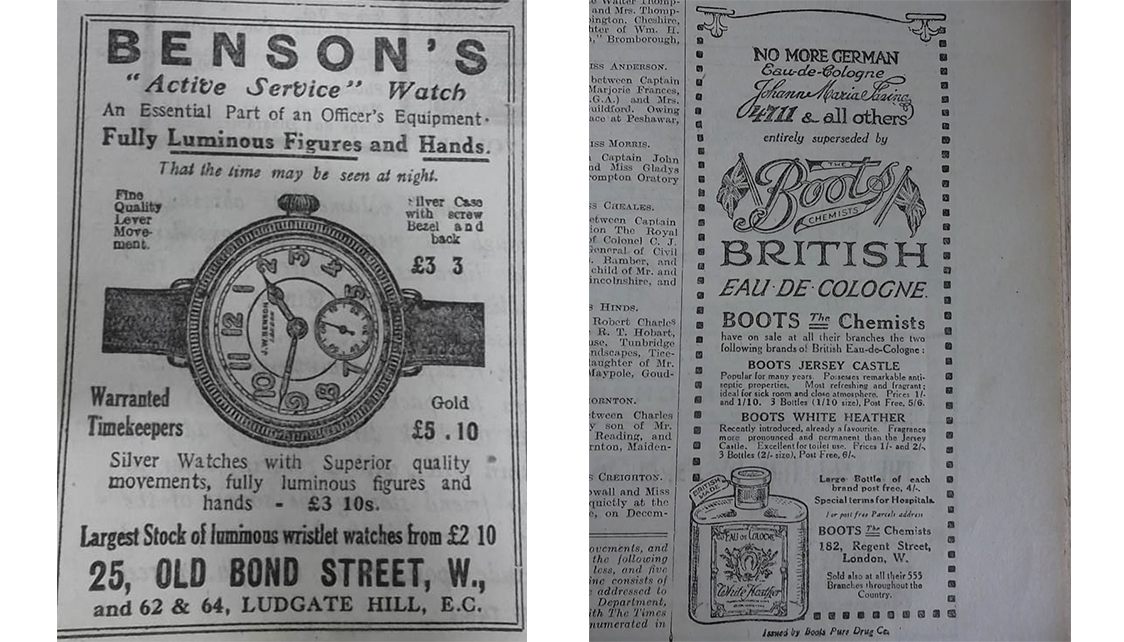 (L: Benson's Active Service Watch with illuminated figures and hands was marketed as an essential part of an officer's kit. R: Under the title "No more German eau de cologne" Boots advertised British alternatives.)
If cake, Perrier water and a waterproof gabardine failed to stave off colds Dr J. Collis Browne's Chloradyne –a remedy for "coughs, colds, colic, ague and kindred ailments" claimed to do the trick:
"Next to the weapons he bears, the best safeguard of a soldiers' life is a small bottle Dr Collis Browne's Chloradyne…it is a medicine chest in itself…Every man on active service should have a supply."
The Civil Service Supply Association advertised service kits and camp equipment but also "Gifts for the Troops" which included small items such as tobacco, cigarettes, socks, mittens, mufflers, caps, chocolate, ointments, foot powder, pocket knives, postcards and pencils. Taken in their totality the adverts provide a grim picture of conditions at the Front.