Opening Hours

Monday & Tuesday:
9.30am-9.00pm
Wednesday - Saturday: 9.30am-5.30pm
Sunday: Closed
Bank holidays

Saturday and Monday of all Bank Holiday weekends:
Closed
The Library is also closed on:
Sat 23rd, Sun 24th (Christmas Eve), Mon 25th (Christmas Day), Tues 26th (Boxing Day), Weds 27th December.
Monday 1st Jan 2024.



Wednesday Late Opening



The Library is open late one Wednesday a month throughout the year.
On these days, some reading rooms will be unavailable to members to facilitate events. Desk spaces will be available in other reading rooms and throughout the rest of the Library.

Find out more



Contact Us



This page lists all of the contact email addresses for teams and departments, this will be the quickest way to get the right answer to any questions or concerns. If you would like to speak to a specific member of staff please see our London Library Team.
Member Services

Reception: (020) 7766 4700 |

This email address is being protected from spambots. You need JavaScript enabled to view it.

Book enquiries, loans and renewals: (020) 7766 4743 |

This email address is being protected from spambots. You need JavaScript enabled to view it.

Postal loans: (020) 7766 4782 |

This email address is being protected from spambots. You need JavaScript enabled to view it.

For more general feedback about Library services:

This email address is being protected from spambots. You need JavaScript enabled to view it.
Membership
Membership enquiries:

This email address is being protected from spambots. You need JavaScript enabled to view it.
Fundraising
Fundraising enquiries and donations:

This email address is being protected from spambots. You need JavaScript enabled to view it.

Founders' Circle:

This email address is being protected from spambots. You need JavaScript enabled to view it.

Legacy enquiries:

This email address is being protected from spambots. You need JavaScript enabled to view it.

Filming and Venue Hire:

This email address is being protected from spambots. You need JavaScript enabled to view it.
Marketing & PR
Press enquiries:

This email address is being protected from spambots. You need JavaScript enabled to view it.

The London Library magazine:

This email address is being protected from spambots. You need JavaScript enabled to view it.
Events
Public events:

This email address is being protected from spambots. You need JavaScript enabled to view it.
Administration
Accounts -

This email address is being protected from spambots. You need JavaScript enabled to view it.
Acquisitions
New book suggestions:

This email address is being protected from spambots. You need JavaScript enabled to view it.

New title donations:

This email address is being protected from spambots. You need JavaScript enabled to view it.

Feedback
While at the Library, if you notice something that is not in keeping with the Library's best practices, please speak directly to a member of staff at the Issue Hall desk.
If you notice an ongoing issue that is impacting your experience at the Library, please email us via This email address is being protected from spambots. You need JavaScript enabled to view it.
Find Us
The main entrance is located in St. James's Square. There is one alternative members' entrance at ground level via Mason's Yard, off Duke Street St James's.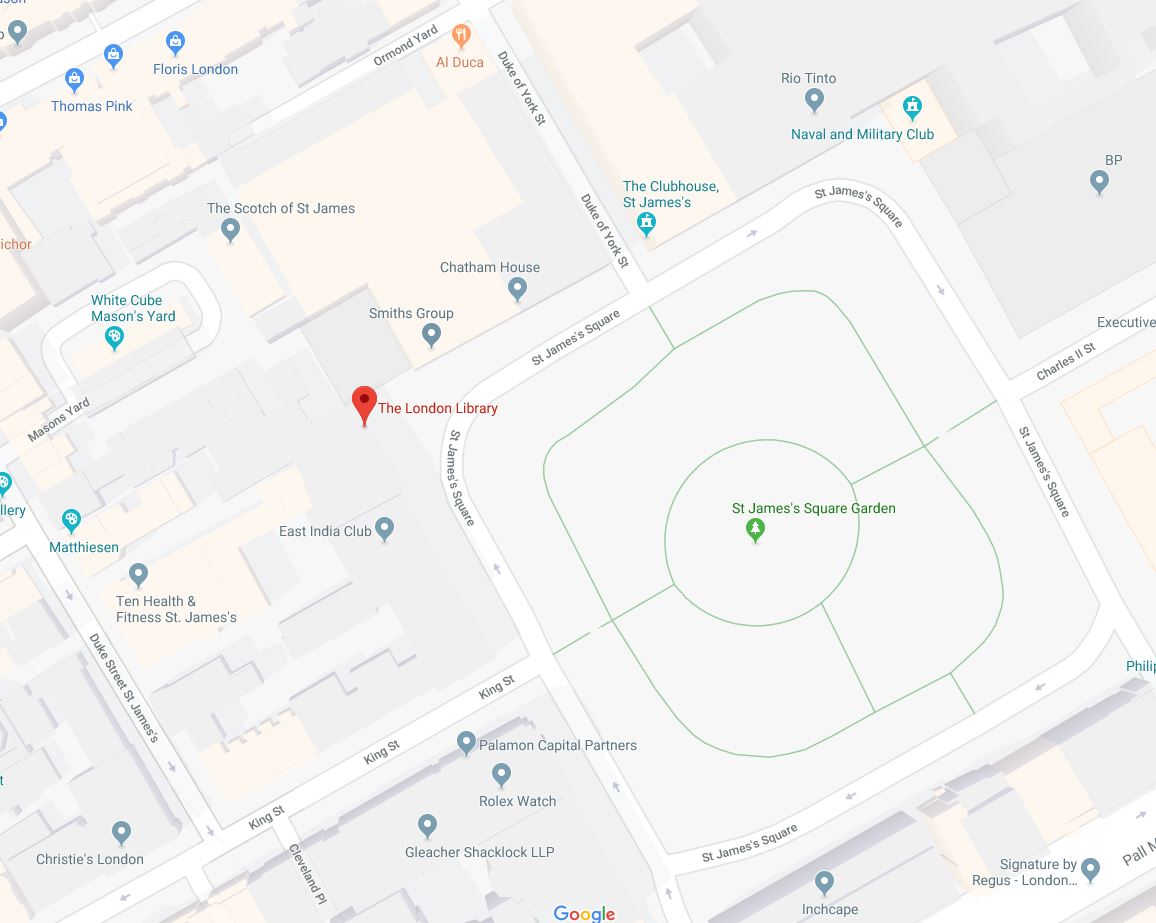 How to Get Here
Bicycle: Storage is available for members' exclusive use in Mason's Yard (capacity 16 bicycles). Please collect a swipe card from the reception desk of the TS Eliot House entrance. Bicycles are left at members' own risk. Santanders Cycle Hire, a public bicycle sharing scheme, operates in the area. The closest docking station is on the east side of St. James's Square.
Tube: Nearest underground stations are Green Park (Jubilee, Piccadilly, Victoria lines) or Piccadilly Circus (Bakerloo, Piccadilly lines). Visit the Transport for London Underground Site for up to date information.
Bus: Nos. 38, 22, 19, 14, 9 stop on Piccadilly. Nos. 3, 9, 12, 13, 15, 23, 139 & 159 stop on Regent Street. Visit the Transport for London Buses site for more details.
Parking: Pay and display parking spaces in St James's Square are in operation Monday to Saturday 8.30-18.30.
Disability and access: The members' entrance in Mason's Yard provides level entry to the building with a platform lift inside for wheelchair access.
The St James's Square entrance is not wheelchair accessible.
Assistance dogs are welcome.

Accessibility facilities
Wheelchair accessible lift provides access from the basement to floor 6, including the Times Room, Art Room and Reading Rooms.
A wheelchair accessible lift in the basement area next to the Foyle Lightwell Room.
Portable induction loop at Reception.
Some older parts of the building are difficult to access for those with mobility constraints, but staff will retrieve material on request and provide assistance.