The London Library is available for evening hire for a range of business and corporate events, including networking, dinners, receptions, awards, presentations, launches and celebrations. With an enviable location directly off St James's Square and a minute's walk from Piccadilly and Pall Mall, the Librarys stunning, yet modest façade hides a wealth of amazing features making it one of the most unique venue hire spaces in London. Hire is available on Wednesday - Saturday evenings, after 5.30pm.
Spread across seven interlocking buildings, with 17 miles of open access bookshelves and over one million books, the Library has played host to four Poet Laureates and 10 Nobel Prize winners amongst many other notable members. In addition to venue hire, these spaces are available for filming and photo shoots, and offer a unique and interesting space for films and fashion shoots.
Library members receive 10% off event hire.
To speak to a member of the team about hiring the Library, please call 020 7766 4795 or email This email address is being protected from spambots. You need JavaScript enabled to view it..
Alternatively, submit a venue hire request online.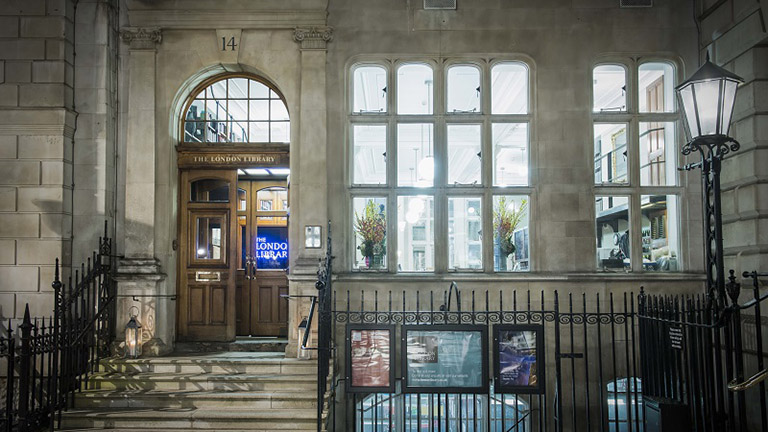 There are several spaces available for hire within the Library that balance beautiful 19th century interiors with other more contemporary styles whilst always highlighting the vast and varied collection of rare books and manuscripts.
Featuring the Reading Room for up to 200 guests, the Issue Hall for pre-dinner receptions, and the Foyle Lightwell Reading Room and Art Room for small VIP events, the spaces are available on an exclusive basis for clients and their guests and offer an inspiring and unforgettable event experience.
Location
Alongside the beautiful architecture and rich creative history, the venue is in a perfect location for attracting delegates and clients. Being only several minutes walk from Green Park and Piccadilly Circus underground stations, and less than 10 minutes walk from Charing Cross mainline station, clients can be assured of being in the very heart of the city and benefiting from the prestige of the many other historic institutions nearby.