London Library Contacts
Book Enquiries: (020) 7766 4743 / This email address is being protected from spambots. You need JavaScript enabled to view it.
Issues & Returns: (020) 7766 4743 / This email address is being protected from spambots. You need JavaScript enabled to view it.
Renewals: (020) 7766 4743 / This email address is being protected from spambots. You need JavaScript enabled to view it.
Country Orders: (020) 7766 4782 / This email address is being protected from spambots. You need JavaScript enabled to view it.
Membership Enquiries: (020) 7766 4720 / This email address is being protected from spambots. You need JavaScript enabled to view it.
Development Office: (020) 7766 4795 / This email address is being protected from spambots. You need JavaScript enabled to view it.
Administration Office: (020) 7766 4712 / This email address is being protected from spambots. You need JavaScript enabled to view it.
Events: (020) 7766 4765 / This email address is being protected from spambots. You need JavaScript enabled to view it.
Library IT: This email address is being protected from spambots. You need JavaScript enabled to view it.
Reception: (020) 7766 4700 This email address is being protected from spambots. You need JavaScript enabled to view it.
Book suggestions: This email address is being protected from spambots. You need JavaScript enabled to view it.
Library feedback: This email address is being protected from spambots. You need JavaScript enabled to view it.
Please see our Staff page for more contact information.
Find The Library
The main entrance is located in St. James's Square, with an additional Members' Entrance, with level entry, via Mason's Yard, off Duke Street St James's.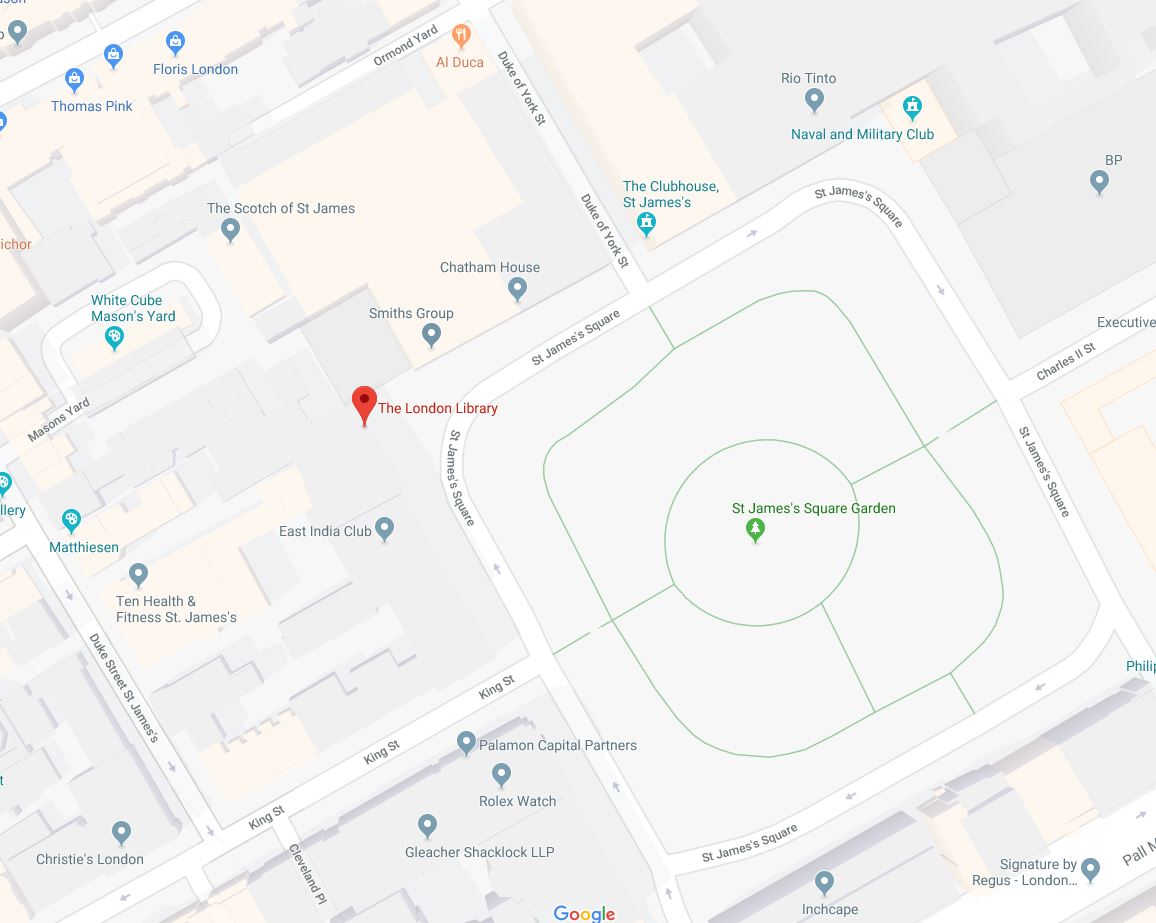 Transport
By bicycle: A bike store is available for members' exclusive use in Mason's Yard (capacity 16 bicycles). Please collect a swipe card from the reception desk of the TS Eliot House entrance. Bicycles are left at members' own risk. Santanders Cycle Hire, a public bicycle sharing scheme, operates in the area. The closest docking station is on the east side of St. James's Square.
By tube: Nearest underground stations are Green Park (Jubilee, Piccadilly, Victoria lines) or Piccadilly Circus (Bakerloo, Piccadilly lines). Visit the Transport for London Underground Site for up to date information.
By bus: Nos. 38, 22, 19, 14, 9 stop on Piccadilly. Nos. 3, 9, 12, 13, 15, 23, 139 & 159 stop on Regent Street. Visit the Transport for London Buses Site for more details.
Parking: Pay and display parking spaces in St James's Square are in operation Monday to Saturday 8.30-18.30.
Disability and access: The Members' Entrance in Mason's Yard provides level entry to the building with a platform lift inside for wheelchair access. The St James's Square entrance is not wheelchair accessible. Assistance dogs are welcome.
Other facilities
Wheelchair accessible lift – serving the Basement to Floor 6, including the Times Room, Art Room and Reading Rooms
A wheelchair accessible lift in the Basement area next to the Lightwell Room
Portable induction loop at Reception
Some older parts of the building are difficult to access for those with mobility constraints, but staff will retrieve material on request and provide assistance.