London Library Collection Care
The principal purpose of the Library is to provide members with access to its collections and for them to be able to borrow books. Many members take advantage of the postal loan service and all users have direct access to the open stacks which they can browse at leisure. Of the Library's 1,000,000 holdings fewer than 40,000 items are kept in secure accommodation on account of their fragility, age or rarity.
The challenge of looking after such a large collection while still allowing most of it to be borrowed is a significant one. Our Collection Care team are at the heart of implementing preventive conservation measures so that books are not damaged in the first place. The Library monitors temperature in collection and staff areas; routines for cleaning, housekeeping and integrated pest management in the stacks are in place and reviewed regularly; staff are trained in book handling techniques and in preservation awareness.
Where remedial conservation is necessary, we aim to take measures early so that costly and time consuming intervention can be avoided. The Library maintains a conservation studio with staff trained in conservation techniques such as archival box making and book and paper repair.
Any books which are found to be particularly fragile are taken off to our Collection Care department, where they are put through a kind of triage. Some may need some to be repaired in-house in the studio before they are sent off to external binders. Page tears are patched with Japanese tissue and wheat starch paste. Carefully-placed strips of light-but-strong aerolinen can shore up a damaged spine and reinforce any weakened joints. Historical sticky tape repairs and adhesive residue may be removed so that new and lasting repairs with conservation materials can be made.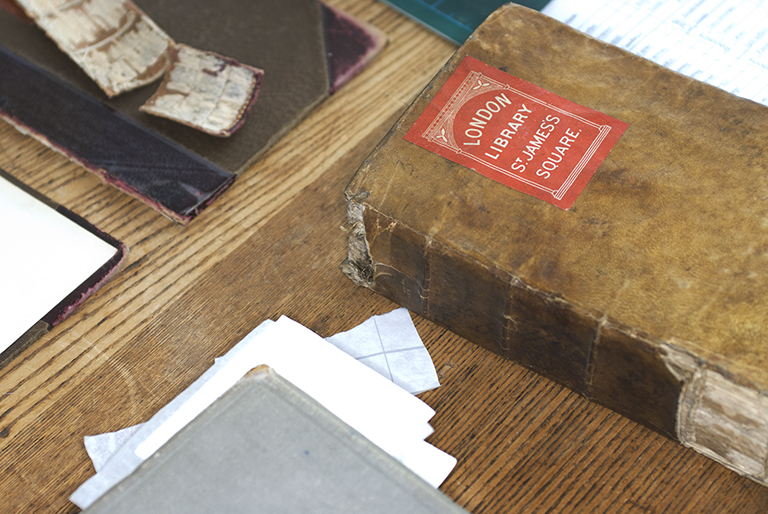 Other volumes need to be sent to external binders with specific instructions to ensure that their aesthetic is preserved. We take great care to retain original features from the covers such as illustrated paper panels, printed textiles, and even early Library book labels, which give a taste of the object's history. Decorative endpapers are preserved where possible, and any repairs are done in cloths and papers which tone in with the original design. In a few cases, where it is impossible to keep an original feature (for example, paper covers which have been glued down onto the book boards), we'll make a facsimile of it so that the design can still be enjoyed by future readers.
Boxes can provide an effective barrier against some of the enemies of paper such as exposure to light, dust, pollutants or physical wear and tear and our team are expert at creating custom-made boxes for the books that need that extra protection. We are assisted in this by the Library's Graduate Trainees and through our preventive conservation programme for conservation students from Camberwell College of Arts. These partnerships benefit the Library and contribute to the training of future practitioners.
Another important aspect of our work is emergency preparation and salvage. We maintain emergency boxes and supplies and ensure staff are ready to assess damage and prioritise treatment to material in the unfortunate event of a flood or fire.