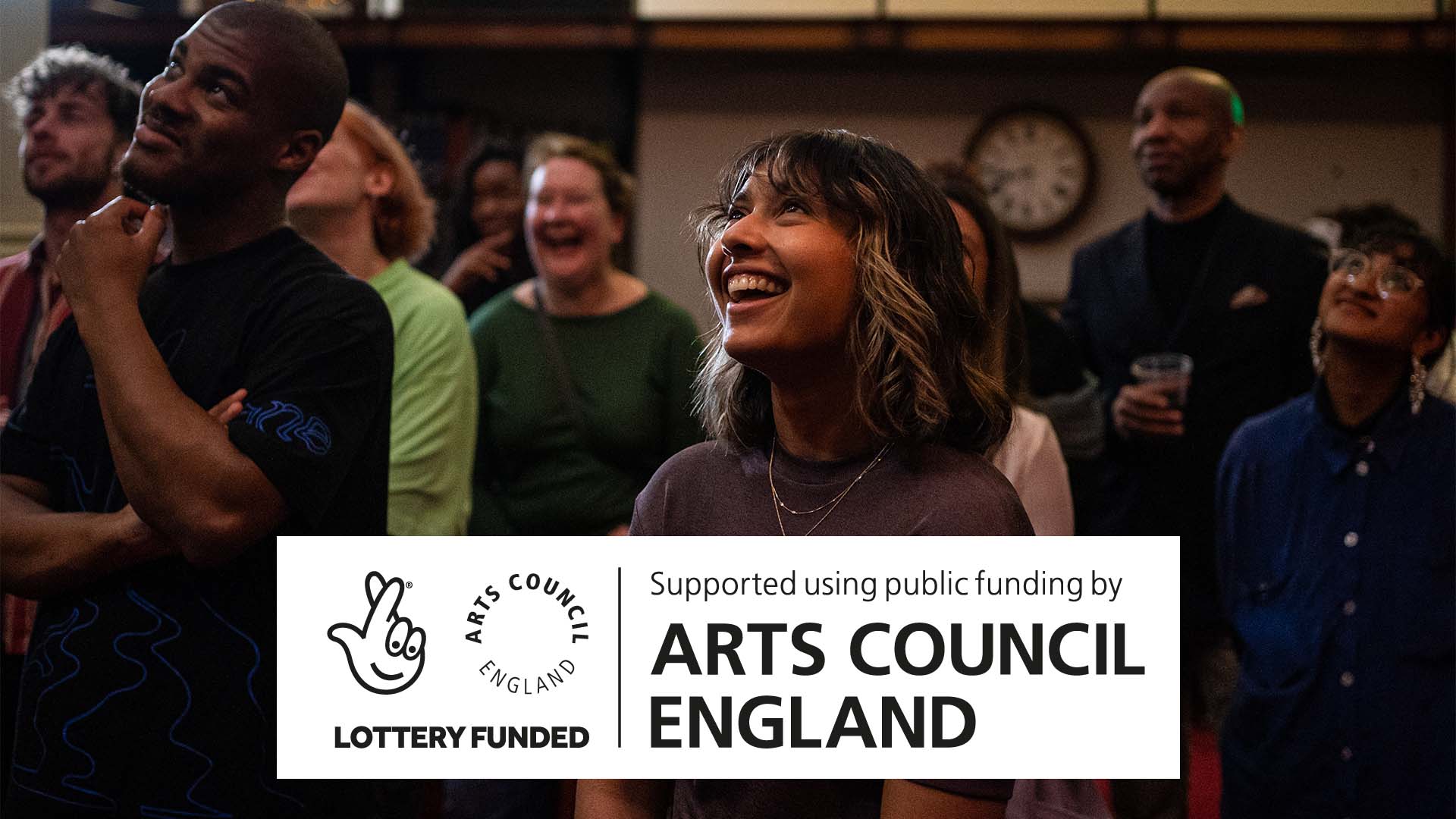 The Library has been awarded a grant of £28,000 through Arts Council England's National Lottery Project Grant programme to support a new initiative that will widen access to literature and inspire new and diverse audiences. 
The grant will widen participation in two ways and enable access to culture and literature for those that would otherwise lack the means to benefit from the Library's extensive resources and community.
Running until June 2023, the Library will develop a pilot series of collaborative learning and participation events to engage wide-ranging audiences through new creative community partnerships. These will include: local London state schools, Pen to Print in Barking and Dagenham, a national area of deprivation; Arvon and the Grenfell Dedicated Service to support young people affected by the Grenfell tragedy; Ministry of Stories who work with disadvantaged young people, and; Write and Shine and The Outsider Project to engage outsider artists and marginalised adults. The pilot series will steer an inclusive approach to creative expression and interest in literature, drawing on the Library's diverse collection and its rich history of writers.
The grant will also widen access to the Library's successful Public Events Programme through funding the livestreaming of literary events and British Sign Language interpretation. A small number of these hybrid events will be available free-of-charge, opening up the Library for all, from anywhere in the world. The Library's innovative public programme offers the latest in literature, history and culture; from interviews with authors, panel talks, performances and book launches.
This funding follows a £10,000 grant awarded by Arts Council England in 2020 to scope a learning and participation pilot programme at the Library. It marks the first steps towards planning projects of greater scale and scope, with a view to implementing a sustainable, vibrant programme that enables the Library to work with more partners and widen access further in the future.
This bolstering of the public programme follows the success of last year's inaugural London Library LitFest celebrating its 180th anniversary. The LitFest engaged new international audiences, drew record figures and was recognised as one of 2020's most prominent publishing events, awarded Highly Commended at the The Booksellers' FutureBook awards. The Library's Emerging Writers Programme will kick off its fourth iteration supporting early career writers in July 2022, having received almost 1,000 entries.
As one of the world's greatest literary institutions, the Library encourages the creation and sharing of knowledge and ideas through reading, writing and discussion, facilitating world-class storytelling and creativity. Each year, 66% of over 7000 members are responsible for over 700 books, 15,000 newspaper/magazine articles, 230 film/TV screenplays, 230 theatre scripts and over £9m worth of art commissioned sales (Nordicity report 2021). The new initiative will build on this, growing the community and securing support for more diverse creative writers.
Sue Williamson, MBE, Director Libraries for Arts Council England said: "Libraries are trusted spaces where people come together to be inspired by reading, to share knowledge and enjoy cultural activities. They are places that should be enjoyed by everyone. The London Library's new programme, funded through Arts Council England's National Lottery Project Grant programme, will ensure that more people from all backgrounds can be welcomed to explore its wide-ranging resources. I hope this opportunity will nurture a new generation of creatives, literature lovers, and writers."
Philip Marshall, Director of The London Library said: "The London Library has been a centre for creativity and inspiration for over 180 years. We are excited to be able to widen access to the Library's rich collection of literary resources and bring in previously under-represented audiences to the Library through this award from Arts Council England's National Lottery Project Grant programme. As the home of writers, we have designed the programme to inspire a love of literature, creativity and a new generation of diverse writers, and we look forward to welcoming all the participants into our community."
Claire Berliner, Head of Programmes at The London Library said: "Both the public programme and the Emerging Writers Programme have gone from strength to strength since their inception a few years ago, bringing new audiences to the Library and widening our reach. We are so excited that this grant will enable us to expand on that work further by working with partners from across the community to reach more people, increase diversity and widen access to the resources we have to offer and inspire creativity and love of literature."
Find out more about our public events
Read more: The London Library awarded Arts Council England National Lottery Project Grant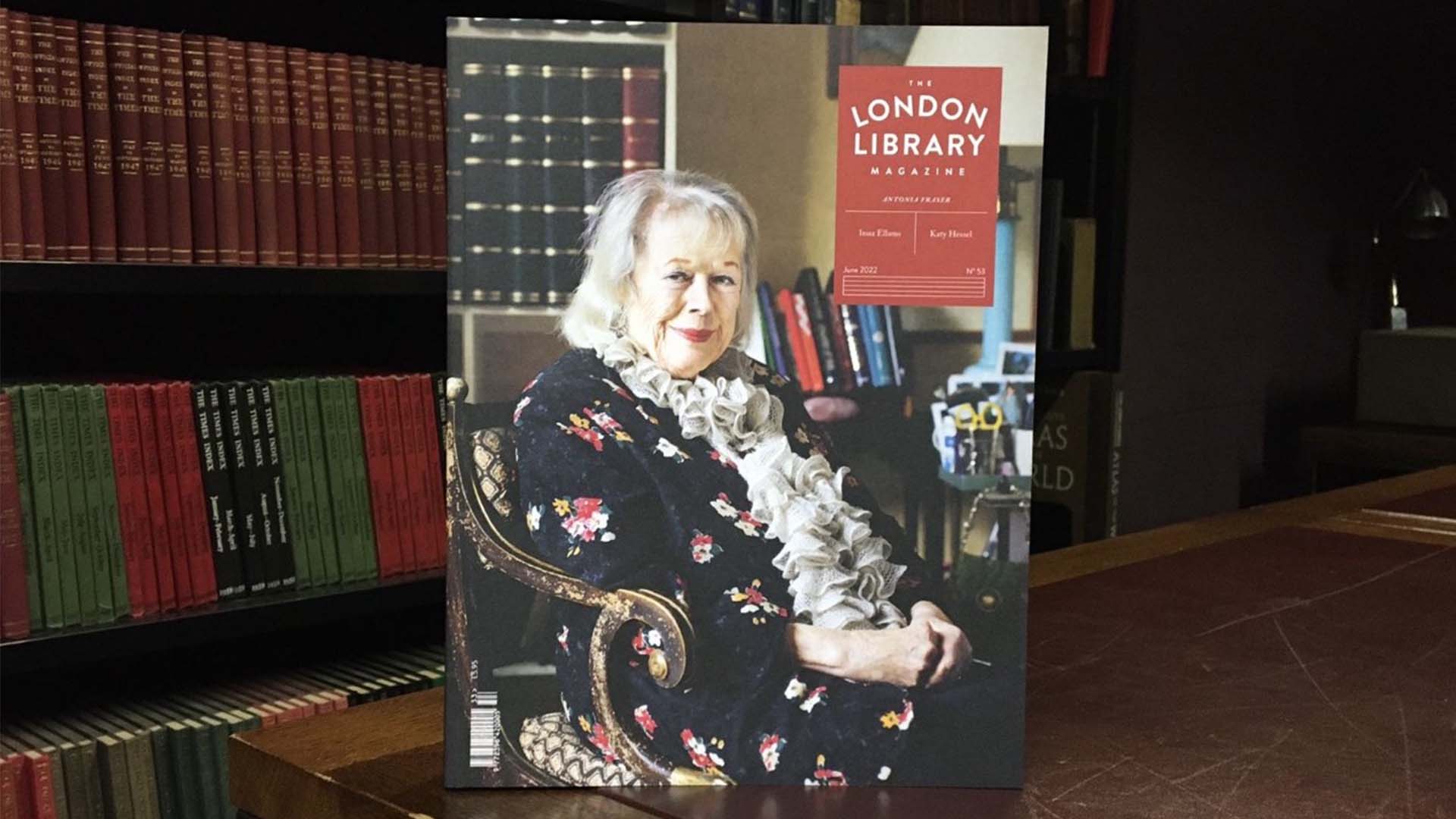 The London Library Magazine - Summer 2022 issue features interviews with the esteemed author, Lady Antonia Fraser; poet and playwright, Inua Ellams; and art historian and broadcaster Katy Hessel. We also meet member AJ West, who tells us how much faster he can write in the Library.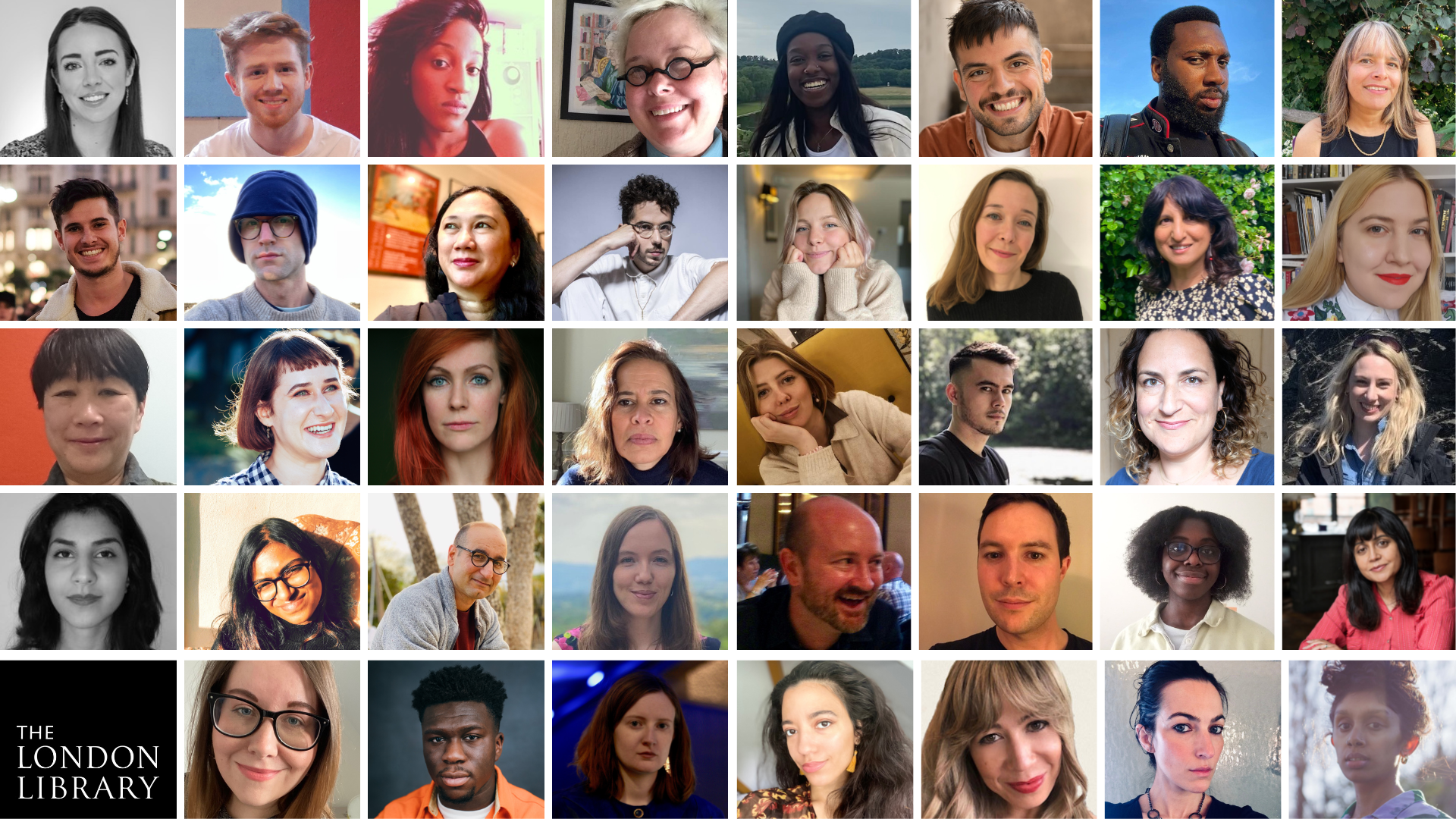 We are delighted to announce the newest members of our flagship Emerging Writers Programme, now in its fourth iteration, which supports writers at the very start of their careers.
Forty participants were selected from a field of almost 950 applicants by a panel of judges comprising YA novelist and essayist Yassmin Abdel-Magied (Chair), non-fiction writer Simon Garfield, playwright and novelist Nell Leyshon, poet Rachel Long, screen and children's writer John McNally and literary agent Eli Keren.
This year's cohort is working on a diverse array of projects. Spanning the globe from the US to India, the Philippines to Israel, France to Trinidad, they explore the Troubles and the Arab Spring, twelfth-century York, nineteenth-century Northumberland and present-day London; they delve into topics as diverse as neurology, art, cryogenics, the countryside, sexuality and storytelling; and feature selkies, bats, whales and a platypus.
Of the forty writers, eleven are novelists, eight are writing for stage/screen, seven are working on non-fiction or graphic non-fiction, five are short story writers, five are writing for children or YA and four are poets. The writers span an age range of early twenties to early fifties.
The London Library's Emerging Writers Programme is geared towards supporting writers who have not yet published a full-length work of fiction, non-fiction, collection of poems, or had a full-length work professionally produced for stage/screen. The 2022/23 Programme will run from 1 July 2022 to 30 June 2023.
Participants benefit from one year's free membership of The London Library alongside a programme of writing development and networking opportunities, peer support, and guidance. Membership to The London Library includes: access to its collection of around one million books and periodicals (almost all of which can be borrowed), a vast eLibrary, atmospheric workspaces in a beautiful building, a members suite, free nationwide postal loans, and discounted tickets to the Library's popular public events programme. The cohort will be following in the footsteps of the many writers, readers and thinkers who have made the Library their home for over 180 years.
Yassmin Abdel-Magied, Chair, and London Library Trustee said: 'It has been an absolute pleasure to chair the judging panel of this year's Emerging Writers Programme. As a panel, we were bowled over by the sheer volume and outstanding quality of submissions we received, not to mention the diversity of discipline/genre and the scope of the storytelling. Whittling down to forty was not easy but we are so excited by the talent of those we chose to be on the programme and we can't wait to see where they take their wonderful array of projects over the course of the year.'
Philip Marshall, Director of The London Library said: 'I am delighted that we are able to welcome forty new writers into membership through the Emerging Writers Programme. Not only does the Programme support writers at the start of their career through workshops and networking opportunities, it enables participants to use the Library's extensive resources – resources that have fuelled and provided a home for creativity and inspiration for over 180 years.'
Read more: Welcome to the 2022/23 Emerging Writers Programme Cohort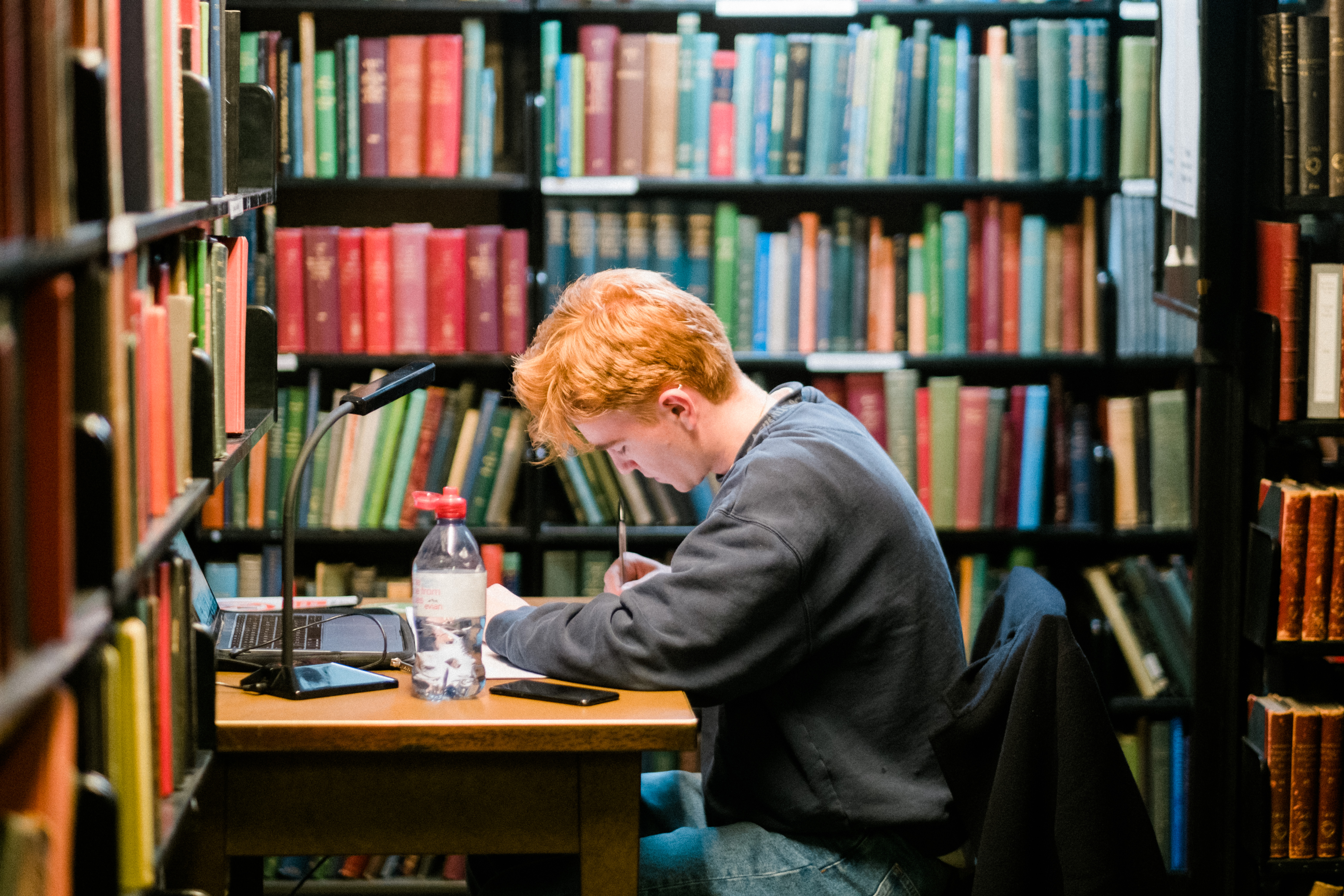 The London Library Subsidised Schools Membership Scheme is now open for applications.
This scheme is a unique opportunity which offers state schools fully subsidised school membership of the Library for the full year. With its unparalleled collection of over 1 million volumes spanning 200 subject areas, unlimited access to over 1,000 online journals and beautiful workspaces, membership of the Library is a valuable asset to any school.
We currently have over fifty schools in membership. Many of these use the Library on a regular basis and benefit from bespoke support with study and research needs, ranging from EPQ group study sessions organised by our knowledgeable Librarian staff, to help with the research needs of individual students.
Here's what one of our school's members says about their membership:
"Membership of The London Library is a great asset for our Sixth Form students - especially those undertaking independent research for coursework or an EPQ. Having access to online resources such as JSTOR helps them find the latest research on their topics, enabling them to gain insights which are current and fresh."
The closing date for applications is 12pm on Friday 1 July.
If you would like to apply, please email Charlotte Beskeen at This email address is being protected from spambots. You need JavaScript enabled to view it. to request an application form.
Read more: Subsidised Schools Membership Open for Applications
Subcategories