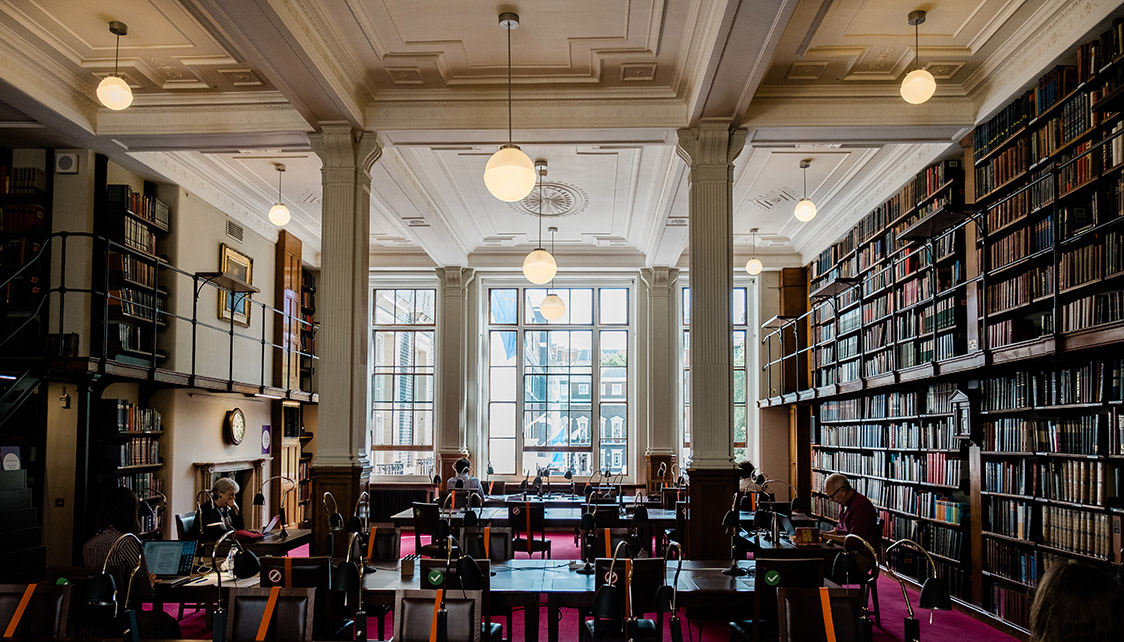 Following the Government's announcement of a relaxation of lockdown conditions, we are delighted to confirm that the Library will be able to open its building again on Wednesday 2nd December.
You'll still need to pre-book a slot if you want to work in the Library or browse the collection but this time we are able to offer more booking slots and you will no longer need to pre-book if you are simply dropping off books or picking them up for collection.
The Library will be open
10am-9pm on Mondays to Tuesdays
10am-5.30pm Wednesdays to Fridays
9.30am-5.30pm Saturdays
The social distancing measures we introduced previously to keep the Library safe for members and staff will remain in place, and in line with Government requirements members will need to wear a face covering while in the building unless they are exempt. We are grateful for your continued adherence to these requirements. The services available will be the same as before the lockdown. This includes no access to the members' kitchen or any refreshment facilities. There are a number of local establishments which are open and Duke's Caffe on Duke Street St James's have offered a 10% discount for members – just show your membership card at the counter.
For those not able to visit the Library in person the enhanced postal loans service (with free postage to members and an increased borrowing allowance) will continue and our extensive eLibrary, with its recent inclusion of eBooks, is available as normal.
We are extremely appreciative of the support and encouragement our members have provided during lockdown and we are thrilled to be able to welcome you back!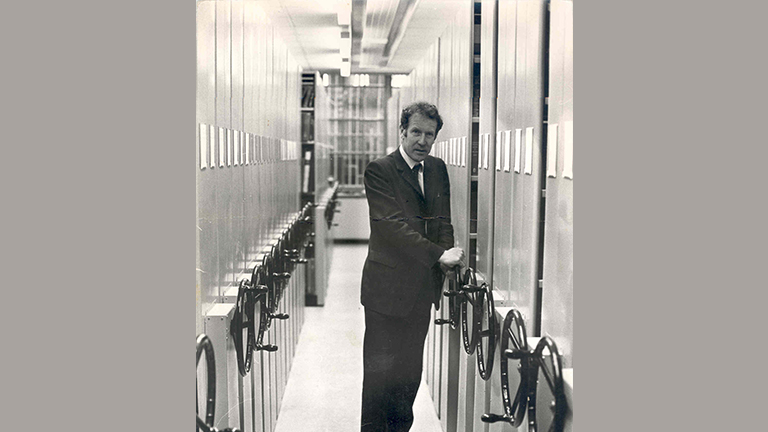 We were sad to learn of the death last week of Douglas Matthews who died in East Sussex on 7th November, aged 93.
Douglas first started working at The London Library in 1965 and was Librarian here from 1980-93, as the Library took its first steps into computerisation of its catalogue - an area where Matthews' skills as an indexer were to prove invaluable.
Having graduated from the University of Durham he began his library career at the India Office Library and in 1957, he worked at the Royal Library in Stockholm, before becoming Librarian at the Home Office. He was a nationally renowned indexer, working with many publishers throughout his career and into his retirement. The Royal Society of Literature made Matthews a Fellow in 1999 and he was awarded an MBE. We remember him fondly both as an expert in his field but also as a warm and approachable colleague who provided invaluable support to staff, Library members and contacts in the publishing industry throughout his long career here.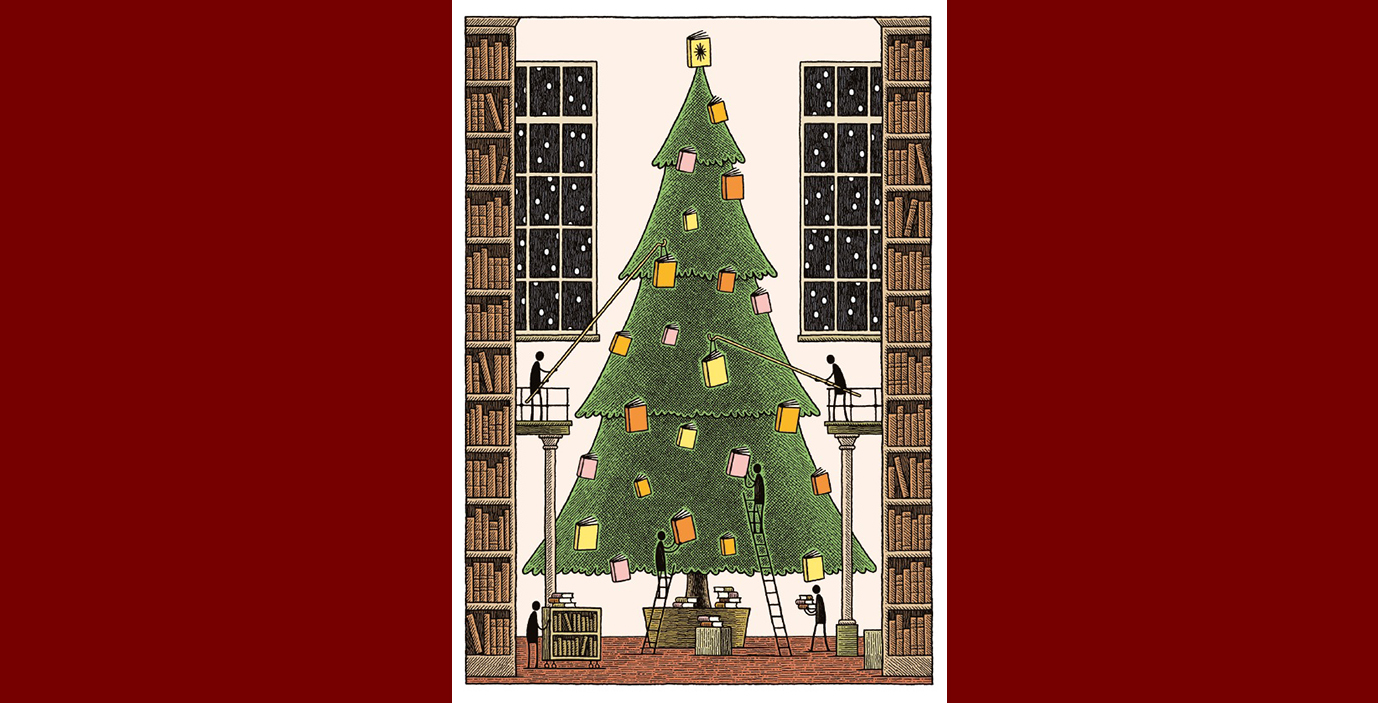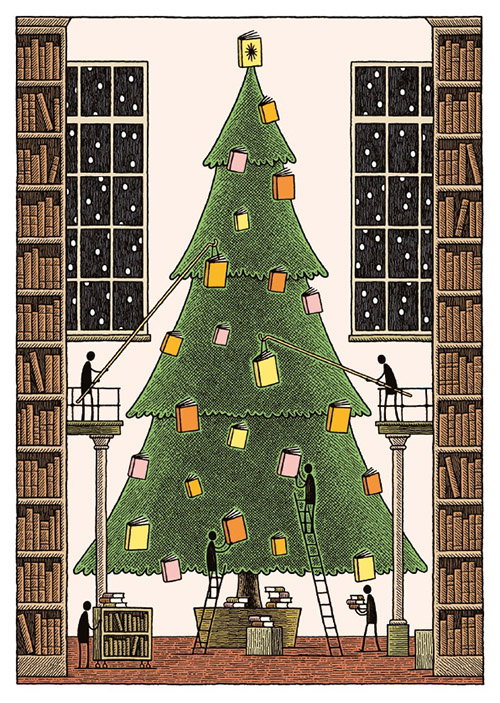 The 2020 London Library Christmas card is now available for pre-order from our online shop.
The card features a design of a Christmas tree being dressed in the Reading Room by illustrator Tom Gauld.
Packs of 8 cards and envelopes cost £8 including postage and are available to order now from our online shop or by phone on 01934 522920. With coronavirus restrictions in place at the Library we are not selling cards or merchandise at Reception this year.
Please note that cards can be pre-ordered now but will be despatched from mid-November onwards.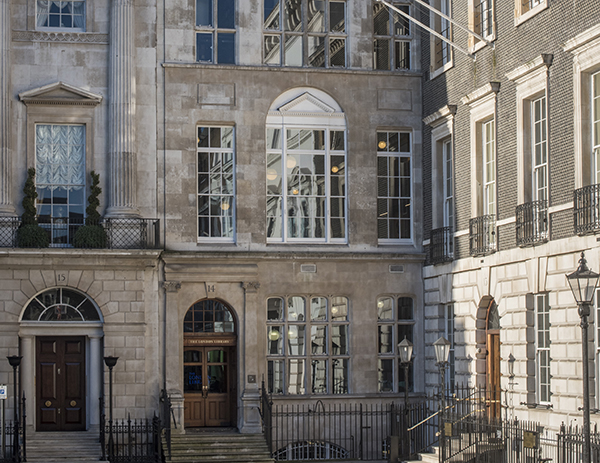 In accordance with the Government restrictions that are being put in place under the newly-announced national lockdown, we regret that we will have to close The London Library's building to members and visitors from 5.30pm Wednesday 4 November until further notice. We'll provide updates through our website and e-newsletters to let you know how the situation is developing.
The temporary closure of our building means that members will be unable to come into the Library to borrow books. However, we will continue to offer postal loans so that members can order books online and have them posted to them free of charge. In addition to postal loans, our online services (Catalyst and the eLibrary) will be fully operational throughout at catalyst.londonlibrary.co.uk, providing access to millions of pages of information. We have also recently added eBooks to our offering through OverDrive.
Our staff will continue to maintain core administrative services and will be able to handle enquiries about membership and to provide information and updates about the Library, but inevitably some of these services will be more restricted than previously.
If you already have books awaiting collection at the Library, please email This email address is being protected from spambots. You need JavaScript enabled to view it. if you would like these posted to you, or to let us know if you no longer need them.
This is a very difficult period for everybody, but we look forward to when we can resume normal service, re-open our doors and welcome you all back into the Library. In the meantime, we are very grateful for your continued cooperation and support.
Subcategories