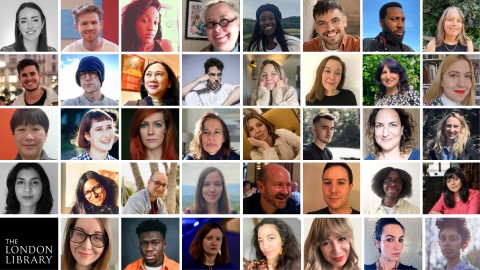 The London Library is proud to announce the publication of the fourth annual volume of From the Silence of the Stacks, New Voices Rise, an anthology of work from the 2022-23 cohort of The London Library's Emerging Writers Programme.

A digital version of the anthology is available now on The London Library website, and a hard copy is available to buy through the online shop. All proceeds go towards supporting the Emerging Writers Programme.
Each volume of New Voices Rise showcases an exciting array of bright new talent, featuring contributions spanning prose to poetry, non-fiction to graphic novels, and stage to screen. The fourth volume will be no different, incorporating 16 works of (adult) fiction, 13 poems, six works of non-fiction, five works for screen and four for stage.
Extracts included in the fourth volume take readers across time and all over the world: from Montana to Goa to rural Australia; 12th century York to 18th century Italy to Troubles-era Belfast. They tour imagined worlds, the ancient past, and dystopian futures, and explore themes of storytelling and protest, neurology and cryogenics, motherhood, childhood and adolescence, music and art, sexuality and gender, immigration, representation and identity.
Contributors to the fourth volume include graphic biographer and memoirist Miriam Gold, whose book will be published by Jonathan Cape in 2024, VS Pritchett Prize winning short story writer Leeor Ohayon, children's writer Gayathiri Kamalakanthan, whose verse novel is forthcoming from Faber, and rising playwriting star and Mustapha Matura Award shortlistee Temi Majekodunmi.
The contributors were originally selected for the Programme from a field of almost 950 applicants by a panel of judges comprising YA novelist and essayist Yassmin Abdel-Magied (Chair), non-fiction writer Simon Garfield, playwright and novelist Nell Leyshon, poet Rachel Long, screen and children's writer John McNally and literary agent Eli Keren.
The London Library's Emerging Writers Programme is a year-long programme, geared towards supporting writers who have not yet published a full-length work of fiction, non-fiction, collection of poems, or had a full-length work professionally produced for stage/screen. Participants benefit from one year's free membership of The London Library alongside a programme of writing development and networking opportunities, peer support, and guidance. Membership to The London Library includes: access to its collection of around one million books and periodicals (almost all of which can be borrowed), a vast eLibrary, atmospheric workspaces in a beautiful building, a members suite, free nationwide postal loans, and discounted tickets to the Library's popular public events programme. The annual Emerging Writers Anthology celebrates each member of the Programme by showcasing extracts from projects they worked on and completed throughout the year.
Previous members of The London Library Emerging Writers Programme have gone on to achieve considerable success. Including writers Abi Daré, Amber Medland, Daniel Marc Janes, Anastasia Taylor-Lind, Lianne Dillsworth, Isabelle Baafi, Russell Franklin, Krystle Zara Appiah, Carole Hailey, Marina Gerner, Gaar Adams, Paolo Chianta, Oakley Flanagan, Ella Baron and Natalie Linh Bolderston.
Claire Berliner, Head of Programming says: 'This year's anthology is rich and diverse, full of clever, funny, experimental and beautiful work, which offers a really exciting glimpse into the future of our literary landscape. The cohort were wonderful to work with on the Programme and I can't wait to see what they all go on to create and do.'
Philip Marshall, Director of The London Library says: 'Every volume of New Voices Rise offers just a brief glimpse into the cohort of bright new talent to most recently benefit from the Emerging Writers' Programme and the Library's extensive resources. I look forward to seeing this group of brilliant writers take the next steps in their careers and hope they will continue to return to the Library for community and inspiration.'
In total, The London Library's Emerging Writers Programme has supported 198 previously unpublished writers. Applications for the next London Library Emerging Writers Programme will open on 10 January 2024.
Read more: The London Library showcases bright new writing talent with publication of 'From the Silence of...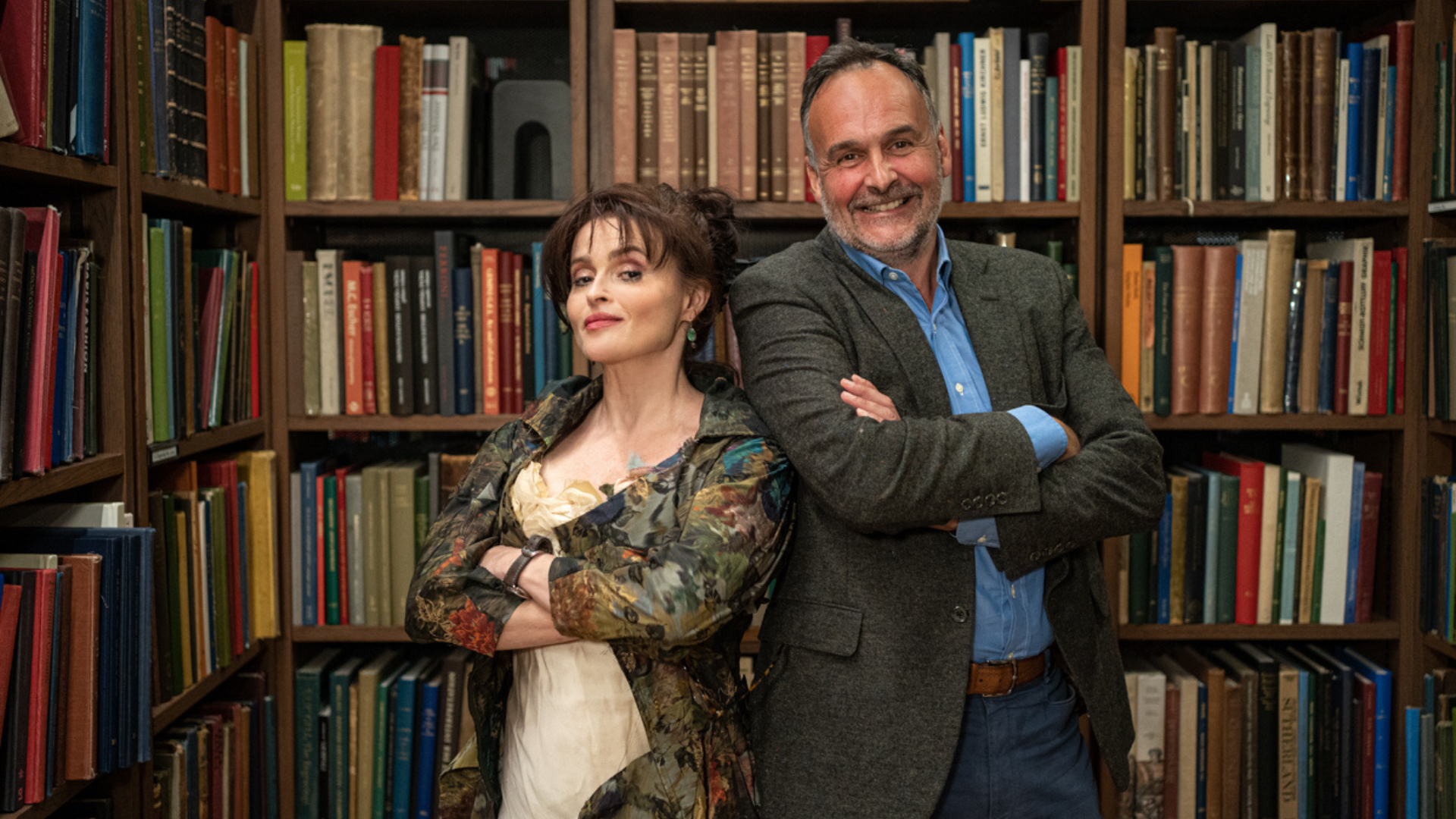 Appointment confirmed as Helena Bonham Carter CBE completes her first year as London Library President
The London Library is pleased to announce Simon Godwin has been formally confirmed as the new Chair of Trustees at the 182nd AGM of The London Library, taking over from Sir Howard Davies.
Simon has been a London Library member for 14 years and is a member of the Founders' Circle of supporters. With an extensive career in financial services, Simon was most recently a founding Partner and Finance Director of Fundsmith, the asset management firm. He is currently working with a number of high growth companies including being Chair of GaitQ Limited, a medical devices spin-out from Oxford University.
Simon enters into the role as Chair at an exciting time. This year, for the fifth successive year, the Library saw growth in net membership, welcoming more than 1,300 members across all membership types, achieving the highest total membership since 2008. The Library has also benefitted this year from substantial unrestricted legacy income, generating an operating surplus and enabling the trustees to set aside funds to support future improvements to the Library.
Also on the day of the AGM, Helena Bonham Carter CBE completed her first year as Library President. Her support and advocacy have seen a measurable growth in interest and awareness of the Library, and helped the Library to obtain new users by shining a light on the it's role as a vital institution in our cultural landscape.
This will be Simon's third charity governance position; he is on the Board of Trustees at the Royal Institution and is the co-founder and trustee of Levelling Up:STEM, and he is also a supporter of the Hampstead and Park Theatres.
Simon succeeds Sir Howard Davies who completed his second four-year term as Chair at the AGM. As Chair, Sir Howard led the search for current Library Director Philip Marshall and oversaw the successful development of the Library's strategic plan, delivering the Library from a precarious financial position to a sound and sustainable one.
The role of Chair of the Trustees is to provide overall leadership to the Library in partnership with the Director, enabling Trustees and staff to work collectively for the good of the Library, for its long-term sustainability and towards the fulfilment of its charitable aims. The Chair gives their time freely and does not receive any remuneration during the year.
Open to all, the Library has been providing an invaluable source of inspiration and support for its diverse community of readers, writers and thinkers for over 180 years. In recent years, the Library has widened access to its extensive resources through The London Library Lit Fest, Emerging Writers Programme, subsidised schools memberships and other outreach activities to promote reading and writing and maintain its unique cultural impact. The Library's members are estimated to publish 700 books per year and draft over 400 scripts for theatre, television and cinema (Nordicity and Chartered Accountants Saffrey Champness Impact Report, 2020). 
London Library Chair, Simon Godwin, commented, "I am delighted to be officially confirmed as the Chair of Trustees for The London Library. As a long-standing member, I have always felt at home in the Library and that it holds a unique place in our cultural landscape. For over 180 years, it has served as centre of creativity and ideas and that vibrancy is at its heart. Under Sir Howard Davies' leadership, the Library flourished and I am eager to continue on this success, further broadening its reach."
London Library Director, Philip Marshall commented, "We are all looking forward to working with Simon as we begin to plan the next chapter in the Library's story. We would like to thank Sir Howard Davies for his enormous contribution to the Library."
Read more: Simon Godwin confirmed as chair of Trustees at 182nd Annual General Meeting of The London Library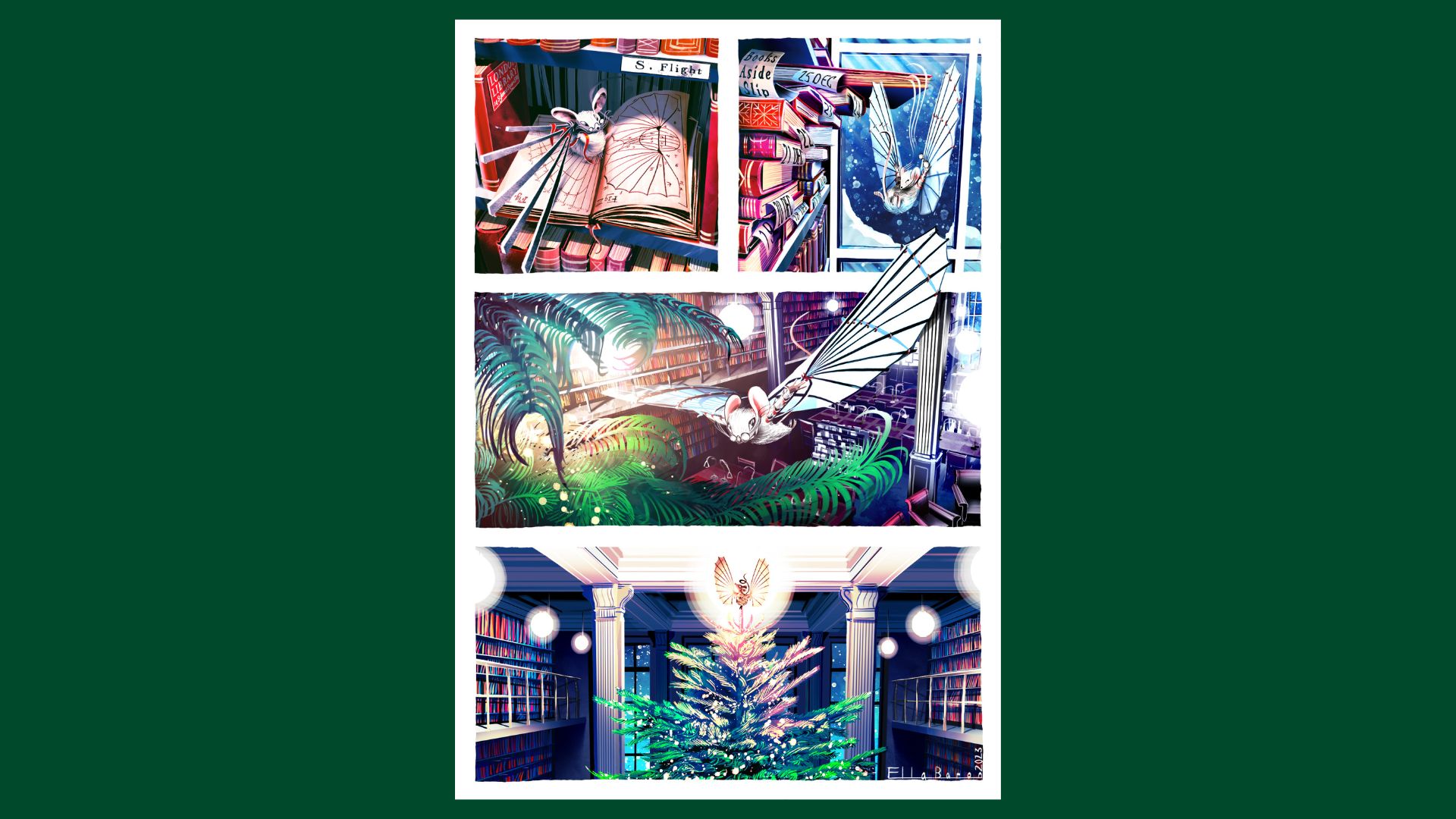 We are delighted to announce that this year's London Library Christmas card is now available to order through our online shop and onsite from Reception, as of 1 November.
A London Library Christmas card is a great way to say 'Seasons Greetings' to your nearest and dearest.
The 2023 London Library Christmas card is designed by former London Library Emerging Writer, editorial cartoonist and comics artist, Ella Baron.
Ella has worked as an editorial cartoonist for several publications including The Sunday Times, The Financial Times, The BBC, The Guardian, The Observer, and The New Statesman, among others. From 2017-2020 she worked as a staff cartoonist for The Times Literary Supplement.
Ella's debut graphic novel Interface will be published by Virago.
All proceeds go towards supporting The London Library.
Looking for Christmas gifts, too? Pick up our bestselling London Library tote bags, coffee cups, quintessential notebooks, and more from Reception and in our full range online.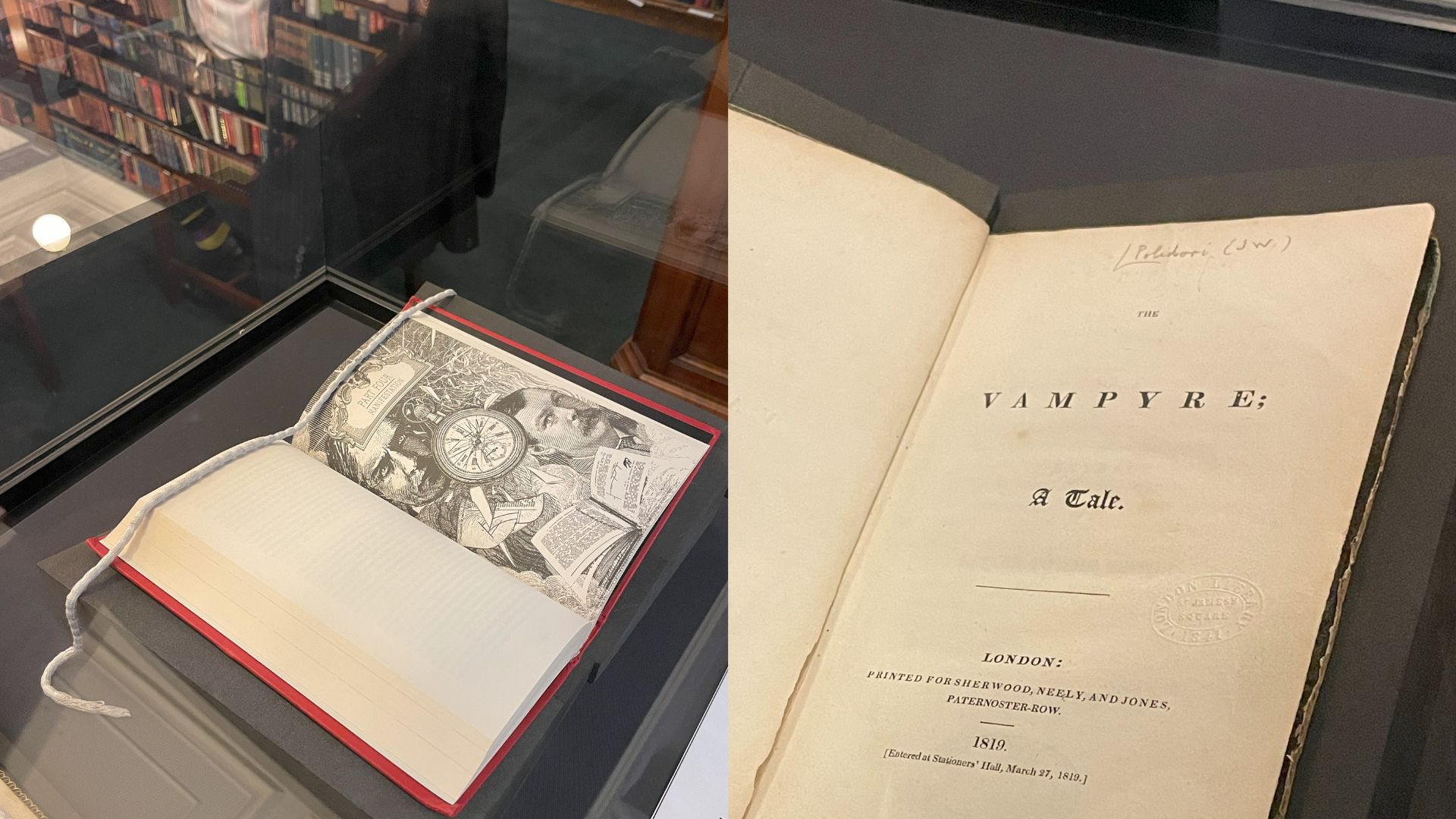 Halloween is right around the corner. In recognition of this centuries old celebration, Librarians at The London Library have curated a display Gothic Literature for the Reading Room display cabinet.
Comprising the likes of Horace Walpole's The Castle of Otranto (1796) and John Polidori's The Vampyre (1819), all the way up to Library member A.J West's The Spirit Engineer (2021), The London Library possesses virtually all the most significant works of Gothic fiction predating the turn of the 21st century, along with many lesser-know examples and many modern Gothic fiction works, too.
Subcategories