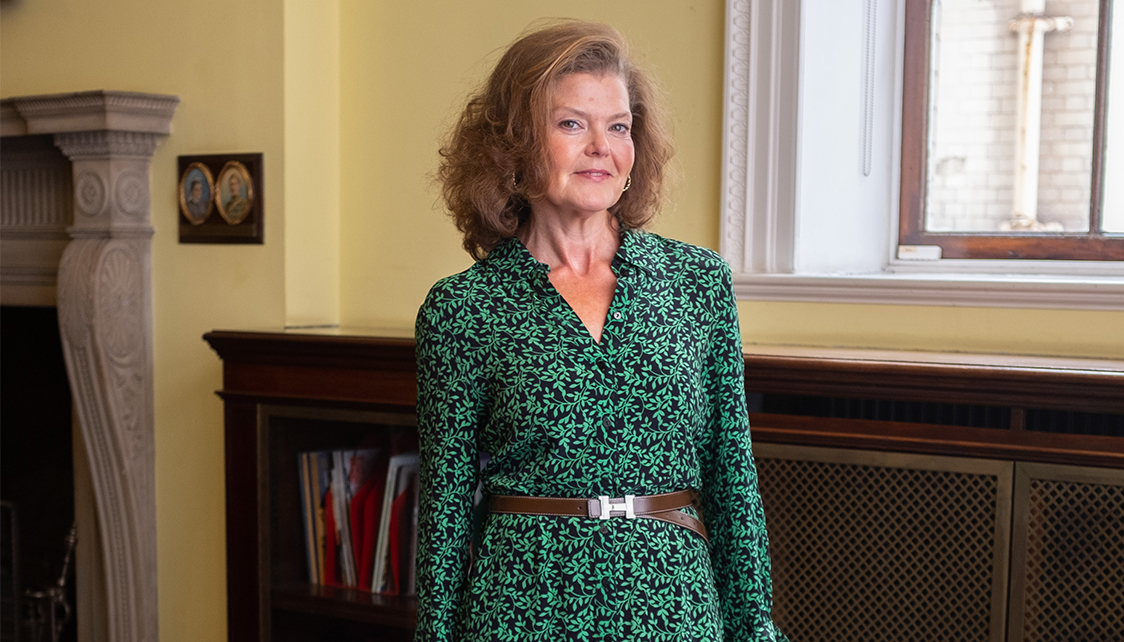 The London Library has appointed Melanie Stoutzker (@MelStoutzker) as Fundraising Director.
With more than 25 years as a development professional, Melanie has extensive experience working on a range of fundraising projects with organisations in the heritage, cultural, arts, research, health and charity sectors.
Her appointment comes at a pivotal time for the Library as it delivers an ambitious strategic plan to secure the Library's long term financial sustainability and enhance its position as one of the world's great literary institutions.
Melanie comments: "I'm tremendously excited about the Library's mission and the potential to grow its philanthropic income. I look forward to working with colleagues and the board to raise funds and help achieve the Library's ambitions, and to build on the wonderful support of its members, donors and ambassadors."
Sir Howard Davies, Chairman, said, "The London Library is a uniquely important creative centre which receives no public funds, so increasing our philanthropic support will be critical to the Library's future success. Melanie's considerable knowledge of capital and revenue fundraising will help us achieve our exciting plans."
Philip Marshall, Director of The London Library, commented, "Melanie brings a wealth of fundraising experience which will be invaluable as we embark on our 180th anniversary in 2021 and our ambitious plans to develop the Library's facilities and expand our role as a uniquely accessible literary and cultural resource."
The London Library is one of the country's greatest literary institutions providing a centre of creativity, inspiration and ideas for nearly two hundred years. It has had a unique impact on the country's literary and artistic output and continues to do so today.

For more information or comment, please contact Laura Creyke at MHM on This email address is being protected from spambots. You need JavaScript enabled to view it.
Read more: London Library announces new Director of Fundraising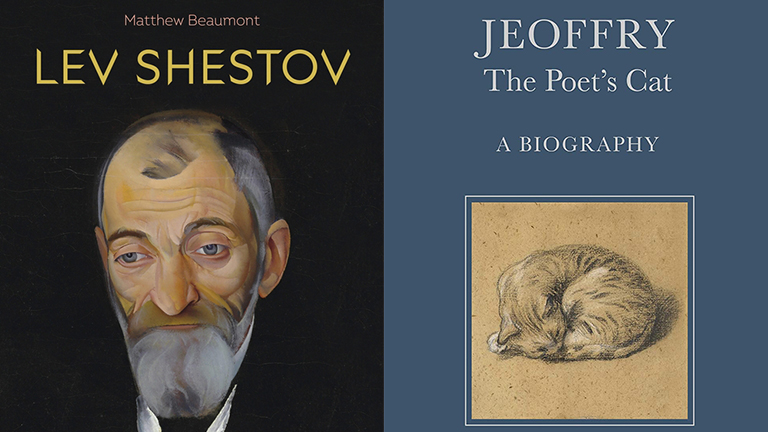 The London Library is renowned as a centre of creativity and we're always keen to showcase some of the many works that get produced here. A number of our members have been in touch recently, letting us know about new books they are publishing this Autumn.
If you are a Member and have a new book coming out soon then we'd love to here from you, please email us on This email address is being protected from spambots. You need JavaScript enabled to view it..
Please note, the Library does not necessarily hold all of these titles in our collection. Please check Catalyst to see whether we hold the book.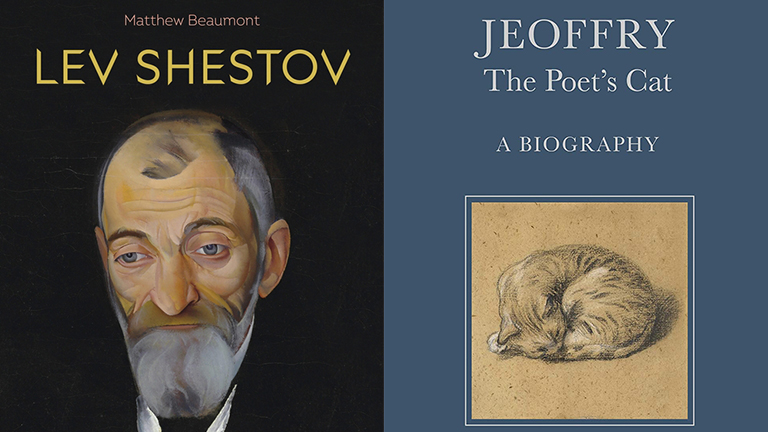 Coming up in Autumn 2020
The Confession, Jessie Burton
Picador, September 2020
Britain and Europe in Troubled Times, Vernon Bogdanor
Yale University Press, September 2020
Life & Love of the Forest, Lewis Blackwell
September 2020

Jeoffry: The Poet's Cat - A Biography, Oliver Soden
The History Press, September 2020
Lev Shestov: Philosopher of the Sleepless Night, Matthew Beaumont
September 2020
The Museum Curator's Guide - Understanding, Managing and Presenting Objects, Nicola Pickering
Lund Humphries, September 2020
The Golden Calves of Jeraboam, Adrian Leak
September 2020
Japan's Far More Female Future, Bill Emmott
Oxford University Press, September 2020
Reluctant European: Britain and the European Union from 1945 to Brexit, Stephen Wall
Oxford University Press, September 2020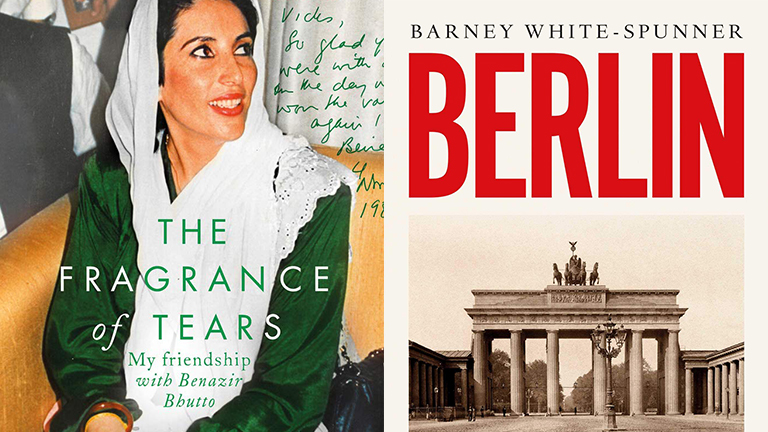 The Fragrance of Tears, Victoria Schofield
Head of Zeus, October 2020
My Dearest Martha: The Life and Letters of Eliza Hillier, Andrew Hillier
Hong Kong City University Press, October 2020
After Ancient Biography: Modern Types and Classical Archetypes, Robert Fraser
Palgrave Macmillan, October 2020
Hotel du Cap Eden Roc, Alexandra Campbell
Flammarion, October 2020
My Berlin: The Story of a City, Sir Barney White-Spunner
Simon & Schuster, October 2020
Art, Memoir and Jung. Personal and Psychological Encounters, Juliet Miller
October 2020
The Walker: On Finding and Losing Yourself in the Modern City, Matthew Beaumont
November 2020
Dangerous Lunatics: Trauma, Criminality, and Forensic Psychotherapy, Professor Brett Kahr
Confer Books, Autumn 2020
Beyond the Secret Garden, Anne Thwaite
Duckworth, 2020
(Revised version of Waiting for the Party, the life of Frances Hodgson Burnett, Secker and Warburg, 1974)

Juvenal: Satires Book V, John Godwin
Liverpool University Press, Autumn 2020
Industrial Letchworth: The First Garden City 1903-1920, Philippa Parker
University of Hertfordshire Press, Autumn 2020
A Dirty Broth: Early Twentieth Century Welsh Plays in English
Parthian Press, November 2020
Heads and Boxes: A Prop Art Exhibition Collaboration, Essay by Jill Longmate
Published in 'Brigid Brophy: Avant-Garde Writer, Critic, Activist', edited by Richard Canning and Gerri Kimber. Edinburgh University Press, 2020
At the Edge of the Desert, Basil Lawrence
Penguin, Spring 2021
The Novotny Papers: Prostitute/Provocateur, Lilian Pizzichini
Amberley, Spring 2021
Published recently in 2020
Those Who Are Loved, Victoria Hislop
Paperback published by Headline Review, August 2020
Dominion: The Making of the Western Mind, Tom Holland
Paperback published by Little Brown, August 2020
Elitism A Progressive Defence, Eliane Glaser
Biteback Books, August 2020
The Financial Times Guide to Business Coaching, Anne Scoular
Financial Times, August 2020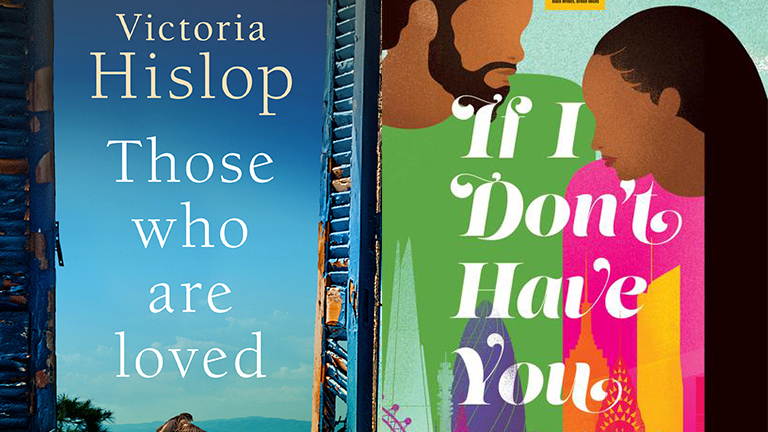 If I Don't Have You, Sareeta Dominga
Jacaranda, July 2020
The Tastemakers: British Dealers and the Anglo-Gallic Interior, 1785-1865, Diana Davis
Getty Research Institute, July 2020
Madeleine, Euan Cameron
Quercus, July 2020
(Hardback published by MacLehose Press, June 2019)
Bad Love, Maame Blue
Jacaranda, June 2020
Liminal, Caroline Maldonado
Smokestack Books, April 2020; sequel to be published 2021
The Straits of Treachery, Richard Hopton
Allison & Busby, April 2020
Night of the Bayonets: The Texel Uprising and Hitler's Revenge April - May 1945, Eric Lee
Greenhill, April 2020
Mediating Empire, Andrew Hillier
Renaissance Books, April 2020
Smoke and Mirrors, Gemma Milne
Little Brown, April 2020
Dionysus after Nietzsche: The Birth of Tragedy in Twentieth-Century Literature and Thought, Adam Lecznar
Cambridge University Press, March 2020
Magnificence and Princely Splendour in the Middle Ages, Richard Barber
Boydell & Brewer, March 2020
The Girl with the Louding Voice, Abi Daré
Sceptre, February 2020
Strange Antics: A History of Seduction, Clement Knox
William Collins, February 2020
Escape Routes, Naomi Ishiguro
Tinder Press, February 2020 (Paperback January 2021)
John of Garland's 'De Triumphis Ecclesie', Martin Hall
Brepols, February 2020
Along the Amber Route, Chris Schuler
Sandstone Press, February 2020
Hans-Adam II, Prince of Liechtenstein: A Biography, David Beattie
van Eck Publishers, 2020
The Earliest Views of Budapest, Andrew Alchin
2020
The Smart Woman's Guide to Murder, Victoria Dowd
Joffe Books 2020
EW Hornung: The Emergence of a Popular Author 1866-98, Peter Rowland
Academic Press, December 2019
Nourishing the Nation: Food as National Identity in Catalonia, Venetia Congdon
Berghahn Books, December 2019
Excellent Essex: In Praise of Britain's Most Misunderstood County, Gillian Darley
Old Street Publishing, Hardback 2019; Paperback, Spring 202
Read more: Upcoming and Recent New Books from Library Members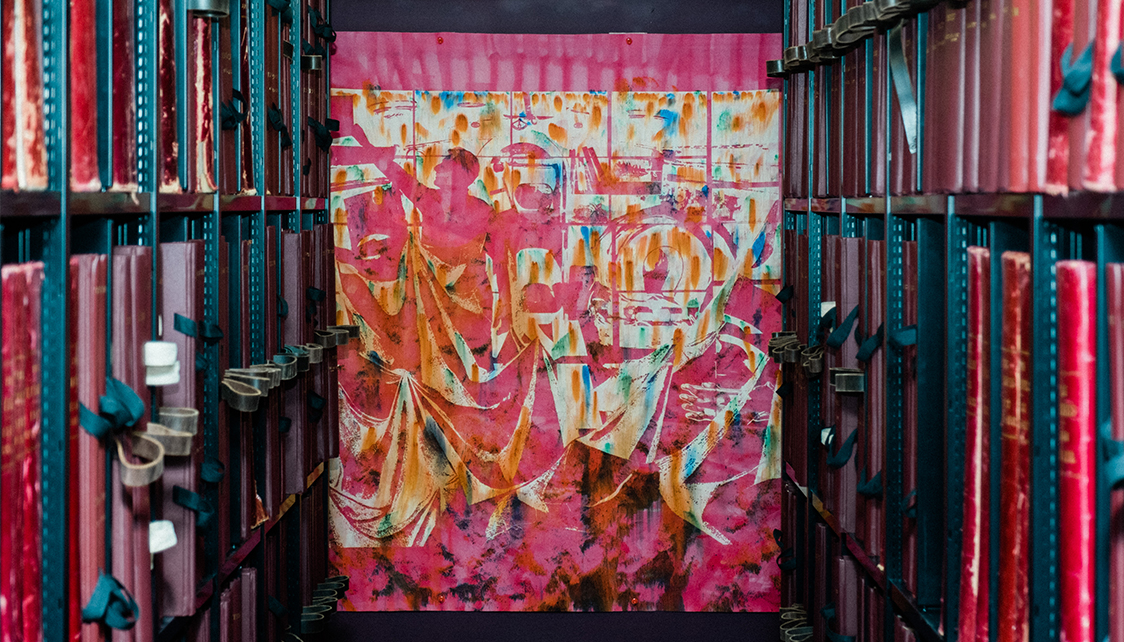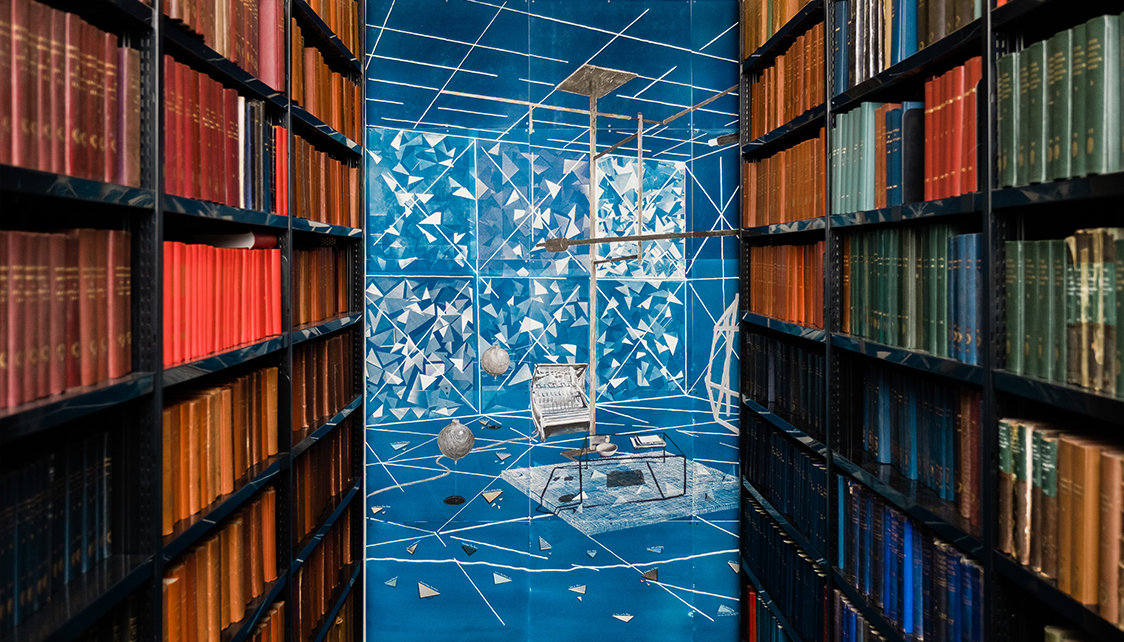 'Dead Room' - Mark Harris
Over the past 12 months artists Mark Harris and Bob Matthews have been immersing themselves in the collection of The London Library. This month a number of striking artworks based on the images they have found, have gone on display in the Library.
They include three large scale works - Harris' "Dead Room" and Matthews' "Capsule" and "Talisman" - which can be found in the Periodicals stacks and Times Room. 15 smaller pieces can be found at various locations in the Central stacks, Back stacks and Art stacks (see map). The works - which have been produced free of charge to the Library as part of Bob and Mark's artists' residency - will be on display for most of 2020.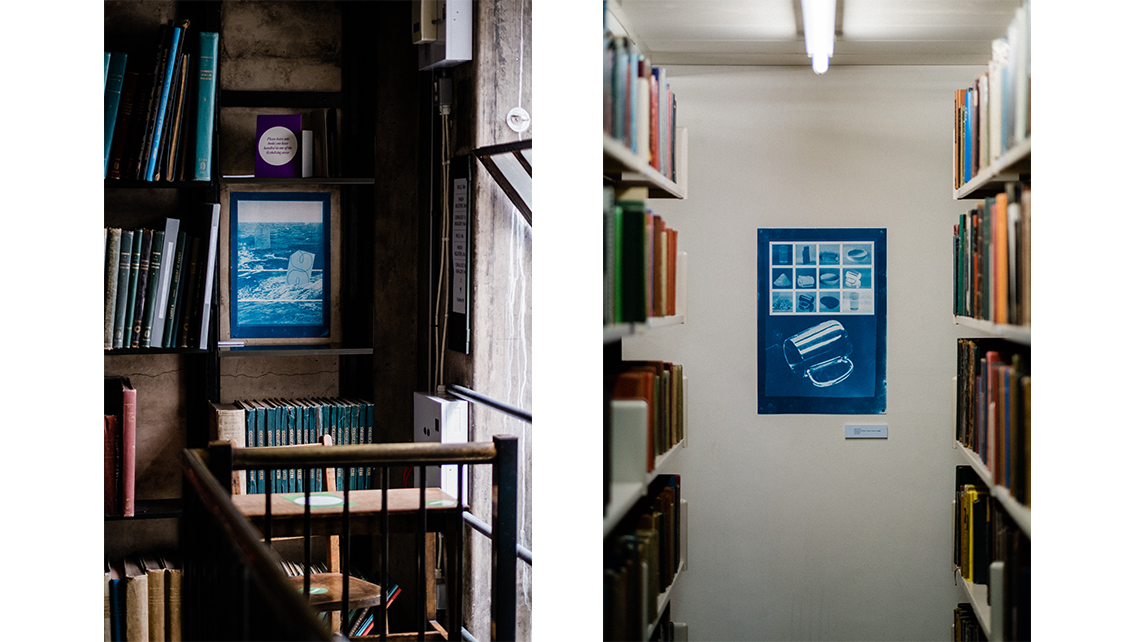 L: 'La Houle' - Mark Harris, R: 'Elements of Editing 2' - Mark Harris
Looking at the collection through the visual lens
During an intense period of research Mark and Bob developed methodologies for browsing, selecting and editing visual material, and as a consequence recorded 1000's of images digitally. The act of collecting these images has helped them capture a unique pictorial world history spanning some 300 years. Their selection process would lead eventually to dozens of significant images to work from, creating inspiration for new artworks.
As printmaking specialists, Harris and Matthews were initially drawn to the way the Library's collection reveals the history of the printed image. The collection holds significant examples of early engraving, etching and lithography, as well as more recent photographic printing techniques. This would lead to Harris producing Cyanotypes, an early direct photographic technique identified by its Prussian Blue appearance and ability to capture both photographic and autographic marks. Matthews technical research in the library would lead to the production of artworks using the photo-toxicity of lemons to aid the transfer of images.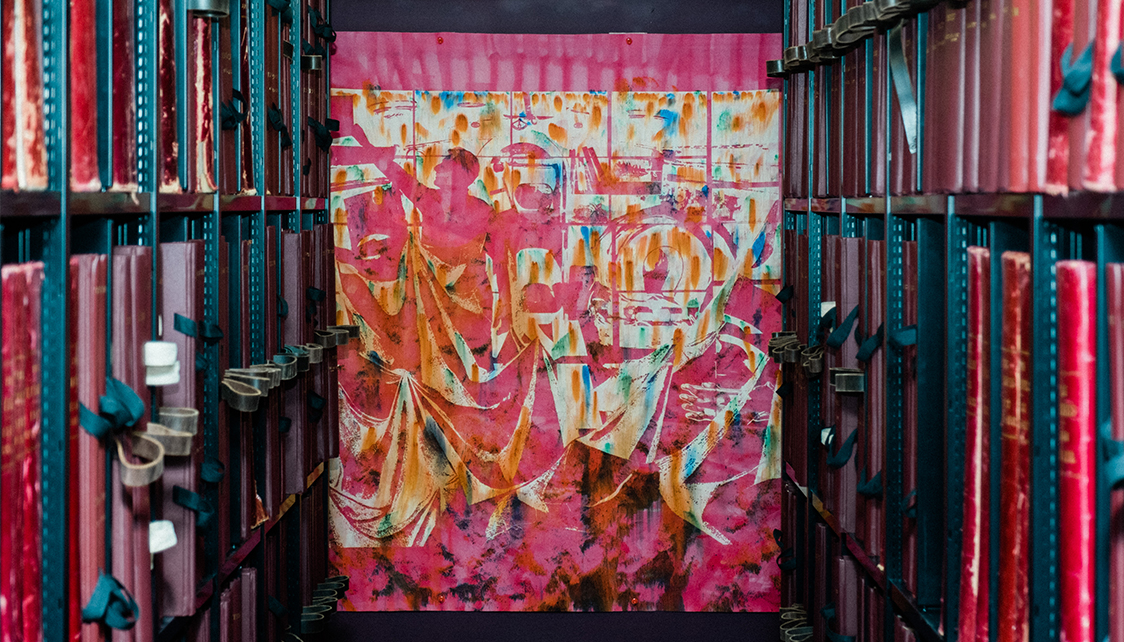 'Capsule' - Bob Matthews
Within the Library the Periodicals section was an area that revealed many images of interests, from the 18th Century Journals of Italian Letters through to the collection of BBC Handbooks. Both artists were drawn to the idea of making site-specific artworks for the Periodicals space that would bring together a number of ideas from their research across the library. They have produced large scale pieces that are revealed through the movement of the shelving mechanism, echoing the action of a printing press. This deliberate obstructive presentation of the work refers to the many folded pages of images and diagrams that they discovered.
Additionally, across 3 levels of the Central Stacks Harris has produced a series entitled Elements of Editing that comment on the joint industrial journey that both materials and images take, as they are mined and captured, refined and edited, produced and published. Other artwork is situated throughout the Back Stacks.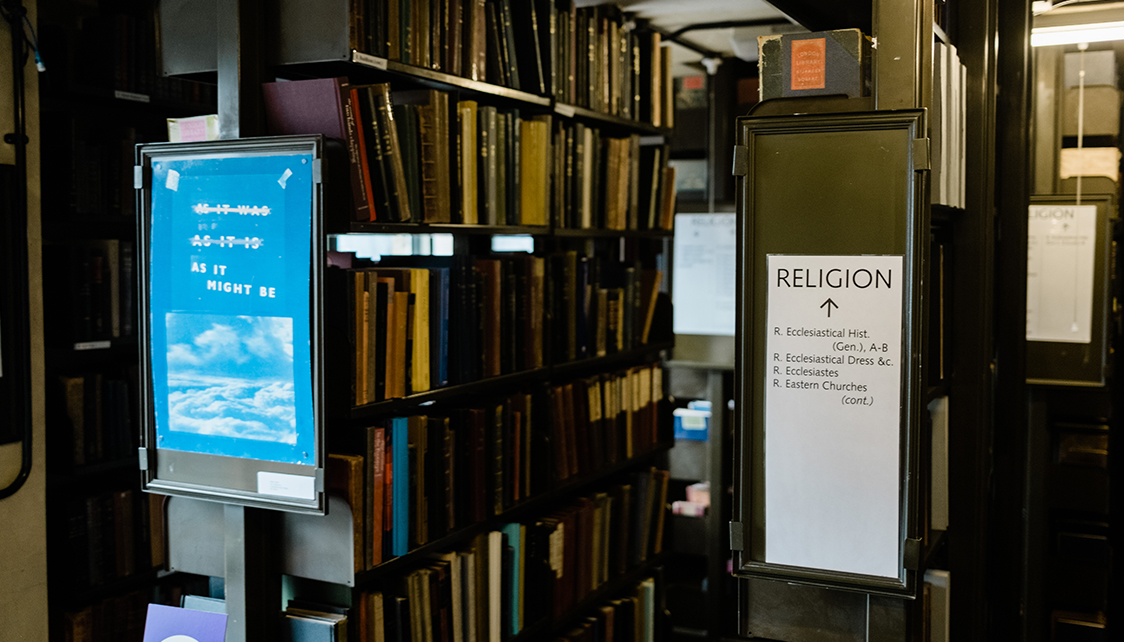 'As it Might Be...' - Mark Harris
Bob Matthews and Mark Harris commented, "It has been an enriching and fascinating experience exploring the visual material held within the Library. We hope that the work will suggest alternative ways to access the collection and that we have sewn a seed for many more potential future projects between The London Library and the visual arts."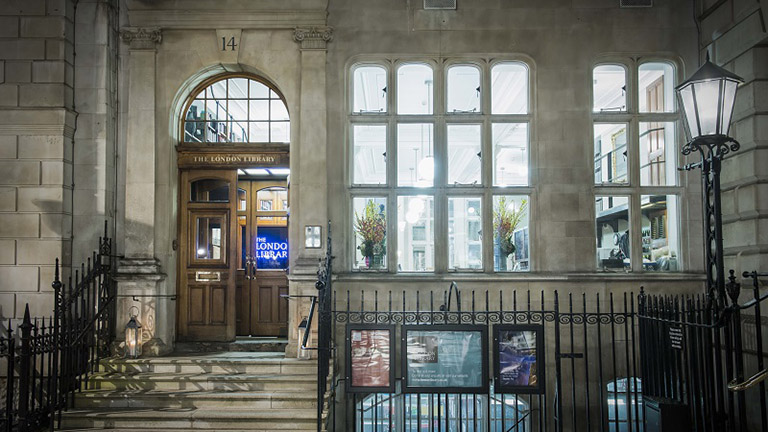 The London Library is to reopen its doors to members on 6 July, following over three months of closure under lockdown.
The move follows the Prime Minister's confirmation that libraries will be included among the cultural institutions able to open from early July as part of the relaxation of lockdown restrictions.
From 10.00am on Monday 6th July the Library will be open six days a weeks and nearly two thirds of its desks will be available for use, enabling members to access one of the most atmospheric working spaces in London.
Under the reopening plans, special arrangements have been put in place to ensure that staff and members can work safely in the Library's vast building which contains over 1 million books - almost all of which are available for borrowing. Book quarantining measures will enable members to borrow books and browse the Library's 17 miles of open access shelves; specially constructed lanes and entrance arrangements will support physical distancing as members enter and leave the building; a pre-booking system will be in place so that numbers in the building can be maintained at appropriate levels.
The reopening of the building comes after an unprecedented effort in which the Library has run an extensive postal loans service, enabling members to borrow books by ordering them online and having them shipped free of charge. With over 500 books being mailed out each week, thousands of books have been lent out during the lockdown period, providing a lifeline to readers and researchers. In addition, members have had full access to the Library's extensive online resources which provide online facilities equivalent to those of many of the best academic libraries.
London Library Director Philip Marshall commented, "Books are so important at this time and we've been delighted throughout lockdown to continue providing extensive access to the collection via postal loans. We can now open the Library building itself and it's wonderful to be able to invite members back into London's great working spaces."
Reopening arrangements:
From 6 July the Library will open at 10am Monday to Friday and 9.30am on Saturdays. Normal closing times will apply
Over 60% of the Library's desks will be in operation, providing socially distanced working space for 84 members at a time.
Members will need to pre-book a day pass to work in the Library or browse the collection, and will also need to book a time-slot if they are looking to collect and return books.
All the Library's book shelves containing its 1m strong borrowing collection will be available for browsing.
Once books are handled, they are quarantined for three days. Enhanced sanitisation and cleaning routines will be in operation across the Library.
Perspex screens and lanes have been installed in entrance and reception areas to enable social distancing and prevent queues.
A one way in/out system will be in place with members asked to enter via St James's Square and leave via Mason's Yard. Mason's Yard will no longer be an entrance route.
Some facilities will not be available, including lockers and storage facilities, reprographic services and kitchen facilities for members.
Find out more at londonlibrary.co.uk/reopening.
Subcategories