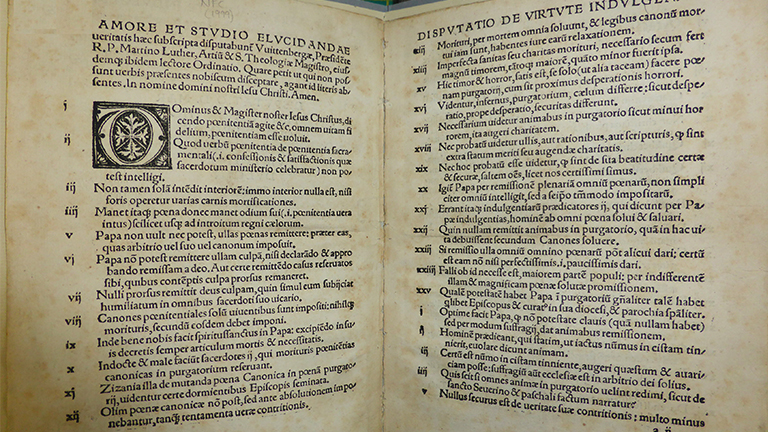 Jane Haslam looks at the story behind one of the most remarkable items in The London Library's collection – an original, and extremely rare, copy of one of the three editions of Martin Luther's Ninety-Five Theses known to have been printed in 1517.
Just over five hundred years ago, during Vespers on All Hallows' Eve in 1517, a notice appeared, nailed to the door of the Castle Church in Wittenberg (an emerging Saxon town in North-East Germany), inviting discussion over the sale of Papal indulgences in the neighbouring provinces of Brandenburg and Saxony-Anhalt. It was usual practice to advertise topics for academic debate on the church doors of University towns – a notice board for a captive audience. This particular disputation was authored by Fr. Martin Luther, an Augustinian friar, doctor of theology and University lecturer. The text ran to a total of ninety-five items for discussion and, as every school child knows, Luther's action is considered to pin-point the exact moment when the Reformation began. Within months the German Church was in ferment and Christendom torn asunder. The repercussions have reverberated throughout half a millennium.
The process of affixing notices to church doors was so familiar, so ordinary, that no-one thought to make record of the moment. We are left in the dark as to whether Martin Luther's Ninety-Five Theses were printed or hand written, whether they were nailed solely to the Castle Church door or onto every other church door in Wittenberg and, most significantly, whether they were nailed or posted anywhere at all. Academics have been, and remain, divided as to the veracity of the story.
The selling of Papal indulgences was an established practice – guilty sinners would part with their money and receive in return letters of safe conduct through Purgatory for themselves and their deceased relatives. The advent of the printing press during the 1440's had enabled the mass production of indulgences. Producing more meant selling more; boosting the income of the Church. Sales of indulgences had been banned by the Elector Friedrich in Saxony but many Wittenbergers crossed the border into Brandenburg and Saxony-Anhalt attracted by Johannes Tetzel, a well-known indulgence preacher.
The question remains how a pedestrian call for debate became the spark from which the Reformation took light. Luther maintained his innocent intentions, but there can be no doubt that once he realised what was happening, and saw how eagerly and quickly his Theses were shared and re-printed, he undertook to mobilise one of the greatest populist movements in history.
Over the centuries, many words have been written about the Reformation, millions of which have been published over the past year or so alone. A quick scan of the London Library Catalogue turns up dozens of monographs and articles, and in this quincentenary year prominent religious and academic institutions are holding conferences and symposia and mounting real and virtual exhibitions.
The London Library is commemorating too because we hold one of the very few remaining copies of the Ninety-Five Theses that were printed in 1517.
Three editions are known to have been printed at the time and it is thought that each were printed within a fortnight of the nailing of the disputations to the church door. There are two broadsheet or placard editions – attributed to printers Joseph Thanner of Leipzig and Hieronymus Höltzel of Nürnberg – and one quarto or pamphlet edition attributed to Adam Petri of Basel. The Library holds an original from the Petri print run.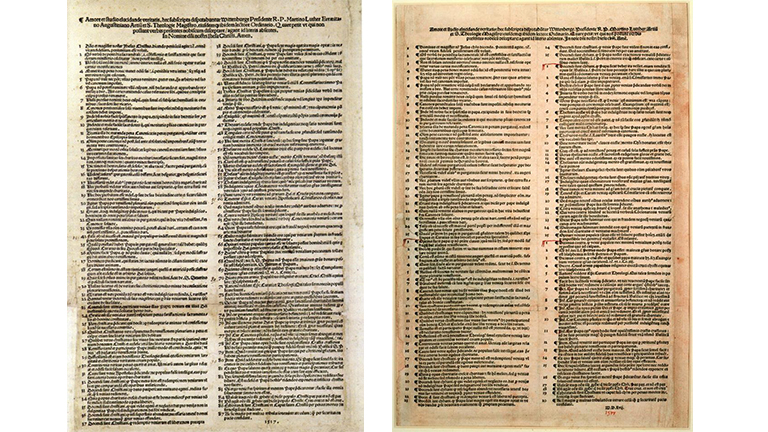 (Left: The Thanner broadsheet – printed by Joseph Thanner of Leipzig – is set with haste and contains numerous setting errors. Right: The Höltzel edition: attributed to printer Hieronymus Höltzel of Nürnberg and the second of the two broadsheet or placard editions)
The three editions show us how swiftly the word was spreading in late 1517. The Thanner broadsheet is set with haste, untidy and full of mistakes. The compositor, clearly under pressure, numbers each thesis in sequence using Arabic numerals but becomes muddled as item 24 becomes 42; 27 becomes 17; and 46 hovers in the middle of item 45, 75 in the middle of 74 leaving a nominal tally of 87. The Höltzel impression is neater and cleaner; an experienced compositor uses Arabic numbers in three sets of twenty-five and one of twenty, a pilcrow marks the beginning of each.The Petri pamphlet uses lower case Roman numerals in sets of twenty-five and twenty, each piece of text is indented. Not as cleanly set as the Höltzel impress, the Petri has a standard print-shop woodcut capital 'D' as decoration but the composition is a little loose. During the printing of the Library copy, it appears an enthusiastic or possibly harassed apprentice over inked the type face prior to the paper being laid upon it and the printed sheet was not pulled cleanly from the press. Once the paper had dried our copy was folded twice to make the quarto pamphlet, sent from Petri's print shop, and distributed from Basel.
Unfortunately, it is impossible to ascertain where our Petri edition went from there: the provenance of the London Library copy is sketchy and open to conjecture. What we know for certain is that The London Library acquired it in 1921. It was delivered to St. James' Square from the Methodist Central Hall in Westminster which was acting as a temporary repository of The Allan Library. Thomas Allan was a 19th century bibliophile and his passion drove him to scour Northern Europe for any and every book of a religious theme. Charles Theodore Hagberg Wright, Librarian, was eager to acquire this substantial collection in order to supplement The London Library's German Collections in which he had a specific interest. Thanks to a lack of commitment by the Methodist Conference, and canny manoeuvring by The London Library, a huge resource of 21,500 volumes packed with historically significant gems was had for a song and the Ninety-Five Theses came to The London Library as part of that collection. Today, Allan's acquisitions not only supplement and enhance the Library's enviable German Collection but they also form the substantial core of the Library's Special Collections.
One can only guess where this copy of the Ninety-Five Theses was during the three hundred and fifty years prior to Thomas Allan acquiring it in the early 1860s. Unfortunately, his acquisition records and invoices have not survived, so it is impossible to pin down where any of the collection originated or how much it cost. Thomas Allan stored his collection in packing cases in Baker Street until he gifted it to the Methodist Conference in 1886 where the majority remained packed away, firstly on City Road and then at Methodist Central Hall in Westminster. On transferring to St James's Square the Ninety-Five Theses was catalogued on 28th October 1921, bound between plain boards and shelved in the recently constructed new glass floored stacks. This seemingly insignificant four-page pamphlet then survived nearly eighty years on the open shelves. When the Anstruther Wing opened in 1999 to house the Special Collections, Allan's Reformation books were transferred there and it is where our pamphlet now resides in a dust-free, temperature-controlled environment.
It doesn't matter whether Martin Luther nailed his Ninety-Five Theses to the Castle Church door in Wittenberg or not, the story survives, as does one of only a handful of copies of the only contemporary quarto printing. Half a millennium after it was pulled from the press, now newly bound and about to be digitised, the London Library copy of the Petri edition of Luther's Ninety-Five Theses reaches its quincentenary both treasured and preserved.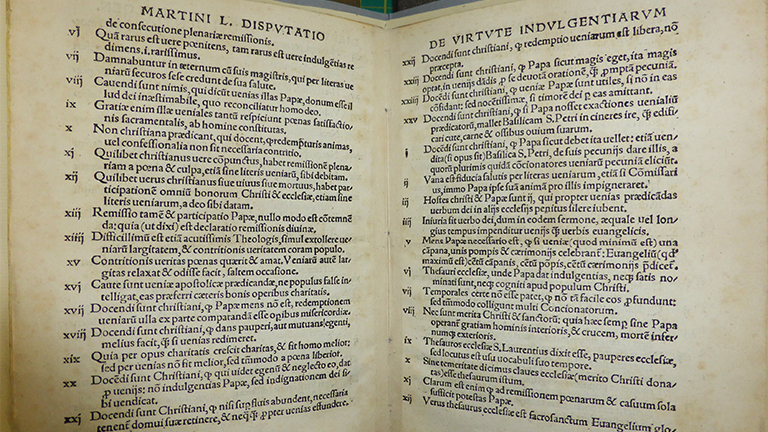 The London Library's copy of the Petri pamphlet edition. The type face was over-inked prior to the paper being laid upon it and the printed sheet was not pulled cleanly from the press.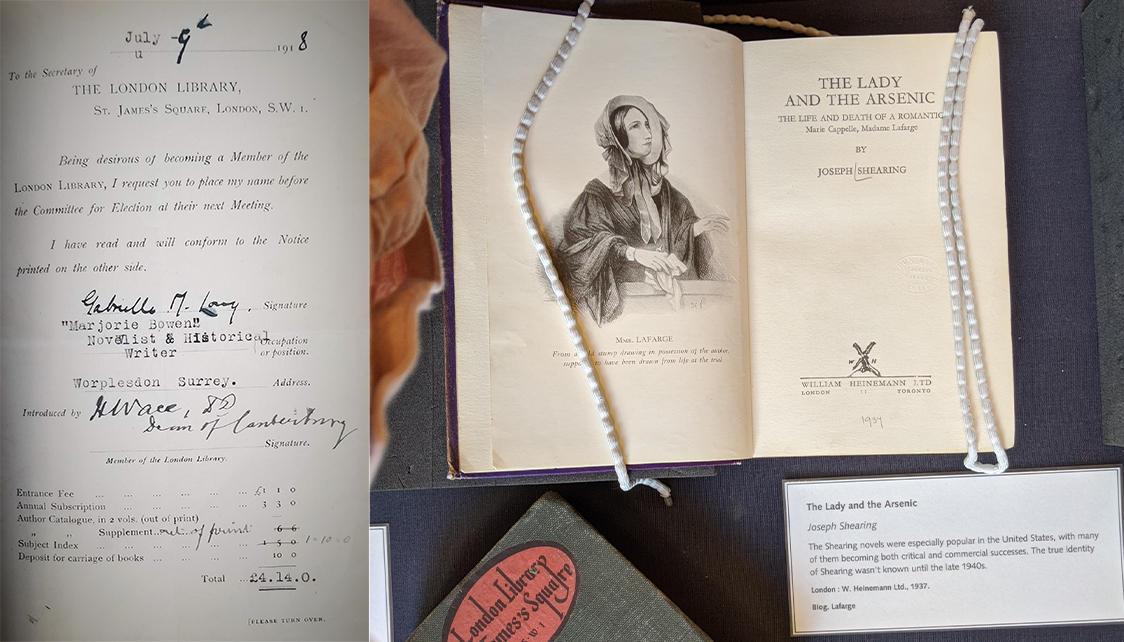 Margaret Gabrielle Vere Long's membership form was recently discovered while completing a collection care condition survey of membership form bindings. Interestingly the form is different from most others because her writing pseudonym is included beneath her signature.
"Marjorie Bowen" is one of many pseudonyms Long used as a writer. She was a prolific British author who wrote historical romances, supernatural horror stories, popular history and biography. Long wrote over 48 books under male pseudonyms including Joseph Shearing, George Preedy and Robert Paye. As "Marjorie Bowen", Long's female pseudonym, she wrote over 150 books, achieving international acclaim and two novels adapted for the big screen.
Long wrote her first published novel, The Viper of Milan, at the age of 16. A number of publishers rejected it claiming that someone so young wasn't capable of writing such a story. Her Shearing novels were especially popular in the United States, with many of them becoming both critical and commercial successes. The true identity of Shearing wasn't known until the late 1940s.
In addition to fiction, biography and crime Long also wrote gothic horror whose work was well respected. During an interview for the Autumn 1953 Paris Review, Graham Greene stated "I chose Marjorie Bowen [as a major influence] because...I don't think that the books that one reads as an adult influence one as a writer...But books such as Marjorie Bowen's, read at a young age, do influence one considerably."

Long's early life was not an easy or happy one. Her father died of alcoholism and her mother was an aspiring writer. The family was poor and were known to move around to avoid paying off accumulated debts. When Long received £60 for her first work, she surrendered it immediately to her mother who was jealous of her success and became increasingly embittered. All of Long's money was banked in her mother's name, and was spent as fast as she earned it. Long seemed always panicked into writing for money, and never stopped being the family breadwinner. The discord affected her so badly that in 1939 she wrote a brutally honest account of her life in The Debate Continues.
The Library holds a number of Long's volumes, under all her pseudonyms, on the open shelves, along with her biography written under her given name, Margaret Campbell. If you are visiting the Library, there is a small display of her work and biography in the Reading Room.
Read more: Amongst the Members: Margaret Gabrielle Vere Long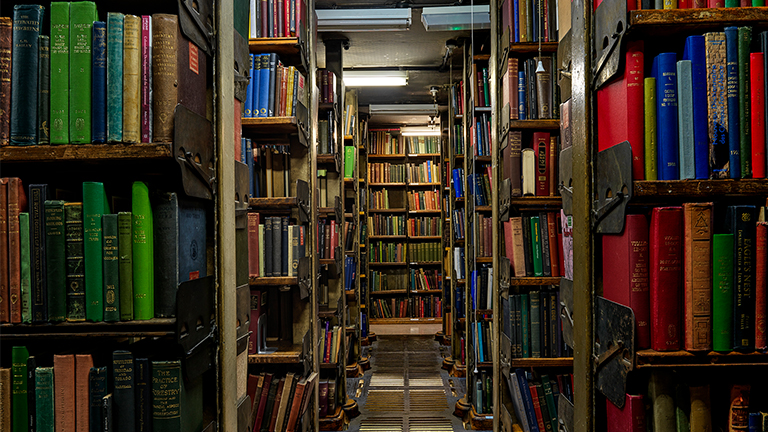 As a Society of Authors' member we are delighted to offer you 25% off membership until 31 October 2020. Just use code 25SOA at checkout.*
The London Library is a home for writers and a haven for reading, writing and thinking. Membership offers access to a remarkable collection of more than one million volumes with around 6000 new books added annually. Plus we offer extensive online resources including over 25,000 online journals, accessible from anywhere in the world.
We also have beautiful working spaces, from elegant reading rooms to atmospheric bookstacks - offering a unique literary oasis. The Library building is currently open and operating with safety measures in place.
With this discount:
Individual membership costs less than £34 a month.
16-26 year olds and partners of current members pay under £17 a month.
Associate membership costs around £23 a month.
Remote membership is less than £19 a month.
Find out about our different types of membership on our website.
If you have any questions, please do not hesitate to contact us on This email address is being protected from spambots. You need JavaScript enabled to view it. or 0207 766 4720.

Our Book Collection and Postal Loans
The London Library has over one million books dating from 1700 to the present day, from rare publications to the most recent fiction and non-fiction releases, all waiting to be borrowed.
Our collection covers history - from ancient to modern: political, ecclesiastical, topographical, constitutional, social, economic, military and more; culture - literature, language, the arts and thought and life - philosophy, religion, folklore, social science, political science, political economy. There are also books in a huge range of niche subjects, from camels to devils, flagellation to human sacrifice, and pawn shops to tunnels. You've not experienced a library until you've looked at The London Library's weird and wonderful books!
Browse our bookshelves, read in the Library, or take them home - London Library members can experience our collection from anywhere in the world. While our building restrictions are in place we are also posting books to members free of charge, simply search our online catalogue, request the books and we will post them to you.
Our Online Resources
Our extensive online resources bring together millions of pages from thousands of journals, periodicals, newspapers and databases. They comprise over 25,000 fully searchable information sources.
Literary resources
An extensive collection of literary journals and collections is available if you're looking to stay in touch with the literary world. London Library membership gives access to titles such as the complete archive of The London Review of Books, New York Review of Books, English Poetry, The Complete Prose of T S Eliot archive, Early English Books Online and many more.
Academic resources
Through JSTOR you can access a huge digital library of academic journals, books, primary sources and periodicals. Members also have access to a vast collection of historic research material through hundreds of publications.
Newspaper archives and historic publications
You'll be able to use the full digital archives of The Times, The Sunday Times, The Guardian, and The Observer, plus the extensive British Newspaper Archive, the 17th-18th Century Burney Newspapers Collection and more! Our subscriptions to historic publications - such as the Illustrated London News - provide a wealth of information.
Art and languages
As well as access to all of the art journals available through JSTOR we also provide use of the International Bibliography of Art, Oxford Art Online and more. Membership gives access to European language newspapers and publications and we also offer Russian literature, language, history and art publications.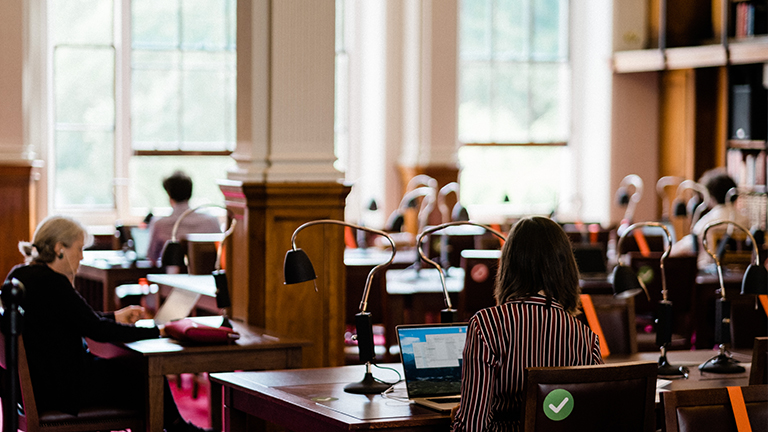 Our Spaces
The Library building is now open again, with important safety measures in place to protect our members and staff. Around 90 desks are available for use across our beautiful reading rooms, as well as individual desks nestled among the book stacks.
We offer one laptop-free space for ultimate peace and quiet, as well as rooms serviced by full WiFi and plug sockets to ensure you have everything you need for a productive day.
Please note that currently slots must be booked before visiting in order to ensure we can adhere to social distancing.
Newsletter
Not ready to join yet but want to hear more about special offers, news and events at the Library? Sign up to our newsletter below.
The London Library promises to respect and protect any personal data you share with us. Your information is used to administer your membership, personalise your experience of the Library and communications, and provide you with the goods or services you have requested. If you are over 18 we may, in some instances, analyse your data and obtain further publicly available data to help us make our communications more appropriate and relevant to your interests, and anticipate whether you might want to support us in the future.
You can opt-out of most communications or the ways in which we process your data by contacting This email address is being protected from spambots. You need JavaScript enabled to view it.. For full details of how we collect, store, use and protect your data, see our Privacy Policy at www.londonlibrary.co.uk/privacypolicy.
*Valid for new members in their first year of membership, please see all terms and conditions.
Mary Shelley and the Birth of Frankenstein
With Miranda Seymour
Mary Shelley's great novel "Frankenstein: or the Modern Prometheus" was first published in January 1818.
Behind the tale of this remarkable novel is the tale of its extraordinary creator - Mary Shelley – who was just 19 when, on holiday with Percy Bysshe Shelley and Lord Byron in 1816, she first conceived the idea for the story that shook the world.
At this event Miranda Seymour - author of the definitive Mary Shelley biography. Miranda will be exploring the writing of the novel and the intricacies of Shelley's life in a fascinating talk, woven around selected readings from Frankenstein and shining a light on the personality behind one of literature's great classics.