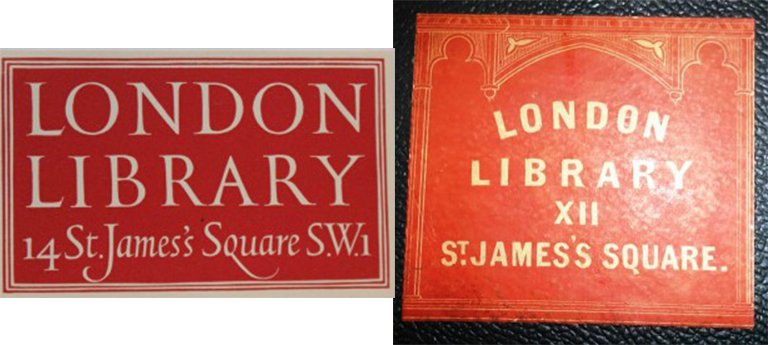 Left: Designed in 1951 Reynolds Stone's London Library label is a timeless classic.
Right: One of the Library's oldest Victorian book labels dates from 1845 and was used on folio volumes.
Designer, engraver and master letter cutter Reynolds Stone (1909-1979) is responsible for one of the Library's most distinctive pieces of branding: the London Library book label (above left). Stone's distinctive label has graced all the books acquired by the Library since 1951. The use of engraved or printed paper labels to mark the ownership of a book is almost as old as printing itself and Stone's label is indicative of the Library's rich cultural heritage.
A retrospective exhibition of Stone's work at the V&A in 1982 showed just how prolific and exquisite his output was. He designed bookplates for writers, publishers and national institutions including the National Trust, the British Council and the Royal family. He engraved the Royal Arms for the coronation of King George VI and Queen Elizabeth II and provided engravings for numerous presses including the High House, Nonesuch, Gregynog and Golden Cockerell Press. His engravings were commissioned by Faber & Faber and the Folio Society and during the course of his career Stone illustrated works by Swinburne, Evelyn Waugh, Rupert Hart Davis, Herman Melville, Elizabeth Barrett Browning, Kenneth Clark, Benjamin Britten and Alfred Lord Tennyson. The quality of his work is neatly underscored in a telling collaboration with Iris Murdoch [The Year of Birds, 1978] in which Murdoch provided the poems in response to Stone's original engravings. Stone's work also included engraved devices for The Times in 1951; the Royal Coat of Arms for HMSO in 1955 and designs for the £5 and £10 notes for the Bank of England in the early 1960s. He taught himself to cut letters in stone and his mastery of the medium led to several nationally significant commissions including the memorials to Winston Churchill in 1965 and T.S. Eliot in 1966, both in Westminster Abbey. His astonishing body of work also includes the creation of two typefaces: Minerva for Linotype in 1954 and Janet in 1968. Stone and his wife Janet Clemence (1912-1998) were well networked in literary circles and entertained in their Dorset home, leading writers, painters and intellectuals including John Betjeman, J.B. Priestley, Benjamin Britten, Kenneth Clark, Henry Moore, Iris Murdoch and John Bayley – many of whom had close associations to the Library.
Stone's London Library label is the latest in a continuum which began during the Victorian era. When viewed in their totality the Library's highly crafted book labels pack a powerful historical punch. They not only mark ownership but transmit messages about the character of the Library and illuminate particular parts of the Library's 175 year history. The oldest surviving labels date from 1845 (see image above right) when the Library made the move from temporary rooms at 49 Pall Mall to what was then 12 (not 14) St James's Square. The red label gives the name and address of the Library within an architectural embellishment – a design feature which underlined the move to new premises. The label came in two sizes the larger more ornate for folio volumes, the smaller for 8vo and 4to volumes (See 1 below). The design of the smaller label remained in use (without a door number) until 1934. A much rarer green Victorian book label (Image 2 below) also survives which was used specifically for new books which could be borrowed for a fortnight only. This short loan label speaks strongly about the demand for new books during the era and the concomitant need to keep them circulating swiftly. At this time members were allowed one new book only at any one time.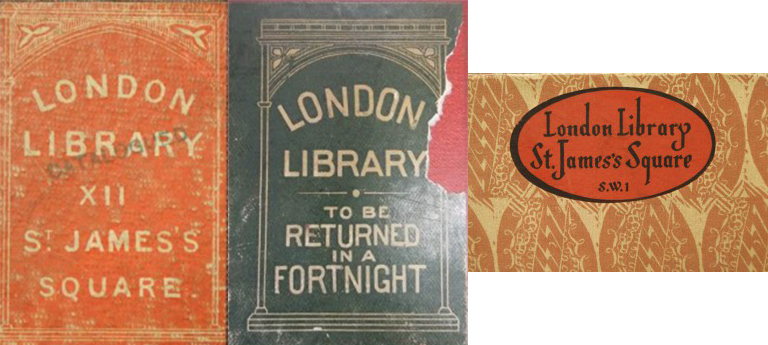 Left: Designed for 8vo and 4to volumes this book label was used between 1845 and 1934. The design was also blind embossed on bound periodicals.
Middle: A rare surviving Victorian short loan label for new books.
Right: Designed by a member of staff in 1934 the introduction of this label coincided with the opening of a major extension to the Library and the knighthood of the Librarian Charles Hagberg Wright.
The red Victorian book label remained in use until 1934 when a new oval shaped label was introduced (Image 3 above). Designed by a member of staff and printed in March 1934 it is perhaps not coincidental that the new oval label was printed just before the grand extension to the Library building was proudly unveiled in 1934. The new extension, designed by Mewes and Davis (architects of the nearby Ritz Hotel) included elegant statement rooms including the Art Room and 5 floors of book stacks. 1934 was also the year in which Hagberg Wright received a New Year Knighthood in recognition of his work as Librarian so the Library had a lot to celebrate. The oval 1930s label remained in use throughout the Second World War and its aftermath until it was replaced by Stone's label in 1951, the year the Festival of Britain celebrated British contributions to science, technology, architecture and the arts. Printed in the Library's Victorian colour palate of red and green Stone's label gave absolute priority to the letter forms which stretch back beyond the Library's Victorian roots to the Renaissance. In addition to these major book labels the Library occasionally produced ad hoc labels in recognition of specific gifts. A peacock blue label acknowledging a gift of 1400 books by Queen Mary in 1954 being one of the most eye catching.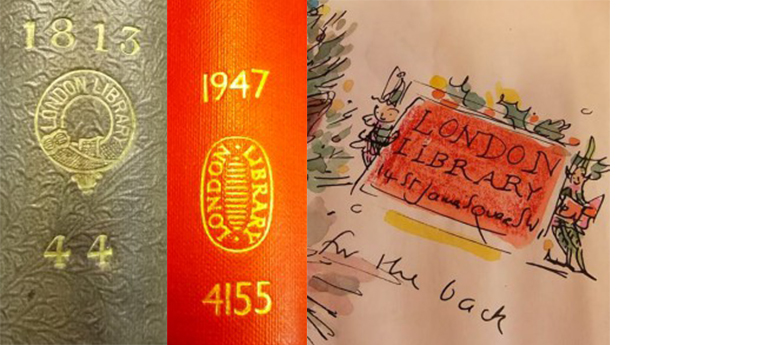 Left: An example of an early ornate gilt spine stamp which dates from the Library's Victorian heyday.
Middle: Peter Waters' 20th century redesign of the Library's spine stamp references the grilled floors of the Victorian Back Stacks in its central horizontal lines.
Right: Reynolds Stone's label illustrated by Charlotte Voake on a Christmas card design for the Library.
In tandem with its book labels the Library also employed ownership devices in the form of gilt spine stamps which it used from 1841 right up until the mid-1970s. The Victorian circular design (Image 1 above) was superseded only once by an oval 20th century design by Peter Waters (1930-2003) which referenced the grilled metal floors of the Victorian stacks in its centrally placed horizontal lines (Image 2 above).
That the Library's iconography resonates in the modern consciousness is demonstrated in the English translation of Haruki Murakhami's The Strange Library translated from the Japanese by Ted Goosen in 2014. The London Library is thanked in the picture acknowledgements for the rich treasury of illustrative matter it provided. From marbled end papers, mottled flyleaves, and even a London Library date label, the iconography of the Library is unmistakably present in this highly illustrated volume. Stone's label received its own acknowledgement from the illustrator Charlotte Voake in one of his London Library Christmas card designs (Image 3 above).
The London Library has outlived the great circulating libraries of the 19th century. Its book labels and spine stamps are distinctive and remarkably enduring features that connect the Library to its Victorian past. In their totality these small marks of institutional ownership tell the story of a library of subscribing members that has kept the book as its sole focus over three consecutive centuries.
Helen O'Neill
Previous Archive, Heritage & Development Librarian
Read more: Making Their Mark: Reynolds Stone and London Library Iconography
THE LONDON LIBRARY PRIVACY POLICY
Introduction
The London Library is a registered charity in England and Wales (charity no. 312175). We rely on the commitment of our membership and generosity of those who donate to the Library. We take the privacy of everyone who engages with us very seriously and this policy outlines how The London Library will manage all the information that we hold on you and give you further detail on how you can change how we managed that information.
The London Library is the 'data controller' for the personal information that you provide us; and that we collect, use, and store. This activity is done in accordance with Data Protection law including the UK's Data Protection Act 2018, the EU General Data Protection Regulation and the Privacy and Electronic Communications Regulation.
The London Library retains, collects and uses your information in order to undertake activities necessary to the Library's operations and development. We are committed to protecting your privacy and security, and respect any personal data you share with us. When you provide your data we aim to be clear about how we will store and use it, and not to do anything with it that you would not reasonably expect. This policy outlines what information is retained, what information is collected and from where, how we use that data and how you can contact us to change how we hold and manage your data.
This policy is reviewed and updated annually, so that you can be confident when sharing your information with us that it will only be used for the purposes outlined here. If you have any questions, please do not hesitate to contact Michael Clayton (Director of Finance & Administration) on 020 7766 4713 or data@londonlibrary.co.uk.
This policy was last updated April 2020.
The London Library contact details on information matters:
Address: The London Library, Data and Information, 14 St James's Square, London, SW1Y 4LG
Email: This email address is being protected from spambots. You need JavaScript enabled to view it.
Phone: 020 7766 4700
Your rights and access to your data
You have the right to ask for a copy of the personal data we hold about you. This is called a 'Subject Access Request'. You can also request to have the personal data we hold about you erased to object to our use of your personal data, or to restrict the ways we use your personal data. To make any of these requests please see the further details below and then use the contact details above.
You also have the right to update or correct the personal information we hold about you and where you have provided consent for us to use your personal information you have the right to withdraw you consent at any time.
What information we collect and when we collect it
Your personal data is provided to us and collected in a number of ways.
In most cases we store and use the personal data you give us when you decide to interact with us. This could include joining as a member of the Library, purchasing temporary tickets to use the Library, attending an event, signing up to our e-newsletter or making a donation.
In a small number of cases further personal information may also be gathered from public sources. And there may also be instances where personal data is provided by a third party, this will mainly occur when a gift membership is purchased or a book adopted for you by someone else.
Why we collect and use your information
The main reasons for retaining, collecting and using your personal data are to fulfil your membership of the Library or any service or product you have requested or purchased. We want to ensure that we offer you a personalised experience and inform you of events or updates you have asked to hear about or any additional information you need to know. We also use your personal information to understand our members, donors, visitors, prospective donors and customers - including their needs of the Library and interest in the Library.
We only retain, collect and use your personal data when a legal basis has been identified for doing so, in accordance with Data Protection Law. For most cases there are four reasons for such retention and processing that are relevant to The London Library; this is consent, compliance with legal obligation, legitimate interest or for contractual necessity.
How we keep your information safe?
We are committed to ensuring that your information is secure. In order to prevent unauthorised access or disclosure, we have put in place appropriate physical, electronic and managerial procedures to safeguard and secure the information we store.
When we share any personal data we ensure that security is maintained through encryption. For more information on who we share your information with please see the 'Who we share your information with' section below.
Credit card payments are handled by our payment partner Secure Trading.
Organisations and suppliers based inside the European Economic Area (EEA) will be subject to the same data protection laws as companies based in the UK. In some cases, we will engage with organisations and suppliers outside the EEA included the United States, for example cloud-based systems, and if any of the computer servers used to host the website are outside of the EEA area. In these situations we will take steps to make sure that these suppliers provide an adequate level of protection in accordance with UK data protection law. By submitting your personal information to us you agree to this transfer, storing or processing at a location outside the EEA.
Who we share your information with?
We only share personal data that is relevant and proportionate for the practical delivery of a service for the Library (such as mailing the magazine). Our partners are subject to contractual agreements which to help ensure compliance with Data Protection legislation – this includes agreement that the third-party supplier will not retain your data after the activity is completed.
The London Library will never sell, rent, share or trade your personal data to third parties for marketing purposes without your prior consent. On some rare occasions we may want to share your data with carefully selected partner organisations who have worked with The London Library, in these instances we will always ask for your permission.
About this Privacy Policy
We reserve the right to amend this privacy policy from time to time. If we make any significant changes in the way we treat your personal information we will make this clear on The London Library website or by contacting you directly.
If you have any questions about any aspect of the data we hold please contact the London Library on 020 7766 4713 or This email address is being protected from spambots. You need JavaScript enabled to view it..
If you wish to raise a concern about the Library's handling of your data you should first contact Michael Clayton at the Library. If you are unhappy with the response you receive from the Library, you can contact the Information Commissioner's Office (ICO) at www.ico.org.uk or contact their helpline on 0303 123 1113. If you would like more information about the Data Protection Act 201 (EU General Data Protection Regulation) and the lawful basis for processing your data please see the ICO's Guide to GDPR.
During the Library's closure period all requests are being fulfilled by post. A small number of staff are on site twice a week in order to retrieve and send items. However, there are likely to be delays in supplying books as there is heavy demand for the service and we are aware that the postal service nationally is under great pressure. As a result, a book may appear on your account several days before it is delivered. Items from our Special Collections or any that require a guarantee form will not be supplied during the closure period.

As you will understand, demand for this service is very high and the staff are working in a very structured way for their own safety. As a result, once a book has been requested, we will be unable to identify it and cancel the hold should you change your mind.
If you would like the book to be sent to an address other than the one you have registered with the Library (see My Account for the address we hold) please email This email address is being protected from spambots. You need JavaScript enabled to view it. to update your address before placing the holds. We cannot guarantee that the book will go to the correct address if you let us know after the request has been placed.
Members are able to return books to us either by post to our Mason's Yard address or through the letterbox at our St James's Square entrance.
London Library Newsletter
Our free e-newsletter is a great way to receive regular updates on news and events taking place at the Library.
To subscribe, please enter your email address.
---
The London Library promises to respect and protect any personal data you share with us. Your information is used to administer your membership, personalise your experience of the Library and communications, and provide you with the goods or services you have requested. If you are over 18 we may, in some instances, analyse your data and obtain further publicly available data to help us make our communications more appropriate and relevant to your interests, and anticipate whether you might want to support us in the future.
You can opt-out of most communications or the ways in which we process your data by contacting This email address is being protected from spambots. You need JavaScript enabled to view it.. For full details of how we collect, store, use and protect your data, see our Privacy Policy at www.londonlibrary.co.uk/privacypolicy.