We reveal the remarkable and dramatic provenance behind a small volume contained in the Library's collections, rescued from its watery resting place inside the wreck of cargo steamer S.S. Halcyon, which was mined and sunk in April 1916.
A small, watermarked volume entitled The planter's manual : an English, Dutch, Malay and Keh Chinese vocabulary compiled by G. Fraser Melbourn and printed in Deli-Sumatra in 1894 has one of the most dramatic provenances of the one million books housed at The London Library. Its compiler was a tobacco planter who, upon 'arriving in Deli, badly felt the want of a book from which I could pick up Malay – that is the Malay that is really spoken, in other words, every-day Malay'. To supply this deficiency he spent 'many happy hours' over several years preparing the 'little work', which he begged the reader not to judge if they should be in a 'critical mood'. He chose to include also words in the Keh Chinese dialect as he believed it to be 'by far the prettiest of the various dialects and with a little appreciation the easiest learnt.'
A letter written by one S. Hyde Turner (co-author of the alphabet book Zoological concoction, London, 1902) to accompany his gift of the book to The London Library in 1919 tells us that that G. Fraser Melbourn 'came to England in 1897 and died here some 20 years ago' i.e. around 1899. The use of the word 'came' instead of 'returned' is intriguing and would seem to indicate that Melbourn was not born in Britain.
Melbourn's choice of terms for his vocabulary is very revealing and evocative; a selection taken from the list of words beginning with the letter 's' transports us to the hot and humid world of the plantation and its back-braking toil: 'swamp, swear, sweat, sweep … '. The book that was written in such a damp environment was destined for even wetter surroundings.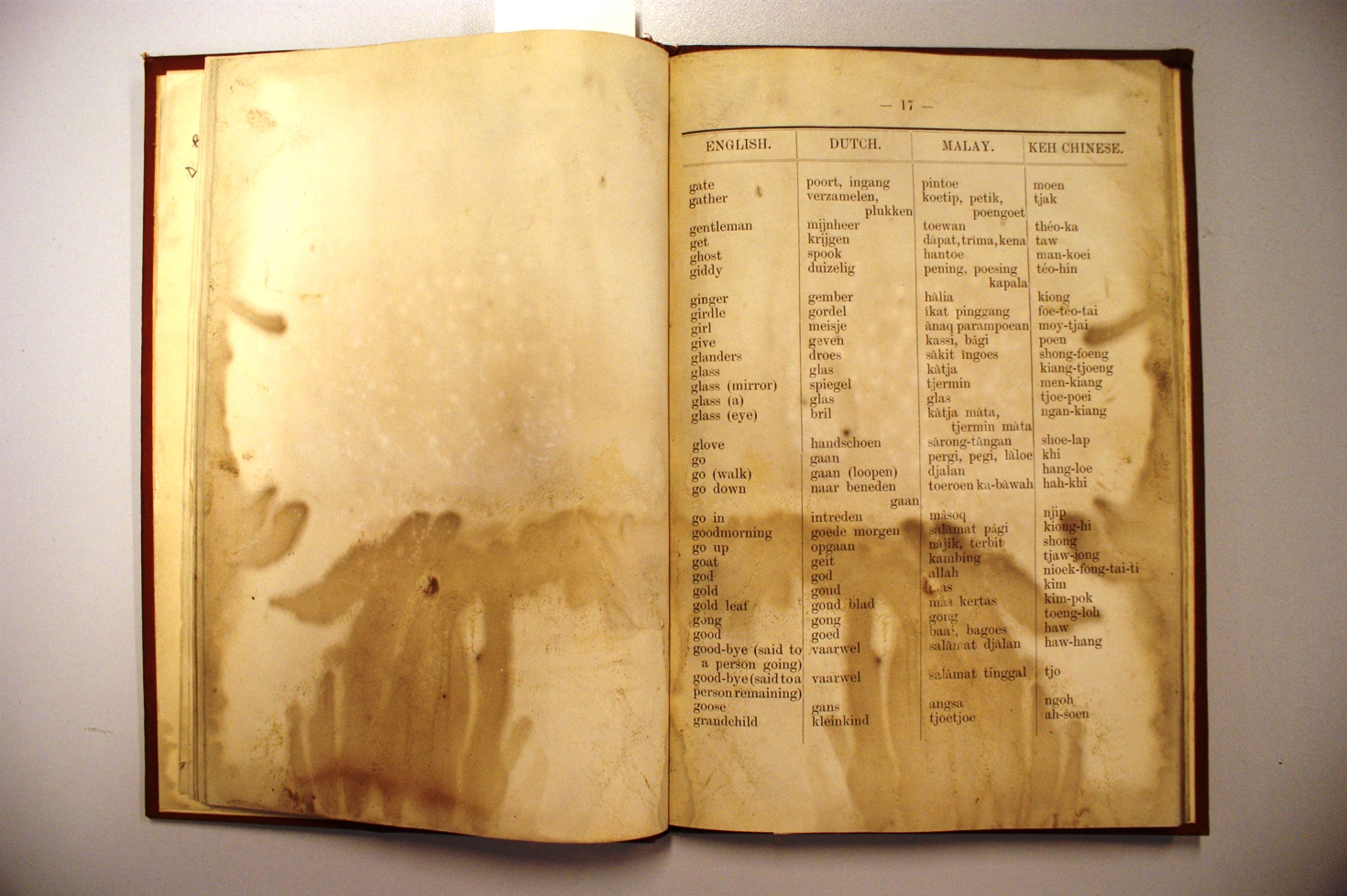 Turner's letter, written on stationery from the Junior Athenaeum Club, explains the book's condition. In it he tells us that 'the Germans are to blame' for its water damage as the book was on board the cargo steamer S.S. Halcyon when she was mined and sunk only three and half miles off Folkestone Pier while travelling from Bordeaux to London on 7 April 1916. She was almost brand new, having been built the year before by the Ailsa Shipbuilding Company for the General Steam Navigation Company in London. Turner does not tell us what a Victorian plantation owner's manual, designed to be used in Sumatra, was doing on a cargo steamer crossing the English channel in during the First World War, although it is possible that the English seamen found some of its Dutch vocabulary useful on the continent, but he does say that 'the book spent about 6 months in the bed of the Channel …'.
The Halcyon is still rusting away under some 12 metres of water and exactly how the book came to be rescued six months after going down with the ship is unknown. The ghostly marks left on its pages by the Channel waters are consistent with the book having been only partially wet and it is likely that in the moments before sinking the crew placed the ship's books and documents in waterproof bags in the hope that they could later retrieve them from the relatively shallow waters. Had they not done so the only surviving copy of this book would be the one kept at the British Library.

London Library Remote Access Membership
Apply now and get 15% off our great online offer!*
Remote Access membership is perfect for anyone that would like full access to the London Library's online resources and postal loan service. And with so many of us working from home at the moment it's an ideal way of exploring a world class collection of reading and research material.
Our extensive online resources bring together millions of pages from thousands of journals, periodicals, newspapers and databases. They comprise over 25,000 fully searchable information sources.
Just use code LOCKDOWNTWITTER at checkout on our website before midnight on 23 February. With this offer, Remote Access membership costs around £20 a month, or £220.75 when paying by annual Direct Debit.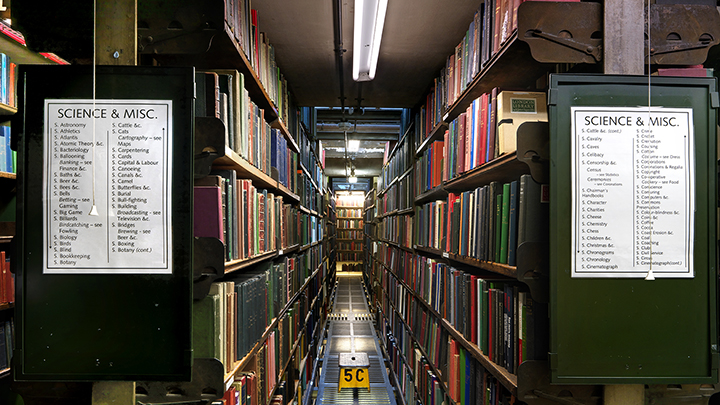 Our Book Collection and Postal Loans
Our online resources are complemented by a book collection of extraordinary range and depth. The London Library has over one million books dating from 1700 to the present day, almost all of which can be borrowed when the Library building re-opens.
We run an excellent postal loans service meaning you can continue borrowing books by ordering them online and we will then post them to you free of charge in the UK. We would normally charge for packing and postage but we have, for now, decided to waive those charges. We have also decided to extend every member's existing borrowing limit by five books for the duration of the current Library closure, again, free of charge.
Our Online Resources
Academic resources
Through JSTOR you can access a huge digital library of academic journals, books, primary sources and periodicals. London Library membership provides free access to most of JSTOR's content, which subscribed to separately normally costs around £200 per annum.
Members also have access to a vast collection of historic research material through hundreds of publications including The Bibliography of British and Irish History, British History Online, the Proceedings of the Old Bailey 1674-1913, the Survey of London and The British Newspaper Archive, plus much more.
Newspaper archives and historic publications
As a London Library member you'll be able to use the full digital archives of The Times, The Sunday Times, The Guardian, and The Observer, plus the extensive British Newspaper Archive, the 17th-18th Century Burney Newspapers Collection and more!
This enormous range of archival material is perfect for researching from home - whether you're working on an academic research project, writing a novel or working on your family history.
Our subscriptions to historic publications - such as the Illustrated London News and the Country Life archive - provide a wealth of information, much of it beautifully illustrated, that is ideal for both work and pleasure.
Literary resources
An extensive collection of literary journals and collections is available if you're looking to stay in touch with the literary world. London Library membership gives access to titles such as the complete archive of The London Review of Books, New York Review of Books, English Poetry, The Complete Prose of T S Eliot archive, Early English Books Online and many more.
Art
Our online art resources offer a wealth of material for art researchers and art historians. As well as access to all of the art journals available through JSTOR we also provide use of the International Bibliography of Art, Oxford Art Online and more.
Languages
The London Library's language collection is extensive. Membership gives access to European language newspapers and publications such as Die Zeit/Literatur book reviews and Gallica: The digital library of the national library of France. We also offer Russian literature, language, history and art publications.
eBooks
We offer eBooks through OverDrive who offer a wide selection of fiction and non-fiction eBooks, and a range of audiobooks. We have identified a number of titles that are in high demand in the Library and have purchased additional copies as eBooks. We have also purchased some fiction that we see circulating quite highly in the Library, such as books which have won awards of various kinds

Online Research support
While our building is closed our Member Services team is on hand to help you get the most out of using our online services and to provide enquiry and research services by email (This email address is being protected from spambots. You need JavaScript enabled to view it.). Such help may include:
Helping you identify sources and journal articles in the e-Library relevant to your research or interest
Guidance on how to use the online resources if you have not used them greatly before and would like assistance on how best to approach your research.
Special Offer
Join before midnight on 1 February and get 15% off Remote Access membership!* Just use code LOCKDOWNTWITTER at checkout on our website.
With this offer, Remote Access membership costs around £20 a month, or £220.75 when paying by annual Direct Debit.
Join online today and become a member of one of the world's great literary institutions
Newsletter
Not ready to join yet but want to hear more about special offers, news and events at the Library? Sign up to our newsletter below.
The London Library promises to respect and protect any personal data you share with us. Your information is used to administer your membership, personalise your experience of the Library and communications, and provide you with the goods or services you have requested. If you are over 18 we may, in some instances, analyse your data and obtain further publicly available data to help us make our communications more appropriate and relevant to your interests, and anticipate whether you might want to support us in the future. You can opt-out of most communications or the ways in which we process your data by contacting This email address is being protected from spambots. You need JavaScript enabled to view it.. For full details of how we collect, store, use and protect your data, see our Privacy Policy at www.londonlibrary.co.uk/privacypolicy.
*Valid for new members in their first year of membership. See all terms and conditions here.
Thank you for registering your interest in The London Library Festive Party on Wednesday 9 December, 7:15pm to 7:45pm.
We look forward to seeing you at this exciting and fun-filled event. We will be in touch with further information.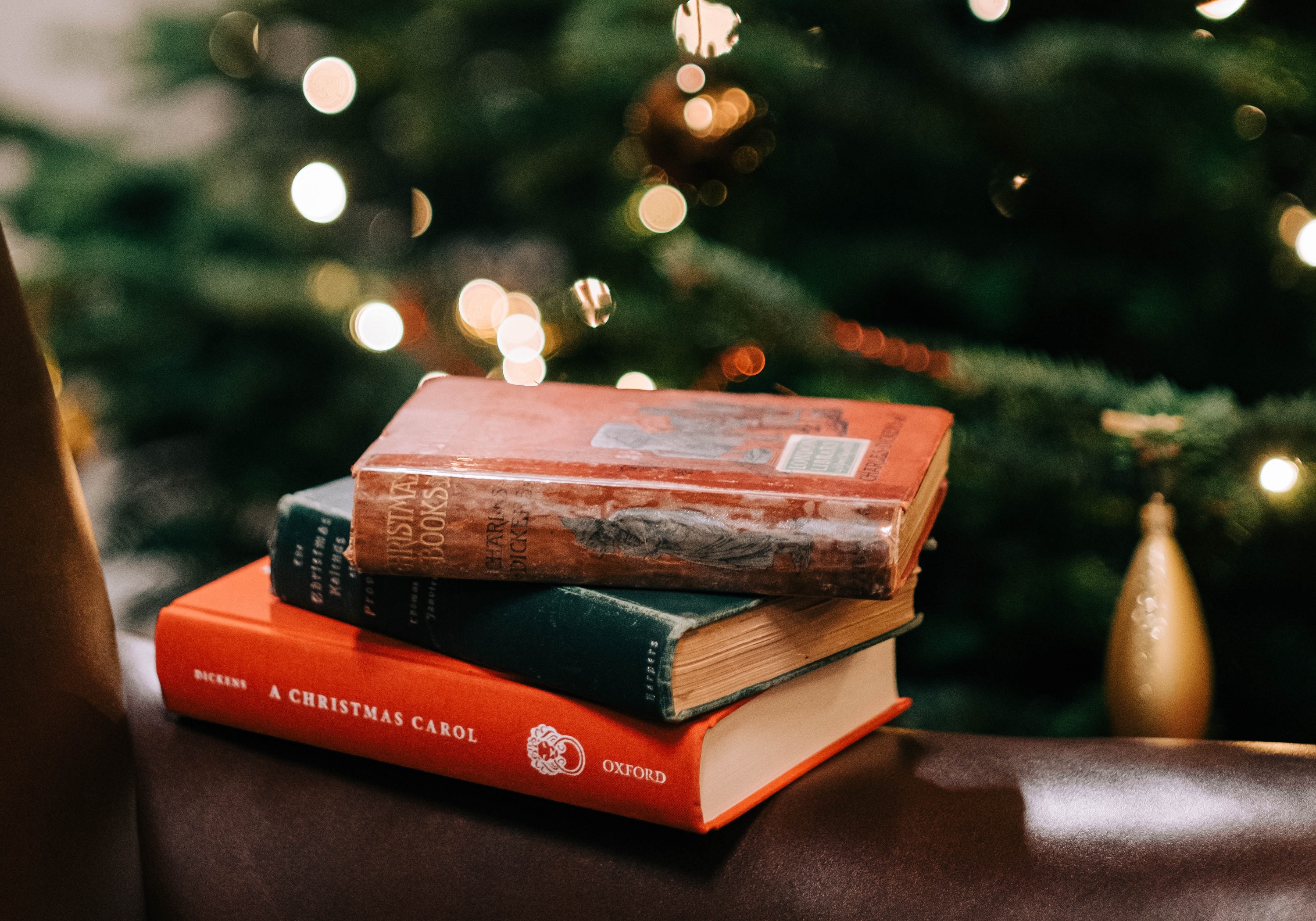 We hope you can join us on 9 December for a very special online festive event with entertainment and readings, hosted by the President of the Library, Sir Tim Rice.
You can register your interest in attending and find more information as it is announced by leaving your email address below.