London Library Newsletter
Our free e-newsletter is a great way to receive regular updates on news and events taking place at the Library.
To subscribe, please enter your email address.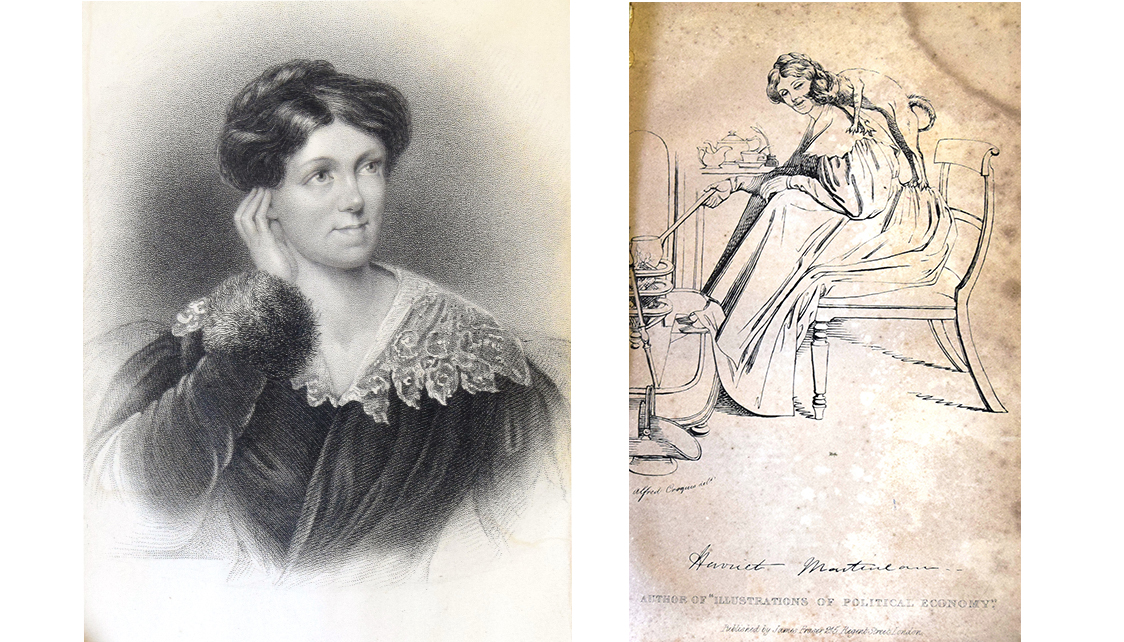 The work of Harriet Martineau, founder member of the Library was internationally influential during her lifetime. Today, however, she is more likely to be known for her novel Deerbrook, than for her work in the field of comparative sociology; her progressive politics; or feminist sociological perspectives on marriage, children and domestic life.
Martineau's absence from the mainstream today belies her 19th century profile. Caroline Darwin sent her brother a copy of Martineau's Illustrations of Political Economy while he was aboard HMS Beagle: in her letter she described Martineau as "a great Lion in London". George Eliot referred to her as "the only English woman that possesses thoroughly the art of writing." Illustrations was a ground-breaking, bestselling series which catapulted Martineau to national fame in 1832. Her innovative use of popular fiction to address economic issues such as strikes and taxation paved the way for the medium to take hold as a vehicle of social reform. She may have written novels and children's stories but she is also responsible for the first systematic methodological treatise in sociology and conducted detailed international comparative studies of social institutions. Her international influence was recognised by the American Wendell Phillips who, in 1877, called this slightly built, profoundly deaf, outspoken woman from Norwich "the greatest American abolitionist." Harriet Martineau was a trailblazing polymath.
In addition to 50 books, Martineau penned over 1600 leader articles on the issue of slavery. She was considered an expert on America at home, having spent two years travelling the country in 1834. On her outward journey Martineau wrote How to Observe Morals and Manners, a landmark work in the field of sociology. In America, from the slave market to the House of Congress, she travelled extensively – visiting prisons, schools, plantations, factories and universities – and she talked to an astonishing array of people, from prison inmates to Congressmen. Well known for her opposition to slavery, which she said was "indefensible, economically, socially, and morally", she arrived in America during pro-slavery riots and was quick to lend the weight of her name to the abolitionist cause – which was seen as a wildly radical move at the time.
When she returned to Britain there was a Molière-type farce as three publishers simultaneously bid for her work from separate rooms in her house. Society in America resulted in 1837, followed in 1838 by Retrospect of Western Travel and by The Martyr Age of the United States in 1839: the first account of the history of American abolitionism. Published over a decade before Uncle Tom's Cabin, her novel The Hour and the Man was written to support the abolition of slavery. She was foreign correspondent for the Anti-Slavery Standard in America and kept the issue prominent at home in articles in The Daily News.
Martineau was successful and controversial, acknowledging in her autobiography that at least five of her books could potentially have ended her career. She can often be seen, however, head above the parapet when controversial Victorian storms raged. At an unveiling of a statue of her in Boston in 1877 Wendell Phillips, in his last public address, said:
"It is easy to be independent when all behind you agree with you, but the difficulty comes when nine hundred and ninety-nine of your friends think you are wrong. Then it is the brave soul that stands up, one among a thousand…This was Harriet Martineau."
Read more: Harriet Martineau- Forthright, Formidable and Feisty
Member Services
The ​​Member Services team, headed by Amanda Stebbings,looks after all the main book lending services used by members and many of the services and facilities (eg reprographics) they need when working in the Library. The team incorporates:
Circulation: The circulation team is responsible for book lending services including loans and renewals. They also handle book enquiries from members - from straightforward book requests to complex subject enquiries.
Book Enquiries: (020) 7766 4743 |

This email address is being protected from spambots. You need JavaScript enabled to view it.

Issues & Returns: (020) 7766 4743 |

This email address is being protected from spambots. You need JavaScript enabled to view it.

Renewals: (020) 7766 4743 | r

This email address is being protected from spambots. You need JavaScript enabled to view it.
Reception: Reception staff are on hand to advise and welcome members and visitors on arrival in the building.
(020) 7766 4700 |

This email address is being protected from spambots. You need JavaScript enabled to view it.
Postal loans: Enabling members unable to visit the Library in person to have books sent to them by post. The postal loans team also look after inter library loan requests.
(020) 7766 4782 |

This email address is being protected from spambots. You need JavaScript enabled to view it.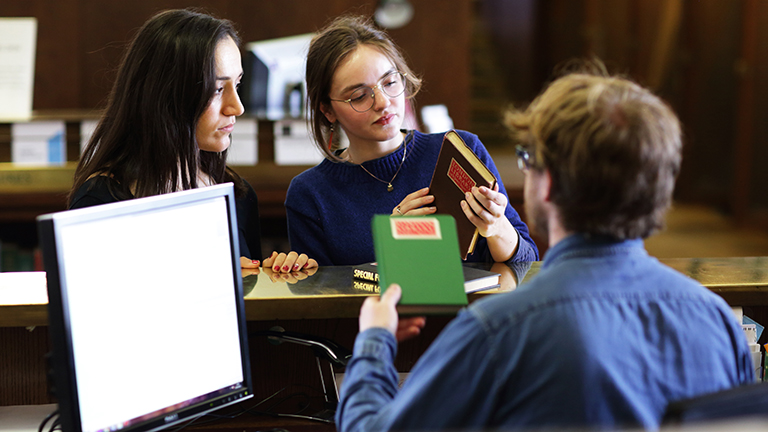 Acquisitions​
The Acquisitions Team is headed by Gill Turner and handles the acquisition of books and periodicals coming into the collection whether they are newly published, replacements for existing copies, out of print materials or print and online titles brought in under ongoing subscriptions to journals, periodicals, directories etc.
Around 6,000 books are added to the collection annually. The selection of titles draws on the expertise and ongoing research of the Acquisitions team and takes account wherever possible of recommendations from members about titles that would support their research and strengthen the collection. Suggestions for new books can be made to This email address is being protected from spambots. You need JavaScript enabled to view it..
Much of the Library's acquisition material has to be purchased but donations that fit the collection are welcomed and members are invited to contact the team via This email address is being protected from spambots. You need JavaScript enabled to view it. if they have books they or their publisher wish to donate.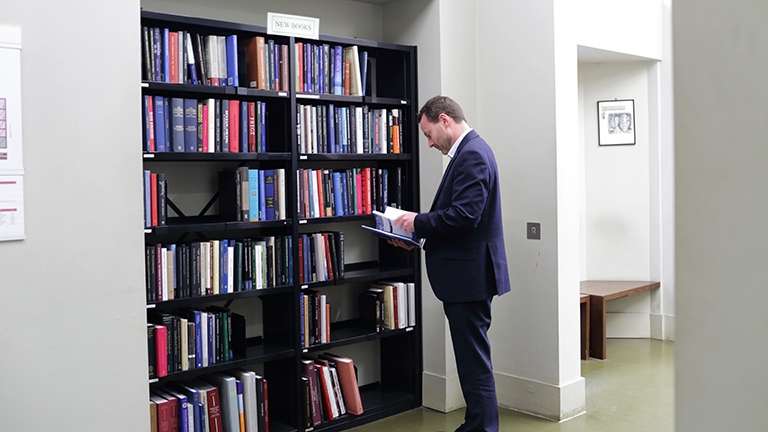 Collection Care
The Collection Care team is headed by Kate Sloss and deals with all aspects relating to the physical well-being of the Library's book stock and its long term preservation. Working from a dedicated conservation studio the team carry out in-house book repairs and work with outside conversation services, such as book binders, for more complex repairs. A team of stack management staff are responsible for the correct sequencing of stock and prompt return of books to the shelves.
Collection Care is also responsible for facilitating awareness of and access to the Library's Special Collections, working closely with the Library's Archivist who catalogues the Library's institutional and historic membership archives and oversees its conservation.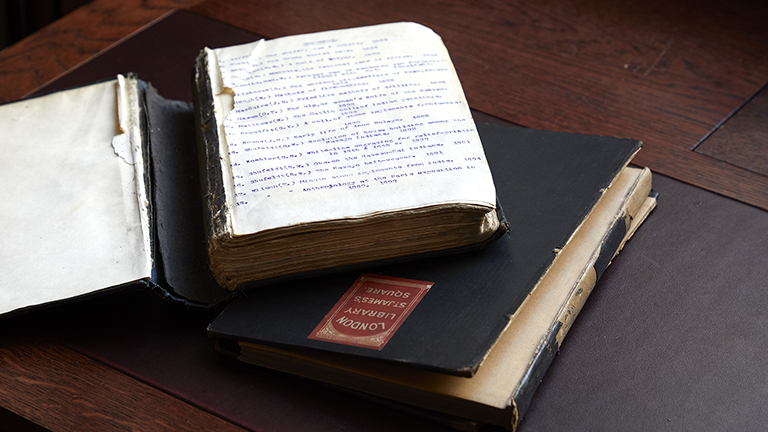 Bibliographic Services
The Bibliographic Services team headed by Fay Dowding is responsible for the cataloguing and classification of all new acquisitions and donations. It also catalogues our pre-1950 acquisitions retrospectively and maintains the Library's unique classification scheme, adapting and developing it where necessary to accommodate how subjects change over time.
The London Library is proud of its people and the high quality service they provide. Follow the links below to find more about the Library's teams along with a list of key contact addresses where you can get in touch.
"I give daily thanks to The London Library and its peerless staff" - Max Hastings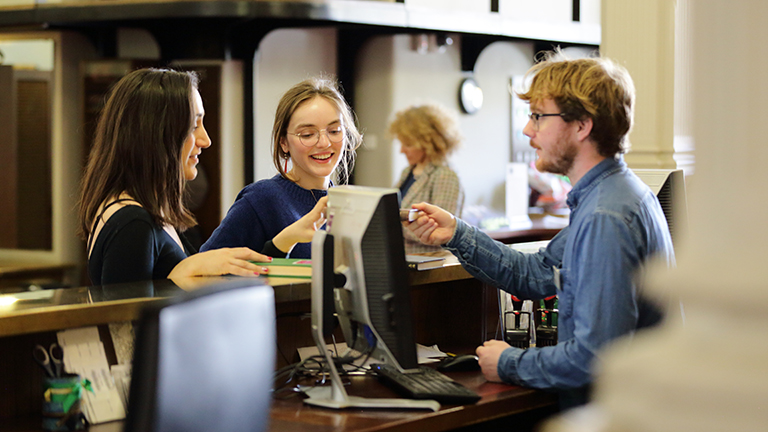 The Library is organised into four Departments each led by a Director from the Executive Team.
Collections and Library Services Department
Four teams within this Department are focused on maintaining and developing the Library's unique collection and the outstanding library services that provide access to it:
Member Services
Acquisitions
Collection Care
Bibliographic Services
Between them, they deal with many of the services that members rely on directly when accessing the collection - including book lending, postal loans, new book and online acquisitions, book repairs, stack management, archives, and cataloguing.
Key contacts
Book Enquiries: (020) 7766 4743 |

This email address is being protected from spambots. You need JavaScript enabled to view it.

Issues & Returns: (020) 7766 4743 |

This email address is being protected from spambots. You need JavaScript enabled to view it.

Renewals: (020) 7766 4743 | r

This email address is being protected from spambots. You need JavaScript enabled to view it.

Reception: (020) 7766 4700 |

This email address is being protected from spambots. You need JavaScript enabled to view it.

Postal loans: (020) 7766 4782 |

This email address is being protected from spambots. You need JavaScript enabled to view it.

New Book suggestions:

This email address is being protected from spambots. You need JavaScript enabled to view it.

Book donations:

This email address is being protected from spambots. You need JavaScript enabled to view it.
The Department is headed by Director of Collections and Library Services, Matthew Brooke: This email address is being protected from spambots. You need JavaScript enabled to view it.
Development Department
Fundraising plays a vital role in enabling the Library - which receives no money from public funding - to operate and provide the services it does. Under the direction of Fundraising Director' Melanie Stoutzker, and Head of Fundraising, Anna Clarke, the Development team is responsible for creating, maintaining and deepening relationships with all our supporters, running a range of development programmes through which individuals and institutions can support the Library.
Key contacts
Fundraising Director: Melanie Stoutzker

This email address is being protected from spambots. You need JavaScript enabled to view it.

Head of Fundraising - Anna Clarke

This email address is being protected from spambots. You need JavaScript enabled to view it.

Fundraising enquiries and donations:

This email address is being protected from spambots. You need JavaScript enabled to view it.

Founders Circle:

This email address is being protected from spambots. You need JavaScript enabled to view it.

Filming and Venue Hire:

This email address is being protected from spambots. You need JavaScript enabled to view it.
Finance & Administration Department
Teams and key contacts
Accounts -

This email address is being protected from spambots. You need JavaScript enabled to view it.

Building & Facilities Management. The BFM Team, headed by Jeremy Cox (jeremy.cox@londonlibrary), is responsible for maintenance and security of the building and the provision of core facilities to ensure the Library is a safe, comfortable and effective working environment for members, staff and visitors. The team provides the first port of call for deliveries and postal services and also operates beyond normal opening hours to allow for cleaning, events or significant maintenance work.
HR - HR Manager,

This email address is being protected from spambots. You need JavaScript enabled to view it.

IT - Head of IT,

This email address is being protected from spambots. You need JavaScript enabled to view it.

Finance and Resources - Director,

This email address is being protected from spambots. You need JavaScript enabled to view it.

Membership Department

A thriving membership is vital to the Library and the Membership Department is responsible for raising awareness of the Library, recruiting new members and ensuring that existing members get as much as possible out of their membership beyond use of the collection. The team's activities include:

Marketing - recruiting new members and keeping existing and potential audiences informed of the many benefits of Library membership
Communication - helping raise the profile of the Library through a range of channels including print, broadcast and social media, the London Library magazine and the website
Events - developing a vibrant program of public events
Membership administration - ensuring that all our members' subscriptions and new membership applications are efficiently processed and maintained
Merchandise and branding - ensuring a consistent and compelling identity for the Library's communications and external profile

Key contacts:

Membership enquiries:

This email address is being protected from spambots. You need JavaScript enabled to view it.

Press enquiries:

This email address is being protected from spambots. You need JavaScript enabled to view it.

The London Library magazine:

This email address is being protected from spambots. You need JavaScript enabled to view it.

Public events:

This email address is being protected from spambots. You need JavaScript enabled to view it.

Marketing enquiries:

This email address is being protected from spambots. You need JavaScript enabled to view it.

Membership Director: Felicity Nelson, This email address is being protected from spambots. You need JavaScript enabled to view it.

The Executive Team

Click here to find out more more about the members of the Executive Team, which is led by Library Director Philip Marshall:

If you have any feedback about using the Library and the Library building, we'd love to hear from you at This email address is being protected from spambots. You need JavaScript enabled to view it.