The London Library's Trustees have been keeping busy during lockdown and have put together a list of the books they've been reading and would recommend. The eclectic list has something for everybody and ranges from Shakespeare to Putin to a new coming of age novel about a struggling journalist in his 30s.
Happy reading!
Please find some guidance for using Overdrive below, if you can't find what you're looking for please visit help.overdrive.com or email XXX.
Using the Libby app
The Libby app is the easiest way to get started with digital books, audiobooks, and magazines. Install the Libby app from the app store on your Android, iOS or Windows 10 device. Or visit libbyapp.com in your Chrome, Firefox, Safari,or Edge browser.
In Libby, follow the prompts to find The London Library and sign in with your membership number and PIN.
Browse our collection and borrow a title. Borrowed titles appear under Shelf > Loans and download to the app automatically when you're on Wi-Fi, so you can read them when you're offline. From your Loans, you can tap tap 'Open Audiobook' or 'Open Magazine' to start reading or listening to that title. Tap 'Manage Loan' to see options like Renew and Return.
Using Overdrive on a computer
Use these steps to borrow and enjoy digital titles from your library on your Windows or Mac computer. NOTE: If you're using a Chromebook™ or Windows 8 and up, you may be able to use the new Libby app or the original OverDrive app to borrow and enjoy digital titles from your library.
STEP 1: Find your library's OverDrive website on overdrive.com/libraries
STEP 2: Sign into your library's OverDrive website using your London Library membership number and PIN to borrow a title.
STEP 3: After you borrow a title, you can: read, watch, or listen to a title right in your browser, download an ebook, then use free Adobe Digital Editions software to transfer it to a supported ereader or download an audiobook then use OverDrive's free desktop app for Windows to transfer it to a supported MP3 player.
Using Overdrive on an ereader
STEP 1: Install Adobe Digital Editions (ADE) on your computer: www.adobe.com/products/digital-editions.html
STEP 2: Connect your ereader to your computer.
STEP 3: On your computer, open your library's digital collection and borrow an ebook.
STEP 4: Click Download for the borrowed ebook.If prompted, authoriSe ADE with a free Adobe ID or an OverDrive account.
STEP 5: To transfer an ebook to your ereader, drag and drop it from your ADE library into your ereader, which should appear on the left under "Devices."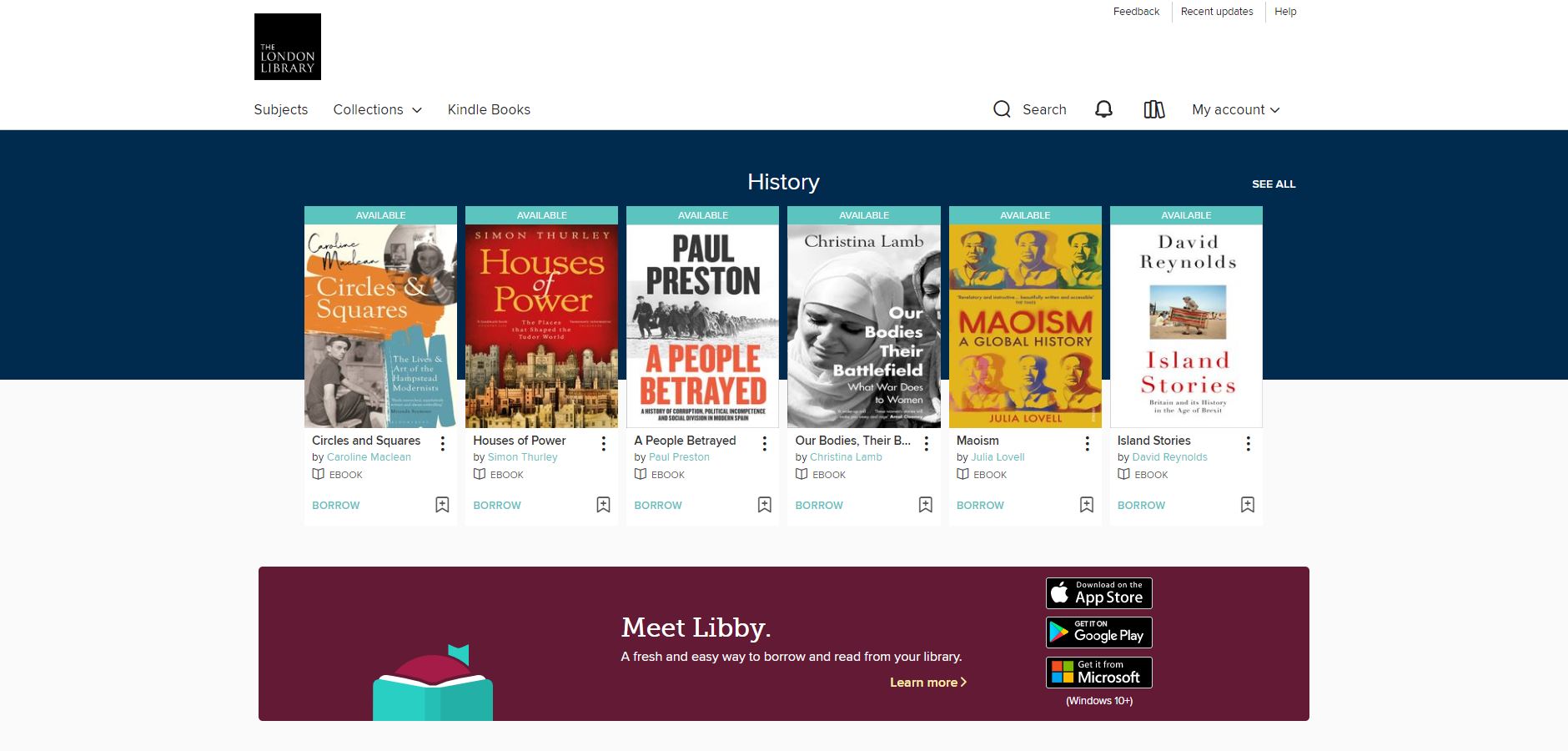 As the owner of a collection of over one million books, The London Library remains a proud bastion of the printed word. But through our eLibrary we offer a vast amount of material online, we have now made our first foray into the expanding world of eBooks through OverDrive who offer a wide selection of fiction and non-fiction eBooks, and a range of audiobooks.
Browse The London Library on Overdrive

eBooks play an important role in the publishing world and a huge range of titles are available, whether as downloads onto existing computers/tablets or onto dedicated platforms such as Kindles. The Coronavirus lockdown restrictions have really reinforced their importance as an easy way of accessing content remotely.

We have identified a number of titles that are in high demand in the Library and have purchased additional copies as eBooks. We have also purchased some fiction that we see circulating quite highly in the Library, such as books which have won awards of various kinds. Additionally, we have included a set of classics that are being made freely available by Duke Classics during the pandemic.

Members can access our eBook selection either through the OverDrive website, or through an app called Libby which brings together OverDrive content offered by a wide range of libraries. Members are welcome to make recommendations regarding new e-books for the Library to acquire, similar to our book suggestions scheme.
We celebrated our 179th birthday last weekend, and if 3rd May 1841 marks the day when we were born, then this article in the Times from 1839 comes close to marking the day we were conceived! Thomas Carlyle had been contemplating the idea setting up a lending library in London since 1838 and in 1839 the prospectus was launched and promoted through various newspapers. The Times reported that "The experiment seems at least to be worth trying and we have little doubt that it will succeed". The rest, as they say, is history.