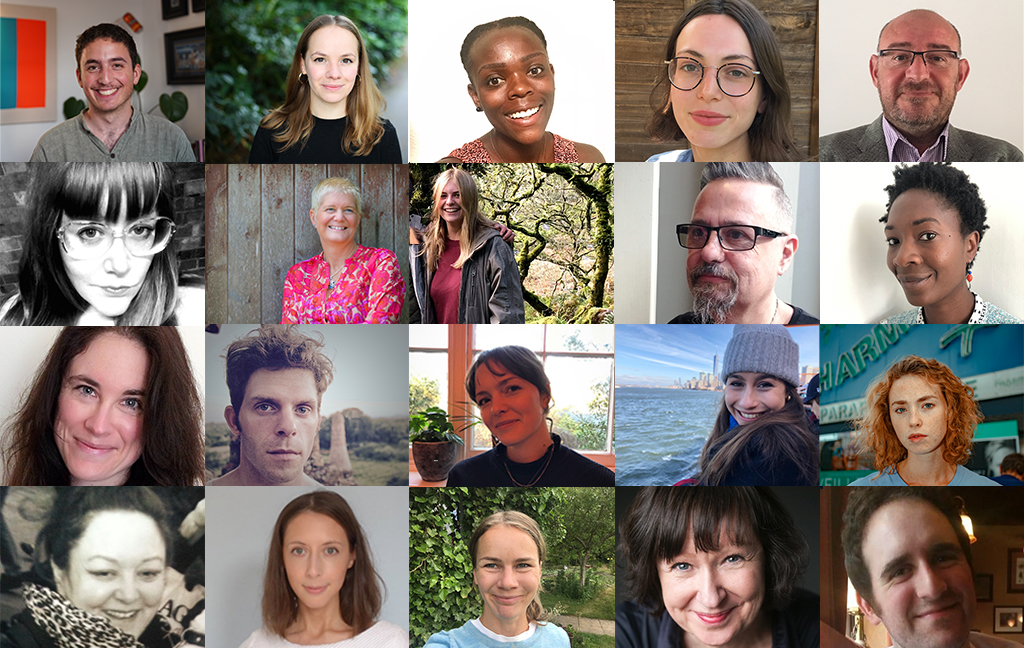 We are delighted to welcome 40 new Emerging Writers to our Programme.
Gaar Adams is an American writer and Ph.D. candidate at the University of Glasgow whose features have been published in The Atlantic, Foreign Policy, Rolling Stone, Al Jazeera, Slate and VICE. He lives in Brixton and is writing a nonfiction book on queerness and migration in the Middle East. Twitter: @gaaradams
Ayad Andrews was born in Baghdad, Iraq and lived there until the early 1970s when, due to the unstable political situation, his family were forced to flee the country. He now lives in West Sussex. He is currently part of the BBC Writersroom Drama Room 2020 cohort. Twitter: @ayadandrews
Krystle Zara Appiah is a Ghanaian writer and screenwriter. She was born and raised in London and studied literature and creative writing at the University of Kent. A former editor, she is currently working on her debut novel. Twitter/Instagram: @krystlezara
Beatrice Armstrong is a scriptwriter who focuses on writing for the stage and radio. She graduated with distinction from the University of East Anglia's MA Creative Writing programme, where she was awarded The Malcolm Bradbury Continuation Prize. She has had her plays produced in London and in East Anglia. Twitter: @Beatrice_BAA
Helen Bain is a writer and editor from Sussex. She has MA degrees in Creative Writing and Contemporary Literature, and is starting a PhD at King's College London. She has been part of a writers' group for 10 years, and likes nothing more than talking about fiction. She is researching a book on Sylvia Plath.
Naina Bajekal is a British-Indian journalist living in London. She studied English Literature and French, and worked in Paris for an NGO working on youth empowerment. She started her career reporting on migration from France, Germany and Greece, and is now the Deputy International Editor at TIME Magazine. She is currently working on her first novel. Twitter: @naina_bajekal
Marta Bausells is a writer of fiction and creative non-fiction, as well as a widely published journalist. Her work has received support and fellowships from Headlands Center for the Arts, Arts Council England, Tin House Summer Workshop, the London Writers Awards and the International Journalists' Programmes in Berlin. Twitter: @martabausells
Natalie Linh Bolderston's poems are featured in Magma, Oxford Poetry, The Poetry Review and elsewhere. She came third in the 2019 National Poetry Competition and received an Eric Gregory Award in 2020. Her pamphlet, The Protection of Ghosts, is published with V. Press. She is now working on her full-length collection. Twitter: @NatBolderston
Zakia Carpenter-Hall is a writer, tutor and critic. She's a winner of Poetry London's inaugural mentoring scheme and a Jerwood Bursary Recipient. Her work has appeared in Magma, Poetry London, The Poetry School, 3:AM, Wild Court and The Poetry Review (forthcoming). She is shortlisted for The Alpine Fellowship Writing Prize 2020. Twitter: @ZCarpenterHall
Flora Carr is working on her first novel. She's a writer and journalist published in the likes of TIME Magazine and The Observer, and is a previous Vogue Talent Contest winner and The Writing Squad graduate. She was also shortlisted for the VS Pritchett Short Story Prize. Twitter: @floracarr
Sarah Clegg writes non-fiction and is currently living in London. She has a PhD in ancient Mesopotamian history from Cambridge and is currently working on a project tracing a family of demonesses from ancient Mesopotamia to the present day.
Chez Cotton is a writer and civil rights lawyer of English/Burmese descent. She grew up in 1970s London against a Bowie and punk backdrop. Moving from cabaret and comedy writing, she qualified in Law in 2000. She has written short stories and flash fiction and is working on her first novel.
Benjamin Cusden is a poet from South London. A former TV programme editor, he was homeless for over 2 years and now spends time raising awareness of homelessness through his writing and fundraising. His first poetry pamphlet Cut the Black Rabbit will be published October 2020 (Against the Grain Press). Twitter: @BenjaminCusden
Beth Emery studied an MA in Screenwriting at the University of Manchester and then worked as a tour guide across Europe. She is based in Devon and is currently working on a screenplay. Twitter: @bemeryemery
Charlotte Forfieh writes speculative fiction. Born in London, but now living in Folkestone, she graduated from Birkbeck's MA in Creative Writing in 2018. Her short stories have appeared in The Good Journal, Issue 1 (2018) and The City of Stories (2017). She is writing her first novel. Twitter: @Forfieh
Russell Franklin was born in Solihull, and now lives and works in London. He enjoys working in all genres, and is interested in telling the stories of characters typically overlooked in fiction.
Marina Gerner is an award-winning journalist and critic, published in the TLS, Wall Street Journal, Guardian, The Times' Raconteur and other places. Immigrating with her family from the Soviet Union as a toddler, she grew up in Germany and the UK, which explains why she has a PhD on cosmopolitanism. Twitter: @MarinaSGerner
Carole Hailey abandoned a lucrative but creatively unfulfilling career as a lawyer to become an impecunious but immensely happy novelist. Since completing an MA in Creative Writing at Goldsmiths, she divides her time between London and Pembrokeshire. Twitter: @CaroleAHailey
Lucian Huxley Smith is a writer and teacher from London. He's recently completed City University's Novel Studio, has an MA in Writing for Performances from Goldsmith's College and has previously developed work with The Royal Court. He has keen interests in music, politics, social change and literature. Micro is his first novel.
Daniel Marc Janes is a London-based writer and filmmaker. In 2020 he was shortlisted for The London Magazine Short Story Prize. His short films have screened at PÖFF Shorts, Rhode Island and the London Short Film Festival. He is deputy editor of Review 31 and a staff writer for Netflix's The Crown. Twitter: @culturalamnesia
Aaron Kilercioglu was raised in Vienna to Turkish-Canadian parents. Four years ago he came to the UK to study Human, Social, and Political Sciences at Cambridge. He now works as a writer/director of theatre, film, and everything in between. Twitter: @aa_koglu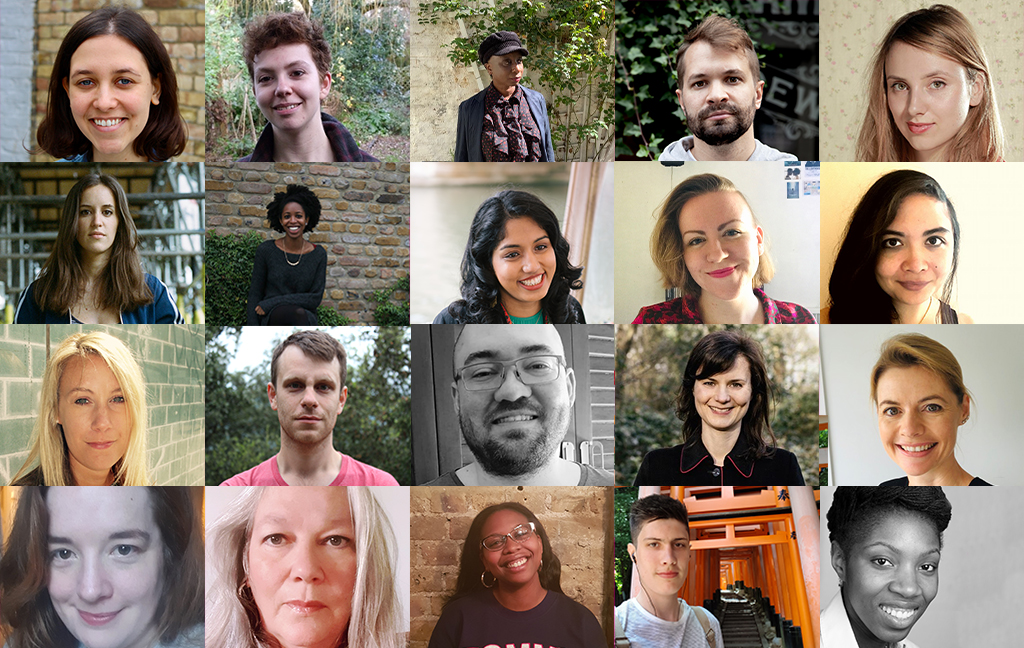 Lanikai Krishnadasan Torrens lives in South London and works in theatre, facilitating programmes with young people and local communities in Lambeth and Southwark. She started taking classes with Write Like A Grrrl in 2018. She is working on a novel. Twitter: @lanikai_kt
Lily Levinson writes for Exeunt Magazine, and received a British Council theatre and dance bloggers' bursary in 2019. She has been a member of the Soho Theatre Writers' Lab and the Royal Court Script Panel, and is working on a play about language, Jewishness, and a murder trial. Twitter: @myboistu
Sarah Marsh has an MA in Creative Writing from UEA and her work was shortlisted for the Lucy Cavendish Fiction Prize in 2019. She's currently working on her first novel, which explores the D/deaf experience and the story of the telephone.
Freya Mavor is an actor/writer living and working between France and the UK. She has worked in film, theatre and television in two languages for over a decade. Alongside an obsession for climbing and writing poetry, she runs a recurring performance night in London and is currently writing a play.
Shakira Moise lives in West London and is a Creative Writing MA student at Royal Holloway, University of London. She writes about women, mythology and the Caribbean and is currently working on short stories which explore Caribbean folklore and a YA novel series exploring black female identity. Twitter: @valinor__
Nancy Netherwood is a playwright from South East London whose first full-length play, Goodnight, Mr Spindrift, debuted at the Old Red Lion Theatre in 2019. She has been a writer-in-residence at The North Wall Arts Centre and her short plays have been performed at the Royal Court and Southwark Playhouse. Twitter: @N_Netherwood
Charlotte Newman is a London-based writer. Her short fiction has appeared in The London Magazine, Litro, Reflex Press anthologies and Popshot Magazine among others. She is currently working on a longer piece of fiction, examining myth, memory and magpies. Twitter: @whim_and_her
Yosola Olorunshola is a writer based in London. She studied History and French at Oxford University before completing an MA in Creative Writing at Royal Holloway. Her work in the museum sector has inspired the novel she is currently working on, exploring the question: who gets to make history? Twitter: @YosolaYosola
Anna Parker is a PhD student in History at Cambridge, living in London. Her research focuses on Renaissance Prague, and she teaches and lectures more widely on early modern Europe, images and material culture. She combines her studies with freelance research work, script editing and writing on arts and culture. Twitter: @annaparker_
Hannah Partos is a journalist (The Guardian, The Observer, Wired, VICE and others) with a strong interest in organ and tissue donation and environmental issues. She was awarded Journalist of the Year in 2016 and 2018 by the Anthony Nolan bone marrow register and blood cancer charity. Twitter: @hannahhh
Kate Perry is a multi-award winning writer/actor/comedian from Northern Ireland. A recipient of the John Brabourne Film/TV Award 2019 and Best Comedy Show Award, United Theatre Solo Festival, NY, 2017, she has written for Woman's Hour, BBC R4 and RTE. Her short film Ruthless is currently in post-production. Twitter: @VeryKatePerry
Theresa Pine has a passion for history and the East End of London. She studied Drama at Goldsmiths and worked in a variety of Front of House roles and as a TV extra. She currently lives in Cornwall and loves to travel.
Amy Powell Yeates is originally from South London, grew up in South Wales and studied at the Workshop Theatre in Leeds. She is a writer and theatre producer who has been published in The Observer. Amy is currently writing a feature-length script inspired by the Greenham Common Women's Peace Camp. Twitter: @amypowellyeates
Natalie Rule came to writing via a career as an economist. She has been shortlisted for the Fish Short Story Prize and longlisted for the Arvon 5-Day Short Story Challenge. She is working on a collection of short stories and a middle-grade fiction novel. She lives in London with her two children.
Lisa Smith was born in London. She studied at the University of Liverpool and went on to work as a documentary filmmaker. Lisa has an MA in Creative Writing from Goldsmiths. She won the Guardian 4th Estate BAME Short Story Prize in 2017 and the Pat Kavanagh Prize in 2019.
Ana Soria is studying for an MA in creative writing at Royal Holloway University, London. She has previously been published in The Moth magazine and her work has been shortlisted for TSS Publishing's winter flash fiction prize. Twitter: @anacarlotalit
Natalie Whittaker is a poet and secondary school teacher from South East London. Her debut poetry pamphlet, Shadow Dogs, was published by ignitionpress in 2018. Her second pamphlet will be published in 2021. Twitter: @natalie_poetry
Matt Wixey is a former specialist police technician, works in cyber security, and began playwriting in 2018. He loves writing science and horror, and stories about technology and the ways in which institutions operate. He lives in London. In addition to writing, he is also a part-time PhD student and collects typewriters. Twitter: @darkartlabab
Nathan Lucky Wood is a playwright and scriptwriter from London. His previous plays include Alcatraz (Vault Festival 2019) and A Haunting (King's Head 2016, Vault Festival and Belgrade Theatre 2017). He has worked for the past decade in the homeless sector and in healthy relationships education. Twitter: @lucky_wood
Read more: The London Library Emerging Writers Programme 2020-2021 Cohort
The London Library is one of the world's leading literary institutions. Our collection contains over one million books and our bookshelves provide an unforgettable voyage of literary discovery.
We have been providing creativity and inspiration for almost 200 years and now is the perfect opportunity to keep your reading habit going and discover those books you've always wanted to read.
Whether you're interested in very rare tomes or the latest novel releases, The London Library's collection will not disappoint.
In celebration of National Writing Day, Wimbledon Bookest subscribers can claim 25% off all types of membership until Sunday* using code WIMBLEDON at checkout. Find out more about our types of membership at the bottom of this page.
Books and Postal loans
The London Library has over one million books dating from 1700 to the present day, almost all of which can be borrowed.
We will be re-opening on 6 July and when our building is open you'll find our books on 17 miles of open shelves, ready to be browsed and borrowed or read in our beautiful reading and working spaces.
We also have a postal loans service which enables members to request books online and have them posted to you wherever you are.
Online Resources
Our extensive online resources bring together millions of pages from thousands of journals, periodicals, newspapers and databases. They comprise over 25,000 fully searchable information sources.
Literary resources
An extensive collection of literary journals and collections is available if you're looking to stay in touch with the literary world. London Library membership gives access to titles such as the complete archive of The London Review of Books, New York Review of Books, English Poetry, The Complete Prose of T S Eliot archive, Early English Books Online and many more.
Academic resources
Through JSTOR you can access a huge digital library of academic journals, books, primary sources and periodicals. London Library membership provides free access to most of JSTOR's content, which subscribed to separately normally costs around £200 per annum.
Members also have access to a vast collection of historic research material through hundreds of publications including The Bibliography of British and Irish History, British History Online, the Proceedings of the Old Bailey 1674-1913, the Survey of London and The British Newspaper Archive, plus much more.
Newspaper archives and historic publications
As a London Library member you'll be able to use the full digital archives of The Times, The Sunday Times, The Guardian, and The Observer, plus the extensive British Newspaper Archive, the 17th-18th Century Burney Newspapers Collection and more!
Our subscriptions to historic publications - such as the Illustrated London News and the Country Life archive - provide a wealth of information, much of it beautifully illustrated, that is ideal for both work and pleasure.
Art
Our online art resources offer a wealth of material for art researchers and art historians. As well as access to all of the art journals available through JSTOR we also provide use of the International Bibliography of Art, Oxford Art Online and more.
Languages
The London Library's language collection is extensive. Membership gives access to European language newspapers and publications such as Die Zeit/Literatur book reviews and Gallica: The digital library of the national library of France. We also offer Russian literature, language, history and art publications.

Special offer and membership
In celebration of National Writing Day, Wimbledon Bookest subscribers can claim 25% off all types of membership until Sunday* using code WIMBLEDON at checkout.
Full membership
For full access to our collection and online resources plus unlimited access to our beautiful reading and writing rooms and atmospheric bookstacks. (The Library will be re-opening at the start of July).
With this special offer Full membership costs around £33 a month or £375 by annual Direct Debit. Partners of existing members pay half price.
Young Person (16-27) membership
For full access to our collection and online resources plus unlimited access to our beautiful reading and writing rooms and atmospheric bookstacks. (The Library will be re-opening at the start of July).
With this special offer Young Person membership costs around £16 a month or £187.50 by annual Direct Debit.
Associate membership
Provides full access to our collection and online resources plus access to our beautiful reading and working spaces during evenings and weekends.
With this special offer Associate membership costs around £22 a month or £243.75 by annual Direct Debit.
Remote Access membership
If you'd like full access to our collection and online resources, including postal loans but don't need access to the building then this is the membership for you.
With this special offer Remote Access membership costs around £18 a month or £191.25 by annual Direct Debit.
Newsletter
Not ready to become a member but want to keep up to date with our special offers, news, events and more? Subscribe to our newsletter to keep in the loop.
The London Library promises to respect and protect any personal data you share with us. Your information is used to administer your membership, personalise your experience of the Library and communications, and provide you with the goods or services you have requested. If you are over 18 we may, in some instances, analyse your data and obtain further publicly available data to help us make our communications more appropriate and relevant to your interests, and anticipate whether you might want to support us in the future.
You can opt-out of most communications or the ways in which we process your data by contacting This email address is being protected from spambots. You need JavaScript enabled to view it.. For full details of how we collect, store, use and protect your data, see our Privacy Policy at www.londonlibrary.co.uk/privacypolicy.
---
Terms and Conditions
*Valid for new members in their first year of membership. See all T&Cs here.
Read more: 25% off London Library membership for Wimbledon Book Fair
Rise Up Women! The Remarkable Lives of the Suffragettes
With Diane Atkinson
Marking the centenary of female suffrage, Diane Atkinson discusses her definitive history charting women's fight for the vote through the lives of those who took part.
Marking the centenary of female suffrage, this definitive history charts women's fight for the vote through the lives of those who took part, in a timely celebration of an extraordinary struggle
---
Read more: Rise Up Women! The Remarkable Lives of the Suffragettes Event Video
Hundreds of bibles, translated into dozens of languages, populate some of the shelves of The London Library. Among these is a remarkable collection of early English versions with a copy of the King James Bible, published in May of 1611, at its heart.
The King James Bible is part of a long chain of English translations of the Scriptures where every new version owes a debt to its predecessors. The first link in the chain was forged by William Tyndale 80 years before James I commissioned his Authorised Version.

1611 King James Bible
The Oxford-educated religious reformer, who was inspired by Erasmus and Luther, was forced to flee England in 1525. He was a gifted linguist who translated the New Testament from the original Greek into accessible English. By 1534 he had settled in Antwerp where he was betrayed by a friend and arrested before he could complete his translation of the Old Testament from the original Hebrew. He was incarcerated for sixteen months and in October 1536 he was publicly executed in Vilvoorde Castle, near Brussels.
In 1535, just as Tyndale was printing his final revision of the New Testament in Antwerp, Miles Coverdale was in the same city printing his complete English Bible. Coverdale was an Augustinian friar and a Cambridge man. Like Tyndale, his reformist views forced him into exile. He did not know enough Greek and Hebrew to translate the original texts and instead he worked from German and Latin versions, while consulting Tyndale's translations at the same time. Back in England big changes were taking place. Cranmer and Cromwell's influence was growing and, consequently, Henry VIII was more inclined to fulfil the promise he had made five years earlier to provide 'learned men' with a translation of the New Testament. In this new climate Coverdale dedicated his Bible to the king and was able to return safely to London.
Tyndale's unpublished translations of the Old Testament were finally printed in 'Matthew's' Bible of 1537. John Rogers, chaplain of the English House in Antwerp, had managed to rescue the manuscripts after Tyndale's arrest. He printed them together with Tyndale's Pentateuch and New Testament. For the remaining books of the Old Testament he used Coverdale's translation. As Tyndale's translations were still banned the title page bore the fictitious name of Thomas Mathew. The resulting book, published for the merchants Richard Grafton and Edward Whitchurch is the closest thing there is to a complete Tyndale Bible. Ironically, this was the first English Bible to receive a royal license and Cromwell wasted no time in distributing copies to every parish. It was soon apparent that not enough copies had been printed to supply all 8,500 churches and since the king still had some reservations as to some of the marginal notes a new version was needed. Interestingly, the London Library's copy of 'Matthew's' Bible was printed by a Thomas Raynalde in London in 1549, two years after Henry's death.
Henry VIII's Great Bible of 1539 was edited by Coverdale, who revised 'Matthew's' Bible rather than his own version, and it was again published by Grafton and Whitchurch. No new versions were produced during the short reigns of Edward VI and Mary Tudor. John Roger's execution, ordered by Mary in 1555, must have served as a powerful deterrent for anyone contemplating Biblical translations on English soil.
A group of English Protestants, which included the dean of Durham, William Whittingham, had fled Mary's regime to settle in Calvinist Geneva where they prepared a new version, printed in 1560. Coverdale, who had returned to England after Henry's death and served as Bishop of Exeter until the accession of Mary to the throne, was forced into again into exile in 1555. He spent some time in Denmark and Germany and joined the Geneva translators in October 1558, only a month before Mary's death. The Geneva Bible became the most popular version of the Scripture and was still in regular use even after the publication of the King James Bible. Given its proliferation, it is not surprising that the London Library holds several early editions, the earliest being Christopher Barker's folio edition of 1576. In 1575 Barker had obtained a patent to print the Bible in England for the first time and after publishing one edition in 1576 he obtained a press, which he used to print the first folio edition in Roman type. The next year he bought the exclusive rights to print all English Bibles and passed the monopoly onto his descendants. The London Library copy of the smaller 1586 edition is the last produced by the founder of the printing dynasty. In 1587 a very wealthy Christopher retired to his country house and left the business in charge of his deputies who were responsible for the 1589 and 1599 editions also held by the Library.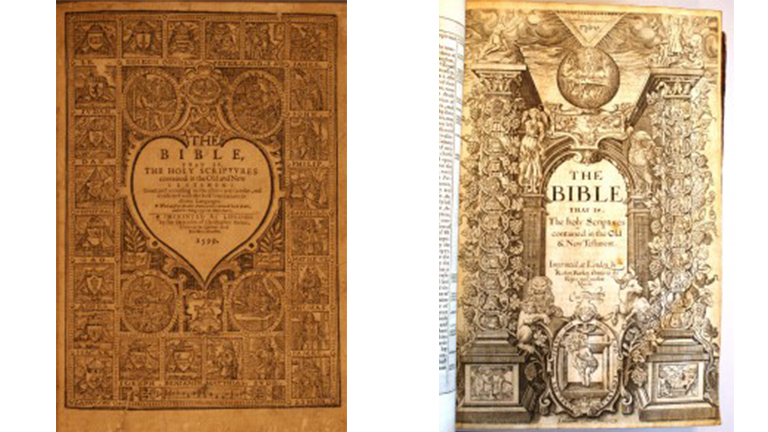 1599 Geneva bible (left), 1605 Geneva bible (right)
The Library's copy of the 1605 edition is the work of Christopher's son, Robert, who while busy printing the new Authorized Version in 1611 was still satisfying demand for Geneva Bibles with a new folio edition also held at the Library.
After Mary's death in 1558 the Geneva Bible was openly used in parish churches but Queen Elizabeth's bishops thought that its extensive marginal notes were too heavily influenced by Calvinist doctrine. Matthew Parker, Archbishop of Canterbury, assumed responsibility for a new version. The first folio edition of the Bishops' Bible of 1568 was produced in London by the queen's printer, Richard Jugge. In 1569 Jugge printed a second, quarto, edition and the Library holds a copy of its New Testament. Although this was meant to be Elizabeth's 'Great Bible' it did not receive royal sanction until 1574 and the Library's copy of the 1575 edition finally contains the words 'set foorth by aucthoritie' as well 'God save the Queene'. In any case, the text did not compare to that of the Geneva Bible and although copies were printed for official use in parish churches across the land, the 'Calvinist version' was retained for private use in most protestant households.
The Catholic alternative to these protestant Bibles was produced once again by religious exiles, this time settled in Douai and Rheims, where dissenting outposts of Oxford University had been established by the scholar William Allen. These English Catholics accepted the inevitability of an English translation and undertook to offer a vernacular version that would at least conform to Catholic doctrine. The New Testament was translated by George Martin, a reader of Divinity, who worked mostly from the Vulgate but was also influenced by existing English versions. It was first printed in 1582 in Rheims, with the Old Testament being issued in two parts in Douai over 1609 and 1610. The Library holds copies of them all.
While the most direct influences of the Authorized Version of 1611 were the Geneva and the Bishops' bibles, King James' translators were not squeamish about consulting every English translation available, including the Rheims-Douai version, and borrowing many phrases from it. The team of around fifty scholars who worked on the Bible between 1604 and 1608 produced a version of such durability that it remains the strongest link in the chain of translations to this day.