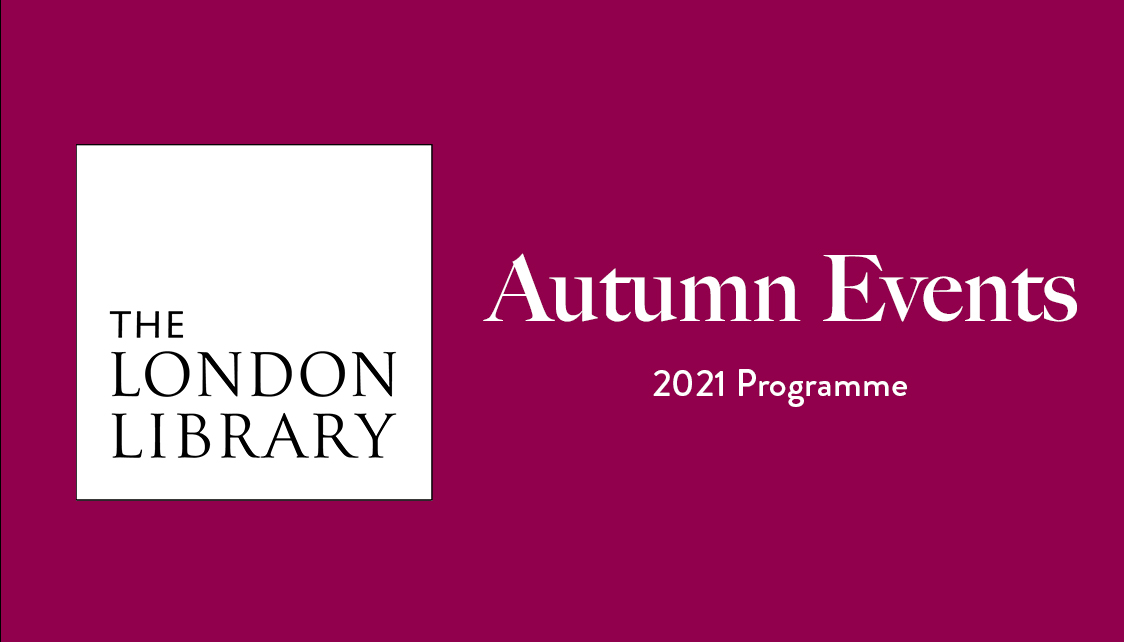 Thank you for booking for The London Library. Please read these guidelines before you come to the event.
Please do not arrive at the Library before the advertised doors opening time as you will not be able to enter the building.
You do not need to print your ticket. Please just give your name to Library staff on reception as you come in.
For public speaker events drinks will be served in the Issue Hall prior to the event and doors to the Reading Room will open five minutes before the talk begins. When relevant, books will be on sale in the Issue Hall before and after the event.
If you need step-free access, please let us know at

This email address is being protected from spambots. You need JavaScript enabled to view it.

and enter via the Masons Yard entrance in the eastern corner of Masons Yard.
The health of our visitors and staff remains our top priority, and we'll continue to keep procedures in place to ensure your visit is as safe as possible. This includes hand sanitiser points and ventilation throughout the building.
All events take place in our Reading Room, which will be well ventilated throughout events with large windows open on both sides of the room. Please be aware that this can sometimes mean the room is a little cool.
Tickets will be sold at a reduced capacity. Where possible, seats will not be tightly packed. There will be space within the room to socially distance, should you wish to.
Face coverings are mandatory walking around the Library and seated at speaker events, unless you are exempt. They may be removed for eating drinking where refreshments are served.
Please do a lateral flow test on the day of the event. If the test is positive, if you have any Covid-19 symptoms or have been told to isolate, please do not attend. Where relevant in these circumstances we're happy to provide a refund – please just get in touch 24 hours before the event on

This email address is being protected from spambots. You need JavaScript enabled to view it.
We're looking forward to welcoming you to The London Library.
Read more: Events Access and Covid Guidelines at The London Library
The London Library will be closed throughout the Bank Holiday Weekend Saturday 28 – Monday 30 August inclusive. We'll be open for business as usual from 10am on Tuesday 31 August.
Although the building will be closed during this period our extensive online resources will be fully available, with Catalyst enabling you to search and return results from all of our print holdings and 95% of our electronic resources, including articles from electronic journals.
Current Covid measures and opening arrangements
Latest Updates
In line with Government guidance and the increasing relaxation of preventative measures around covid, we are updating arrangements at the Library.
Distancing will be removed between all desks in the Library and The Writers' Room, Sackler Study, and Reading Room will be reset to their normal configurations. 14 distanced desks can still be found in the Art Reading Room and members can make use of individual desks around the Library and within the stacks, which are placed a good distance from one another. For help finding these, please do ask a member of staff. While desk signs will be removed, hand sanitiser will remain available by shared equipment and at key touch points around the Library.
We ask that members please do not come to the Library if they have tested positive or are showing symptoms for covid. Thank you for your understanding and cooperation in keeping everyone at the Library safe.
Face Coverings
From Monday 28 March, it will no longer be mandatory for members to wear masks when entering, moving around, or being seated in the Library. It is however the government's guidance that masks are worn in crowded and enclosed spaces, and we would encourage you to follow that advice. We would also ask you to wear a mask during interactions with members of staff. A supply of face masks will remain available at Reception.
Lockers in use
We are pleased to confirm that lockers are available, enabling members to store their personal belongings during their visit to the Library.
The return of locker space means that we have reintroduced the pre-pandemic restrictions on bringing large bags into the main body of the Library. Members will be asked to leave bags in the lockers, but will be provided with clear, reusable carrier bags if they need to keep small items with them in the Library. Members' co-operation with the reinstatement of this arrangement – which helps improve access in narrow spaces like the stacks, prevents damage to the collection, and improves book security - is greatly appreciated.
Continuation of free postal loans
Our free postal loans service proved to be a lifeline during the pandemic. We intend to retain a free service to members for the immediate future, recognising that many members are still unable or uncomfortable about travelling to the Library to pick up books in person.
Guests
Members are welcome to sign in guests once again to give them a brief tour of the Library. Please sign your guest in at Reception and remain together for the duration of your tour.
Services
Members are able to use the photocopiers and there will be additional PCs replaced in the Catalogue Hall at the back of the Issue Hall.
We shall be keeping in place the glass screens at Reception and the Issue Desk, maintaining our enhanced levels of cleaning and continuing to provide hand-sanitiser.
Temporary Tickets
Temporary tickets will be available again, but where these are sought in order to view material under invigilation please contact us first as we are only able to offer a reduced service to non-members at the current time. Please contact This email address is being protected from spambots. You need JavaScript enabled to view it. for more details and please note that we will need at least 72 hours notice.
--
We hope these arrangements will allow as many members as possible to feel both safe and comfortable when visiting the Library and we look forward to seeing you back here soon. If you have any feedback on the measures or anything else about the Library please contact the executive at This email address is being protected from spambots. You need JavaScript enabled to view it..

(L: Note to Library member, J.G. Cochrane, first Secretary and Librarian of the London Library ca. 1845. Library Artefacts, SJS Basement Store, Shelf 4; R: Plan showing bomb damage to the Library)
The London Library Archive collects, preserves and maintains the Library's archival collections and manages member enquiries and access to the materials. The Archive is made up of all working papers, artefacts and ephemera created by the Library from its inception to the present.
With over 1800 items, the Archive contains correspondence, membership forms, minutes, property deeds, building plans, manuscripts and audio-visual materials that speak to the heart of the Library, its members and staff from its founding in 1841. The Library's Archivist is Nathalie Belkin.
Working closely with Collection Care, the Archivist preserves the collections by implementing archival standards for cataloguing, preservation, housing and storage. The Archivist manages copyright, permissions, licensing and reproduction of its materials for use by researchers.

(L: Plan of The London Library; R: Request from W. Somerset Maugham to hold a specific book for him. Issue Books, SJS Basement Storage, Box 39)
View archival documents
The London Library conducts invigilations by appointment with 72-hours' notice. To set up an appointment or for any research enquiries, please email This email address is being protected from spambots. You need JavaScript enabled to view it.