Subscribe to our newsletter
If you'd like to keep in touch with us and hear about special offers, news and events that are taking place at the Library, please do sign up to our newsletter below.
The London Library promises to respect and protect any personal data you share with us. Your information is used to send you the communications you have requested and, personalise your experience of, and communications from, the Library. If you are over 18 we may, in some instances, analyse your data and obtain further publicly available data to help us make our communications more appropriate and relevant to your interests, and anticipate whether you might want to support us in the future.
You can opt-out of most communications or the ways in which we process your data by contacting This email address is being protected from spambots. You need JavaScript enabled to view it.. For full details of how we collect, store, use and protect your data, see our Privacy Policy at www.londonlibrary.co.uk/privacypolicy.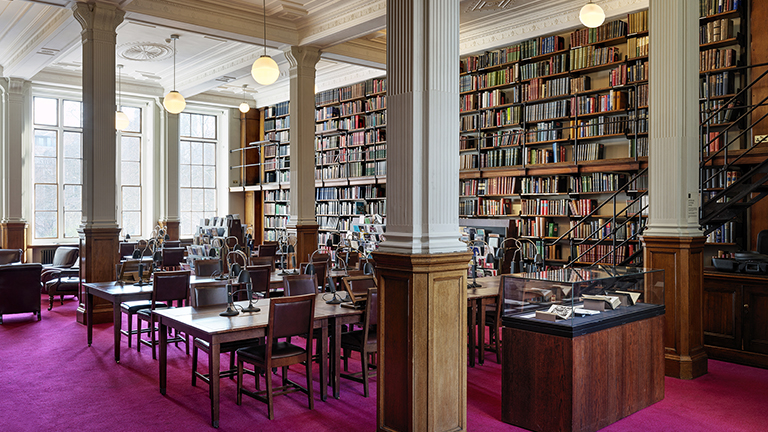 Since it opened, 180 years ago this year, The London Library has been a vital source of inspiration and support to writers. From Charles Dickens and George Eliot in the 1840s to Sir Kazuo Ishiguro and Sarah Waters today, writers of all different kinds have used the Library's unparalleled lending collection and study spaces to produce countless works. Whether published as books or articles, or performed as plays or screenplays, these works have an economic as well as a social and cultural impact.
In 2020 we embarked on a project to understand the Library's impact better. In particular, we wanted to learn more about the different ways in which the Library supports the creative process of its members and how that, in turn, contributes to the production of published works and benefits the UK economy.
The report undertaken by economic consultancy Nordicity and Chartered Accountants Saffrey Champness has revealed that The London Library generates an estimated annual value of £21.3m for the UK economy – equivalent to five times the Library's annual operating expenditure. The intellectual property (IP) creation enabled by the Library supports an estimated 460 full-time jobs across the UK's creative industries.
The Library supports its members by providing unique access to a range of resources including one million volumes, an extensive eLibrary, research and reference assistance by our librarians, a studious and inspiring environment in which to work, and a community of members. Two thirds of the Library's members are active in the production of creative IP such as published works of fiction and non-fiction, academia, screenwriting, poetry and playwriting. In fact the survey of members undertaken as part of this work revealed that The London Library's 7200+ members produce on an annual basis:
Over 700 published fiction or non-fiction books
over 15,000 articles
over 460 film scripts, TV screenplays or theatre scripts
The members who create these works attributed 33% of the creative process of this IP production to their membership of the Library.
The impact report concludes:
"The Library is hugely effective at stimulating and facilitating world-class creativity, and is determined to make its collection, spaces and creative community as accessible as possible to other potential and existing creatives. With increased public and private financial support, the Library will be able to invest in the physical spaces and outreach programmes that will enable the Library to continue reaching out beyond its traditional cohort of members. In this way, the Library can inspire and support future generations of writers and thinkers and continue to contribute to the UK's world-leading position in research, storytelling and creativity."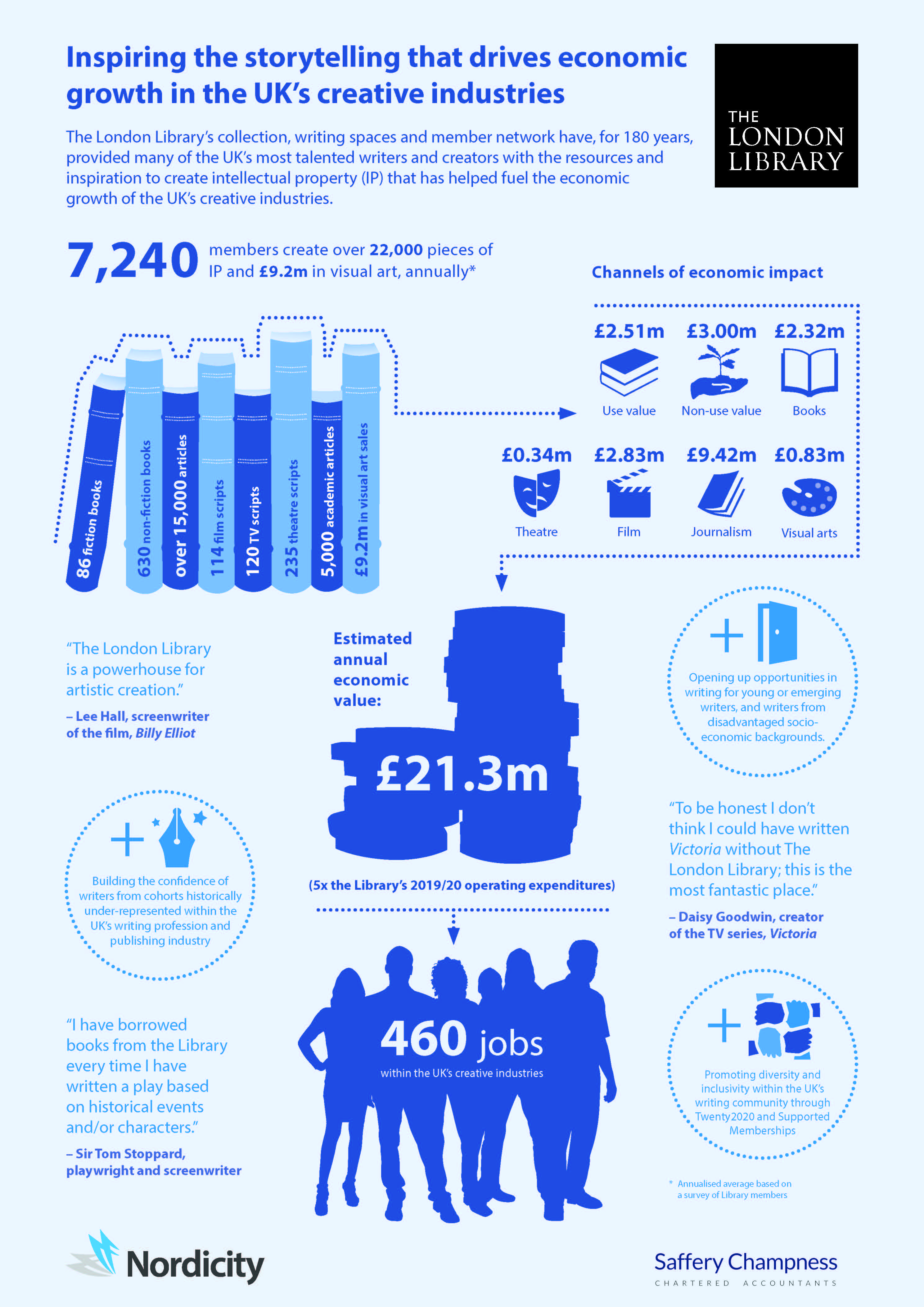 Case Studies from the report include:
William Boyd CBE
William Boyd is one of the UK's most prolific and accomplished writers of fiction, non-fiction, film and TV screenplays and most recently stage plays. William joined the Library in 1983. He had just moved to London from Oxford and was looking for a library to replace the Bodleian Libraries that he had enjoyed whilst a lecturer at St Hilda's College.
William has written 16 novels, 14 of which whilst being a member of the Library. Many of his novels have garnered critical acclaim and his 2006 work, Restless, won the Costa Book Award for Best Novel, and was adapted for TV as a BBC mini-series in 2012. His 1998 novel, Armadillo, was adapted by William himself and aired as a three-part series on the BBC in 2001. And his adaptation of his 2002 novel, Any Human Heart, aired on Channel 4 in 2010 and won the BAFTA for Best Series.
He has also written screenplays for Stars and Bars, Mr. Johnson, Aunt Julia and the Scriptwriter, A Good Man in Africa, The Trench, Man to Man, Scoop, Sword of Honour and 1992's Chaplin, which was directed by Richard Attenborough and received three Oscar nominations.
Since 2009, William has had three plays produced: Six Parties, Longing and The Argument.
In the early years of his Library membership, William would spend nearly every day at the Library writing. In the pre-internet 1980s, libraries such as this were essential for researching for a book. In fact, his 1987 novel, The New Confessions, was written entirely at the Library.
The Library also became something of a literary and social hub for William. He knew the chief librarian at the time from his Oxford days and would bump into other people he knew from within the literary or wider creative community.
Over the years, William has come to use the Library much less as a place to write – he now writes from home – but for him it will always be a fantastic place to find books and do research. He makes particular use of the Library's newspaper and periodical archives – something that cannot be found on the internet.
William also still loves to wander between the Library's stacks. Indeed, for him and other novelists, it is this freedom to explore that is so important.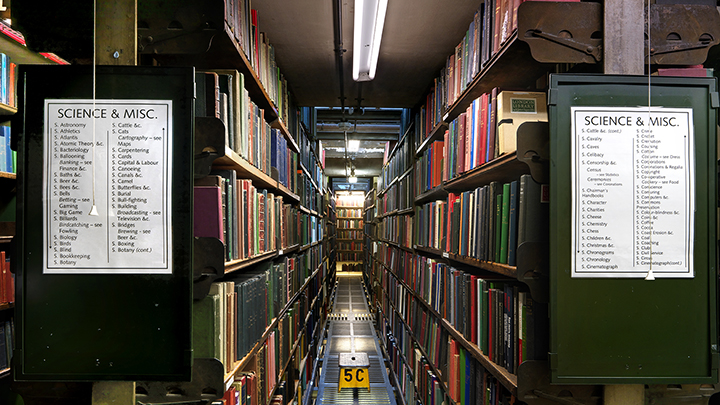 Deborah Davis
Deborah Davis is a lawyer, historian, journalist, scriptwriter, and film and TV producer. She first joined the Library in 1988 and, over the years, has written for film, TV, theatre and radio.
She is best known for co-writing The Favourite (2016), which was directed by Yorgos Lanthimos and starred Olivia Colman, Emma Stone and Rachel Weisz.
The Favourite was filmed at various locations around London and the South East, including Hampton Court Palace, Hatfield House and Danson House. And with a production budget of just over £11m, the film generated an estimated 250 full-time equivalent jobs (FTEs) of employment in the UK along with £13m in GVA.
The film won the Grand Jury Prize at the 2018 Venice Film Festival and was nominated for five Golden Globes and 10 Oscars, including Best Picture and Best Original Screenplay. Its lead, Olivia Colman, won the Oscar for Best Actress. The film won seven BAFTAs in 2019, including Best Picture and Best Original Screenplay for Deborah.
The Favourite was also a tremendous box office success. It earned an estimated £73m globally at cinemas – nearly seven times the cost of production. Over a third (£25m) of this global box office came from North America, thereby, indicating the export value of this British television programme.
Deborah could not have written The Favourite without her Library membership. Whilst she did not write the script at the Library, it was an essential resource for the historical background of the story and the script. Indeed, she carried out virtually all of the research for the film at the Library.
At the Library, Deborah was able to find and draw upon original sources (letters and diaries), together with historical accounts and biographies related to Queen Anne's court, including Winston Churchill's biography of the Duke of Marlborough. This complemented copies of private letters between Sarah Churchill and Queen Anne, and Sarah's memoirs, which Deborah discovered at the Library. These memoirs revealed the female relationship triangle at the heart of Queen Anne's court.
Although Deborah does not write her scripts at the Library, she continues to use its collection to research historical detail for her film, TV, radio and theatre commissions, including a stage play about the 18th-century English poet, Alexander Pope.
Amber Medland
Amber first joined the Library In 2017 through the Library's Supported Membership scheme – for half the cost of a gym membership. Making use of the Library "nearly every day when not working", she has benefitted from the space and support for writing and research, guidance from the librarians, and the insight, inspiration and learning from participating in the occasional event. In its inaugural year of 2020, Amber was selected for the Emerging Writers Programme, which exposed her to working alongside 17 other new writers.
Since joining the Library, Amber has signed a book deal with Faber for her first published novel, Wild Pets, due out in 2021. Amber juggles writing, copywriting and a part-time job as well as a bustling homelife with five housemates, and credits the Library with providing the space and time needed to sign her first deal.
Amber praises the Library for its exceptionally knowledgeable staff and their highly curated reading lists as sources of information and inspiration. The Library has also helped Amber develop her confidence as a professional writer, and it helped her see writing as her 'job' for the first time.
Whilst "the building itself is a beautiful and inspiring space that is highly conducive to working", Amber's admiration for the Library lies also in "the sense of solidarity and encouragement when surrounded by other writers facing the same challenges and opportunities".
In her three years as a member, Amber has appreciated an increased diversity amongst both the users and the written works, as "the books being ordered and stocked are becoming more diverse too". Through her membership, she has been able to access books that she otherwise would not have been able to, due to their prohibitive cost.
The Library has been pivotal to Amber's career as a new writer and she sees herself as a "member for life", renewing her membership after her Supported Membership affordability scheme.