In this blog from 2014, Helen O'Neill looked at Christmas advertisements in 1914 and the depiction of the famous Christmas Truce.
In the five days preceding 12 December 1914 the Post Office reported that 250,000 parcels had been sent to troops at the Front and the following week 200,000 more were despatched along with two and a half million letters. The Post Office increased its van fleet by half to cope with demand, and as rail services were disrupted by the war and vehicles were in scarce supply, post was transported in a range of conveyances including open cars and furniture vans.
So how did the recipients of these letters and parcels spend Christmas 1914? Christmas adverts in the pages of The Times in December 1914 include household brands such as Boots, Perrier, Oxo, Bovril, Horlicks, Burberry's, Moss Bros and Shell, to name a few, which capitalised on their presence and use at the Front. From Burberry fleece lined gabardine trench coats to Shell fuelling the ambulances of the Allied forces, the adverts are rich in detail, many using soldiers' testimonies as proof of their efficacy. Acquasctuum, Burberrys and Moss Bros all advertised officer's kit. Burberry used no less than six quotes from those on active service as endorsements, including this from A.D.P. of the 16th Battalion London Regiment: "All officers coming out for the winter should have a Burberry with detachable fleece lining and Gabardine overalls. They will be covered in mud the first hour in the trenches but Gabardine dries well and the mud drops off."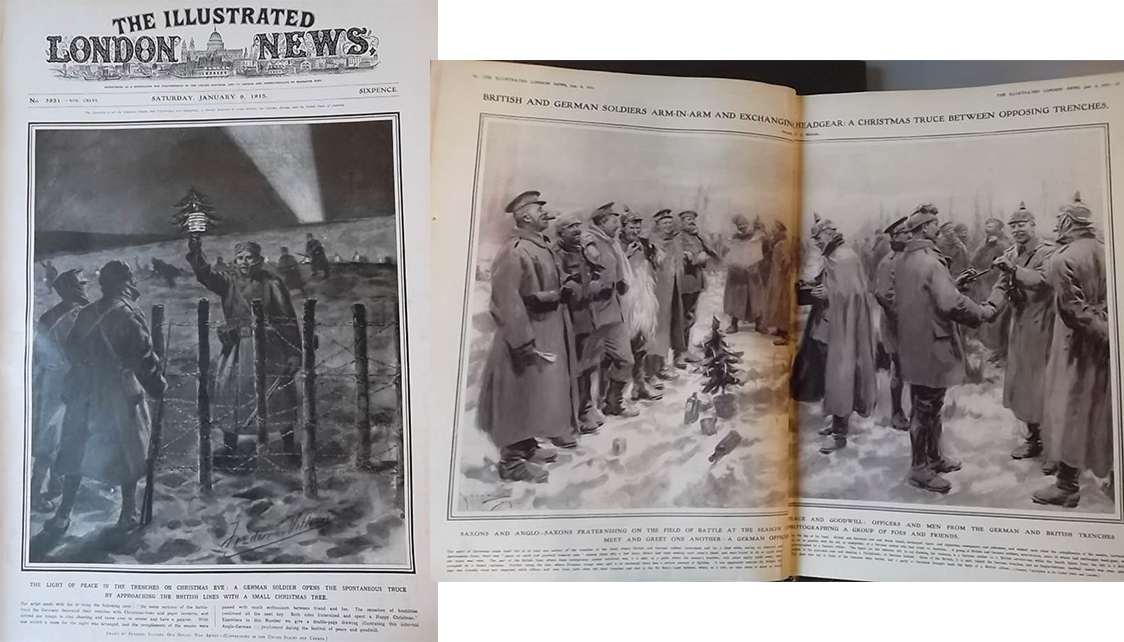 (L: The cover image of The Illustrated London News on January 9 1915 depicted a German soldier opening the truce by approaching British lines with a small Christmas tree. R: Christmas True depicted in The Illustrated London News showed German and British soldiers meeting in No Man's Land shaking hands and exchanging headgear. The etching was taken from a photograph taken during the truce. The figure on the extreme left is a German soldier in a British service cap and the fourth figure from the left is a British soldier wearing a Pickelhaube or German helmet.)
If testimonies from the Front were not suitably persuasive Burberry had a secret advertising weapon in the shape of Antarctic explorer and national hero, Ernest Shackleton: "Gabardine is a lightweight weatherproof material of such remarkable warmth-maintaining powers that Sir E. Shackleton recently said nothing would induce him in polar regions to use any substitute even if the price of gabardine doubles and the substitute were offered free of charge."
Benson's advertised an "essential" part of an officers' kit – an "active service watch" with fully luminous figures and hands so that the time could be seen at night. Boots ran several versions of an advert for its own brand of British cologne: White Heather and Jersey Castle under the header "No more German eau de cologne". Food stuffs featured too.
Oxo adverts claimed to be "exactly suited to the needs of our men at the Front – made in minutes and sustains with bread and a few biscuits for hours". If a few minutes were not to be had, Horlicks Malted Milk tablets were advertised as "invaluable to any soldier in the field. Most efficient at relieving hunger and thirst and preventing fatigue". Horlicks offered free post to the Front if the name, regimental number, brigade and division of the soldier was supplied. Bovril used a military metaphor in its advertising asking "Are your communications threatened? Build up the defensive forces of your body. Bovril is and has always been at the Front." Paisley Flour addressed itself to mothers of sons on active service in an advert that encouraged the baking and sending of home-made cake to the Front:
"You could not offer your boy in camp or at the Front any greater treat than a good wholesome home-made cake like those he used to get at home. Send him one this week with Paisley Flour"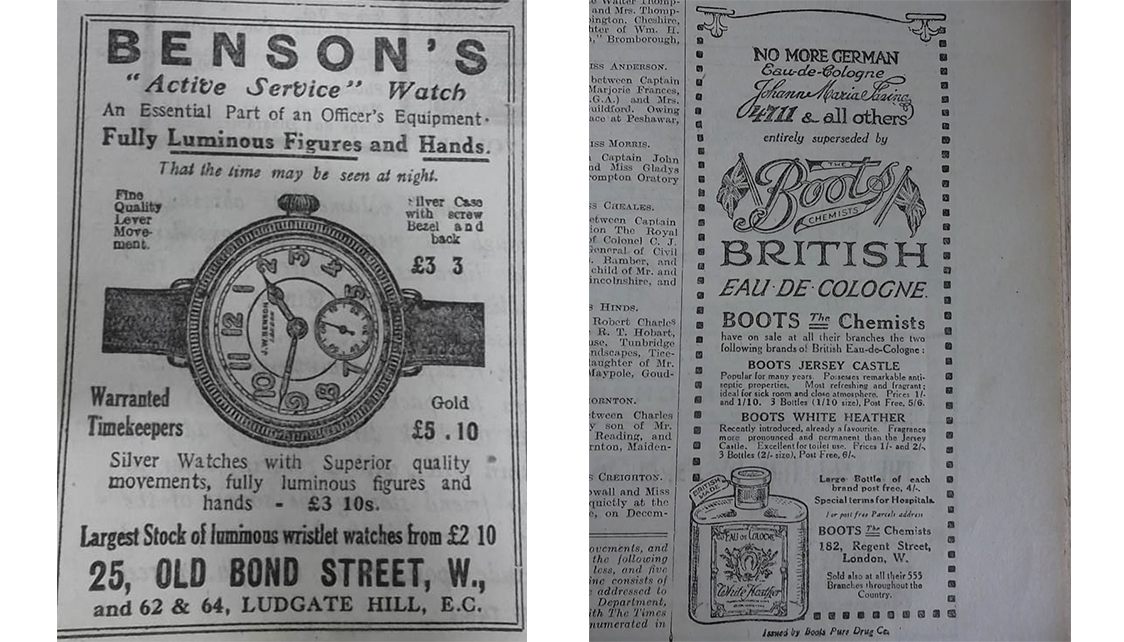 (L: Benson's Active Service Watch with illuminated figures and hands was marketed as an essential part of an officer's kit. R: Under the title "No more German eau de cologne" Boots advertised British alternatives.)
If cake, Perrier water and a waterproof gabardine failed to stave off colds Dr J. Collis Browne's Chloradyne –a remedy for "coughs, colds, colic, ague and kindred ailments" claimed to do the trick:
"Next to the weapons he bears, the best safeguard of a soldiers' life is a small bottle Dr Collis Browne's Chloradyne…it is a medicine chest in itself…Every man on active service should have a supply."
The Civil Service Supply Association advertised service kits and camp equipment but also "Gifts for the Troops" which included small items such as tobacco, cigarettes, socks, mittens, mufflers, caps, chocolate, ointments, foot powder, pocket knives, postcards and pencils. Taken in their totality the adverts provide a grim picture of conditions at the Front.