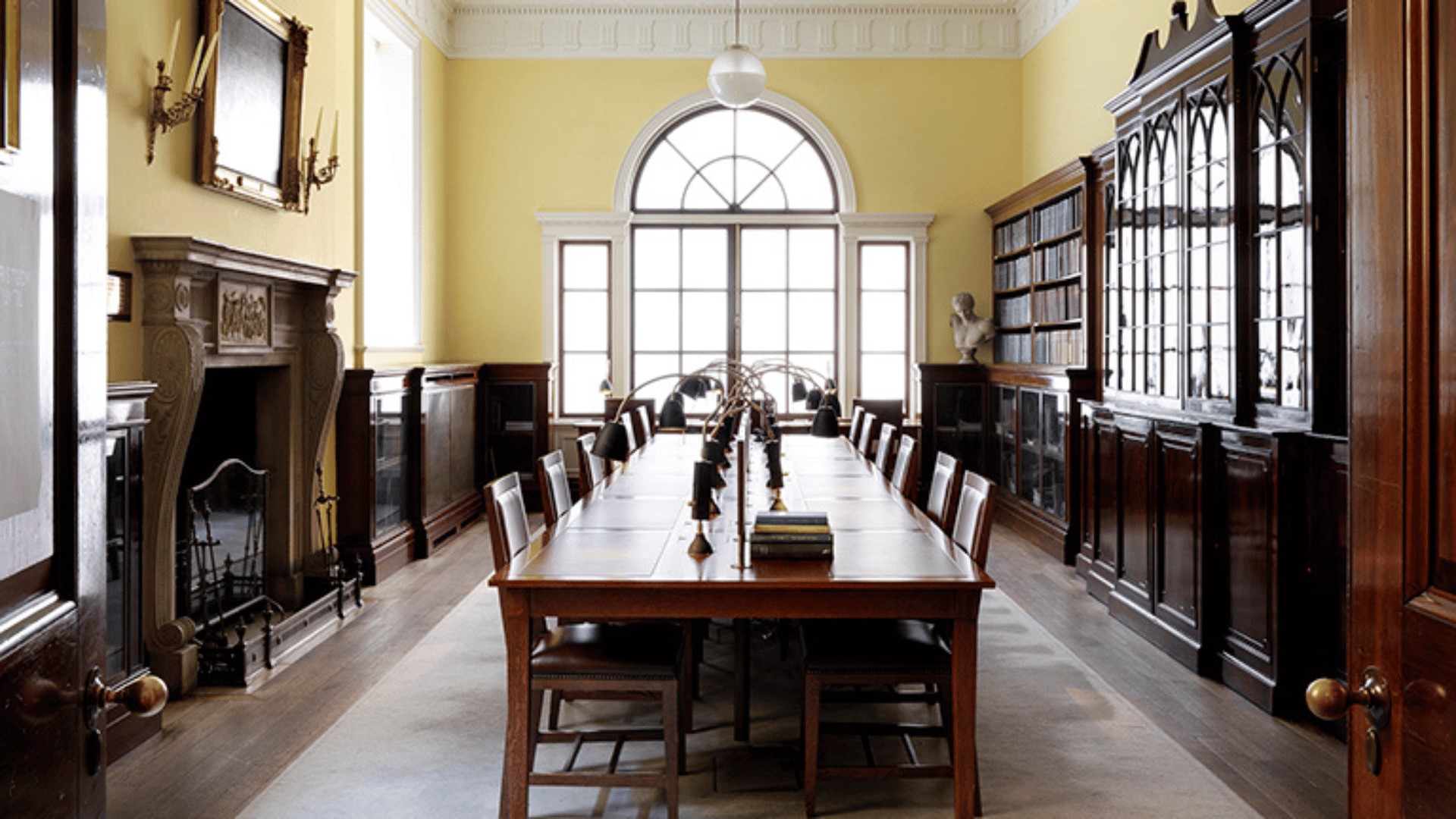 Based on ongoing feedback, the Library is pleased to confirm that The Study will remain a laptop-free space for members who wish to engage in silent study without the potential distraction of electronic devices.
The Study takes over from the main Reading Room, which prior to the Pandemic was the Library's only laptop-free space. In 2020, originally to allow for social distancing, the Library began to permit laptops in the Reading Room. Since that time, usage of the Reading Room has increased by 63%.
In 2022, The Study was designated a laptop-free space on a 6-month trial basis. This followed the most recent member survey, in which 34% of responding members stated that a laptop-free space in the Library is 'somewhat important' or 'very important'. The trial began in August 2022 and throughout that period, the Library received feedback from members showing appreciation for the provision of a laptop-free space and asking for it to continue.
Members are welcome to use laptops in all other reading rooms and workspaces. The Library is a silent study space throughout and devices must be set to silent mode and used with consideration to other members.
We are committed to offering a mixed range of welcoming study spaces that are conducive to reading and writing and accommodate all member needs. We hope that use of The Study will continue to grow.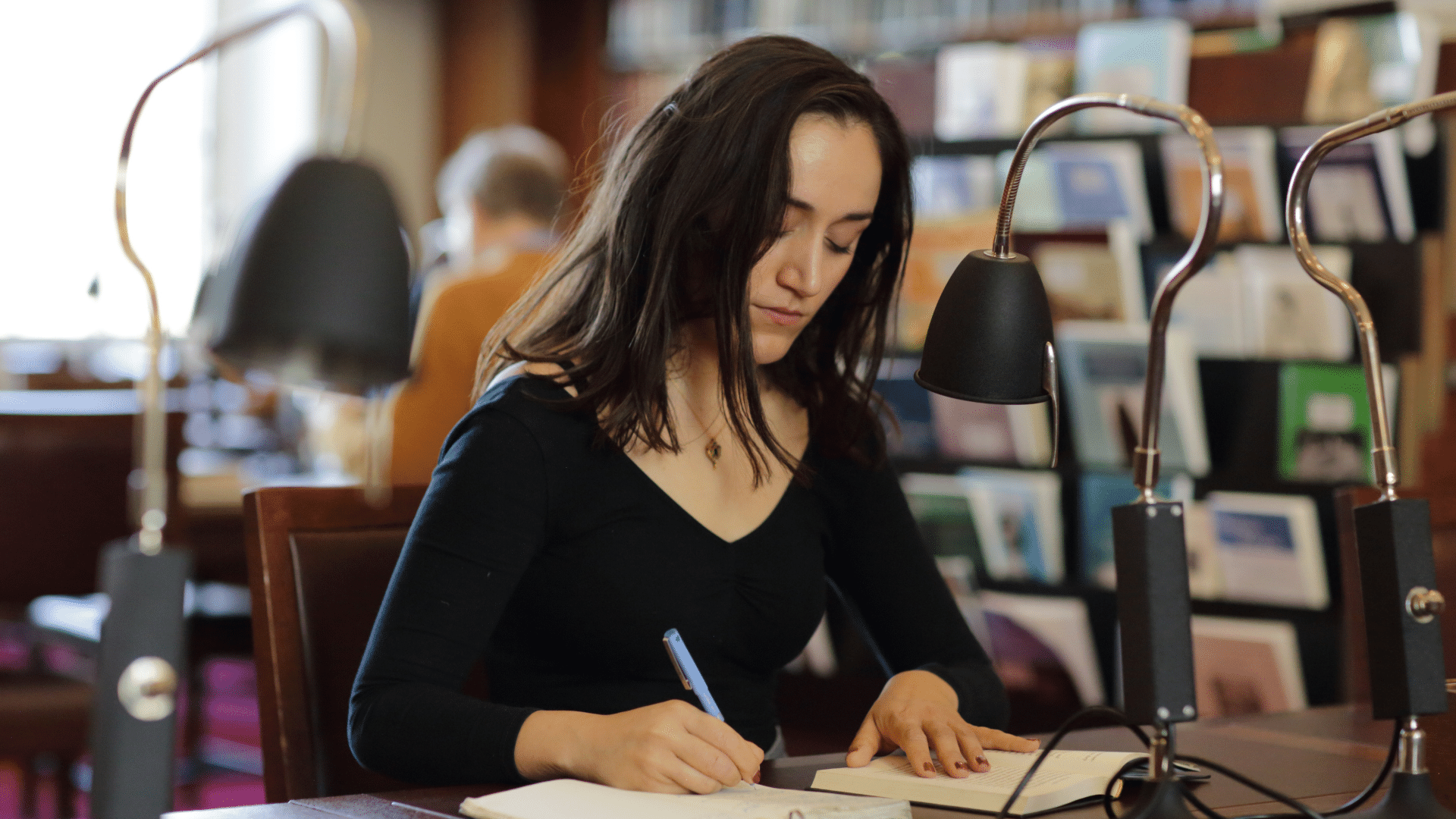 The London Library Emerging Writers Programme is now open for submissions for its fifth year. This increasingly influential scheme is geared towards supporting writers at the start of their careers. The Programme is open to anyone, from any background, who is committed to pursuing a career in writing and wants to develop their work.
The Programme is targeted at emerging writers who have not yet published a full-length work of fiction, non-fiction or a collection of poems, or had a full-length work professionally produced for mainstream film, TV or the stage. The Programme offers writers one year's membership of The London Library (which normally costs £585 per year) alongside writing development masterclasses, networking opportunities, peer support and guidance in use of the Library's extensive resources. There is no application fee and participation on the Programme is funded by philanthropic donations.
Since the initiative launched in 2019, it has supported 158 previously unpublished writers. In that time, participants have enjoyed increased awareness for their writing from the publishing industry – many have had first books and poetry collections published, secured publishing deals, and been recognised with awards and other writing successes.
Writers Abi Daré, Amber Medland, Daniel Marc Janes, Anastasia Taylor-Lind, Lianne Dillsworth, Isabelle Baafi, Russell Franklin, Krystle Zara Appiah, Carole Hailey, Marina Gerner Gaar Adams, Paolo Chianta, Oakley Flanagan, and Natalie Linh Bolderston are just some of the Programme's participants who have achieved significant success.
Applicants will be selected anonymously by a panel of judges including screenwriter and playwright Moira Buffini (Harlots, The Dig, Handbagged), non-fiction writer Travis Elborough (Wish You Were Here, Through the Looking Glasses, Atlas of Vanishing Places), novelist and short story writer Zoe Gilbert (Mischief Acts, Folk) and novelist Ayisha Malik (Sofia Khan is Not Obliged, The Movement).
The fifth year of the Emerging Writers Programme will run from 1 July 2023 to 30 June 2024. Applications open at 11am on 11 January 2023 and close at 11am on 2 March 2023.
Read more: Fifth Year of the London Library Emerging Writers Programme Opens for Submissions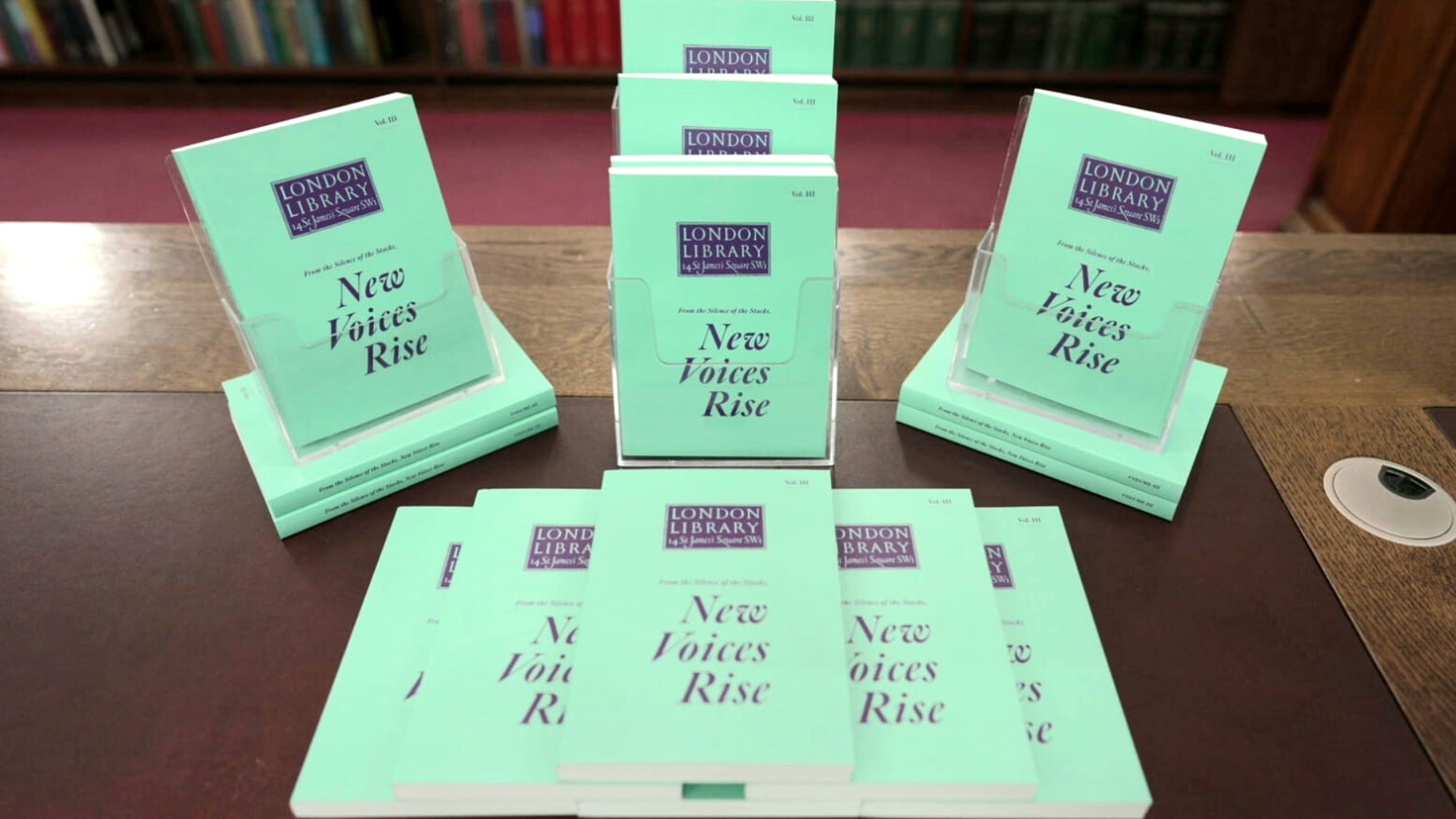 The London Library is proud to announce the publication of the third annual volume of From the Silence of the Stacks, New Voices Rise, an anthology of work from the 2021-22 cohort of The London Library's Emerging Writers Programme. The anthology is available to read online or buy now.
Each volume of New Voices Rise showcases an exciting array of bright new talent, featuring contributions spanning prose to poetry, non-fiction to graphic novels, and stage to screen. The third volume will be no different, incorporating 16 works of fiction, 13 poems, eight works of non-fiction, eight works for stage/screen, and one extract each from a graphic novel and graphic memoir. Extracts included in the volume explore a huge range of topics, such as migration and identity, climate change and war, parenthood and childhood, grief and joy, illness, homelessness, inequality, disability, sexuality, myth and religion.
Contributors to the third volume include award-winning poet and photojournalist Anastasia Taylor-Lind (One Language, Doorstop Books), Courtney Conrad (winner of the Eric Gregory Award and Bridport Prize Young Writers Award), Paolo Chianta (BBC Writersroom Comedy Script Room 2020/21), Ella Baron (editorial cartoonist and former Staff cartoonist of The TLS), Gilli Fryzer (winner of the Mslexia Short Story prize 2020), Esohe Uwadiae (She Is A Place Called Home, VAULT Festival 2020), and David Willey (The Stinging Fly, 404 Ink, PANK and Ambit).
The contributors were originally chosen for the Programme from a field of almost 1000 applicants by a panel of judges comprising of travel writer and London Library Trustee Sara Wheeler (Chair); YA and adult fiction writer Sareeta Domingo; screenwriter Karim Flint; poet Will Harris; playwright and screenwriter Alexis Zegerman; novelist, memoirist and writing mentor Tim Lott; the team at Virago; and agents from AM Heath.
Find out more about our Emerging Writers Programme.

Subscribe to our newsletter to hear about applications for our 2022/23 programme.
Read more: The London Library Showcases New Writing Talent with Publication of From the Silence of the...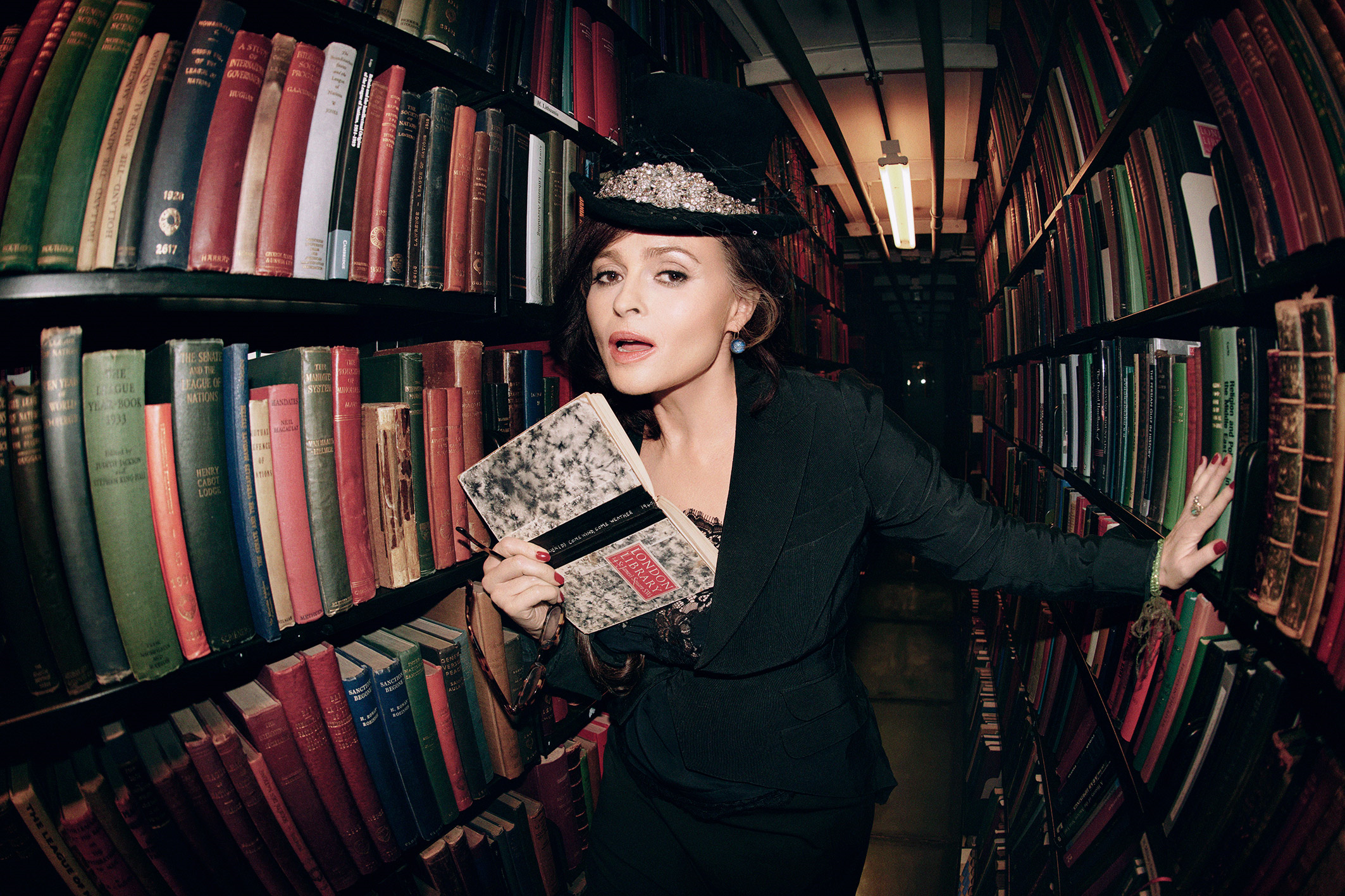 The London Library is delighted to announce Helena Bonham Carter CBE as its first female President. Proposed by the Library's Trustees, the appointment was formally confirmed by members at the Annual General Meeting on 15 November 2022, also marking the end of incumbent President, Sir Tim Rice's five-year term. 
The new President has been a Library member since 1986 and has been chosen for her creativity and connections with literature and stories, her high profile and potential to advocate among new audiences.  
Bonham Carter has a passion for books and deeply appreciates the importance of writers to the acting profession. Much of her own career links with London Library members who have drawn on the Library's rich cultural heritage, extensive resources and unparalleled atmosphere. She rose to prominence by playing Lucy Honeychurch in the film adaptation of the novel A Room with a View (1985), written by former Library Vice President E.M. Forster. Later, she played Miss Havisham in Great Expectations (2012), Charles Dickens was a founding member of the Library, and more recently Eudoria Holmes in the Enola Holmes films based on characters created by Library member Arthur Conan Doyle. 
Open to all, the Library has had innumerable female artists, writers and thinkers in membership throughout its 181-year history. Early members included pioneering women such as social theorist, Harriet Martineau, suffragette, Christabel Pankhurst and the first woman to qualifiy in Britain and a physician and surgeon, Elizabeth Garrett Anderson. Great writers in membership have included Virginia Woolf, Angela Carter, Daphne du Maurier, Muriel Spark and Beryl Bainbridge, and other creatives such as actress, Diana Rigg, and artist, Vanessa Bell.  
The Library Presidency is an honorary position with fundraising and advocacy at its core; the Library is a charity that receives no regular public funding. Bonham Carter's first major duty will be to host The Library's Christmas Party but she is particularly interested in the Library's highly regarded Emerging Writers Programme, its growing schools programme, and the Library's various types of supported membership for those unable to meet the full annual fee.  
The Library is a world-class centre of creativity and inspiration. Around 700 books are published each year by Library members, and over 460 film scripts, TV screenplays or theatre scripts are also produced by Library members annually, estimating an annual value of £21.3m generated for the UK economy (Nordicity and Chartered Accountants Saffrey Champness Impact Report, 2020).  
Helena Bonham Carter CBE, said: "I am delighted to become The London Library's first female President and to champion an institution that is open to all. The Library is truly a place like no other, inspiring and supporting writers for over 180 years, many of whom have in some way informed my own career and those of actors everywhere. The Library's unique resources, history and membership help to connect the literary greats of the past with those of the future, and I am proud to support this incredible and vital establishment."  
Philip Marshall, Director of The London Library said: 'We are all thrilled to welcome Helena Bonham Carter as our new President. With a passion for books and stories, and a long-standing love of the Library, Helena is ideally placed to promote this tremendous resource for the creative and curious.' 
Photo credit: Sane Seven
Read more: The London Library announces Helena Bonham Carter CBE as President 
Subcategories