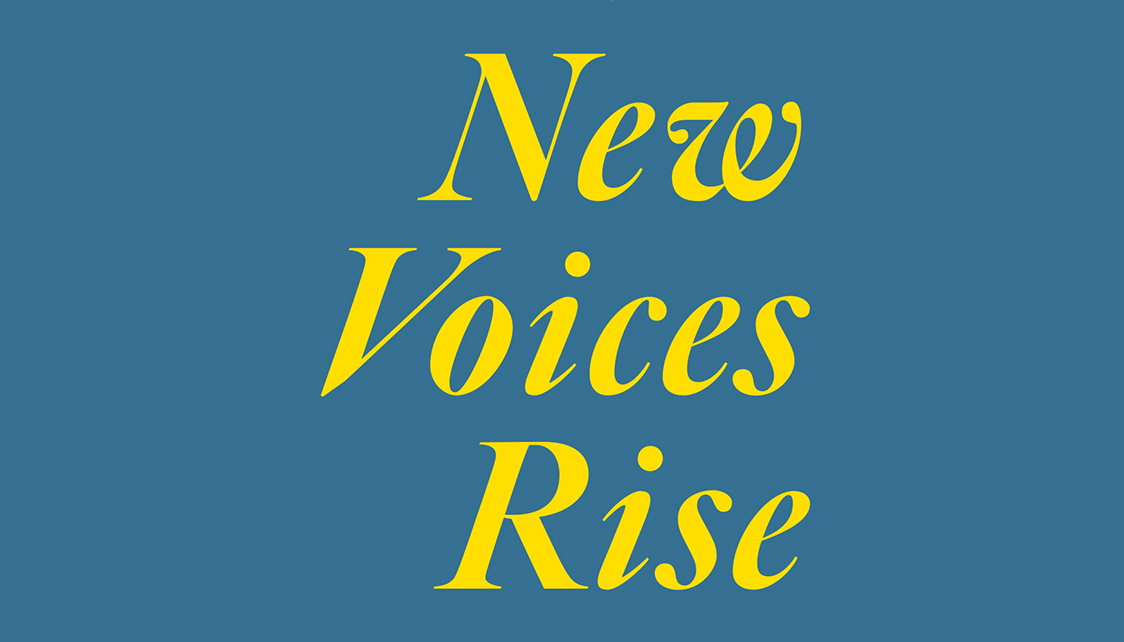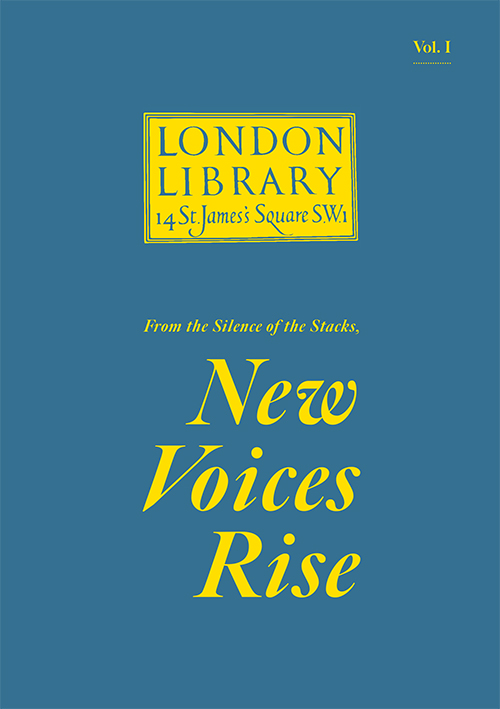 We are delighted to publish From the Silence of the Stacks, New Voices Rise Vol 1, an anthology of writing by the inaugural cohort of The London Library Emerging Writers Programme 2019/2020.
With contributions from 35 writers spanning prose to poetry, non-fiction to YA, stage to screen, this is a feast of words and creativity from an exciting array of bright new talent.
The book is available as a PDF or an eBook. It will also be published as a paperback and will be available soon. The cost of the book will be £2 for the eBook or £8 for the paperback- with all proceeds going back into the Emerging Writers Programme.
Featuring work by: Bebe Ashley, Isabelle Baafi, Alex-David Baldi, Erika Banerji, Carmina Bernhardt, Helen Bowell, Megan Buskey, Sian Chaney-Price, Hattie Clarke, Abass Collier, Swithun Cooper, Natasha Cutler, L M Dillsworth, Joanna Dobson, Karim Flint, Emily Ruth Ford, Anita Goveas, Alice Hughes, Anna Kahn, L Kiew, Lou Kramskoy, Madi Maxwell-Libby, P T McCarthy, Amber Medland, Carly Minsky, Qudsia Mirza, Mónica Parle, Xenobe Purvis, Mandy Rabin, Sabrina Richmond, Laura Sanchez, Lucy Steeds, Deborah Torr, Mia Vigar and Jeremy Wikeley.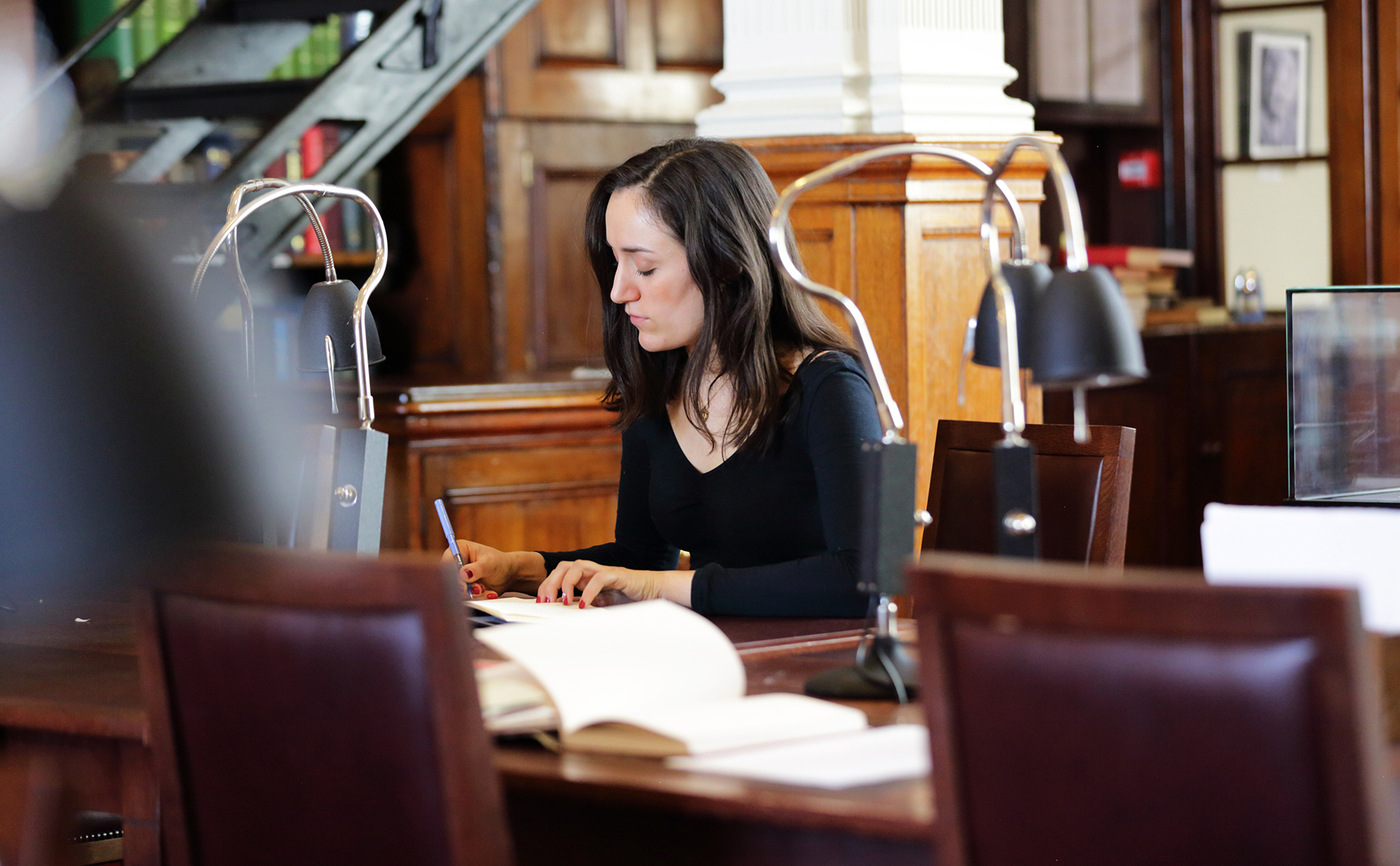 APPLICATIONS FOR THE 2021/22 PROGRAMME ARE NOW CLOSED.
The London Library's Emerging Writers Programme, opens for submissions for the third year today.
Geared towards supporting writers at the start of their careers, the Emerging Writers Programme offers unpublished writers, in all genres, one year's membership of The London Library (which normally costs £540 per year) alongside writing development masterclasses, literary networking opportunities, peer support and guidance in use of the Library's resources.
With its rich cultural heritage, extensive open access book collection, dedicated writing spaces and its diverse community of established writers, the benefits of Library membership are invaluable to early career writers. The Emerging Writers Programme is free to enter and free to participate in, thanks to the generous support The London Library has received from A M Heath Literary Agency, Sir Max Hastings, The International Friends of The London Library and the US Founders Circle, the Julio and Maria Marta Núñez Memorial Fund and other anonymous donors.
Many of the writers who have already taken part in the programme have benefited from increased awareness for their writing from the publishing industry and to mark the success of this initiative, the Library has published a free-to-download anthology of new writing by past participants. From the Silence of the Stacks, New Voices Rise features work by 35 writers who were part of the first Emerging Writers Programme which ran from 2019-2020. A limited print run of a physical edition of the Anthology will also be available to purchase direct from The London Library at £8.
In a new development for 2021, The London Library is able to announce that Virago Books has funded The Virago Participation Bursary to support Black women and Black writers from other underrepresented genders to overcome financial barriers that would prevent them from accessing the full Emerging Writers Programme. This could include travel costs, costs associated with childcare or other caring responsibilities and any other costs incurred in order to participate fully in the Programme. Successful applicants who are eligible will be invited to apply for the bursary on acceptance of their place on the Programme. The Virago Participation Bursary will run alongside the Emerging Writers Programme for the next three years.
Philip Marshall, Director of The London Library comments: "The Emerging Writers Programme has proved to be extremely valuable to early career writers by giving them access to the extensive resources and community of The London Library to help them develop their writing talent. We are delighted that Virago Books are supporting us with the Virago Participation Bursary and that AM Heath continue to support the initiative and we look forward to working with our partners, and with all the writers who are selected for the programme this year."
Sarah Savitt, Publisher at Virago Press says: 'We at Virago read and supported the Black Writers' Guild open letter published in June 2020 calling for action against racial inequality within the British publishing industry, and setting up this bursary was one of the ways we decided to respond. We are a feminist publishing company and know that women and other underrepresented genders – particularly if they are also people of colour – often face extra challenges in accessing writing development programmes and we hope this bursary will make a meaningful difference to a group of writers each year. Publishers can't exist without writers – and readers – and we know that The London Library is a wonderful place for both.'
Sara Wheeler, travel writer, London Library trustee and chair of the judging panel for the Emerging Writers Programme 2021 comments; "Ten non-fiction books in thirty years? I couldn't have done it without The London Library, an extraordinary resource, indispensable inspiration and warmly congenial home to writers of all persuasions. I remember the challenges of kickstarting a career with a blank page, which is why I am thrilled to support new voices though the impressive Emerging Writers Programme. Now, especially, in a climate of shrinking resources, I am proud to see the London Library offering this opportunity."
The closing date for applications is 5 March 2021; applications will then be selected anonymously by a panel of judges. The judges for the Emerging Writers Programme 2021 are: Publishing Director at Virago, Abacus and Little, Brown Ailah Ahmed; YA and adult fiction writer Sareeta Domingo; screenwriter and previous EWP participant Karim Flint; Forward Prize-winning poet Will Harris; playwright and screenwriter Alexis Zegerman; novelist and memoirist Tim Lott; agents from A M Heath; and travel writer and London Library trustee Sara Wheeler (chair).
Read more: The London Library Emerging Writers Programme opens for submissions for third year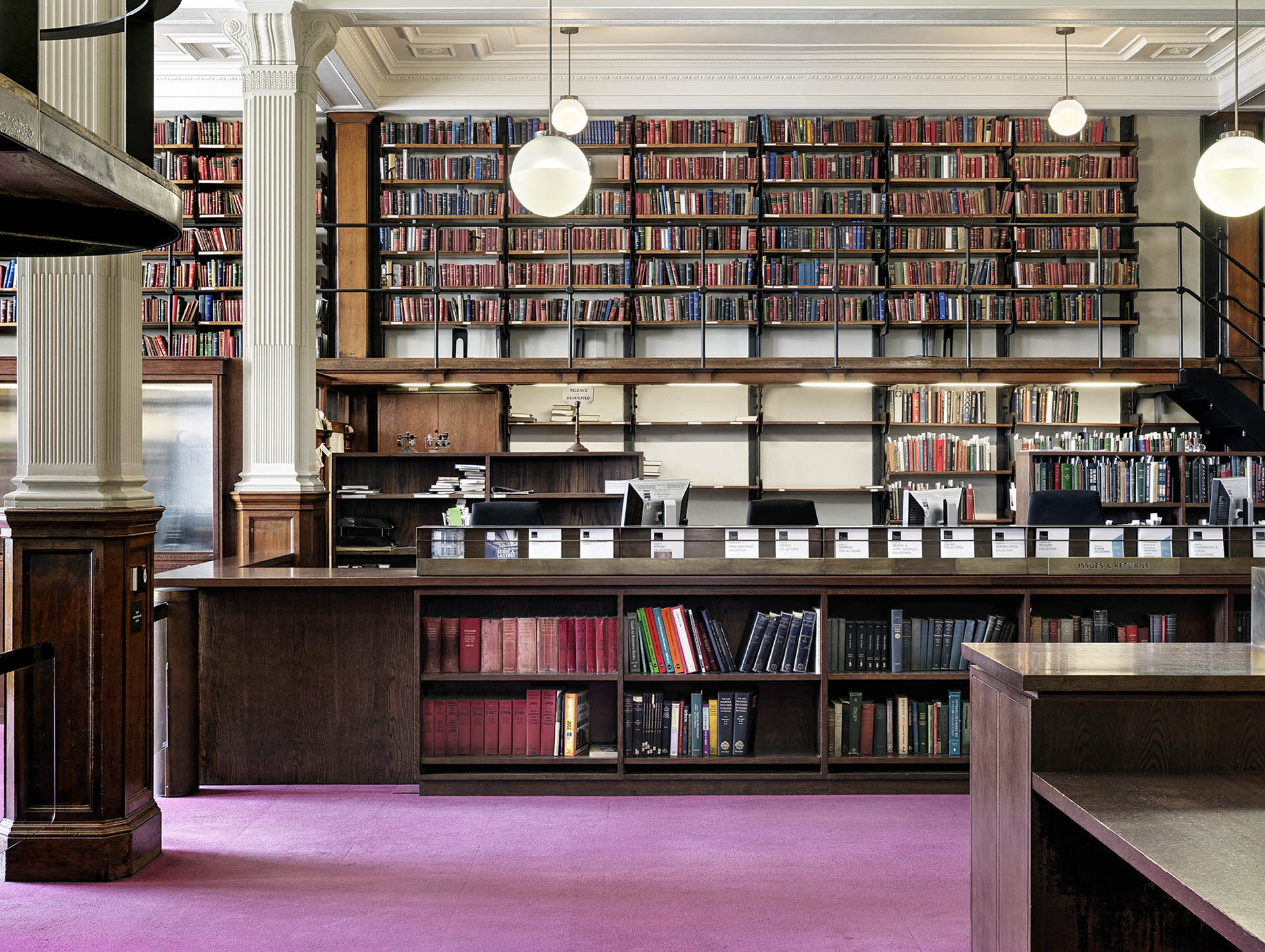 In accordance with the Government restrictions that have been put in place under the newly-announced Tier 4, we regret that we will have to close The London Library's building until further notice. We'll provide updates through our website and newsletters to let you know how the situation is developing.
The temporary closure of our building means that members will be unable to come into the Library to borrow books. However, we will continue to offer postal loans so that members can order books online and have them posted to them free of charge. Over the next two weeks the postal loans may be slower than usual due to the bank holidays and increased demand on the postal system over Christmas, but we will endeavour to respond to queries and get books to you as soon as we are able.
If you already have books awaiting collection at the Library, please email This email address is being protected from spambots. You need JavaScript enabled to view it. if you would like these posted to you, or to let us know if you no longer need them.
In addition to postal loans, our online services (Catalyst and the eLibrary) will be fully operational throughout at catalyst.londonlibrary.co.uk, providing access to millions of pages of information. We have also recently added eBooks to our offering through OverDrive.
Our staff will continue to maintain core administrative services and will be able to handle enquiries about membership and to provide information and updates about the Library, but inevitably some of these services will be more restricted than previously.
This is a very difficult period for everybody, but we look forward to when we can resume normal service, reopen our doors and welcome you all back into the Library. In the meantime, we are very grateful for your continued cooperation and support.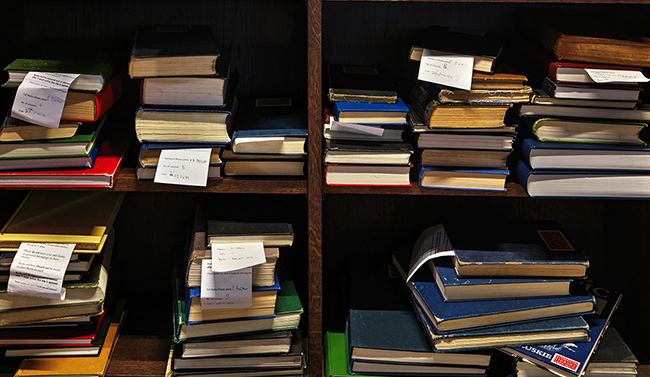 In January 2021 the Library will introduce a new Library Management System and updated online catalogue.
The current systems that the Library uses are end-of-life and we need to migrate to updated versions. The change will take place on 21 January 2021. Unfortunately this will lead to some loss of information on Library members' accounts and it is important that you read the following information and capture any personal data that you may need.
Your loan history, eShelf and saved searches will not be transferred to the new system, therefore if you need access to this information after January 2021 it will need to be extracted from the current system. You can log in to Catalyst and extract this information following the below steps, please note that for members with a long user history this information may be lengthy.
Alternatively, we can extract your loan history for you, please request this by emailing This email address is being protected from spambots. You need JavaScript enabled to view it. Please be aware this may take at least 5 working days.
Please follow the instructions below:
Login to your account on Catalyst using your membership number and PIN. If you need a new PIN to log in please request this on

This email address is being protected from spambots. You need JavaScript enabled to view it.

with 'PIN' as the subject line.
To email records saved on your eShelf to yourself
Click on the pin icon in the top right-hand corner of the screen then choose Saved Records (it should open by default).
Click in the box at the top of your list to select all the records, or select the individual records you want to keep.
Click on the ellipsis (...) from the grey menu bar at the top of the screen and select email from the options that appear. The email address that is linked to your account will appear automatically but it can be amended just for this action should you wish to use a different address.
The system will send you an email containing the items you have selected but please be aware that after 21 January 2021 the links will no longer work.
To access your list of saved searches
Go to your eShelf as above and choose Saved Searches.
If you have any saved searches, they will appear here along with the terms you used and the scopes or refinements applied. These can be cut and pasted into a document and recreated in the updated version of Catalyst when it launches.
To access your loan history
Click on your name in the top right-hand corner of the screen and choose My Loans.
Click on Active loans (the drop down menu next to Loans) and select Previous and historic loans.
You can cut and paste the information into a document, but you will get a neater, more readable version if we extract it for you – particularly if your list is long.
Download instructions with images
It is important that we have a Library Management System and online catalogue which are fully supported by the supplier and designed for the digital era. We understand that the loss of personal history relating to your use of the print and online collections will be disappointing to some and we have held back from making this change until absolutely necessary.
We apologise for the inconvenience and are happy to offer any assistance in collecting this information before the new system launches.
Subcategories