London Library Remote Access Membership
Apply now and get 15% off our great online offer!*
Remote Access membership is perfect for anyone that would like full access to the London Library's online resources and postal loan service. And with so many of us working from home at the moment it's an ideal way of exploring a world class collection of reading and research material.
Our extensive online resources bring together millions of pages from thousands of journals, periodicals, newspapers and databases. They comprise over 25,000 fully searchable information sources.
Just use code 15Remote at checkout on our website before midnight on 15 May. With this offer, Remote Access membership costs around £20 a month, or £220 when paying by annual Direct Debit.
Our Online Resources
Academic resources
Through JSTOR you can access a huge digital library of academic journals, books, primary sources and periodicals. London Library membership provides free access to most of JSTOR's content, which subscribed to separately normally costs around £200 per annum.
Members also have access to a vast collection of historic research material through hundreds of publications including The Bibliography of British and Irish History, British History Online, the Proceedings of the Old Bailey 1674-1913, the Survey of London and The British Newspaper Archive, plus much more.
Newspaper archives and historic publications
As a London Library member you'll be able to use the full digital archives of The Times, The Sunday Times, The Guardian, and The Observer, plus the extensive British Newspaper Archive, the 17th-18th Century Burney Newspapers Collection and more!
This enormous range of archival material is perfect for researching from home - whether you're working on an academic research project, writing a novel or working on your family history.
Our subscriptions to historic publications - such as the Illustrated London News and the Country Life archive - provide a wealth of information, much of it beautifully illustrated, that is ideal for both work and pleasure.
Literary resources
An extensive collection of literary journals and collections is available if you're looking to stay in touch with the literary world. London Library membership gives access to titles such as the complete archive of The London Review of Books, New York Review of Books, English Poetry, The Complete Prose of T S Eliot archive, Early English Books Online and many more.
Art
Our online art resources offer a wealth of material for art researchers and art historians. As well as access to all of the art journals available through JSTOR we also provide use of the International Bibliography of Art, Oxford Art Online and more.
Languages
The London Library's language collection is extensive. Membership gives access to European language newspapers and publications such as Die Zeit/Literatur book reviews and Gallica: The digital library of the national library of France. We also offer Russian literature, language, history and art publications.

Online Research support
While our building is closed our Member Services team is on hand to help you get the most out of using our online services and to provide enquiry and research services by email (This email address is being protected from spambots. You need JavaScript enabled to view it.). Such help may include:
Helping you identify sources and journal articles in the e-Library relevant to your research or interest
Guidance on how to use the online resources if you have not used them greatly before and would like assistance on how best to approach your research.
Our Book Collection and Postal Loans
Our online resources are complemented by a book collection of extraordinary range and depth. The London Library has over one million books dating from 1700 to the present day, almost all of which can be borrowed when the Library building re-opens.
We have now resumed our postal loans service - you can continue borrowing books by ordering them online and we will then post them to you free of charge. We would normally charge for packing and postage but we have, for now, decided to waive those charges. We have also decided to extend every member's existing borrowing limit by five books for the duration of the current Library closure, again, free of charge.
Until further notice members are asked to avoid posting books back to us or putting them through the letterbox in the front door.
Special Offer
Join before midnight on 30 April and get 15% off Remote Access membership!* Just use code 15Remote at checkout on our website.
With this offer, Remote Access membership costs around £20 a month, or £220 when paying by annual Direct Debit.
Join online today and become a member of one of the world's great literary institutions
Newsletter
Not ready to join yet but want to hear more about special offers, news and events at the Library? Sign up to our newsletter below.
The London Library promises to respect and protect any personal data you share with us. Your information is used to administer your membership, personalise your experience of the Library and communications, and provide you with the goods or services you have requested. If you are over 18 we may, in some instances, analyse your data and obtain further publicly available data to help us make our communications more appropriate and relevant to your interests, and anticipate whether you might want to support us in the future.
You can opt-out of most communications or the ways in which we process your data by contacting This email address is being protected from spambots. You need JavaScript enabled to view it.. For full details of how we collect, store, use and protect your data, see our Privacy Policy at www.londonlibrary.co.uk/privacypolicy.
*Valid for new members in their first year of membership. See all terms and conditions here.
Those of you who enter the Library via our Mason's Yard entrance will have seen the bumper crop of books on display in the window over the last year. The window regularly features books that have been written by London Library members and is a great way for us to demonstrate the wide variety of work being produced on site.
Currently on display is:
Stephen Hoare, Palaces of Power
William Dalrymple, Anarchy
Jessica Douglas-Home, William Simmonds
Duncan Hamilton, Great romantic
Thomas Grant, Court Number One
Lucasta Miller, L. E. L.
Andrew Lownie, The Mountbattens
Anne de Courcy, Chanel's Riviera
Charles More, From Arromanches to the Elbe
Richard Dove, Uneven Song
James Bartos, Geometry of Beauty
Robert Harris, Second Sleep
Patrick Bishop, Man who was Saturday
D J Taylor, Lost Girls
A N Wilson, Prince Albert
Jack Straw, English Job
Sara Wheeler, Mud and Stars
Max Hastings, Chastise
Daisy Dunn, In the Shadow of Vesuvius
Harriet Evans, Garden of Lost and Found
Victoria Hislop, Those who are Loved
Susan Ronald, Conde Nast
Philippa Gregory, Tidelands
Dan Jones, Crusaders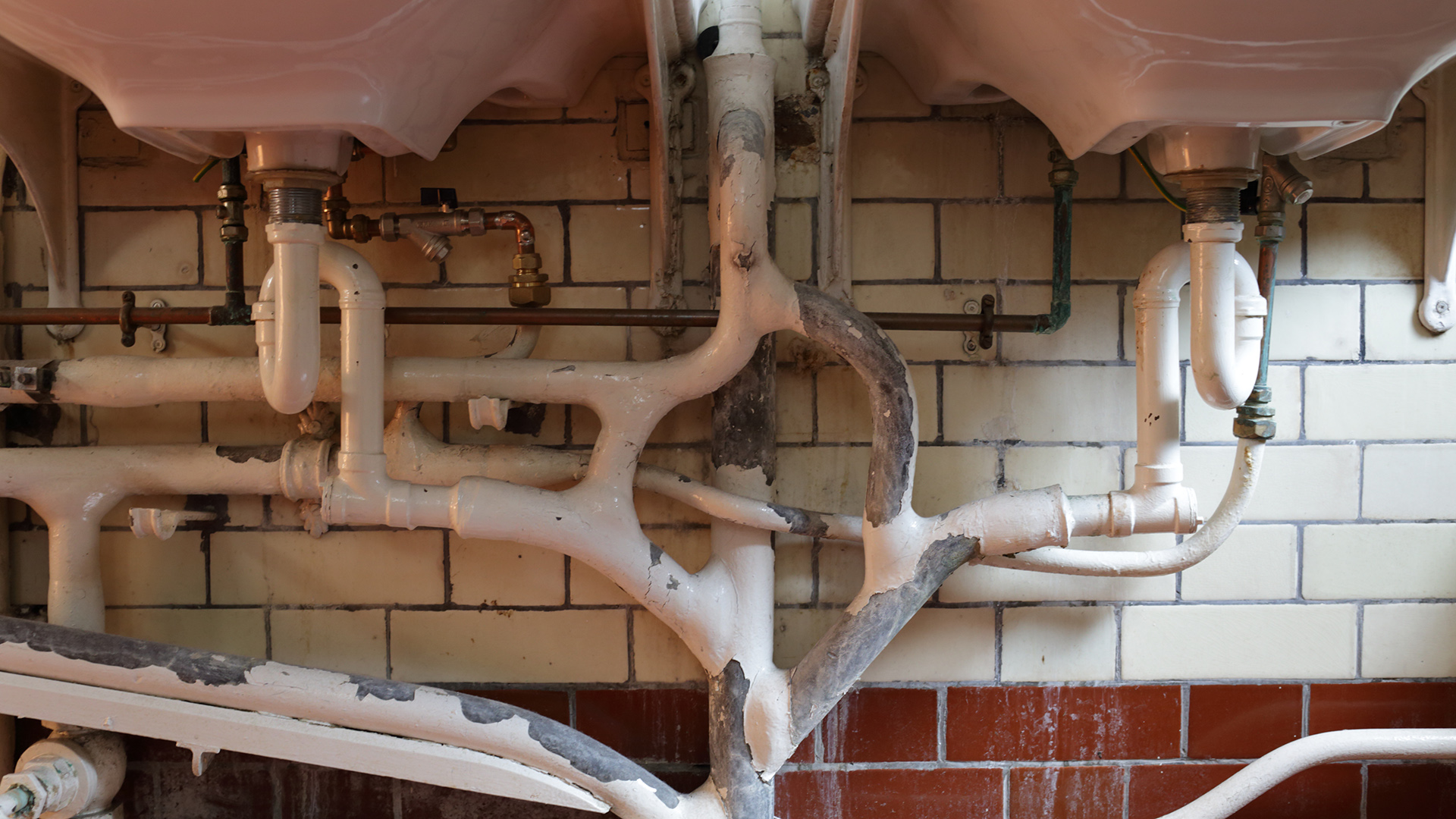 Refurbishing the Red Staircase Toilets
The men's and women's toilets on the main red staircase are in desperate need of a major overhaul. This year The Library Fund will enable a complete refurbishment of these facilities, while ensuring they remain in keeping with the style of the surrounding historic building.
You can make this project happen – donate now and transform these toilets from dilapidated relics to pristine condition, providing relief for Library users for years to come!
Current total: £65,711 = 88% of target
The Problems
The major issues with the toilets are:
LACK OF FACILITIES IN THE MEN'S TOILETS – for a number of years the men's toilets have operated at half their original capacity, with plumbing issues removing the urinals from use
AGED PIPEWORK – both toilets contain labyrinthine pipework. Much of which is old lead pipes which often leak and necessitate costly repairs
DAMAGED FLOORING – the red tiled floors are damaged in many places, and ingrained with 100 years of dirt and grime
DAMAGED WALL TILES – the crackle glaze walls tiles bear extensive damage, degradation, evidence of fittings being removed and stop-gap repairs
DECORATION, LIGHTING AND FIXTURES – in need of comprehensive upgrade and replacement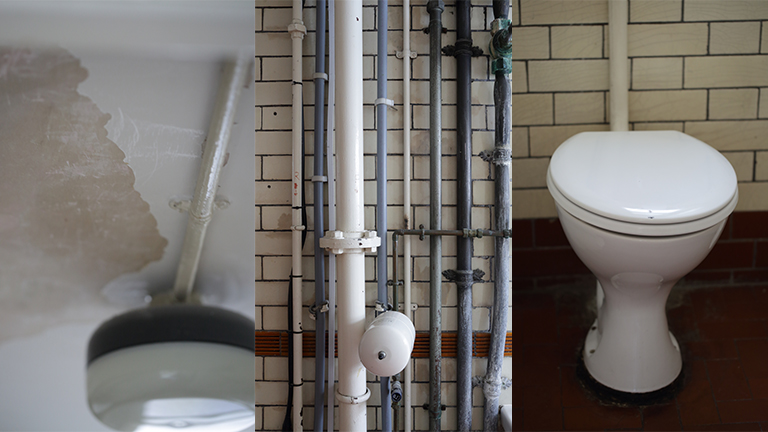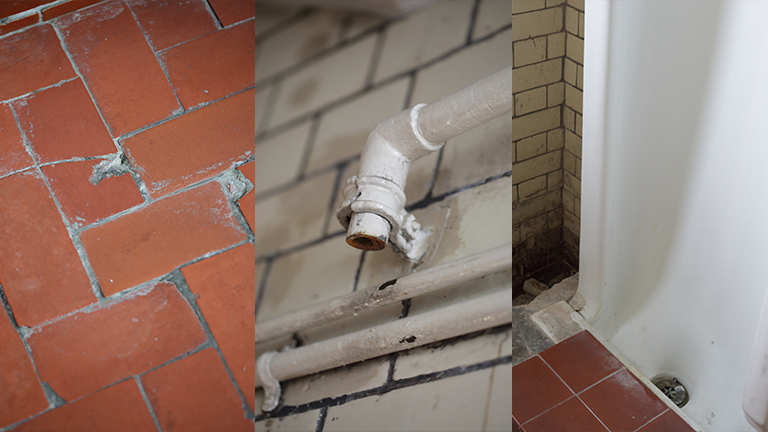 The Refurbishment
The red staircase, situated between the Issue Hall, the Reading Room and the Back Stacks, is a historic thoroughfare in The London Library, and one with a unique character. The toilets will be restored to a high standard, without losing any of the special charm in this part of the building. All upgraded elements, from wall and floor tiles to sinks, taps and toilet roll holders, will be carefully selected to match the surroundings.
The budget for the project, and target for this year's Library Fund is £75,000, with costs in large part dictated by the particular requirements of refurbishing a Grade II listed building. The impact on Library users will be kept to a minimum – work is planned for mid-2020, and will take roughly 6 weeks to complete.
The Library Fund provides a wonderful opportunity for Library users to make a positive mark on this historic building for the benefit of the wider Library community. All funds raised will go towards the refurbishment, and should more than is needed be donated the excess will be applied to next year's project.

How to Donate
Donate to The Library Fund quickly and simply using the button below.
You can also donate by text message, simply text LIBRARYFUND to 70085 to donate £10 (this costs £10 plus a standard rate text message).
If you choose to donate via text please be aware that the Library will not receive your personal details, but we are incredibly grateful for your support. If you want to let us know you have donated by text, drop us an email at This email address is being protected from spambots. You need JavaScript enabled to view it..
You can donate in person too, just speak to a member of staff at the reception desk the next time you visit the Library.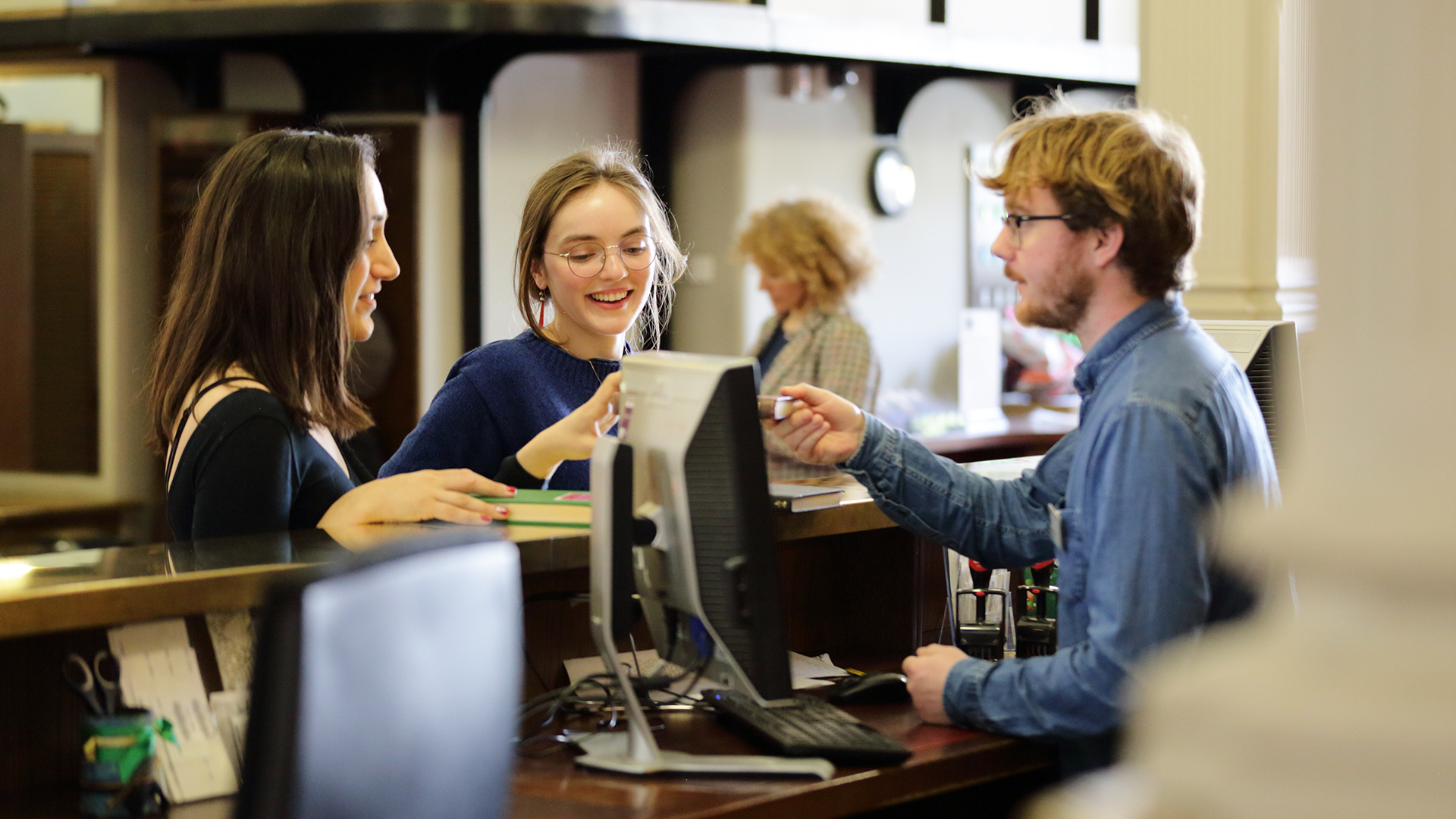 Enhancing enjoyment and use of the Library
How people use the Library is at the heart of what makes it a special institution. And while there are many reasons to love the Library, there are also small improvements that could enhance how people experience its buildings and collections that are beyond the capabilities of the Library's operating budget.
The Library Fund is an annual fundraising campaign focused on improving the Library in ways that directly impact its users. Every year, supporters of the Fund make possible one special project to enhance how members and the wider Library community enjoy its buildings or make use of its collections.
2019/20 REFURBISHING THE RED STAIRCASE TOILETS
Following a hugely successful inaugural campaign the 2019/20 Library Fund closed in April 2020. Explore the infographic below to find out more about the diverse group of donors who combined to raise over £67,000.
The Library is now well placed to begin the refurbishment as soon as the wider situation in the UK allows. Initially the work was expected to happen over the summer of 2020, but this may now not be possible. The Library will do all it can to prepare for the work by consulting with architects and others, and will keep this page updated with any new developments.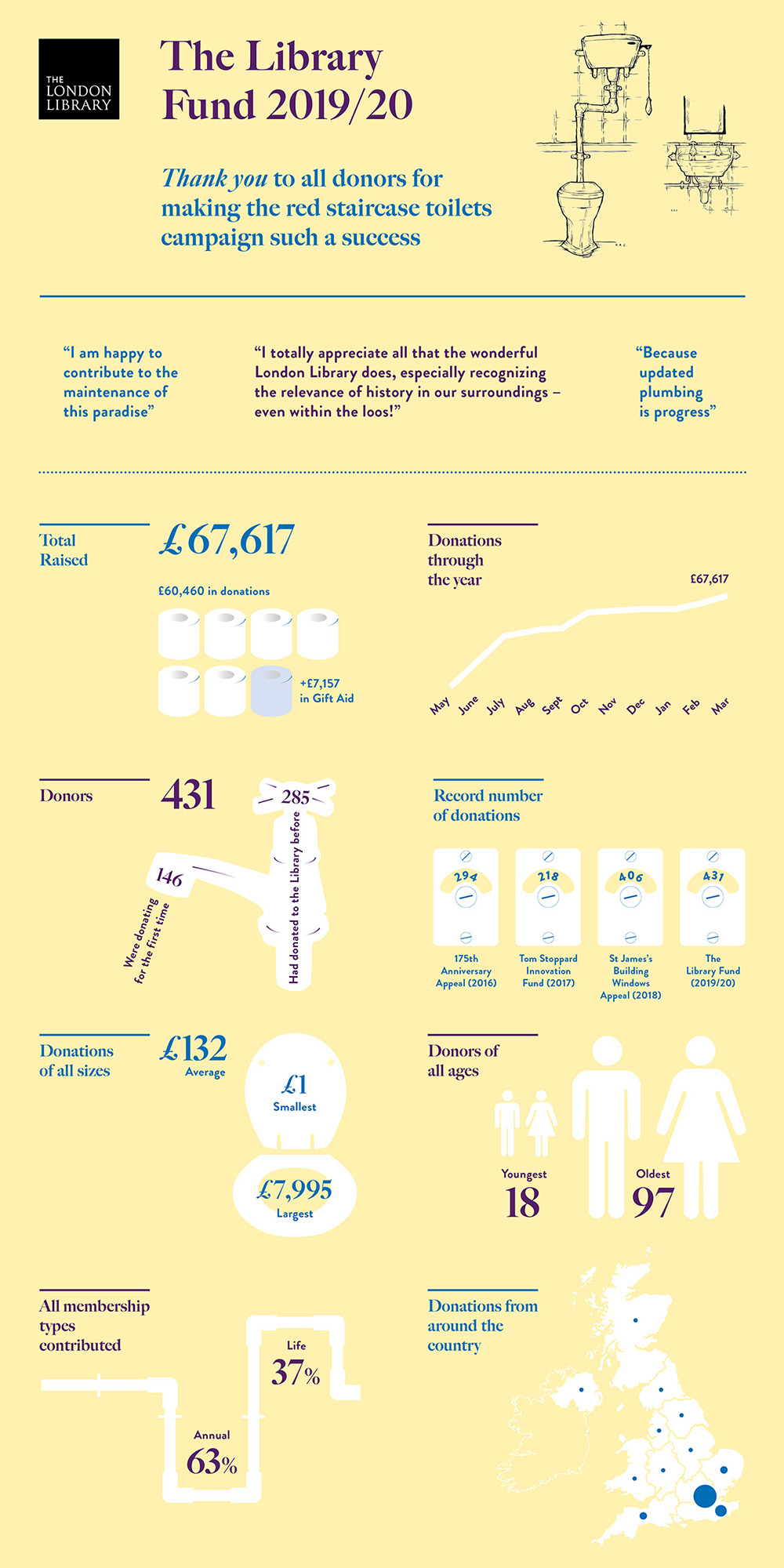 PAST PROJECTS
2018 The St James's Building Windows Appeal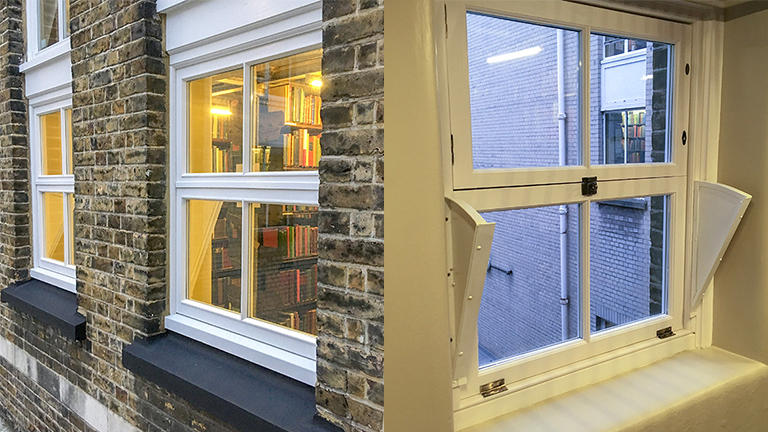 The 2018 Windows Appeal raised over £100,000 to replace severely damaged windows on one side of the Library's St James's Building. The replacement of the windows alongside some decoration work and book moves greatly improved the environment and comfort in this part of the building, and the success of the appeal enabled us to buy new desks, creating 10 wonderful new working spaces for Library users.
The response from Library members to the appeal, and the support donors gave to the work to improve how they use the building, directly inspired the creation of The Library Fund.
Subcategories