London Library Remote Access Membership
Apply now and get 15% off our great online offer!*
Remote Access membership is perfect for anyone that would like full access to the London Library's online resources and postal loan service. And with so many of us working from home at the moment it's an ideal way of exploring a world class collection of reading and research material.
Our extensive online resources bring together millions of pages from thousands of journals, periodicals, newspapers and databases. They comprise over 25,000 fully searchable information sources.
Just use code 15Google at checkout on our website before midnight on 15 May. With this offer, Remote Access membership costs around £20 a month, or £220 when paying by annual Direct Debit.
Our Online Resources
Academic resources
Through JSTOR you can access a huge digital library of academic journals, books, primary sources and periodicals. London Library membership provides free access to most of JSTOR's content, which subscribed to separately normally costs around £200 per annum.
Members also have access to a vast collection of historic research material through hundreds of publications including The Bibliography of British and Irish History, British History Online, the Proceedings of the Old Bailey 1674-1913, the Survey of London and The British Newspaper Archive, plus much more.
Newspaper archives and historic publications
As a London Library member you'll be able to use the full digital archives of The Times, The Sunday Times, The Guardian, and The Observer, plus the extensive British Newspaper Archive, the 17th-18th Century Burney Newspapers Collection and more!
This enormous range of archival material is perfect for researching from home - whether you're working on an academic research project, writing a novel or working on your family history.
Our subscriptions to historic publications - such as the Illustrated London News and the Country Life archive - provide a wealth of information, much of it beautifully illustrated, that is ideal for both work and pleasure.
Literary resources
An extensive collection of literary journals and collections is available if you're looking to stay in touch with the literary world. London Library membership gives access to titles such as the complete archive of The London Review of Books, New York Review of Books, English Poetry, The Complete Prose of T S Eliot archive, Early English Books Online and many more.
Art
Our online art resources offer a wealth of material for art researchers and art historians. As well as access to all of the art journals available through JSTOR we also provide use of the International Bibliography of Art, Oxford Art Online and more.
Languages
The London Library's language collection is extensive. Membership gives access to European language newspapers and publications such as Die Zeit/Literatur book reviews and Gallica: The digital library of the national library of France. We also offer Russian literature, language, history and art publications.

Online Research support
While our building is closed our Member Services team is on hand to help you get the most out of using our online services and to provide enquiry and research services by email (This email address is being protected from spambots. You need JavaScript enabled to view it.). Such help may include:
Helping you identify sources and journal articles in the e-Library relevant to your research or interest
Guidance on how to use the online resources if you have not used them greatly before and would like assistance on how best to approach your research.
Our Book Collection and Postal Loans
Our online resources are complemented by a book collection of extraordinary range and depth. The London Library has over one million books dating from 1700 to the present day, almost all of which can be borrowed when the Library building re-opens.
We have now resumed our postal loans service - you can continue borrowing books by ordering them online and we will then post them to you free of charge. We would normally charge for packing and postage but we have, for now, decided to waive those charges. We have also decided to extend every member's existing borrowing limit by five books for the duration of the current Library closure, again, free of charge.
Until further notice members are asked to avoid posting books back to us or putting them through the letterbox in the front door.
Special Offer
Join before midnight on 15 May and get 15% off Remote Access membership!* Just use code 15Google at checkout on our website.
With this offer, Remote Access membership costs around £20 a month, or £220 when paying by annual Direct Debit.
Join online today and become a member of one of the world's great literary institutions
Newsletter
Not ready to join yet but want to hear more about special offers, news and events at the Library? Sign up to our newsletter below.
The London Library promises to respect and protect any personal data you share with us. Your information is used to administer your membership, personalise your experience of the Library and communications, and provide you with the goods or services you have requested. If you are over 18 we may, in some instances, analyse your data and obtain further publicly available data to help us make our communications more appropriate and relevant to your interests, and anticipate whether you might want to support us in the future.
You can opt-out of most communications or the ways in which we process your data by contacting This email address is being protected from spambots. You need JavaScript enabled to view it.. For full details of how we collect, store, use and protect your data, see our Privacy Policy at www.londonlibrary.co.uk/privacypolicy.
*Valid for new members in their first year of membership. See all terms and conditions here.
As the concerns and advice concerning the Coronavirus (COVID 19) increase, the Library is supporting and providing information for staff, monitoring the official advice and planning accordingly. The Library currently remains open as usual. However, there could be a time where we may need to close at short notice, for a short or longer period of time. In this situation updates will appear on our homepage on the website at londonlibrary.co.uk
Hand sanitiser pumps have been installed in all the staff areas and dispensers have been placed in the Issue Hall for use by both staff and members at this transactional area. Extra cleaning is also being undertaken and our cleaning supplier has an emergency specialist team to hand, to disinfect the Library in the event of the virus presenting onsite.
It is Library policy that staff follow current government advice with regards to self-isolation. To support staff and encourage transparency any member of staff affected will be paid for this time and it will not be taken as annual leave.
Members are asked to ensure that they are aware of the common symptoms, stay abreast of up to date information and strictly follow government advice.
Although there is no current plan to change the operation of the Library, postal loans are available to all members wishing not to attend in person. Please feel free to contact the Library if you would like more information on this.
Thank you for your continued help during this time.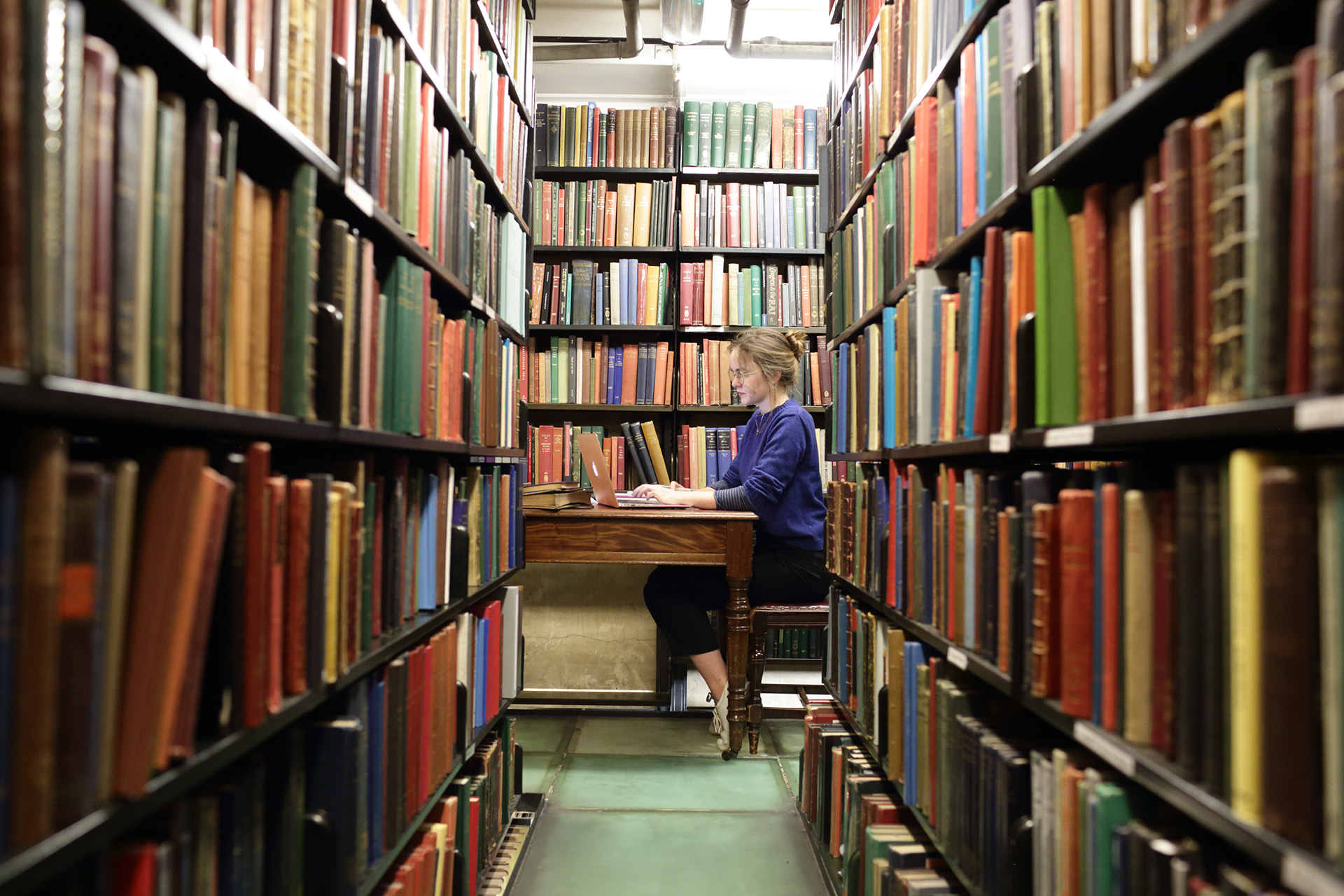 The London Library Subsidised Schools Membership Pilot
Thank you for your interest in The London Library Subsidised Schools Membership Pilot.
This pilot is a unique opportunity which offers state schools fully subsidised school membership of the Library for the full year.
With its unparalleled collection of over 1 million volumes spanning 200 subject areas, unlimited access to over 1,000 online journals and beautiful workspaces, membership of the Library is a valuable asset to any school.
We currently have over fifty schools in membership. Many of these use the Library on a regular basis and benefit from bespoke support with study and research needs - ranging from EPQ group study sessions organised by our knowledgeable Librarian staff, to help with the research needs of individual students.
'Membership of the London Library is a great asset for our Sixth Form students - especially those undertaking independent research for coursework or an EPQ. Having access to online resources such as JSTOR helps them find the latest research on their topics, enabling them to gain insights which are current and fresh.' - current London Library school member
The Subsidised Schools Membership Pilot has been made possible through the generous support The London Library has received from a number of anonymous donors. The scheme has not received any public funding.
Applications for the Subsidised Schools Membership Pilot are open to any state schools with pupils above 16. Applicants should have a clear idea of how they wish to use the Library to achieve this aim.
The closing date for applications is 12pm on 30 June 2020 (please note, this has been extended from the original date).
If you would like to apply, please email Charlotte Beskeen at This email address is being protected from spambots. You need JavaScript enabled to view it. to request an application form.
For any questions regarding your application please contact Charlotte by phone on 020 7766 4722 or on the email address above.
We look forward to receiving your application and good luck!
Read more: The London Library Subsidised Schools Membership Pilot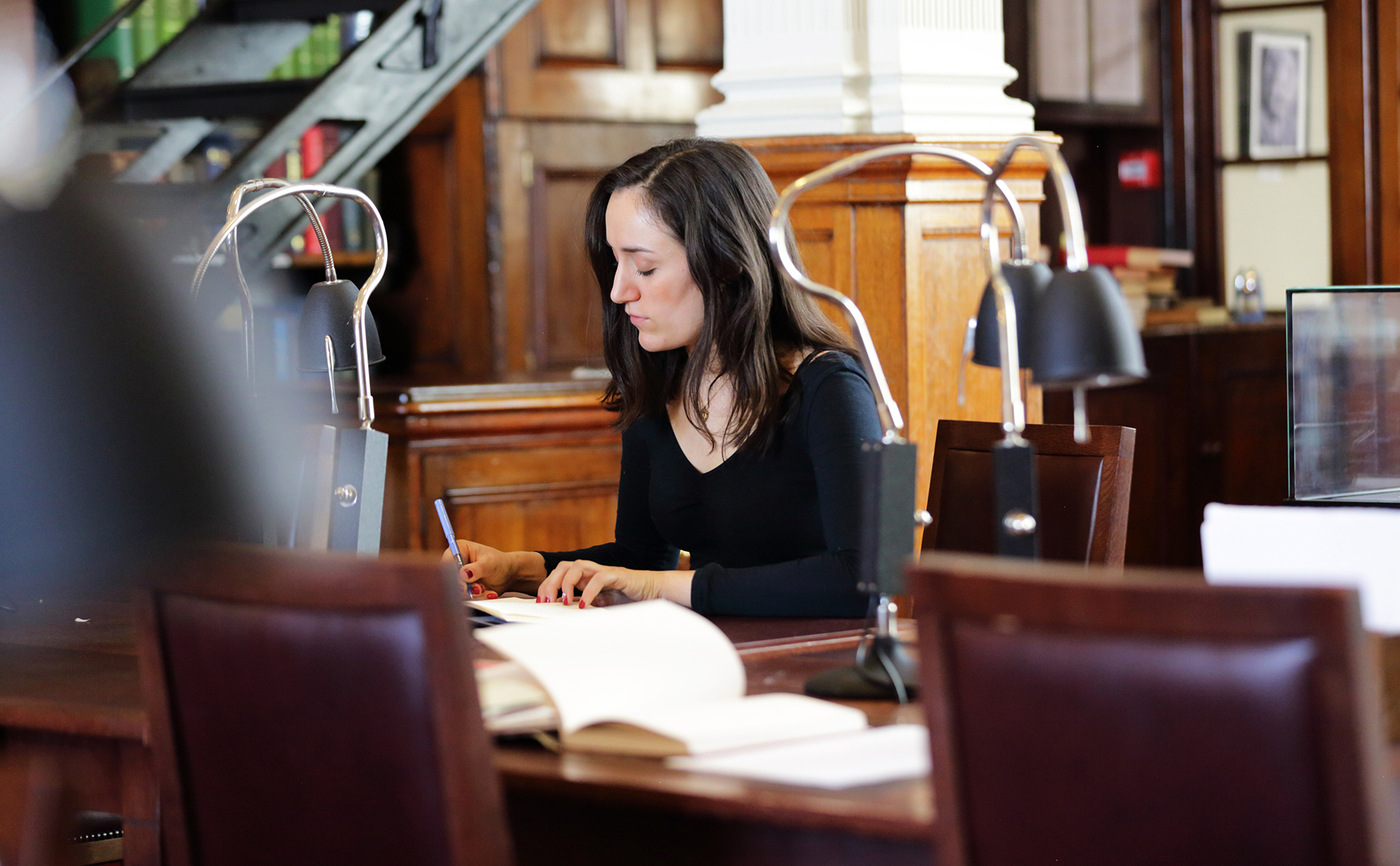 The London Library Emerging Writers Programme
Applications for the 2020-2021 Programme are now closed.
The London Library is proud to announce the second year of our Emerging Writers Programme, a unique opportunity which offers writers, in all genres, one year's free membership of The London Library.
Geared towards supporting writers at the start of their careers, the Programme includes writing development masterclasses, literary networking opportunities, peer support and guidance in use of the Library's resources. With its rich cultural heritage, extensive open access book collection, dedicated writing spaces and its diverse community of established writers, the benefits of Library membership are invaluable.
For over 175 years The London Library has played a central role in inspiring writers and researchers, and has helped them explore and develop their work. Many writers, including Virginia Woolf, Bram Stoker, Aldous Huxley and Tom Stoppard began their literary careers at the Library and thousands continue to draw on the Library to explore and develop their work.
The London Library Emerging Writers Programme is open to anyone who is committed to pursuing a career in writing (for publication or performance) and wants to develop their practice. Applicants should be working, or planning to work, on a specific project, with the aim of publication or production, and have a clear idea of how they might use the Library's resources to achieve that aim. Applicants will be selected anonymously by a panel of judges including:
Bidisha (broadcaster, writer and film maker)
Isabelle Dupuy, Chair (writer and London Library Trustee)
Eleanor Greene (Executive Producer, Drama at Wall to Wall Productions)
Daniel Hahn (writer and translator)
Karen McCarthy Woolf (poet)
Amy Rosenthal (playwright)
Anna Whitwham (novelist)
Agents at AM Heath
The London Library Emerging Writers Programme is only possible because of the generous support The London Library has received from A M Heath Literary Agency, The Bryan Guinness Charitable Trust, The Golden Bottle Trust and the Julio and Maria Marta Núñez Memorial Fund and other anonymous donors.
If you have any questions please email on This email address is being protected from spambots. You need JavaScript enabled to view it.
---
The 2019-2020 Emerging Writers Programme

The 2019-2020 Programme launched in May 2019 with a cohort including poets, stage and screen writers, and fiction and non-fiction authors. Projects are already underway in a very diverse range of subjects.
The programme has given me thoughtful conversations with other writers, techniques and tactics for researching and writing, plus access to a huge warren of books and online resources I'd never have found for myself. Conversations resulting from the programme helped me find my agent and I'm so excited to see what I can do next year with the boost all this has given me!
Anna Kahn, 2019-2020 participant
View 2019/20 cohort of Emerging Writers
The 2019-2020 Emerging Writers Programme was made possible because of the generous support The London Library received from A M Heath Literary Agency, The Garrick Charitable Trust, The Golden Bottle Trust, The John S Cohen Foundation, the Julio and Maria Marta Núñez Memorial Fund and other anonymous donors.
Subcategories