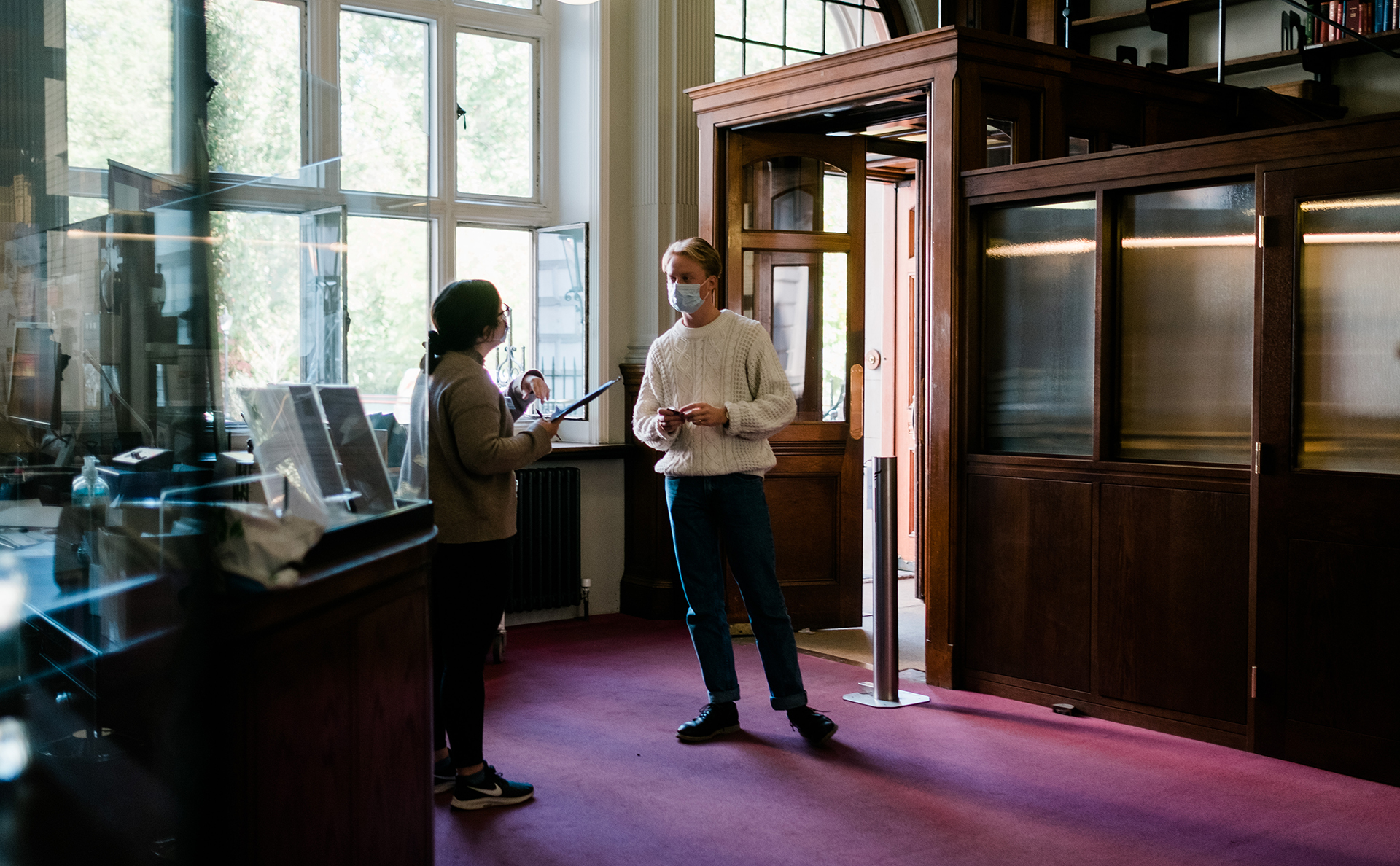 Help Us Bring Light to the Stacks
Library Fund Update
Thank you to everyone who has supported this year's Library Fund. Your donations have raised £87,000 towards a new lighting across the Library's stacks - enough to cover the installation in the Basement and the Back Stacks.
Once installed, the planned lighting system will:
Protect the book collection from damage from UV light and heat
Greatly improve the everyday experience of using the stacks
Significantly reduce the Library's energy consumption
We will be sending out more information in the coming weeks about the LED lighting project and what your support has achieved. Thank you again.
The Library's lighting system in the bookstacks is over 30 years old and uses too much energy by modern standards. The existing system casts inconsistent light across the stacks and relies on awkward pull-cord switches, while the UV rays and infrared heat emitted by the lights damages the book collection.
We need to act now to replace the lighting with a new system that will reduce energy consumption and operating costs, improve the browsing experience for members and protect books. Please consider donating to The Library Fund and help install a new lighting system for the benefit of Library users, the book collection and the environment.
A New Lighting System
The solution is a modern, energy-efficient and user-friendly system, replacing the existing light fittings with the latest LED technology and pull-cord switches with passive infrared sensors. Each part of the system will be carefully designed to best serve the Library's spaces and users, and will transform the bookstacks in three key aspects:
User experience
Automatic sensors that turn lights on and off as needed

Even light coverage on all shelves, eliminating dark shadows, dazzling bright spots and unlit areas

Better light quality with sufficient warmth to be conducive to reading and browsing

The removal of light switches and pull-cords, providing improved hygiene for all members and easier access for those with physical or visual impairment
Protecting the collection
Eliminate UV light falling on shelves which irreversibly damages books

Reduce infrared heat radiating from lights which degrades book page

Better lighting reduces the risk of books being mishandled
Financial and environmental efficiency and sustainability
Low wattage LED technology that will reduce the energy needed to light the stacks

Infrared sensors to ensure lights are only on when needed

An estimated 20% reduction in the Library's total energy use, contributing to environmental and financial sustainability – the single biggest change the Library can make to reduce energy consumption

Further costs savings from reduced lighting maintenance and book repairs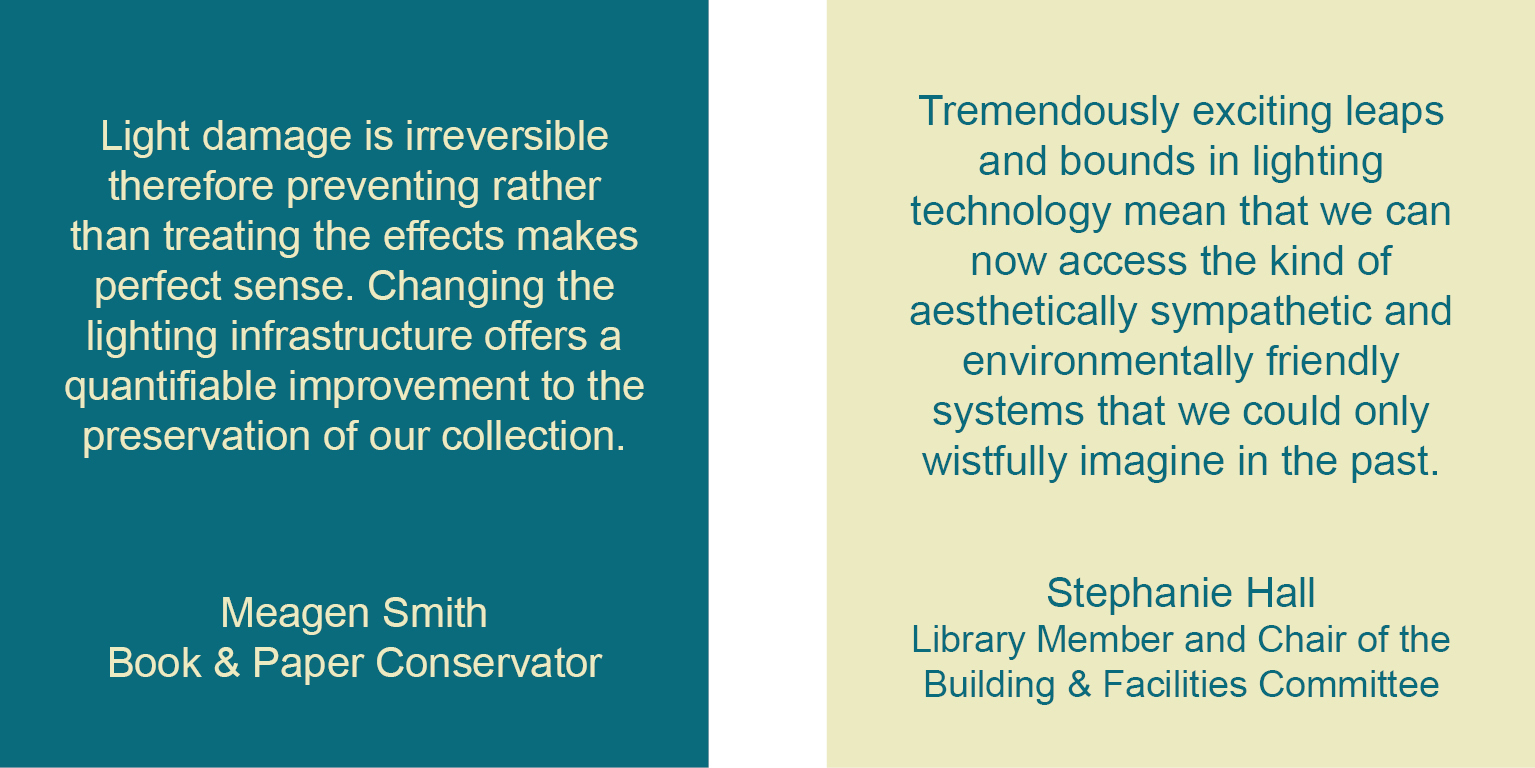 What your donation could fund
Completing the project will replace 1,184 existing fittings, but the improved performance and efficiency of LED lights mean that existing fittings won't be replaced like-for-like. Decisions will be made once installation has begun on where multiple fittings can be replaced by a single new one. Based on the metres of lighting required to cover each area of the bookstacks we can estimate the cost of the project for the affected areas: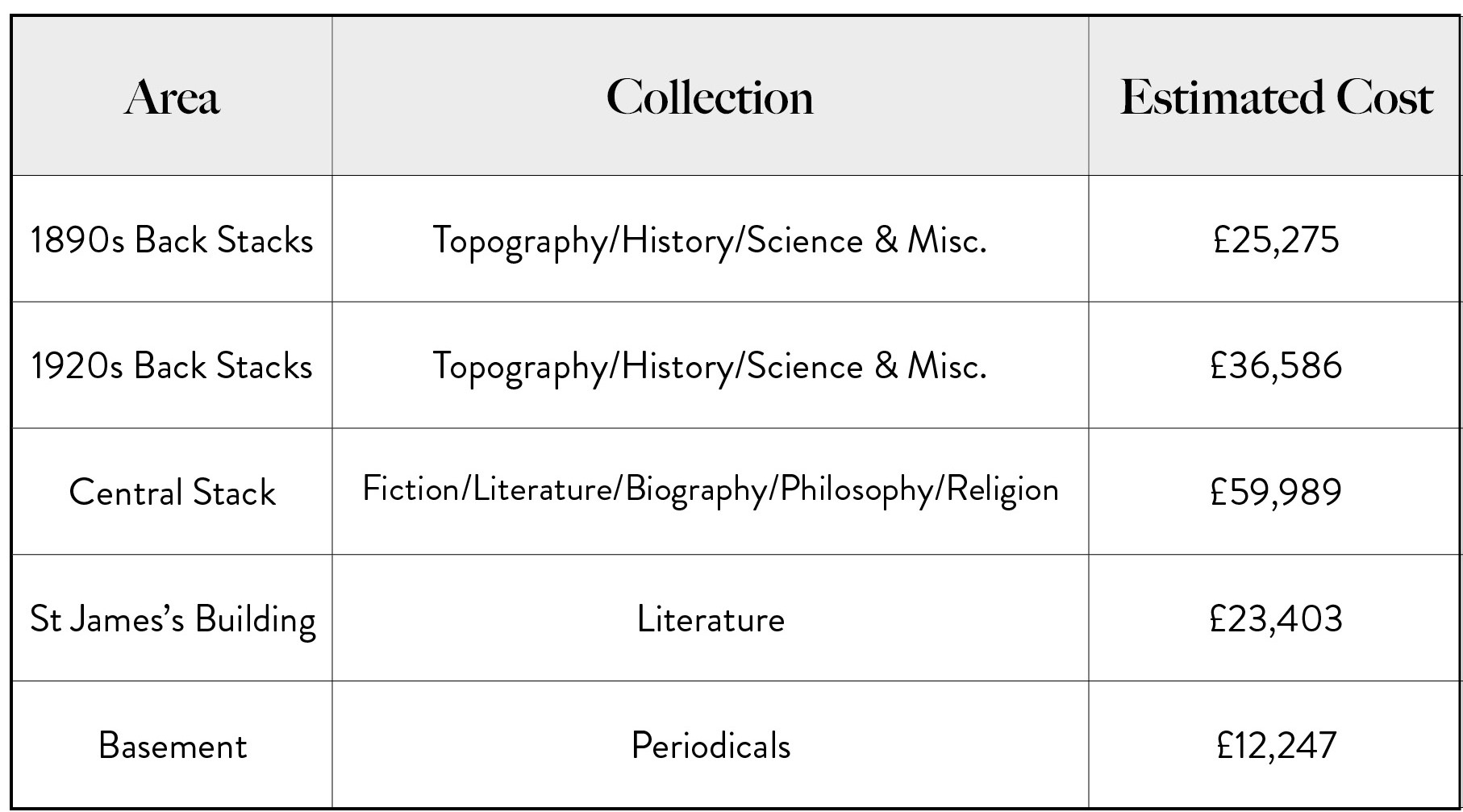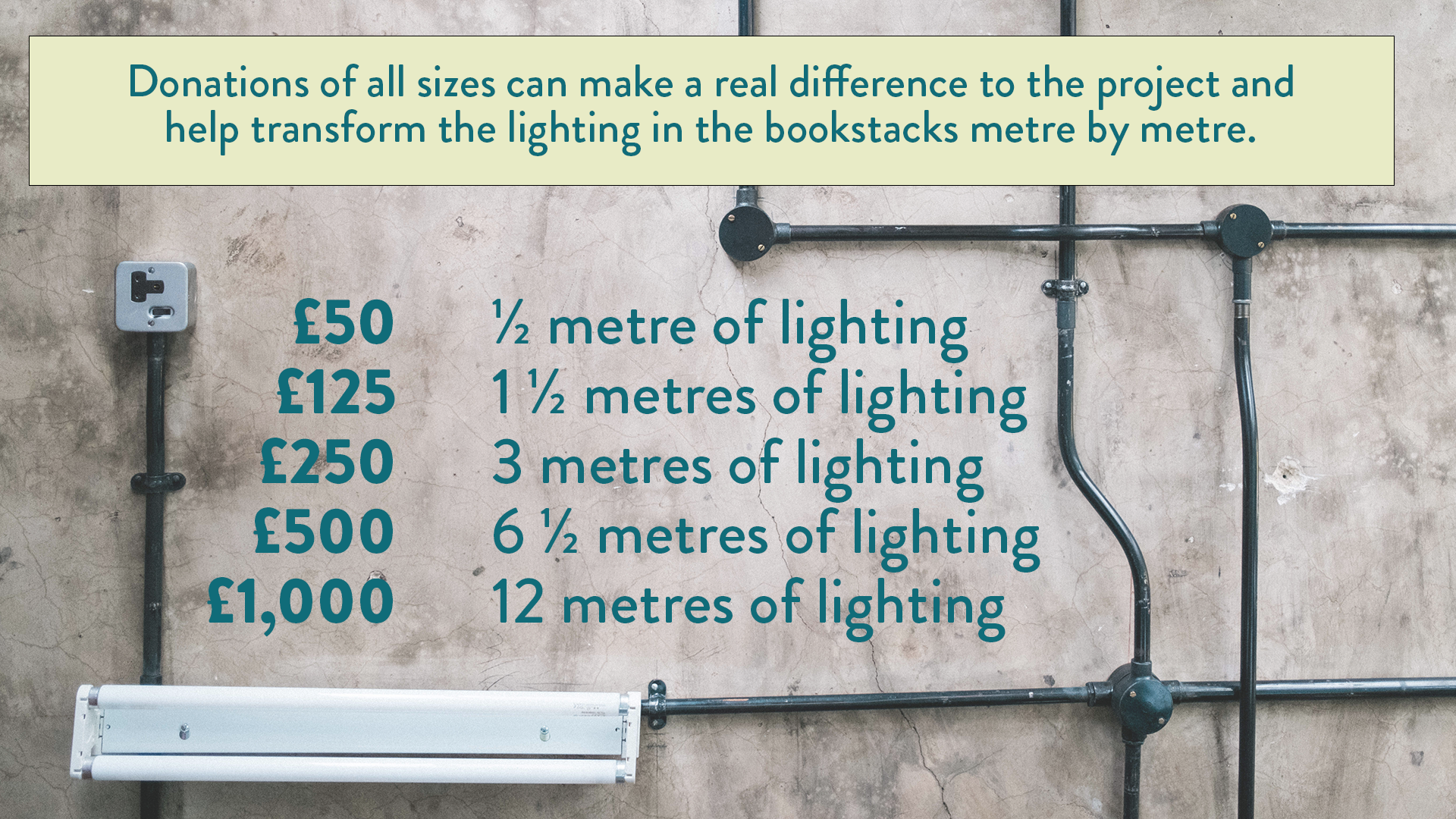 A Brighter Future in the Stacks
All donations to The Library Fund will help achieve the goal of an improved and energy-efficient lighting system. The impact of the new system will be wide-ranging, contributing to the Library's environmental footprint and progress towards financial sustainability, and bringing immediate benefits for Library users and the care of the book collection.
Donate online using the button below, or call us on 020 7766 4795 to donate over the phone or by bank transfer.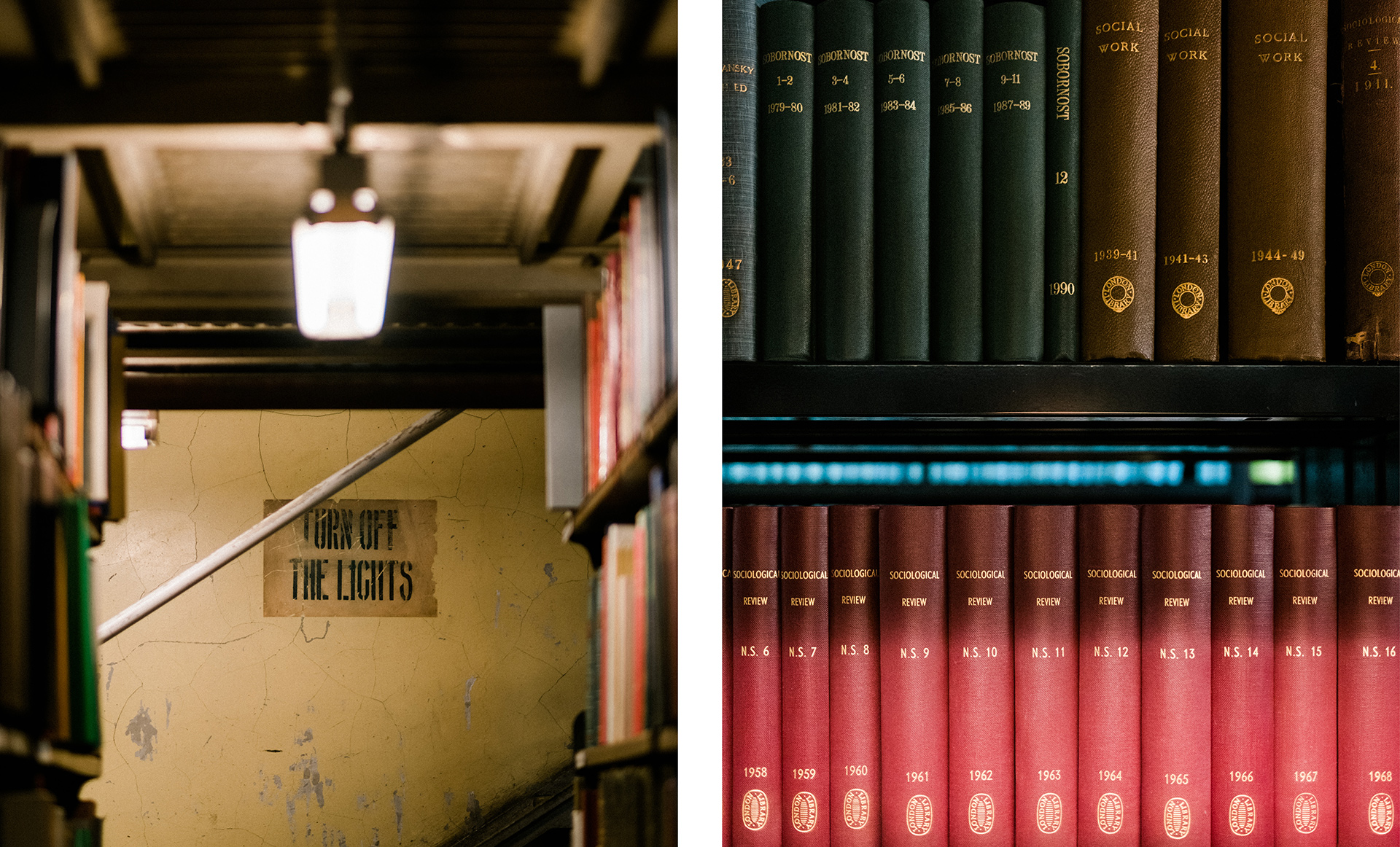 The Library Fund
The Library Fund is an annual fundraising appeal focused on improving the Library in ways that directly impact its users. How people use the Library is at the heart of what makes it a special institution. Supporters of The Library Fund help improve the Library's collections, services and spaces to enhance enjoyment of the Library.
Find out more about past Library Fund projects.
Dubbed 'Pakistan's brightest voice' by the Guardian, bestselling prize-winning author, Mohammed Hanif, discusses his brand new novel, Red Birds, a powerful work about war, family and love.
Mohammed Hanif was born in Okara, Pakistan. His first novel, A Case of Exploding Mangoes, was longlisted for the Man Booker Prize, shortlisted for the Guardian First Book Award and won the Commonwealth Writers' Prize for Best First Novel. His second novel, Our Lady of Alice Bhatti, was shortlisted for the 2012 Wellcome Prize. He writes regularly for The New York Times, The New Yorker, BBC Urdu, and BBC Punjabi.
---
As the concerns and advice concerning the Coronavirus (COVID 19) increase, the Library is supporting and providing information for staff, monitoring the official advice and planning accordingly. The Library currently remains open as usual. However, there could be a time where we may need to close at short notice, for a short or longer period of time. In this situation updates will appear on our homepage on the website at londonlibrary.co.uk
Hand sanitiser pumps have been installed in all the staff areas and dispensers have been placed in the Issue Hall for use by both staff and members at this transactional area. Extra cleaning is also being undertaken and our cleaning supplier has an emergency specialist team to hand, to disinfect the Library in the event of the virus presenting onsite.
It is Library policy that staff follow current government advice with regards to self-isolation. To support staff and encourage transparency any member of staff affected will be paid for this time and it will not be taken as annual leave.
Members are asked to ensure that they are aware of the common symptoms, stay abreast of up to date information and strictly follow government advice.
Although there is no current plan to change the operation of the Library, postal loans are available to all members wishing not to attend in person. Please feel free to contact the Library if you would like more information on this.
Thank you for your continued help during this time.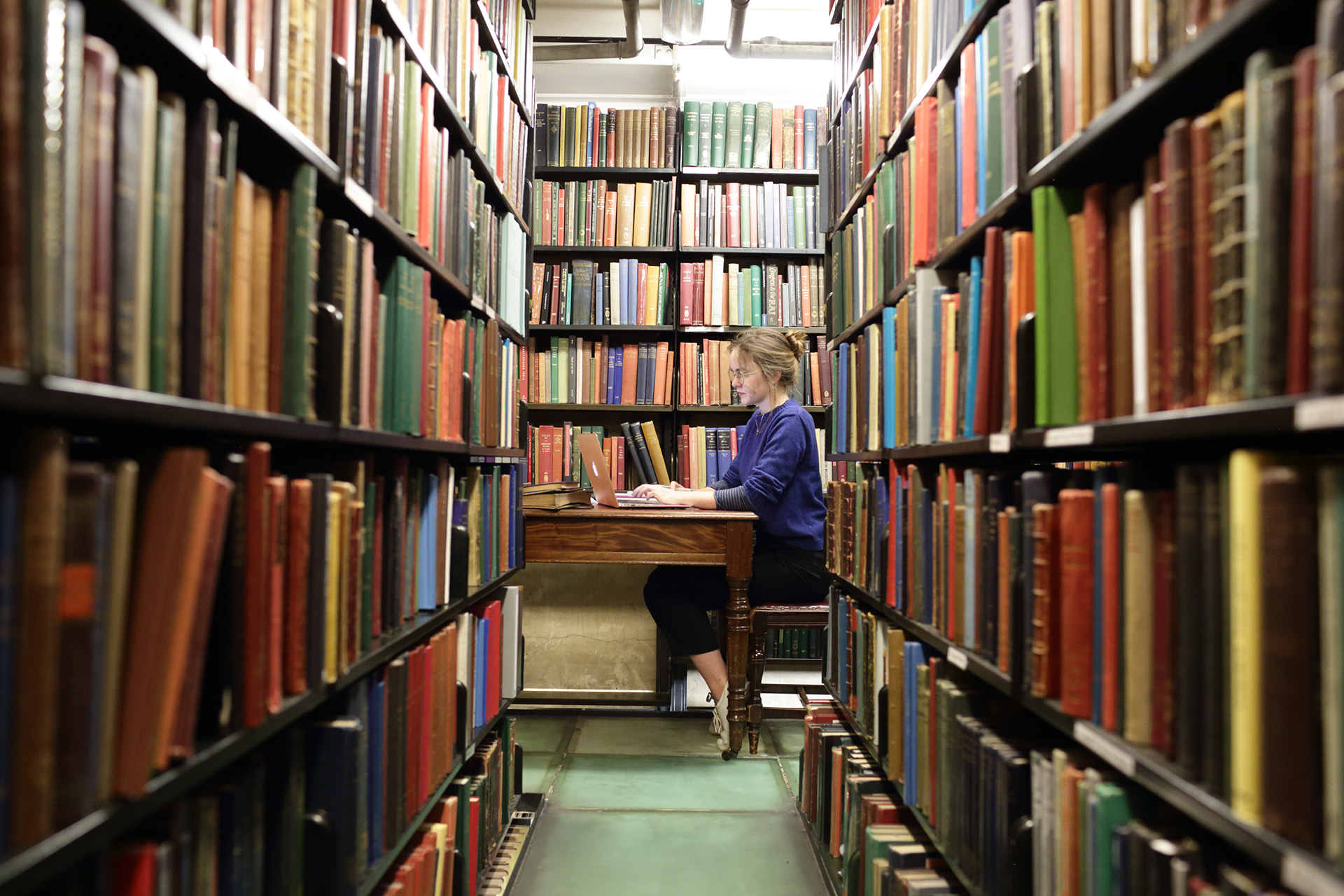 Thank you for your interest in The London Library Subsidised Schools Membership Scheme.
This scheme is a unique opportunity which offers state schools fully subsidised school membership of the Library for the full year. With its unparalleled collection of over 1 million volumes spanning 200 subject areas, unlimited access to over 1,000 online journals and beautiful workspaces, membership of the Library is a valuable asset to any school.
Our school membership package provides the following benefits:
Membership benefits for up to three named individuals, two of which can be changed at any time
Beautiful and inspiring places to work, study and think
Ability to borrow and browse from an extensive collection of just under a million volumes, covering over 300 subjects in the arts and humanities
Unlimited access to over 1,000 online resources, including Jstor and The New Oxford Shakespeare
Generous borrowing allowances of up to 25 volumes
Expert assistance with reference and research enquiries. We can also provide students with basic study skills sessions to help them improve research skills
We currently have over fifty schools in membership. Many of these use the Library on a regular basis and benefit from bespoke support with study and research needs, ranging from EPQ group study sessions organised by our knowledgeable Librarian staff, to help with the research needs of individual students. Here's what one of our school's members says about their membership:
"Membership of The London Library is a great asset for our Sixth Form students - especially those undertaking independent research for coursework or an EPQ. Having access to online resources such as JSTOR helps them find the latest research on their topics, enabling them to gain insights which are current and fresh."
The Subsidised Schools Membership Scheme has been made possible through the generous support The London Library has received from a number of anonymous donors. The scheme has not received any public funding.
Applications for the Subsidised Schools Membership Scheme are open to any state schools with pupils above 16 and a school Librarian. Applicants should have a clear idea of how they wish to use the Library for the benefit of staff and pupils.
Applications will be open from Thursday 9 June. The closing date for applications is 12pm on Friday 1 July.
If you would like to apply, please email Charlotte Beskeen at This email address is being protected from spambots. You need JavaScript enabled to view it. to request an application form. For any questions regarding your application please contact Charlotte by phone on 020 7766 4700 or on the email address above.
We look forward to receiving your application and good luck!
Read more: The London Library Subsidised Schools Membership Programme
Subcategories