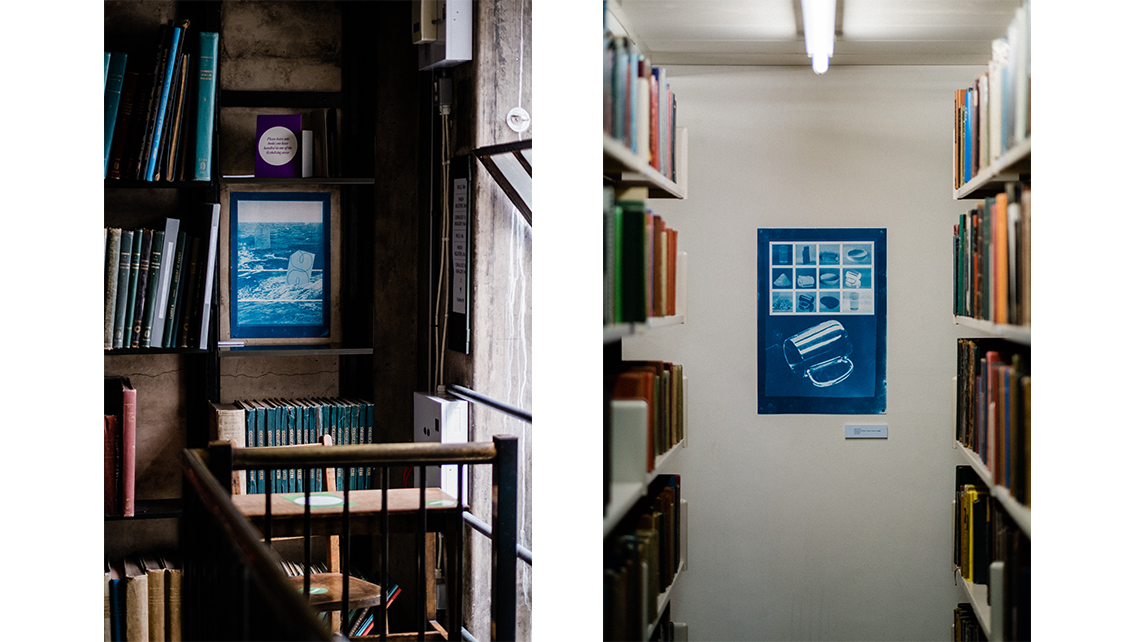 We're delighted to welcome artists Bob Matthews and Mark Harris who have begun a 12-month Artists' Residency at The London Library drawing on their wide knowledge and specialism of the processes of print production and the history of the printed image. Mark is Associate Professor of Fine Art at Kingston University and has exhibited widely, both nationally and internationally; Bob, an artist and exhibition organizer, has taught on the MA print course at the Royal College of Art since 2002.
From June 2019, six of their works will be displayed on the green stairs between the Reading Room and the 6th floor Members' Suite. They comprise three paintings by Bob Matthews and three collages by Mark Harris, incorporating different treatment of a range of found materials and real life objects, including images from books discarded from other libraries. Temporary displays of other new artworks will appear in different areas of the Library in coming months. All have been created and displayed free of charge to the Library and once in place, the new works will mean that there will be even more to discover and explore as members use the Library and browse the shelves.
Their Residency runs until spring 2020 and intends to approach the London Library collection through a purely visual lens, developing ideas and work inspired by the wealth of images buried within the pages, books and various sections of the Library. The residency aims to act as a bridge to create stronger links between The London Library and the contemporary art world and to reflect the Library's links with many significant artists who have been associated with the Library's past. It forms the first stage of a larger project for Bob and Mark that re-imagines the notion, purpose and form of libraries generally.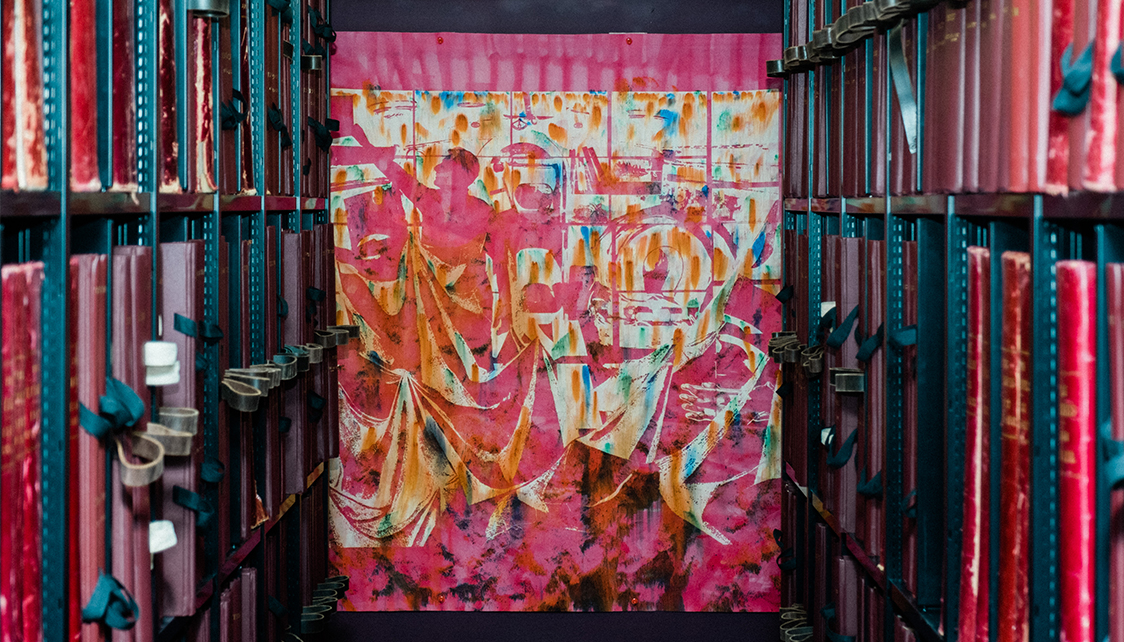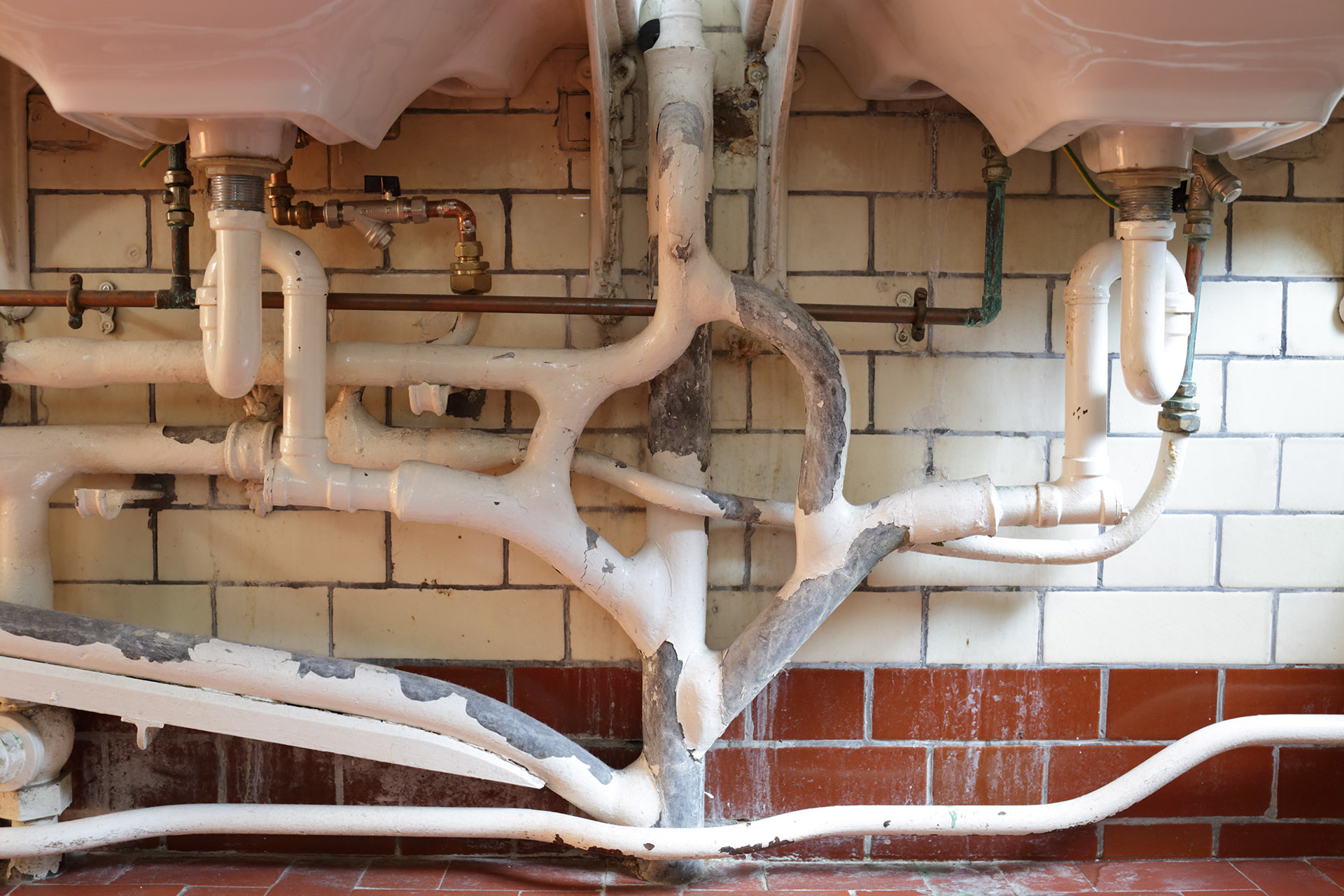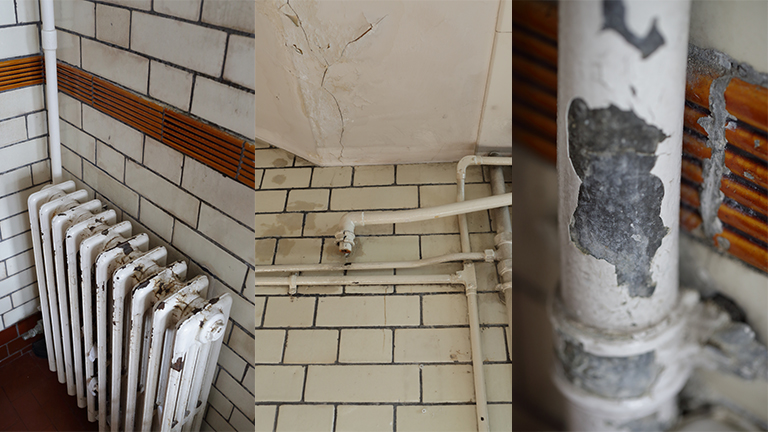 The London Library has just launched The Library Fund, an annual fundraising campaign focused on improving the Library in ways that directly impact its users. The funds raised this year will go towards the refurbishment of the historic toilets on the red staircase which form part of the building opened by president Leslie Stephen in 1898.
This year's project has been chosen as both the men's and women's lavatories are in desperate need of a major overhaul. The 2019 Fund will enable a complete refurbishment of these facilities, while ensuring they remain in keeping with the style of the historic building. The refurbishment will include work to the floor, pipework, fixtures, lighting and more. Find out about the scope of the project here.
The budget for the project, and target for this year's Library Fund is £75,000, with costs in large part dictated by the particular requirements of refurbishing a Grade II listed building. All funds raised will go towards this project, and should more than is needed be donated the excess will be applied to next year's project.
Every year supporters donating to the Fund enable the Library to carry out work that can't be funded through normal operating income and which help enhance the Library's amazing building and its even more extraordinary collection.
Alternatively you can donate when you're next in the Library, or by text message by texting LIBRARYFUND to 70085 to donate £10 (this costs £10 plus a standard rate text message).
Read more: London Library Launches Library Fund For Refurbishment Project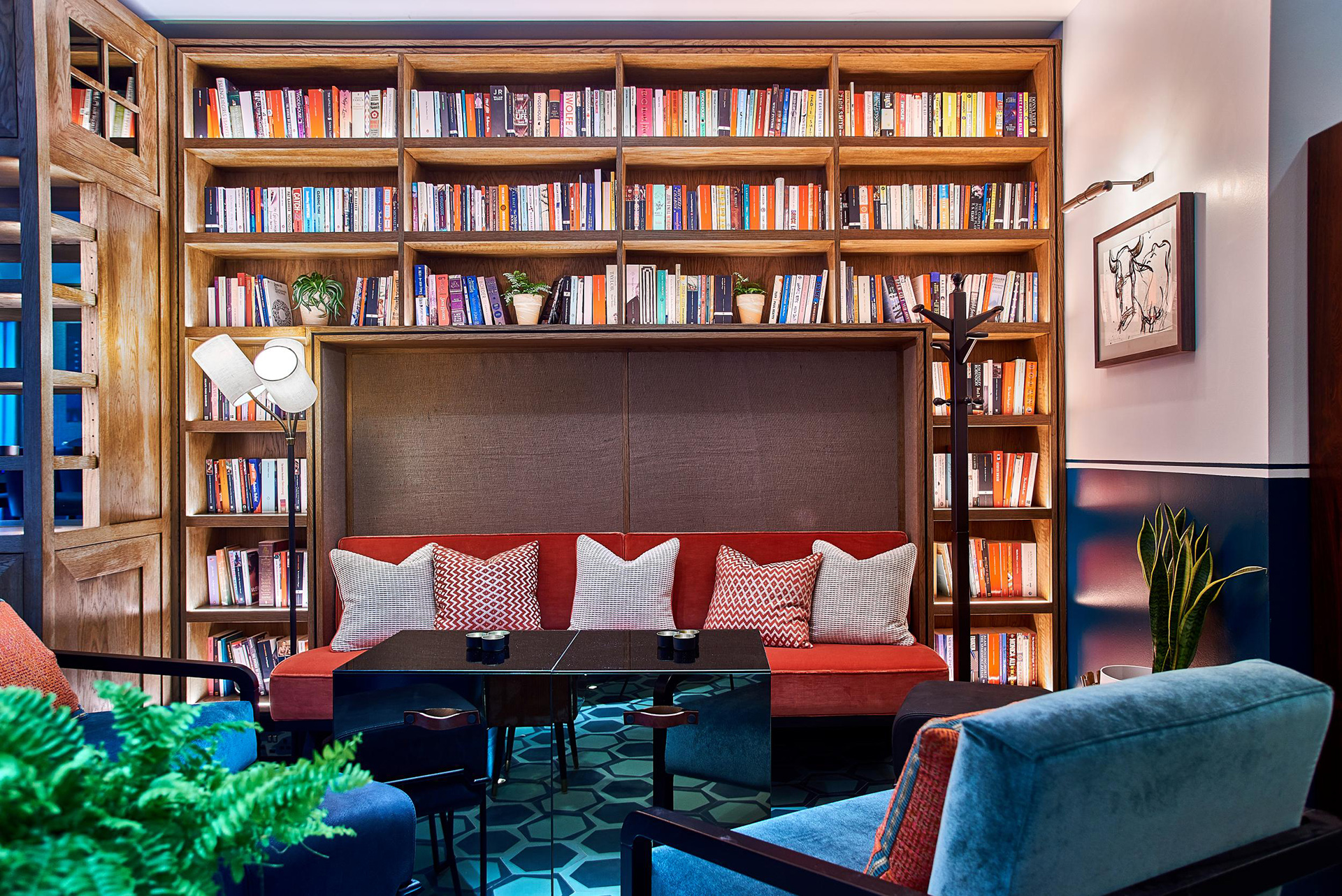 The London Library's Founders' Circle patrons visited Teatulia for an event this week. Teatulia is a tea shop and bar in Covent Garden owned by Library member Ahsan Akbar. Ahsan invited us, along with Sunday Times journalist Rosamund Urwin, to hear about his founding of the Dhaka Lit Fest as well as to taste some of his famous tea and tea cocktails.
Teatulia also features a "living bookshelf", a series of shelves which feature literary selections by some of the world's leading creative thinkers, perfect for browsing with your tea. The London Library has been chosen to curate a shelf and our books are now on display in the venue.
We asked the Library's Founders' Circle patrons to recommend their favourite books and we narrowed the list down. Our final 10 books were:
We That Are Young - Preti Taneja
How to Live - Sarah Bakewell
A Short History of Nearly Everything - Bill Bryson
Possession - AS Byatt
Travesties - Tom Stoppard
The Four Quartets - TS Eliot
Mrs Dalloway - Virginia Woolf
Dracula - Bram Stoker
Middlemarch - George Eliot
A Tale of Two Cities - Charles Dickens
Our bonus book is On Reading, Writing and Living With Books - a collection of essays by Library members published as part of the Found on the Shelves series.
We encourage Library members and non-members to stop by for a browse and a drink, Library members will also receive 20% off purchases upon showing their membership card.
Find out more about The London Library Founders' Circle and the special events they enjoy or email This email address is being protected from spambots. You need JavaScript enabled to view it. for information.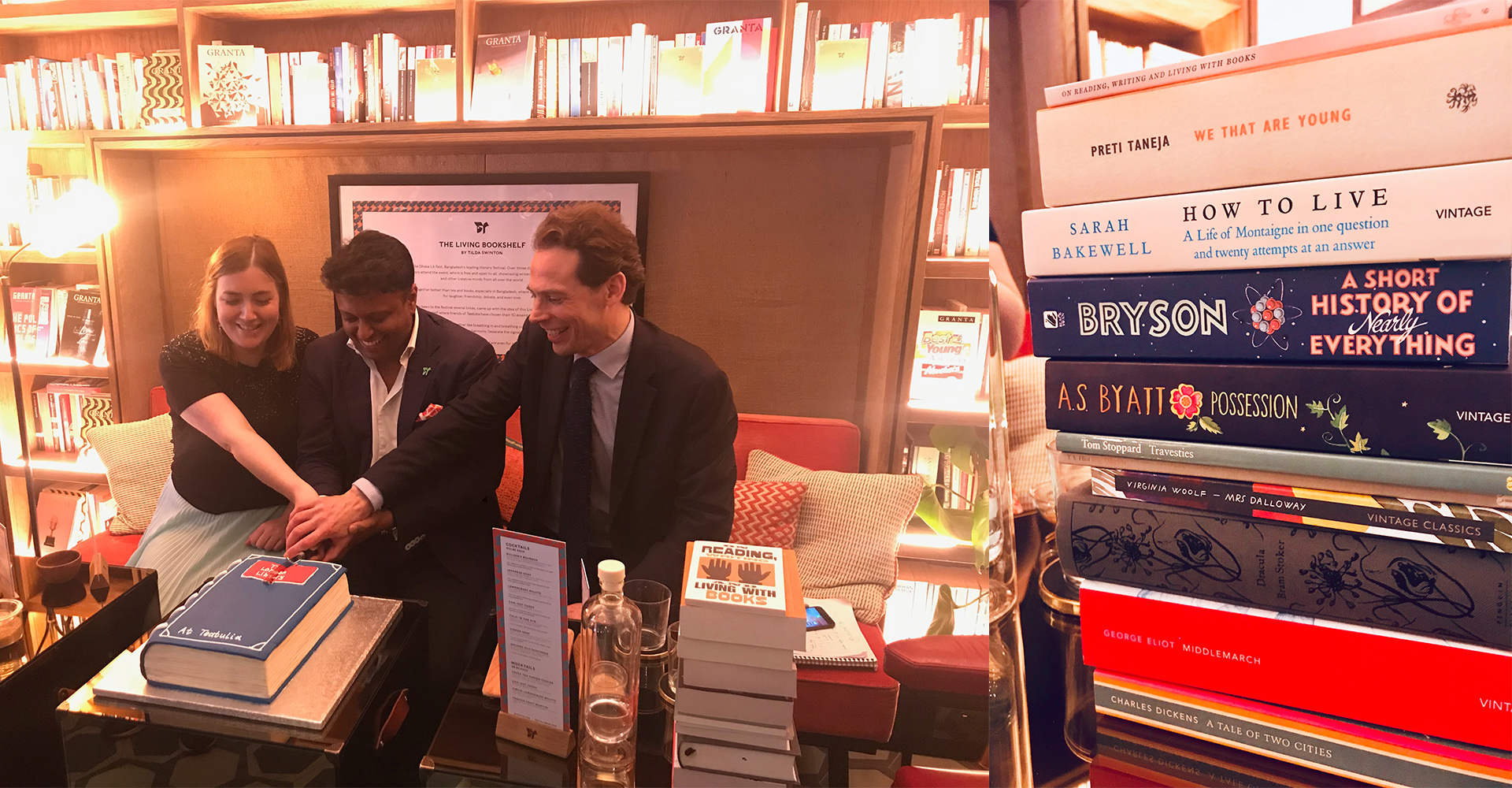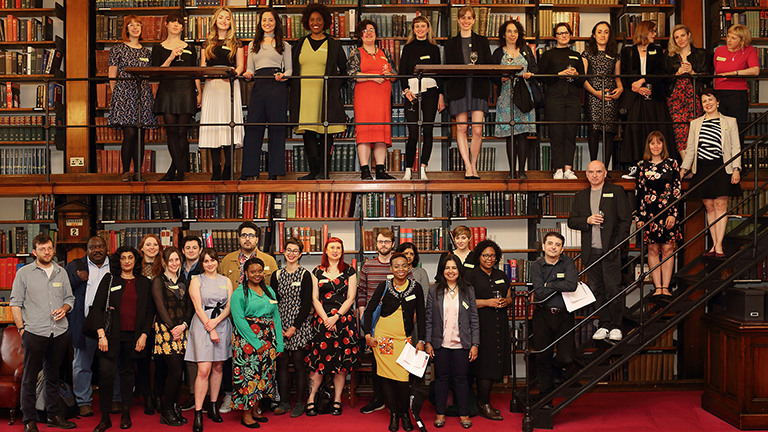 The London Library welcomes participants onto its Emerging Writers Programme
At a reception held on Thursday 2 May in The London Library's historic Reading Room, a range of well-known writers and figures from the literary world were on hand to welcome the 38 successful writers who have been selected to participate in the Library's newly-launched Emerging Writers Programme for unpublished writers.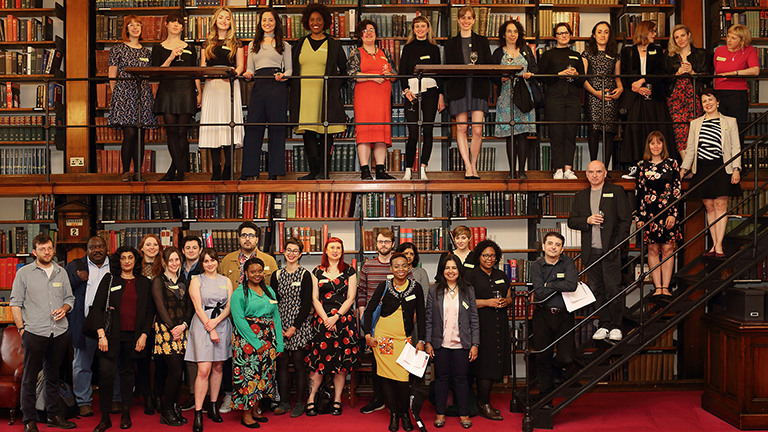 The group of Emerging Writers include performance poet Anna Kahn, Mónica Parle - former Executive Director of First Story and Swithun Cooper who works in the British Council's Literature Library.
Of the 38 writers selected, 6 are poets, 5 write for screen or stage, 5 are planning non-fiction books and the rest are planning to write fiction. 13 of the writers are under 28.
Projects underway already are diverse and varied in genre, setting and topic from present-day Siberia to wartime Ukraine to Colonial India, Antarctic exploration to Mayan folklore, activism, taxidermy, the joys of clubbing, the care system and even an imaginary rodent underworld.
Chair of judges Daisy Goodwin comments: "I'm delighted to have been a judge for this scheme - the number of entries and the quality of work show there is a real need for places where emerging talents can find the space to produce their best work surrounded by like minded souls. The London Library won't make you into a great writer but it certainly helps. I couldn't imagine my writing life without it!"
Philip Marshall, Director of The London Library, comments: "We are thrilled to have had such an enthusiastic response to our inaugural Emerging Writers Programme and to be able to engage with such a talented and diverse group of participants in the early part of their writing careers. For nearly 180 years, the Library has been a great source of inspiration and support to writers of all different kinds and we look forward to seeing how this wonderful group of new writers will use the Programme to develop their respective projects."
The candidates were chosen from a field of over 600 applicants by a panel of judges chaired by screenwriter Daisy Goodwin, novelist Nikita Lalwani, poet Raymond Antrobus, Director of AM Heath Bill Hamilton and Head of Prizes and Awards at the Society of Authors Paula Johnson.
The Library's Emerging Writers Programme is geared towards supporting writers at the start of their careers and helping develop their work. Participants will benefit from one year's free membership of The London Library (which normally costs £510 per annum) alongside a programme of writing development and networking opportunities, peer support and guidance in use of the Library's resources.
During the year they will get free access to the Library's unique collection which includes over one million books and over 2,500 periodicals titles that can all be borrowed. Membership also includes access to extensive online resources and dedicated writing and research spaces in the Library's extraordinary building in central London.
The Emerging Writers Programme has been established with the help of Library supporters including AM Heath, The Garrick Charitable Trust and the Julio Nunez Memorial Trust.
View the full list of successful candidates
Subcategories