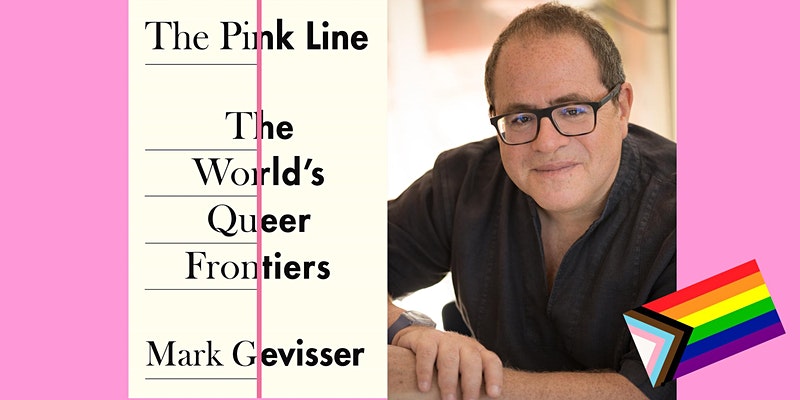 The Pink Line: The World's Queer Frontiers (Online)
Joining us from Cape Town, journalist, filmmaker, curator and activist Mark Gevisser speaks to Ellah P Wakatama about The Pink Line, his groundbreaking new work exploring how issues of sexuality and gender identity divide and unite the world today.
From refugees in South Africa to activists in Egypt, transgender women in Russia and transitioning teens in the American Mid-West, The Pink Line follows protagonists from nine countries all over the globe to tell the story of how LGBTQ+ Rights became one of the world's new human rights frontiers, simultaneously improving in some parts of the world whilst worsening in others. In a work of great scope and powerful storytelling, The Pink Line folds intimate and deeply affecting stories of individuals, families and communities into a definitive account of how the world has changed, so dramatically, in just a decade.
Mark Gevisser is a journalist, film-maker and curator living in Cape Town. His books include the award-winning A Legacy of Liberation: Thabo Mbeki and the Future of South Africa's Dream, and Lost and Found in Johannesburg: A Memoir. He writes for publications including The Guardian, The New York Times and Granta and he helped organise South Africa's first Pride March in 1990.
Ellah P Wakatama OBE is Editor-at-Large at Canongate Books and was the founding Publishing Director of The Indigo Press. She was a judge for the 2017 Dublin International Literary Award and the 2015 Man Booker Prize. She is former deputy editor of Granta and senior editor at Jonathan Cape, Random House. She is the editor of Africa39 and Safe House: Explorations in Creative Nonfiction.
The Pink Line is available from the UK's oldest LGBTQ+ bookshop Gay's the Word online or instore at 66 Marchmont Street, Bloomsbury WC1N 1AB.
N.B. This is an online event. You will be sent a viewing link and password with your booking confirmation.