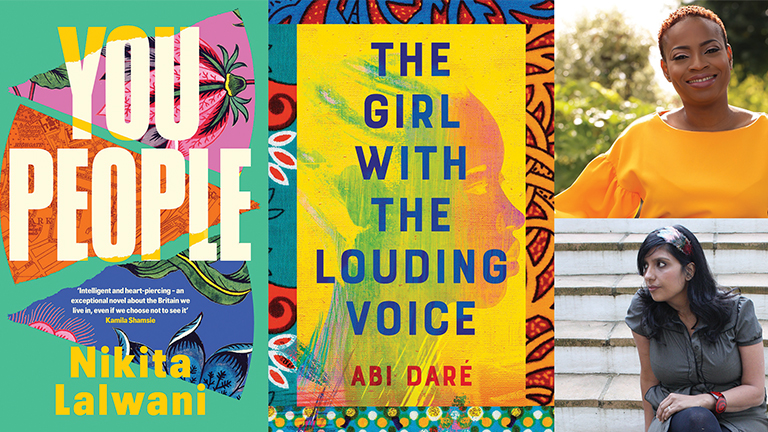 Undocumented (Online)
Online Event
Kamila Shamsie speaks to authors Nikita Lalwani and Abi Daré about their stunning new novels, telling the stories we never hear about the people we never see.
Lalwani's, You People, is set in a London pizzeria staffed by illegal Sri Lankan immigrants and presided over by the mysterious Tuli, a resident Robin Hood, who promises to help anyone in need. Daré's The Girl with the Louding Voice is the story of Adunni, a young Nigerian woman sold into domestic servitude but determined to find her voice.
Asking difficult moral questions, these novels cast their light on the people who live in the shadows: the asylum seekers and illegal immigrants, the enslaved, the disenfranchised and the undocumented, who silently and thanklessly underpin economies and maintain lifestyles from London to Lagos and everywhere in between.
The speakers
Nikita Lalwani is a novelist born in Kota, Rajasthan and raised in Cardiff, Wales. Her first book, Gifted, was longlisted for the Man Booker Prize and shortlisted for the Costa First Novel Award. Her second book, The Village won a Jerwood Fiction Uncovered award. You People was published in April 2020. She is a Fellow of the Royal Society of Literature.
Abi Daré grew up in Lagos, Nigeria and has lived in the UK for eighteen years. Her debut novel, The Girl with the Louding Voice, won The Bath Novel Award for unpublished manuscripts and was a finalist in The Literary Consultancy Pen Factor competition in 2018. In 2019 she was selected for the London Library Emerging Writers Programme.
Kamila Shamsie grew up in Karachi and now lives in London. Her novels include: In the City by the Sea, Kartography, Burnt Shadows, A God in Every Stone and Home Fire which was longlisted for the Man Booker Prize in 2017 and won the Women's Prize for Fiction 2018. She is a Fellow of the Royal Society of Literature and was named one of Granta's Best of Young British Novelists in 2013.
Purchase the books
We are delighted to be working with Wallingford Bookshop for this event. Purchase You People and The Girl with the Louding Voice on their website.
1 book costs £12.99 plus £2.95 postage
2 books cost £25.98 with no postage charge.
--
The London Library Privacy Statement
The London Library promises to respect and protect any personal data you share with us. Your information is used to provide you with event booking you have requested. As part of your event communications we will make you aware of other London Library offerings that we think you might be interested and you will also be given the opportunity to subscribe to our e-newsletter. After the final event communication you will receive no further emails from The London Library unless you subscribe to our newsletter. For full details of how we collect, store, use and protect your data, see our Privacy Policy at www.londonlibrary.co.uk/privacypolicy
WebinarJam Privacy Policy
WebinarJam has developed a Privacy Policy to explain how they collect, use, disclose, transfer, and store information received from you in connection with the Sites. View Policy.