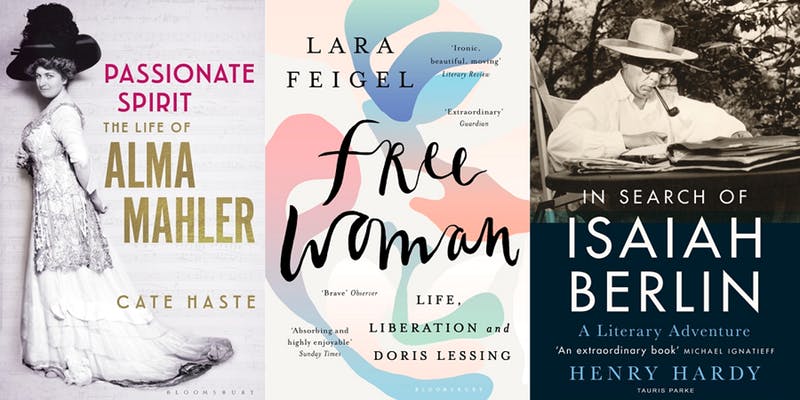 Writing Biographies with Cate Haste, Lara Feigel and Henry Hardy in conversation with Danuta Kean
As part of our ongoing event series in partnership with Bloomsbury Publishing, three extraordinary writers join us to share everything they know about the delicate craft of writing biographies, in conversation with journalist Danuta Kean.
Cate Haste, Lara Feigel and Henry Hardy discuss the techniques, the processes and the balancing acts involved, from finding, selecting and adapting information to creating compelling narratives which capture the spirit, the history and the life of their subjects.
Cate Haste is a biographer, author and documentary film maker. Her latest book is Passionate Spirit: The Life of Alma Mahler. Previous books include Craigie Aitchison, Nazi Women, Clarissa Eden and, with Cherie Blair, The Goldfish Bowl. Her documentary films include Cold War, End of Empire, The Churchills.
Lara Feigel's latest book is Free Woman: Life, Liberation and Doris Lessing. A Reader in Modern Literature and Culture at King's College London, she writes for various publications, including the Guardian, the Financial Times and Prospect. She is the author of Literature, Cinema and Politics, 1930–1945, The Love-charm of Bombs (2013) and The Bitter Taste of Victory (2016).
Henry Hardy is the author of In Search of Isaiah Berlin: A Literary Adventure. A Fellow of Wolfson College, Oxford, he is Isaiah Berlin's principal editor and one of his literary trustees. Previously an editor at OUP, he has been working full time on Berlin since 1990, and has now edited or co-edited 18 of his books, as well as a four-volume edition of his letters published by Chatto.
Danuta Kean is a book news correspondent at the Guardian and books editor of Mslexia. Her work ranges from daily news to author interviews and industry analysis. As well as award-winning journalism, she has written influential reports about diversity within the creative industries and is highly regarded as an expert on book publishing.
Timing: Doors open for complimentary drinks from 6pm. Our panel in conversation, followed by Q&A with audience members and book signing, from 6:30pm to 8:00pm.
Venue: Bloomsbury Publishing, 50 Bedford Square, London WC1B 3DP
Tickets: £20 for adults / £15 concessions and London Library members.
Books by the authors will be available for sale at a discount on the night.