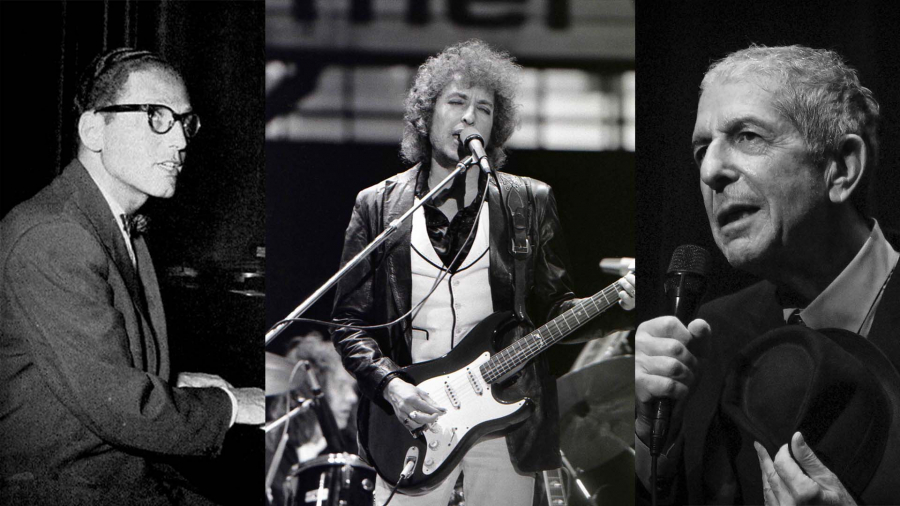 Lehrer, Dylan and Cohen (In person at Jewish Book Week 2022, Kings Place)
As part of Jewish Book Week and live at Kings Place, music journalist and author of Genius & Anxiety, Norman Lebrecht, is joined by an illustrious trio to discuss the lyrics, lives and legacy of three of the greatest – and most scholarly - songwriters of all time.
In Leonard Cohen: The Mystical Roots of Genius biographer and Jewish cultural expert Harry Freedman explores the sources the Canadian singer-songwriter drew on, including the Bible, Talmud and Kabbalah. Singer and composer Barb Jungr has given her acclaimed versions of the songs of both Cohen and the newly octogenarian Bob Dylan throughout her career, including her Hard Rain album and tour, which The Independent described as 'the North American songbook's climax revealed by its greatest interpreter.' Einstein on the Run arts and sciences author Andrew Robinson celebrated Tom Lehrer's 90th birthday with a noted Nature article, concluding that 'his scathing creations remain one of the most original — not to mention mathematically elegant — bodies of artistic work to come out of the United States in the twentieth century'.
Harry Freedman is Britain's leading author of popular works of Jewish culture and history. His publications include The Talmud: A Biography, Kabbalah: Secrecy, Scandal and the Soul, The Murderous History of Bible Translations and The Gospels' Veiled Agenda. He has written for multiple publications and contributed to the Encyclopaedia of Modern Jewish Culture.
Barb Jungr is an award-winning international performer, recording artist, composer, lyricist, and writer. She is best known for her work interpreting the songs of Bob Dylan and Leonard Cohen, and for creating the concept of The New American Songbook.
Andrew Robinson has written more than twenty-five books, including Einstein: A Hundred Years of Relativity, The Last Man Who Knew Everything, and Genius: A Very Short Introduction. He also contributes regularly to newspapers and magazines.
Norman Lebrecht is the world's bestselling author on classical music. His most recent book was the critically acclaimed Why Mahler? His Whitbread Award-winning novel, The Song of Names, is currently being developed into a feature film.
Jewish Book Week is an annual international literary festival, held in London, which brings together writers and speakers from the worlds of history, journalism, philosophy, science, art, music, poetry and fiction in a celebration of ideas. Tickets are on sale now for the 2022 festival, which takes place at Kings Place from 26 February to 6 March.
Click here to buy a copy of Leonard Cohen: The Mystical Roots of Genius by Harry Freedman.
This event will take place at Jewish Book Week at Kings Place.