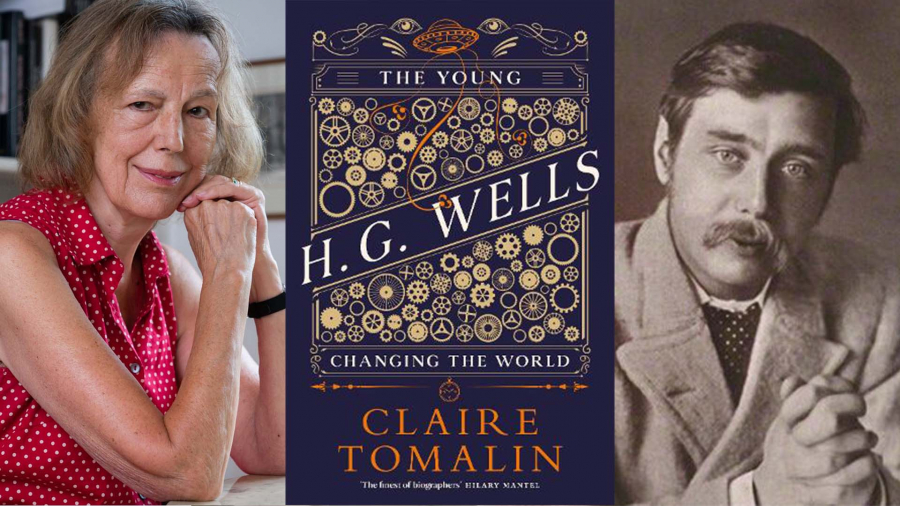 The Young HG Wells (In person & online)
Join us, in partnership with English PEN, on a fascinating journey into the life of HG Wells, with one of Britain's best biographers.
From HG Wells' impoverished childhood to his determination to educate himself at any cost, serious ill health, complicated marriages and his commitment to socialist ideals, the first 40 years of his extraordinary life would set him on a path to become one of the world's most influential writers. The sudden success of The Time Machine and The War of The Worlds catapulted him to international fame; he became the writer who most inspired Orwell and countless others, even predicting the moon landing with The First Men in the Moon, 70 years before it happened.
HG Wells was a member of the Library for 50 years and instrumental in the beginnings of English PEN. In her remarkable, empathetic biography, Claire Tomalin paints a fascinating portrait of a man like no other, driven by curiosity and desiring reform, a socialist and a futurist whose new and imaginative worlds continue to inspire today.
'The finest of biographers' - Hilary Mantel
Claire Tomalin was literary editor of the New Statesman, then the Sunday Times before leaving to become a full-time writer. Her first book, The Life and Death of Mary Wollstonecraft, won the Whitbread First Book Award, and she has since written a number of highly acclaimed and bestselling biographies. They include Jane Austen: A Life; The Invisible Woman, a definitive account of Dickens' relationship with the actress Ellen Ternan, which won three major literary awards; Samuel Pepys: The Unequalled Self, winner of the Whitbread Book of the Year 2002; and the highly acclaimed Charles Dickens: A Life.
English PEN is one of the world's oldest human rights organisations, championing the freedom to write and the freedom to read around the world. This event is part of The London Library's one-year partnership with English PEN, which also includes programming and supporting their work with writers at risk or in exile.
N.B. This event will take place in person at The London Library with limited capacity and in alignment with up-to-date government COVID recommendations. Please see our Event Access and COVID Guidelines before you arrive. Doors (and the bar) open at 7.00pm for a 7.30pm start. The event will be livestreamed through YouTube from 7.30pm and will be available to watch live or at any time after the event, using the same link.
London Library events are subject to Terms and Conditions.
If you purchase an online ticket then you will be sent a viewing link 24 hours before the event begins. If you do not receive a link, please check your junk mail or email This email address is being protected from spambots. You need JavaScript enabled to view it..