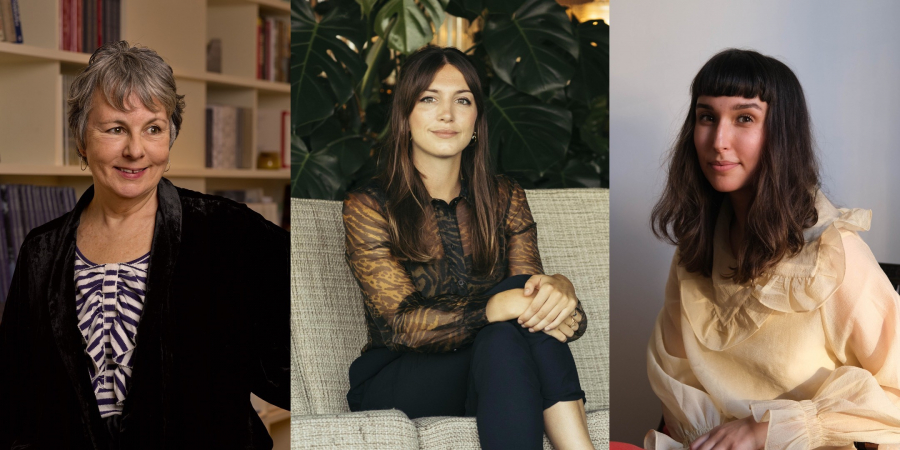 Power and the Palette: How women artists painted a revolution (In-person & virtual)
Katy Hessel of The Great Women Artists Instagram and Podcast speaks to Rebecca Birrell and Jennifer Higgie about their most recent books, both of which investigate women artists throughout history whose self-portraits and still life paintings were inherently, often implicitly, political.
In The Mirror and the Palette, Jennifer Higgie introduces us to women artists from all over the world and across the centuries, including Frida Kahlo, Amrita Sher-Gil, Suzanne Valadon and Artemisia Gentileschi, who, against tremendous odds, made art, painting self- portraits which told of their resilience, creativity and bravery.
Rebecca Birrell's This Dark Country is about the women artists in the early twentieth century, including Dora Carrington, Gluck, Vanessa Bell and Gwen John, whose still life paintings were conduits for their lives, loves, their rebellions and sexuality. It is also about the forgotten women artists who left only elusive traces, their art subsumed by domesticity and the crushing structures of class and gender.
Together, they discuss how these revolutionary women asserted their place in the history of art by painting what could be found immediately in front of them.
Rebecca Birrell has occupied curatorial positions at the Jewish Museum London, the Department of Prints and Drawing at the British Museum and at the Charleston Trust. In 2018 she undertook a fellowship at the Yale Centre for British Art and she recently completed her PhD at the Edinburgh College of Art. For the next year she will be Assistant Keeper of Paintings, Prints and Drawings at the Fitzwilliam Museum.
Jennifer Higgie is an Australian writer and artist who lives in London. Previously the editor of frieze magazine, she is now the presenter of Bow Down, a podcast about women in art history. Her paintings are in various public and private collections in Australia and she is also a screenwriter, editor and author. Her books include a novel, Bedlam, and a children's book, There's Not One.
Katy Hessel is a curator, broadcaster, art historian and founder of The Great Women Artists Instagram and Podcast. She wrote and presented Inside Museums on Artemisia Gentileschi for BBC Four, has lectured at The National Gallery, The Courtauld and Tate, and featured in various publications including Vogue, The Sunday Times and i-D. She has curated exhibitions at galleries including Victoria Miro, Timothy Taylor and Tate Modern.
This Dark Country by Rebecca Birrell and The Mirror and the Palette by Jennifer Higgie can both be ordered from our wonderful partner bookshop Hatchards. You will be sent a 10% discount code with your booking.
N.B. This event will take place in-person at The London Library with limited capacity and in alignment with up-to-date government COVID recommendations. Doors (and the bar) open at 7.10pm for a 7.30pm start. The event will be livestreamed through YouTube from 7.30pm. A link will be sent to all ticket holders and the event will be available to watch live or at anytime after the event, using the same link.
London Library events are subject to Terms and Conditions.
If you purchase an online ticket then you will be sent a viewing link 24 hours before the event begins. If you do not receive a link, please check your junk mail or email This email address is being protected from spambots. You need JavaScript enabled to view it..
Tickets