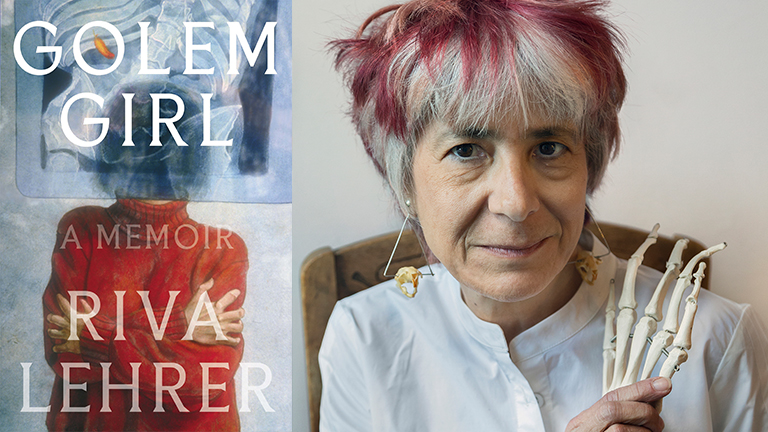 Golem Girl
RESCHEDULED from 15 April...
Born with spina bifida in 1958, Riva Lehrer was told over and over that she needed to be 'fixed' in order to live a meaningful life. She endured countless medical interventions in the quest to be cured.
Then, as an adult, she was invited to join a group of artists, writers and performers who were building Disability Culture. Their work was daring, edgy and funny and insisted that disability can be an opportunity for creativity and resistance. Lehrer began painting their portraits, inventing an intimate and collaborative process which transformed the way she saw herself, others, and the world, and challenged every myth she'd ever been told about her body, her sexuality and other measures of 'normal'.
Joining us from Chicago, Lehrer speaks with Audrey Niffenegger about her memoir Golem Girl, an extraordinary story of tenacity and creativity, told with characteristic humour and playfulness and illustrated throughout with her magnificent portraits, which invite us all to widen our understanding of what it is to be human.
In partnership with Jewish Book Week.
This event will be BSL interpreted with some audio description throughout. Live transcription is available.
Riva Lehrer is an artist, writer and curator, whose work has been exhibited in major galleries across the US and focuses on issues of physical identity and the socially challenged body. A long-time faculty member of the School of the Art Institute of Chicago, she is currently an instructor in medical humanities at Northwestern University.
Audrey Niffenegger is a visual artist and writer. She has published six books, including the novels The Time Traveler's Wife and Her Fearful Symmetry. She helped to found the Columbia College Chicago Center for Book and Paper Arts and she is a Professor in the Fiction Department of Columbia College. Her recent projects include a ballet, Raven Girl, in collaboration with Wayne McGregor for the Royal Opera House Ballet.
Jewish Book Week is an annual international literary festival, held in London, which brings together writers and speakers from the worlds of history, journalism, philosophy, science, art, music, poetry and fiction in a celebration of ideas.
Golem Girl can be ordered from West Hampstead's lovely indie bookshop, West End Lane Books
N.B. This is an online event via Zoom. You will be sent a viewing link before the event begins. If you have not received the link please check your junk mail or email This email address is being protected from spambots. You need JavaScript enabled to view it.