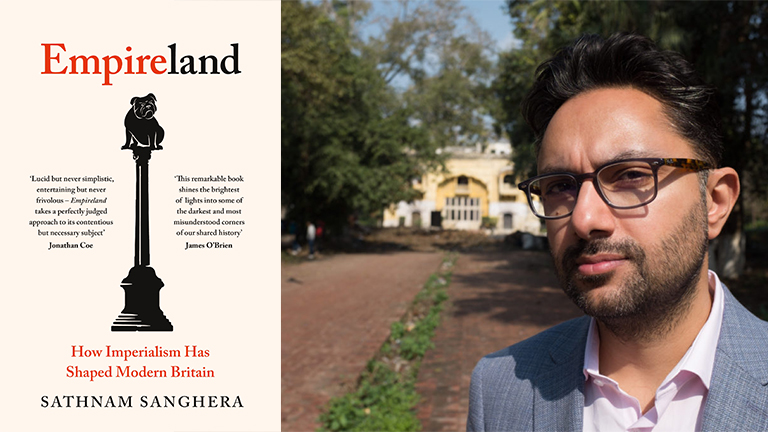 Empireland with Sathnam Sanghera and Samira Ahmed
Sathnam Sanghera's brilliantly illuminating new book, Empireland, looks at how profoundly our imperial past has shaped modern Britain: from how we live to how we think, from the foundation of the NHS to the nature of our racism, from our distrust of intellectuals in public life to the exceptionalism that imbued the campaign for Brexit and the government's early response to the Covid crisis. Yet, empire is a subject weirdly hidden from view. In conversation with Samira Ahmed, Sanghera discusses this bewildering contradiction and why, at a time of great division, it is so important to look honestly at our past, to understand who we are and what unites us.
Sathnam Sanghera is an award-winning author and writer for The Times. His memoir The Boy with the Topknot and his novel Marriage Material were both shortlisted for the Costa Book Awards and he has won numerous prizes for his journalism, including 2002 BPA Young Journalist of the Year and Media Commentator of the Year in the 2015 Comment Awards.
Samira Ahmed is an award-winning journalist and broadcaster. She presents Newswatch for the BBC, Front Row on Radio 4 and the Intelligence Squared podcast How I Found My Voice. Her recent documentary Art of Persia (BBC4) was the first major Western documentary series shot in Iran for forty years. She was named the British Broadcasting Press Guild Audio Presenter of the Year 2020.
Empireland can be ordered from West Hampstead's lovely indie bookshop, West End Lane Books
N.B. This is an online event. You will be sent a viewing link and password with your booking confirmation. The event will be available to watch with the same link and password anytime afterwards. If you have not received the link since booking, please check your junk mail or email This email address is being protected from spambots. You need JavaScript enabled to view it.. Please note Webinarjam works best when accessed via Chrome.