The London Library welcomes participants onto its Emerging Writers Programme
At a reception held on Thursday 2 May in The London Library's historic Reading Room, a range of well-known writers and figures from the literary world were on hand to welcome the 38 successful writers who have been selected to participate in the Library's newly-launched Emerging Writers Programme for unpublished writers.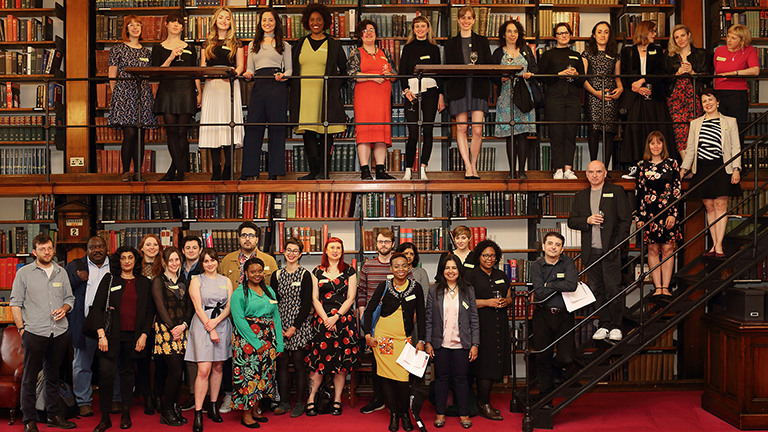 The group of Emerging Writers include performance poet Anna Kahn, Mónica Parle - former Executive Director of First Story and Swithun Cooper who works in the British Council's Literature Library.
Of the 38 writers selected, 6 are poets, 5 write for screen or stage, 5 are planning non-fiction books and the rest are planning to write fiction. 13 of the writers are under 28.
Projects underway already are diverse and varied in genre, setting and topic from present-day Siberia to wartime Ukraine to Colonial India, Antarctic exploration to Mayan folklore, activism, taxidermy, the joys of clubbing, the care system and even an imaginary rodent underworld.
Chair of judges Daisy Goodwin comments: "I'm delighted to have been a judge for this scheme - the number of entries and the quality of work show there is a real need for places where emerging talents can find the space to produce their best work surrounded by like minded souls. The London Library won't make you into a great writer but it certainly helps. I couldn't imagine my writing life without it!"
Philip Marshall, Director of The London Library, comments: "We are thrilled to have had such an enthusiastic response to our inaugural Emerging Writers Programme and to be able to engage with such a talented and diverse group of participants in the early part of their writing careers. For nearly 180 years, the Library has been a great source of inspiration and support to writers of all different kinds and we look forward to seeing how this wonderful group of new writers will use the Programme to develop their respective projects."
The candidates were chosen from a field of over 600 applicants by a panel of judges chaired by screenwriter Daisy Goodwin, novelist Nikita Lalwani, poet Raymond Antrobus, Director of AM Heath Bill Hamilton and Head of Prizes and Awards at the Society of Authors Paula Johnson.
The Library's Emerging Writers Programme is geared towards supporting writers at the start of their careers and helping develop their work. Participants will benefit from one year's free membership of The London Library (which normally costs £510 per annum) alongside a programme of writing development and networking opportunities, peer support and guidance in use of the Library's resources.
During the year they will get free access to the Library's unique collection which includes over one million books and over 2,500 periodicals titles that can all be borrowed. Membership also includes access to extensive online resources and dedicated writing and research spaces in the Library's extraordinary building in central London.
The Emerging Writers Programme has been established with the help of Library supporters including AM Heath, The Garrick Charitable Trust and the Julio Nunez Memorial Trust.
View the full list of successful candidates