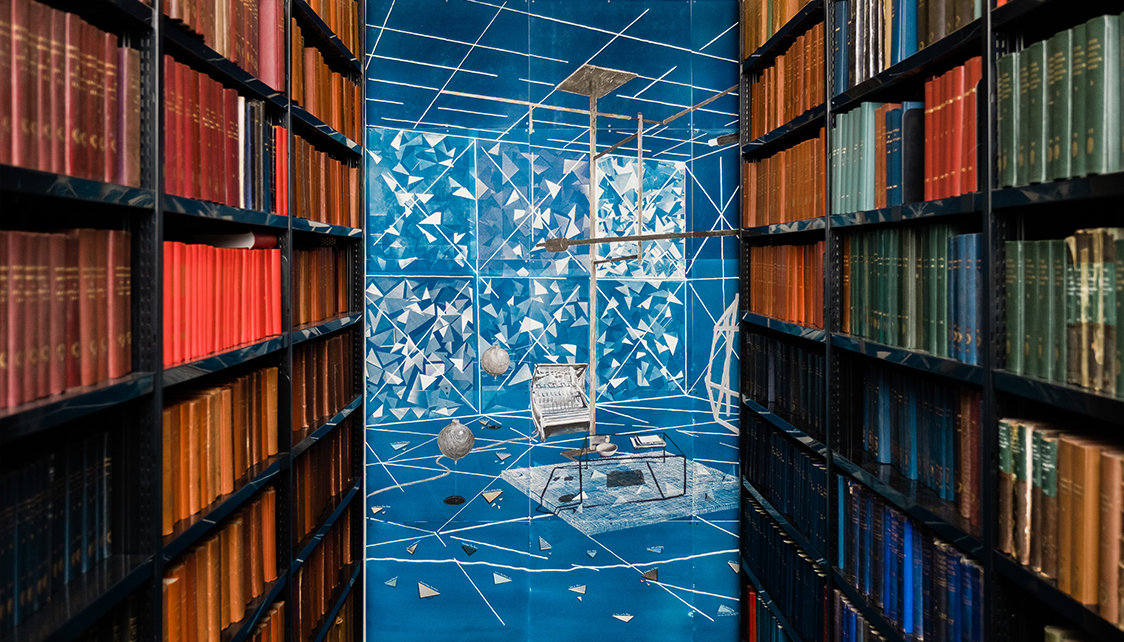 'Dead Room' - Mark Harris
Over the past 12 months artists Mark Harris and Bob Matthews have been immersing themselves in the collection of The London Library. This month a number of striking artworks based on the images they have found, have gone on display in the Library.
They include three large scale works - Harris' "Dead Room" and Matthews' "Capsule" and "Talisman" - which can be found in the Periodicals stacks and Times Room. 15 smaller pieces can be found at various locations in the Central stacks, Back stacks and Art stacks (see map). The works - which have been produced free of charge to the Library as part of Bob and Mark's artists' residency - will be on display for most of 2020.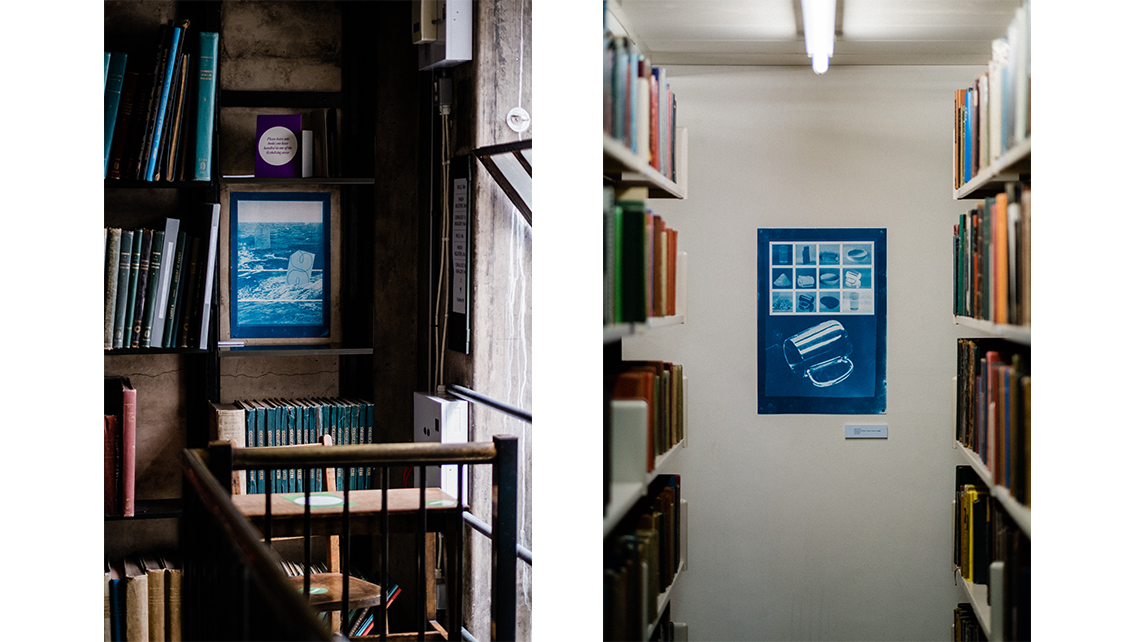 L: 'La Houle' - Mark Harris, R: 'Elements of Editing 2' - Mark Harris
Looking at the collection through the visual lens
During an intense period of research Mark and Bob developed methodologies for browsing, selecting and editing visual material, and as a consequence recorded 1000's of images digitally. The act of collecting these images has helped them capture a unique pictorial world history spanning some 300 years. Their selection process would lead eventually to dozens of significant images to work from, creating inspiration for new artworks.
As printmaking specialists, Harris and Matthews were initially drawn to the way the Library's collection reveals the history of the printed image. The collection holds significant examples of early engraving, etching and lithography, as well as more recent photographic printing techniques. This would lead to Harris producing Cyanotypes, an early direct photographic technique identified by its Prussian Blue appearance and ability to capture both photographic and autographic marks. Matthews technical research in the library would lead to the production of artworks using the photo-toxicity of lemons to aid the transfer of images.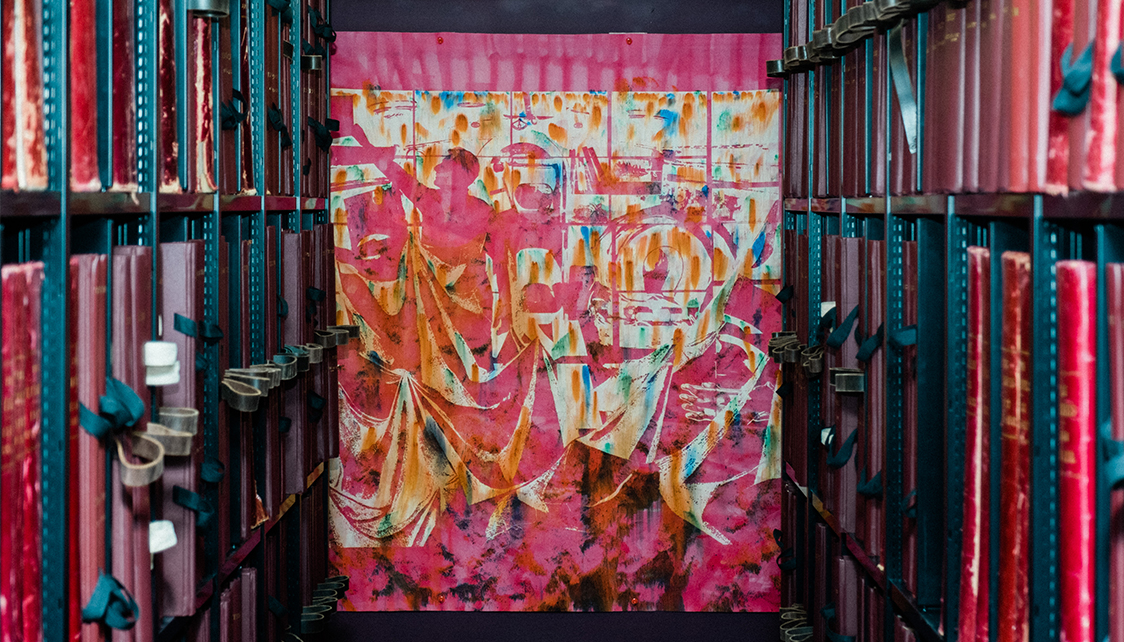 'Capsule' - Bob Matthews
Within the Library the Periodicals section was an area that revealed many images of interests, from the 18th Century Journals of Italian Letters through to the collection of BBC Handbooks. Both artists were drawn to the idea of making site-specific artworks for the Periodicals space that would bring together a number of ideas from their research across the library. They have produced large scale pieces that are revealed through the movement of the shelving mechanism, echoing the action of a printing press. This deliberate obstructive presentation of the work refers to the many folded pages of images and diagrams that they discovered.
Additionally, across 3 levels of the Central Stacks Harris has produced a series entitled Elements of Editing that comment on the joint industrial journey that both materials and images take, as they are mined and captured, refined and edited, produced and published. Other artwork is situated throughout the Back Stacks.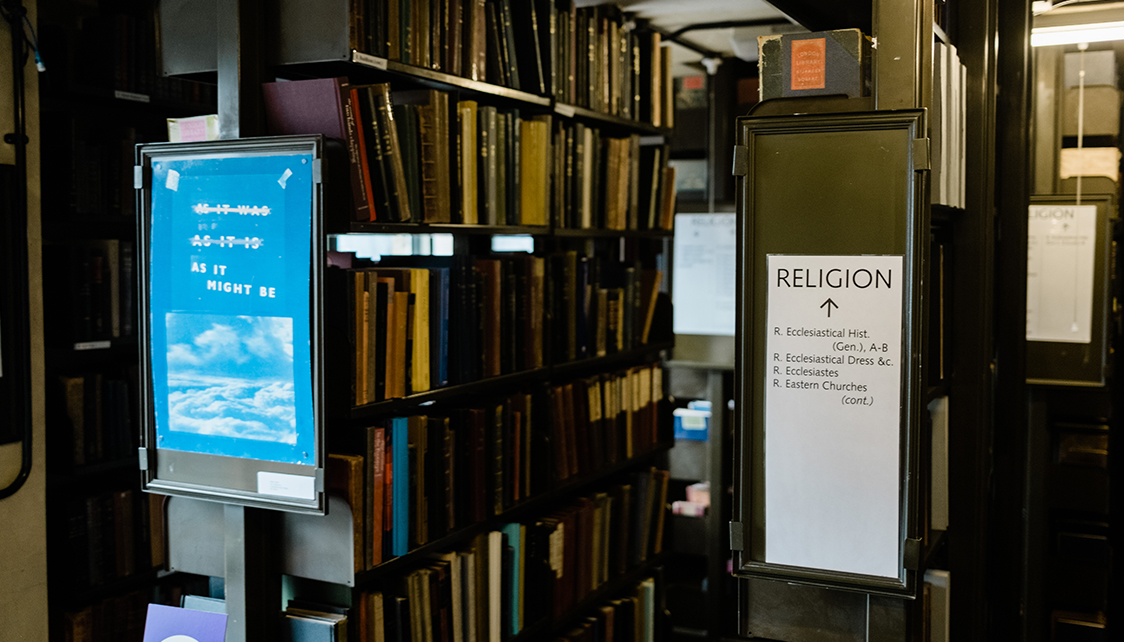 'As it Might Be...' - Mark Harris
Bob Matthews and Mark Harris commented, "It has been an enriching and fascinating experience exploring the visual material held within the Library. We hope that the work will suggest alternative ways to access the collection and that we have sewn a seed for many more potential future projects between The London Library and the visual arts."