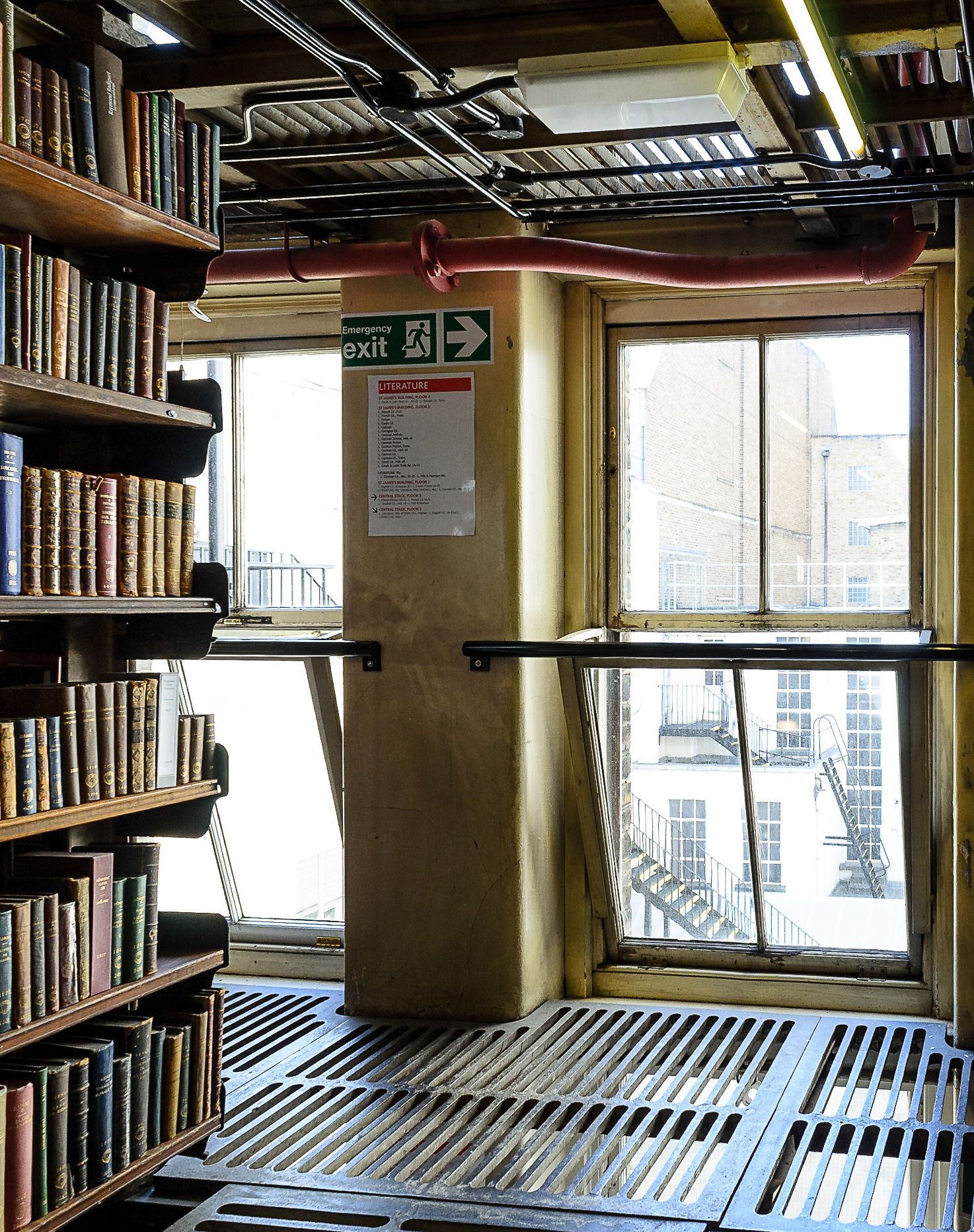 We are continuing to make progress with the project to replace the windows on the Lightwell Room side of the St James's stacks (which have now deteriorated beyond the point where they can be realistically repaired). We are installing custom-made replacements which will look nearly identical (and feature identical window stays), but will also be double-glazed and reduce the current levels of solar gain.
Although there have been some initial delays arising from the new windows being delivered later than anticipated, we expect all the new windows and fittings to have been installed by the end of August. We will be able to remove the scaffolding shortly afterwards and begin decorating the walls adjacent to the new windows. We hope to complete this work and remove the protective covering on that side of the stacks by early/mid-September
The windows replacement work is part of a wider project that will see a significant improvement of member facilities with the installation of 12 new desks in the stacks and upgrades to the existing six. The new desks will be housed on the three floors overlooking St James's Square and to make way for them we are removing the modern metal bookshelves currently in position, and re-locating the books they contain elsewhere within the Library. The book moving work is already underway, and the shelves will be removed in early September, after which additional power sockets will be installed. We will then begin two weeks of work to decorate the walls on the St James's Square side of the stacks. We anticipate some noise and disruption during this work and protective covering will be in place on adjacent stacks, but it should be complete by early/mid-October with installation of new oak and leather inlaid desks taking place by the end of October.
We are extremely grateful to everyone for putting up with the disruption that has inevitably accompanied the works so far and hope that members can bear with us while the works are being completed. The wait should be worth it. The installation of 12 new desks will expand the Library's overall desk provision by nearly 10% and should mean that spare desks will be easier to find during busy periods. It will also help with our wider ambition to increase membership numbers, which as we have communicated previously is a fundamental part of ensuring a stable financial position for the Library.
In thanking everyone for their tolerance while the works are underway, we also want to thank everyone who has given so generously to the windows replacement appeal. The Appeal has raised enough funds to cover all of the work, meaning that none of it now needs to come out of operating resources. This is an enormously helpful result and we are extremely grateful for all the very generous support we have received.