Anglo-Finnish Society donates over 100 books to The London Library to mark centenary of Finnish independence
The London Library was delighted to welcome the Anglo-Finnish Society and guests last night to start the year-long celebrations taking place during 2017 to commemorate the centenary of Finnish Independence.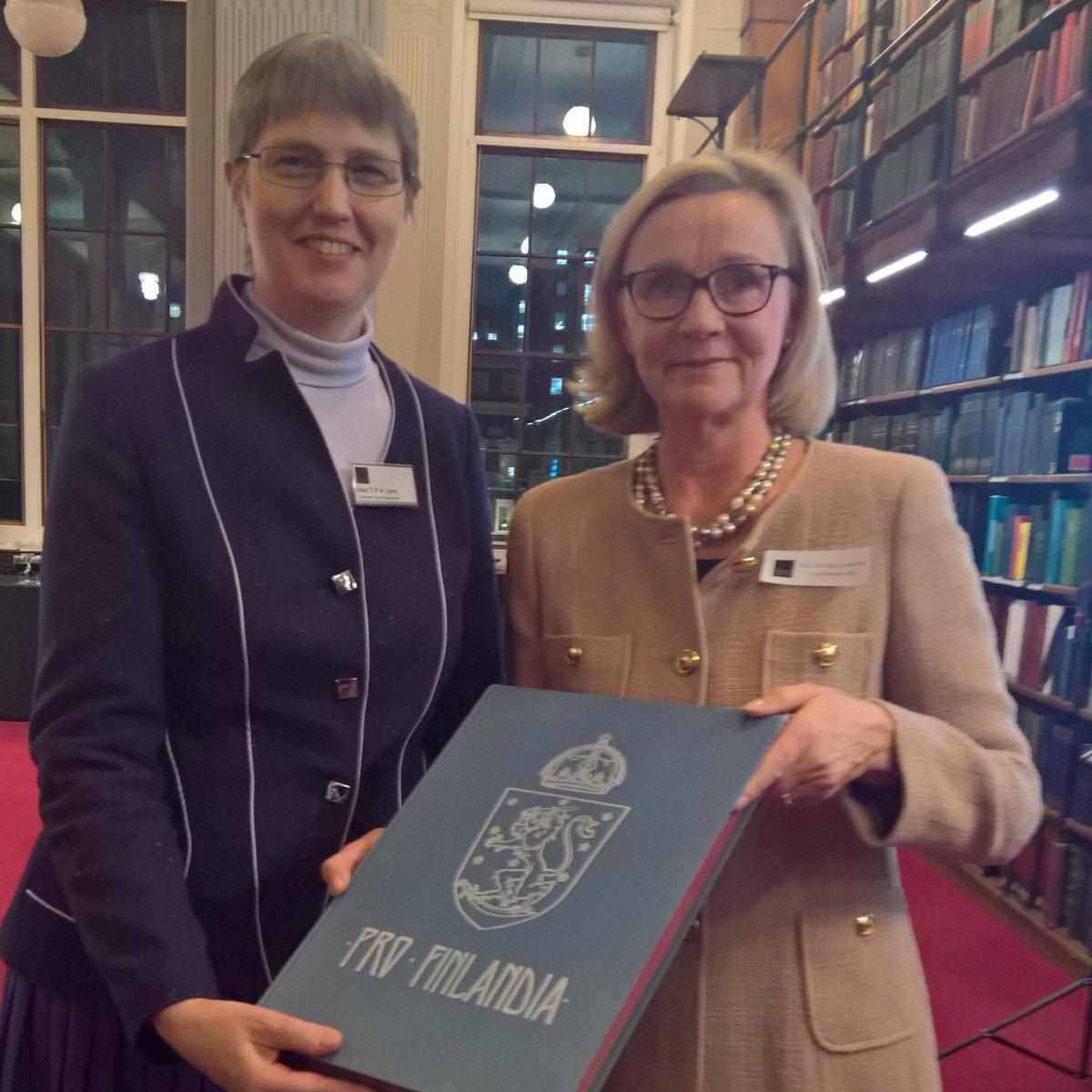 Attended by Päivi Luostarinen, Finland's Ambassador to the UK, this was the first official UK event in the Finland 100 programme (Suomi Finland 100) that will culminate on Finland Day, 6th December 2017 - the 100th anniversary of independence.
At the heart of last night's event was the donation of an important collection of over 100 contemporary Finnish books that has been made to the Library through the Anglo-Finnish Society. The donation recognises the Library's historical importance as a home of European and international literature (its shelves carry thousands of books in 25 different languages) and is an important modern addition to its existing Finnish collection, which includes the first New Testament printed in Finnish (dating from 1548), of which only 70 copies were ever made.
The Library built up its Finnish collection up to the Second World War, but its development since had been much more sporadic. The donation of over 100 new books through the Anglo-Finnish Society brings the collection up to date and its impressive range is a fitting reminder of the vibrancy of Finnish cultural life.
Over recent weeks, the new Finnish books have been catalogued and bound, and marked with the Library's striking 175th anniversary labels. Featuring a wide range of topics - including Finnish Art, Architecture, History, Fiction and Topography – the books will shortly be available on the Library's shelves for borrowing. Each carries an acknowledgement of Suomi 100 on the inside cover and a list at the back of the benefactors involved.*
Following a fascinating talk on Finland by Professor Henrik Meinander, an opening address by Sir Paul Lever, President of the Anglo-Finnish Society the collection was formally handed to Inez Lynn, Librarian at The London Library. Inez Lynn commented "We are extremely grateful to the Anglo-Finnish Society and the generous donors who have made this important gift possible. The new books are a wonderful showcase of Finnish culture and the opportunity to grow our Finnish collection is a lasting way of celebrating this centenary year."