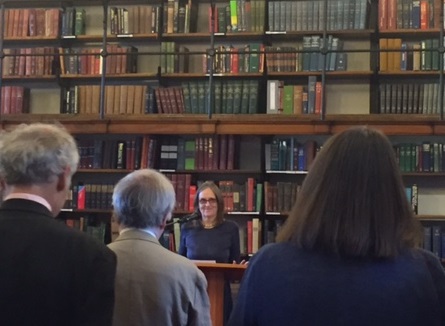 Tessa Hadley was named as the winner of this year's Hawthornden Prize at an award ceremony held at The London Library yesterday (5th July 2016)
Her award was presented by writer and Man Booker Prize winner Alan Hollinghurst (The Line of Beauty, The Stranger's Child) who spoke warmly of Tessa's contribution to fiction which has included 6 bestselling novels and a range of short stories.
The Hawthornden Prize was established in 1919 and shares the honour of being Britain's oldest literary award. Previous winners have included Colm Tóibín, Ali Smith, Alan Bennett, Claire Tomalin, VS Naipaul, Ted Hughes, Graham Greene, Evelyn Waugh, and Vita Sackville-West.
The Hawthornden Prize is granted annually for a work published in the previous twelve months and this year's award recognised Tessa's most recent work – The Past – which was published in 2015.
Tessa Hadley has been awarded and nominated for a range of awards during her writing career and earlier this year was awarded the Windham–Campbell Literature Prize for fiction.