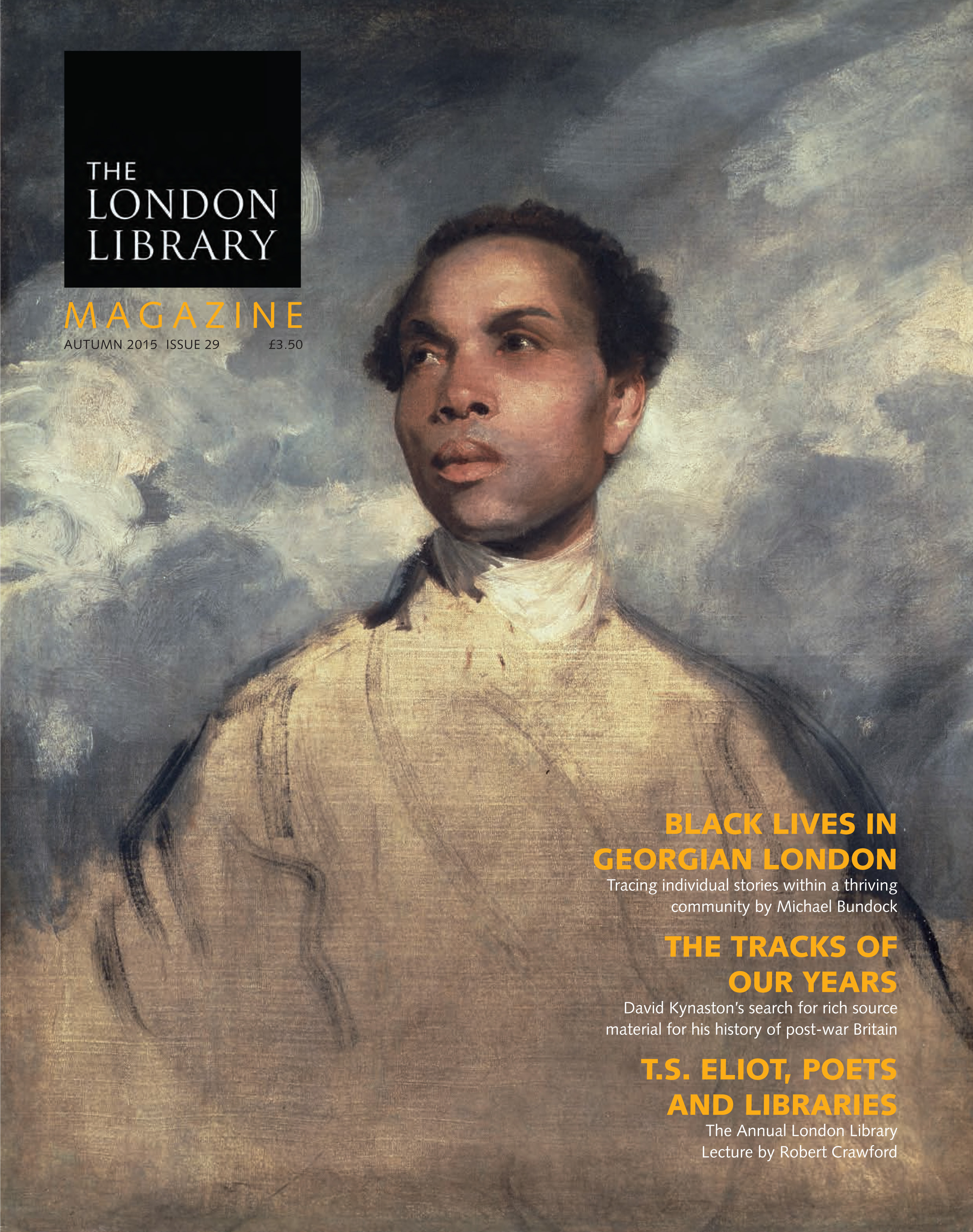 The autumn issue of The London Library magazine has just been published and is now available on our website.
Coming out quarterly, the magazine is always an informed read and includes a range of news and features from leading writers and academics, providing fascinating insights into their research, the characters that have inspired them and the ways in which the Library's wide-ranging collection has helped with their work. Our latest issue is no exception:
Michael Blundlock, is Director of Dr Johnson's House Trust and author of The Fortunes of Francis Barber: The True Story of the Jamaican Slave who became Samuel Johnson's Heir. Michael explores the remarkable story of black men and women in eighteenth-century London and describes the challenges he faced as a biographer in working around the limitations of the available records to bring individuals such as former slaves Olaudah Equiano, Francis Barber and Ignatius Sancho, to life.

Historian David Kynaston offers an insight into the wide-ranging nature of his research for his multi-volume history of post-war Britain, which with three volumes already published – Austerity Britain, Family Britain and Modernity Britain - is now at the halfway stage. He describes how his efforts to track down unmediated material in the form of unpublished diaries and sociological fieldwork helped him gain a fresh perspective on the subject.

Classical and medieval historian Philip Parker surveys the rich pickings to be found in the wide-ranging collection of Roman history titles scattered across the London Library's collection – from Gibbon's The History of the Decline and Fall of the Roman Empire (1776) to the somewhat less reverential work by Victorian humourist Gilbert à Beckett's The Comic History of Rome (1851).

Professor Robert Crawford, whose recent biography of the young TS Eliot (Young Eliot: From St Louis to the Wasteland) was published this year, revisits the theme of this year's London Library lecture at the Hay Festival, describing the way in which poets across the centuries have fallen in love with libraries.
Freelance writer Nicki Fairclough has long been interested in garden history and her article looks at some of the fascinating research material at The London Library – from sixteenth century publications on herbal remedies to online resources via JSTOR - that she has come across on her research into her book Shakespeare's Plants and Garden: A Dictionary.
And to commemorate the 75th anniversary of the Blitz this month, The London Library's Archive, Heritage and Development Librarian Helen O'Neill describes the personal risks taken by Library staff to protect the building and collection from the wartime attacks on the capital.
The Autumn issue is now free to download - we hope you enjoy it!
For further information:
Contact: This email address is being protected from spambots. You need JavaScript enabled to view it.