SCOPE OF THE COLLECTIONS
When the Library opened its doors in 1841 the collection consisted of only 3,000 books. Today we hold over 1 million volumes and continue to add around 8,000 new ones every year.
Three broad areas form the heart of the collection where subject coverage is particularly strong:
History
From ancient to modern: political, ecclesiastical, topographical, constitutional, social, economic, military...
Cultural expression
Literature, language, fine & applied arts, performing arts...
Thought & life
Philosophy, religion, folklore, social science, political science, political economy...
The emphasis of these core collections is on Europe and the West, reflecting the world view of our Victorian founders, but other areas of the world – particularly the USA and Commonwealth countries are well represented.
Alongside the core subject areas there is a wealth of 'niche' subjects, with something on almost any topic that comes to mind - from the rigging of pirate cutters in the Napoleonic era to the design of alms-houses; from the history of Tupperware to the care and uses of camels.
All subjects are strongly supported by works of biography and bibliography, the back-runs of over 2,700 periodicals, and a growing range of electronic journals and databases .
In the arts and humanities, older publications retain an interest and value and may be just as relevant to ongoing scholarship as newer works. Retention of stock is, therefore, a key principle of our collection development policy and the collection encompasses published works from 1500 to the present day
We believe that older works should be kept alongside more recent ones to reveal how a subject has developed or changed over time. For the most part, therefore, old and new titles are housed together in their subject categories and can be borrowed and freely browsed on our open bookstacks.
This combination of the collection's extraordinary range and depth facilitates cross-disciplinary study and makes serendipitous discovery a constant delight.
Some 40,000 of the Library's oldest, rarest, most valuable and vulnerable items are carefully secured within closed stacks, forming our Special Collections, but remain readily available for consultation. The result of the Library's determination to acquire the most important publications from each generation, they represent a microcosm of the whole collections and include extraordinary rarities.
CARE OF THE COLLECTION
The principal purpose of the Library is to provide members with access to its collections and for them to be able to borrow books. Many members take advantage of the postal loan service and all users have direct access to the open stacks which they can browse at leisure. Of the Library's 1,000,000 holdings fewer than 40,000 items are kept in secure accommodation on account of their fragility, age or rarity.
The challenge of looking after such a large collection while still allowing most of it to be borrowed is a significant one. Our Collection Care team are at the heart of implementing preventive conservation measures so that books are not damaged in the first place. The Library monitors temperature in collection and staff areas; routines for cleaning, housekeeping and integrated pest management in the stacks are in place and reviewed regularly; staff are trained in book handling techniques and in preservation awareness.
Where remedial conservation is necessary, we aim to take measures early so that costly and time consuming intervention can be avoided. The Library maintains a conservation studio with staff trained in conservation techniques such as archival box making and book and paper repair.
Any books which are found to be particularly fragile are taken off to our Collection Care department, where they are put through a kind of triage. Some may need some to be repaired in-house in the studio before they are sent off to external binders. Page tears are patched with Japanese tissue and wheat starch paste. Carefully-placed strips of light-but-strong aerolinen can shore up a damaged spine and reinforce any weakened joints. Historical sticky tape repairs and adhesive residue may be removed so that new and lasting repairs with conservation materials can be made.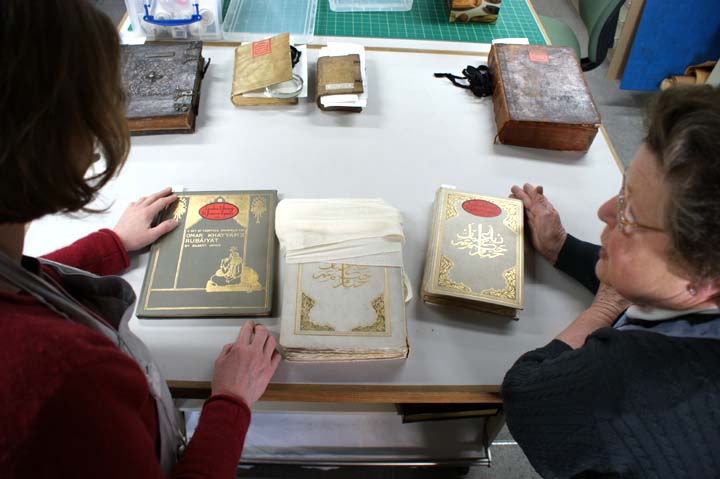 Other volumes need to be sent to external binders with specific instructions to ensure that their aesthetic is preserved. We take great care to retain original features from the covers such as illustrated paper panels, printed textiles, and even early Library book labels, which give a taste of the object's history. Decorative endpapers are preserved where possible, and any repairs are done in cloths and papers which tone in with the original design. In a few cases, where it is impossible to keep an original feature (for example, paper covers which have been glued down onto the book boards), we'll make a facsimile of it so that the design can still be enjoyed by future readers.
Boxes can provide an effective barrier against some of the enemies of paper such as exposure to light, dust, pollutants or physical wear and tear and our team are expert at creating custom-made boxes for the books that need that extra protection. We are assisted in this by the Library's Graduate Trainees and through our preventive conservation programme for conservation students from Camberwell College of Arts. These partnerships benefit the Library and contribute to the training of future practitioners.
Another important aspect of our work is emergency preparation and salvage. We maintain emergency boxes and supplies and ensure staff are ready to assess damage and prioritise treatment to material in the unfortunate event of a flood or fire.
ONLINE AND DIGITAL
ONLINE PERIODICALS AND DATABASES
As well as print copies, the Library subscribes to over 300 online versions of its journals, augmented with access to thousands more through online periodicals archive services such as JSTOR. For further details of the extensive range of periodicals and databases that can be accessed on-line see our eJournals pages. Much of the content of our eJournals is directly searchable through the Library's online catalogue service CATALYST.
The majority of the Library's electronic resources are provided through annual subscription rather than purchase and the continuation of each subscription depends on the volume of use and available funding. Wherever possible, licences are secured which permit use by members remotely (via the Library's website) in addition to use on the Library's premises. While some licences permit unlimited use, others are restricted to one or more simultaneous users; the use patterns of restricted licences are regularly reviewed and simultaneous use allowances expanded where demand requires and resources permit.
ONLINE CATALOGUE
Not all of the Library's collections are included in our online catalogue but we have added all acquisitions since 1950 and a substantial and growing number of titles from our earlier catalogues as part of our Retrospective Cataloguing Project.
DIGITAL MATERIALS
As the range of humanities information sources available in digital format has expanded, the Library's collecting remit has also expanded to encompass digital materials where these are relevant to the subjects covered by the printed collections.
In developing our electronic resources, we give priority to acquisition areas where digital format:
adds value to content by improving information retrieval, eg through full-text indexing (eJournals, newspapers) or by providing the capacity to search across a range of materials (subject bibliographies, periodical and newspaper compilations, compilations of reference works and/or texts with unified search engines)

offers longer-term possibilities for space saving (eJournals, bibliographies, reference works

has a reliable preservation and support infrastructure

provides access to materials not generally available or affordable to individual subscribers
It is our policy to defer exposure to digital (and other non-book) formats where:
content is merely reproduced in another medium (eBooks, audio)

access requires a particular brand of reading device (Kindle, iPad)

the purchase or subscription model is unfavourable in comparison with printed books
BOOKS
Our collection of over 1 million books is arranged into the following broad collections (listed below in order of their relative size). The collections are further subdivided into individual shelfmark sections.
Download a complete list of shelfmarks.
History
This extensive collection includes works on individual countries, monarchs, historical events and topics such as feudalism, international relations and chivalry.
Particular strengths are found in the 5000+ volumes on World War I and II, over 600 volumes about Napoleon, over 500 regimental and divisional British army histories, sections on British and European royalty and emperors, and on British imperial history
The range of individual sections - such as the Dreyfus affair, Imaginary history - covers 350 other subjects.
Literature
Includes the works of authors writing in over 50 languages as well as commentaries on individual writers and studies on national literary output. Coverage of Classical Greek and Latin writers and philosophers includes a wide range of scholarly editions and a full set of Loeb volumes. Literature covers poetry, drama, history of theatre, essays and journalistic writing.
There are particular strengths in key writers including over 2000 volumes on Shakespeare, and over 500 each on Goethe and Dante, The foreign language collections cover a remarkably rich cross-section of European literature from the earliest times to the present day.
There are smaller 19th century collections of Asian languages and a separate collection of Children's Literature focused on 19th and early 20th century works by authors normally writing for adults.
Biography & Biographical Collections
Includes the life stories of eminent families and individuals , as well as those of many ordinary people whose lives shed light on their times. The collection strengths are in British public life - there are over 150 works on Churchill, nearly 100 on Wellington, over 50 on Dickens (with another 200 in Literature), over 60 on Woolf (with another 100 in Literature) and over 60 on Eliot (with another 250 in Literature).
Science & Miscellaneous.
This large and heterogeneous collection encompasses all of the Library's holdings on subjects outside the humanities. This includes works on branches of the social sciences such as politics, economics, education and sociology.
While we no longer collect technical or scientific works, there is much of interest for the history of medicine and science with sections on subjects such as evolution, medicine, psychology, mathematics, biology, botany, engineering, meteorology and more, including many 19th century textbooks for autodidacts. Performing (and performance) arts also form part of this collection, including music, opera, dancing, cinema and photography.
Finally, there is a miscellany of books on the topics such as aviation, dress, folklore, love, sport, vegetarianism and windmills to name but a few.
Fiction
Fiction has a breadth and depth of novels that would be hard to match elsewhere in the country. It includes works originally written in English as well as translations of novels from other languages. The collection has been continuously added to since 1841 and includes many editions of standard works as well as many more obscure or almost forgotten writers who are beginning to experience a renewed interest in their works. A particular strength is the English crime writing collection of the 1920s to 1940s.
Topography
This includes narratives of voyages and expeditions, local studies of specific areas, histories of regions, counties, cities and towns (particularly in England), accounts of archaeological excavations, including the British Archaeological Reports: British series, and books recording foreigners' impressions of England.
Highlights of the collection include complete runs of the Victoria County History, The Survey of London, The Royal Commission on Ancient Monuments, The Hakluyt Society and Pevsner's Buildings of England, Scotland and Wales.
Religion
Religion includes works on every faith and many religious sects as well as topics such as spiritualism, the philosophy of religion, and miracles. It is strongest on every aspect of Christianity, including ecclesiastical histories of Christian countries, biblical texts and commentaries as well as lives of saints and theological literature.
Highlights include a collection of the New Testament in 95 different languages, the Patrologia Orientalis, Patrologia Latina and Patrologia Graeca, Corpus Christianorum: Series Latina, nearly 300 editions and commentaries of the works of Martin Luther and nearly 200 editions and commentaries of the work of St Augustine.
Art
Art includes works on the fine and applied arts including painting, sculpture and architecture as well as on topics such as aesthetics, artistic anatomy and colour. The key strength of the collection is art up to around 1950 though contemporary art is covered to a lesser extent.
Particular highlights for specialists include the Corpus Vitrearum, the Corpus Vasorum and the Corpus Speculorum Etruscorum. There are also over 700 auction house sale catalogues as well as specialised collections on subjects ranging from illumination of manuscripts to finger rings.
Bibliography
This includes printed catalogues of public and private book and manuscript collections as well as bibliographies by language and on subjects as diverse as falconry, railways and duelling. It also contains works on aspects of bibliography such as publishing, prohibited books, bindings and book illustration as well as bibliographies of writers and other individuals.
There is also a small collection on the history of librarianship as well as titles on The London Library itself.
Philosophy
Philosophy includes general studies on the different branches of philosophy as well as the writings of individual philosophers from the Middle Ages to the present day.
The focus is on ancient and modern philosophy, epistemology, moral and political philosophy, aesthetics, and metaphysics as well as on smaller branches such as the philosophies of language, mind (dualism and materialism), religion, science, law (jurisprudence) and history.
Works are also acquired in the major traditions of German idealism, pragmatism, phenomenology, existentialism, structuralism and post-structuralism and the analytic tradition.
Philology
Philology includes works on almost 200 languages, dialects and scripts as well as subjects such as palaeography, shorthand, cryptography, place names and slang. Strengths are in English and foreign grammars (classical and modern) including dialects, dictionaries, place-name histories, proper names and slang. A set of the Chartae Latinae Antiquiores is available on request.
Genealogy & Heraldry
Includes armorial books, genealogies of aristocratic and other prominent families and clans as well as registers of immigrants, servants, convicts and guides to family history. There are long runs of Who's who (as well as an online edition), Debrett's peerage as well as the Almanach de Gotha and other European genealogies.
--
Not all of the Library's collections are included in our online catalogue as yet. We have added all acquisitions since 1950 and a substantial and growing number of titles from our earlier catalogues as part of our Retrospective Cataloguing Project page .
The shelfmarks are arranged in alphabetical order in the book stacks.