We are delighted to have reopened the Library building.
As far as possible, everything will be as you remember, but some important changes have been put in place to ensure that members and staff can continue to use the Library safely.
Importantly, members must book a slot to visit the Library, whether you want to spend the day in the building or collect or return a book. You'll find information on how to book below.
There are new "lanes" in the Issue Hall, new entry and entrance arrangements as well as new ways to navigate and use the building, and changes to the way members can handle books.
An update to the government guidelines mandates that it is necessary to wear face coverings in all areas of the Library. If you are exempt from wearing a face covering you will be asked to confirm this on entry.
Not all services will be available. We'd like to draw your attention to some of the main changes, please familiarise yourself with them before your visit.
A selection of Frequently Asked Questions is available to give you further information on our dedicated FAQ page.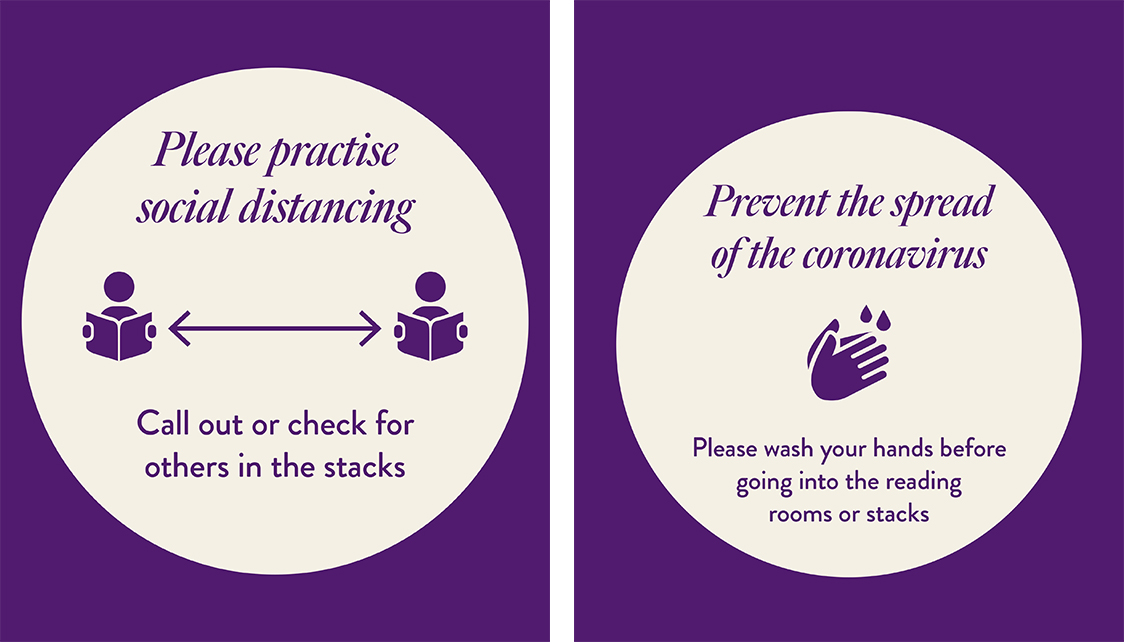 Booking a visit
Booking is now required in order to visit the Library, this includes for browsing the stacks, using the reading rooms and collecting and/or returning books. Members will not be permitted inside the building without having a pre-booked slot.
Day passes to work in the Library and access the book stacks are available from 10am on Monday to Friday and 9.30am on Saturday, these are valid from the time you book until the building closes. Normal closing times apply. Please ensure you arrive during the correct booking window.
An update to the government guidelines mandates that it is necessary to wear face coverings in all areas of the Library. If you are exempt from wearing a face covering you will be asked to confirm this on entry.
30 minute book collection and drop off slots are available throughout the day. Please only book a collection slot if you have been notified that your books are ready to collect.
Slots will be released in batches so if you don't see the date you require please check back another day.
Moving around the building
• The Library will open at 10am Monday to Friday and 9.30am on Saturdays, normal closing times will apply.
• Hygiene is essential. Use the hand sanitiser on entry and wash your hands regularly if you are staying in the Library.
An update to the government guidelines mandates that it is necessary to wear face coverings in all areas of the Library. If you are exempt from wearing a face covering you will be asked to confirm this on entry.
• There's a one way in/out system - please enter via St James's Square and leave via Mason's Yard. Mason's Yard will no longer be an entrance route (see the plan further down this page). Members requiring level access to the buildings should use the T. S. Eliot House entrance.
• Laptops are currently allowed in the main Reading Room due to reduced seating capacity across the main reading rooms.
• In total, 84 desks will be available on reopening - desks and chairs will be spaced in accordance with the 2m social distancing policy being applied throughout the Library.
• The kitchen area on the 6th Floor is closed and water coolers won't be available.
• Please keep your coats and bags with you at all times - lockers and cupboards are not available and nothing can be left at Reception.
• In accordance with government advice we are asking that members maintain a 2m distance wherever possible (and in almost all areas of the Library this will be possible).
• Additional cleaning services will be in operation, with cleaning taking place throughout the day. Study desks will be cleaned during the day once members - using flip-over cards provided on each desk - have indicated they have finished working there.
• All toilets will be available to allow frequent hand-washing for staff and members. Toilets will be cleaned hourly.
• Please be patient and prepared for the weather as you may need to wait outside to enter the building. A member of staff will be on hand to help.
• Please do not enter the building if you have any coronavirus symptoms.

Books
• Please leave any books you have to return on the trolley near Reception but please do not remove books from there.
• If you have requested books to be collected, please wait in the relevant "lane" in the Issue Hall for a member of staff to help.
• If you handle any books on the shelves please leave them all on a trolley or reshelving area. Once books are handled, they are quarantined for three days.
• Procedures are in place to enable staff to issue books for members in a contactless way wherever possible.

Services
• Members are be able to print to the printers in the Writers' Room and the Times Room. We are currently unable to offer other reprographic services (printing, photocopying, scanning)
• We are unable to offer IT support or access to shared computers.
• Members can access materials from the Special Collections, including items that requires invigilation. These sessions will need to be arranged at least 3 working days in advance by emailing This email address is being protected from spambots. You need JavaScript enabled to view it. and can only be offered Monday-Friday between 10am-5pm.
• The coat cupboards are open and members may leave their coats and bags there at their own risk if they wish. Lockers are closed.
• One online catalogue terminal will be available: as far as possible please use your own devices to search Catalyst.
• There are currently no armchairs in the Reading Room.
• The daily Times newspaper is not available during this period.
Entering, leaving and using the Issue Hall
The plan below highlights the changes in place for entering and leaving the building and using the Issue Hall. You can also download the plan here.
To support social distancing three separate lanes have been installed in the Issue Hall.
The Issue Desk lane is for members to collect pre-ordered books and use other Issue desk services such as book enquiries.
A Fast Lane provides direct access into the rest of Library for members wanting to access the book stacks or desks. Members will need to give their name to Reception before entering this lane.
The Exit Lane is for anyone leaving the building and leads to the exit via the Mason's Yard door.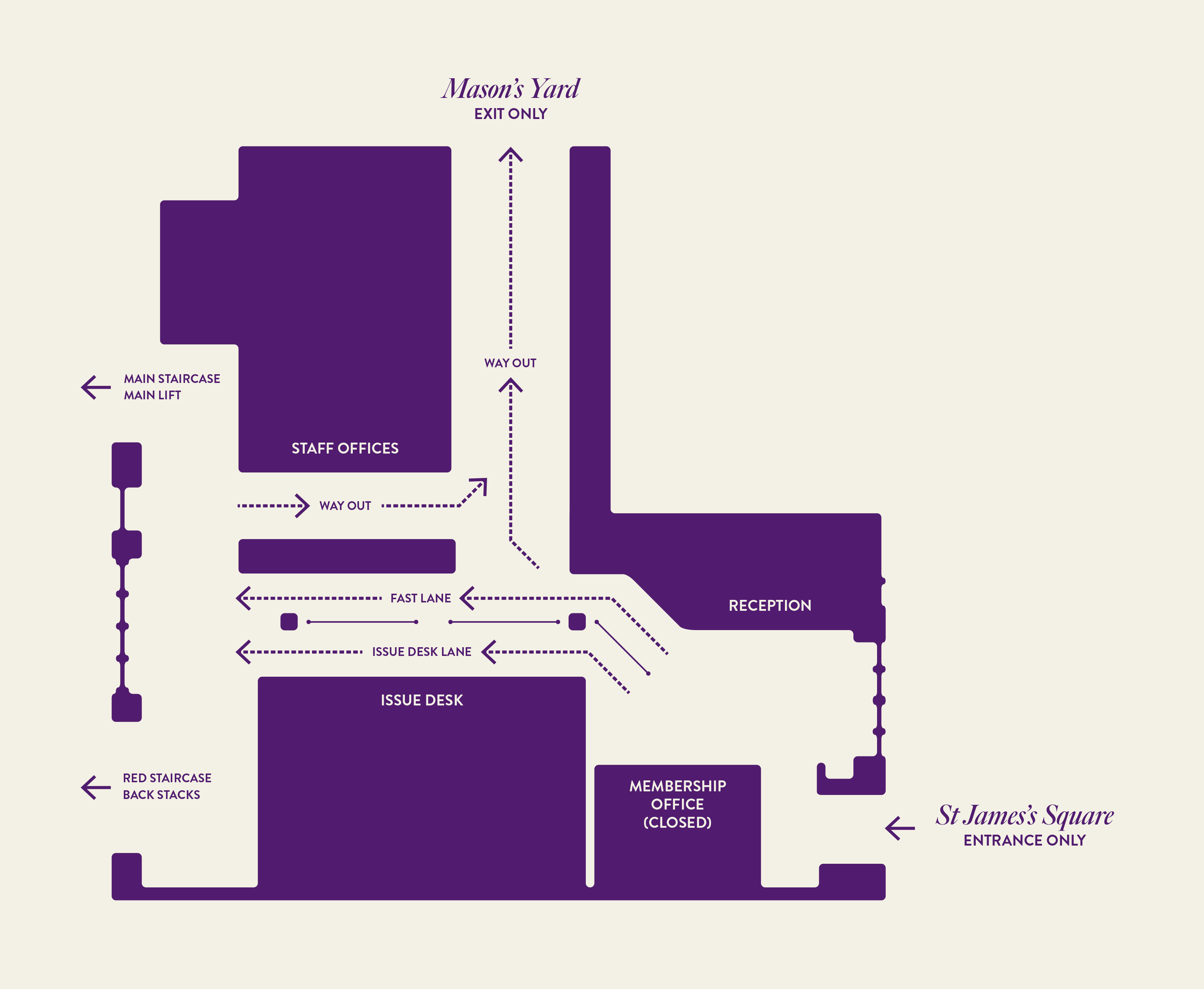 We are asking all members to adhere to the approaches we have put in place and to take reasonable precautions as they use the Library. This will help keep the Library safe and enormously reduce the risk of any disease transmission. We are, however, not able to guarantee a coronavirus-free environment and would ask all members, especially those in vulnerable groups, to take care if they decide to use the Library's premises.