The London Library has teamed up with leading creative media agency Cultureshock to launch an exciting new format for the Library's membership magazine. Appearing three times a year, the magazine is distributed to Library members who include some of the world's best-known writers and creative figures.
Each issue is focused on interviews with prominent Library members and looks at their work and how the Library and its astonishing collection of one million books have informed it. The launch issue published in March 2020 contains an in-depth interview with Bill Bryson, a longstanding Library member, whose recent book The Body was largely written here and drew heavily on the Library's collection. Bill discusses his research, his favourite working spaces and why he finds the Library so special. "This Library", he says, "is so perfect. It's got something of everything".
Alongside interviews with leading author Giles Milton, plus scriptwriter Jonathan Holloway and theatre producer Natasha Rickman (who together worked on Creation Theatre's recent stage production of The Time Machine in the Library), the magazine also explores the richness of the collection and the range of events and activities taking place here. And there's news of the very recent discovery that Mark Twain joined the Library shortly after his arrival in London in 1896.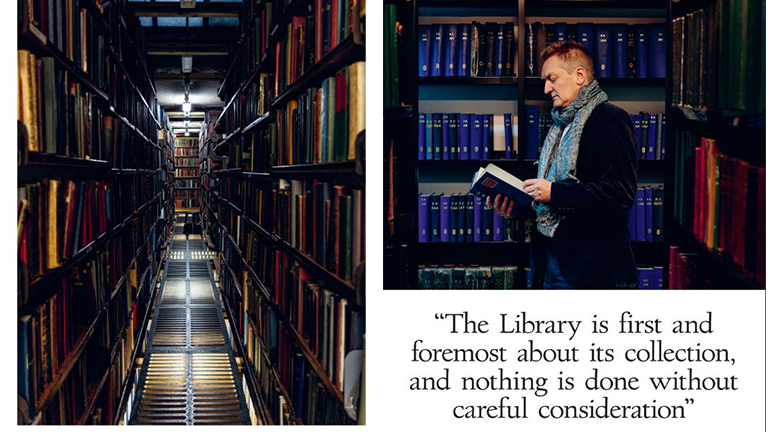 The magazine's contemporary design draws on the iconography visible across the Library's extraordinary building and across its huge collection of books which is arranged on 17 miles of open access shelves and is almost all available for borrowing.
Patrick Kelly, Managing Director at Cultureshock commented, "Cultureshock is delighted to be working with The London Library on the new member magazine. It's exciting working on a project in a way that will appeal to a wide range of readers and showcase the many fascinating aspects of the world's largest independent lending library."
Philip Marshall concluded: "The London Library is here to inspire and support readers and writers of all kinds and we are delighted to celebrate that in our new magazine by sharing stories of the wonderfully creative ways in which the Library is used. The magazine will also support the tremendous sense of community that exists amongst our members, and is especially important as a way of staying in touch during these difficult times. We hope the fresh new design and rich content will be bring some welcome enjoyment to all our readers."