Please visit the latest news page for further updates on the practicalities surrounding the Phase 3A construction period.
Phase 3 of the works is divided into two parts, Phase 3A and Phase 3B.
Phase 3A: With the Prevost Room refurbished as part of Phase 2, Phase 3A will see the remodelling of the North Bay into a new Writers' Room, and the refurbishment of the main Victorian Reading Room, creating a cohesive suite of rooms to be used as practical working spaces.
The new Writers' Room will create a purpose-built workspace for the many members who use the Library as an alternative to an office or study at home. In keeping with the traditional appeal of the existing rooms on this floor, the Writers' Room will incorporate bespoke lighting, new desk spaces and two levels of book access with ground floor and balcony shelving. Like the Prevost Room, the Writers' Room will marry perfectly an historic setting with the needs of the 21st century, with the purpose-designed desks facilitating laptop use as well as more traditional research methods.
The Victorian Reading Room will be fitted with bespoke furniture, while the shelving and lighting will be upgraded.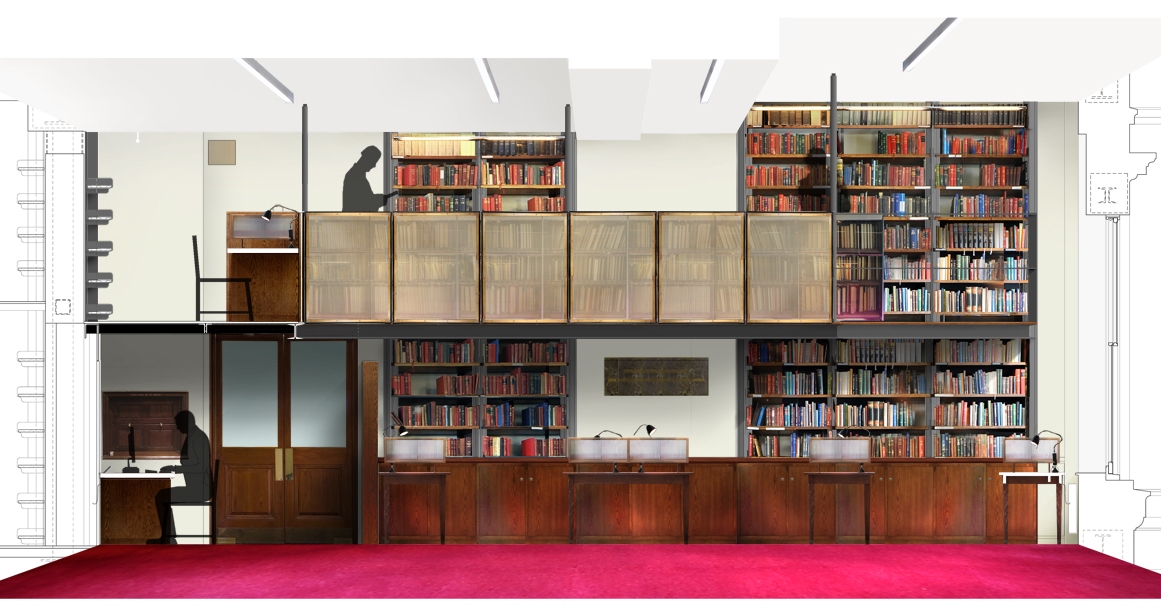 The Writers' Room, currently the North Bay, as it will appear on completion of Phase 3A.
Phase 3B will see the full refurbishment of the historic 1890s stacks in the rear of the building, which is particularly urgent as two major floods have occurred there in the last 12 months.
The original historic stacks were at the cutting edge of their time, with their innovative steel frame and grille floors allowing for air and light circulation, and are now Grade II listed. The new courtyard stacks are designed to offer a respectful modern counterpoint to the original building, with echoes of the steel grille in the floor and wall spaces. The integrated work stations with bespoke desk fittings for close work will provide much-needed additional space for members who use the Library as their place of work or study.