D.R. Harris

D.R. Harris, Royal Warrant holder to HRH The Prince of Wales and purveyor of fine soaps, fragrances, shaving creams and other luxury grooming products, is pleased to welcome you into the store. From soaps to shaving creams, body lotions to skincare, as well as their Naturals collection, sample something special with D.R. Harris.
Member Offer
Enjoy an exclusive 10% discount on all D.R. Harris products in their Bury Street and Piccadilly stores and online using the code LonLib.
020 7930 3915
www.drharris.co.uk
The Folio Society
The Folio Society produces beautifully bound and illustrated Folio fiction and non-fiction books. Bindings are crafted in buckram, cotton, silk or leather blocked with imaginative designs, together with illustrations commissioned from artists of the calibre of Quentin Blake, Tom Phillips and John Vernon Lord. The books also include introductions by leading writers such as Margaret Atwood, Colm Toíbin and Sebastian Faulks.
Member Offer
London Library members can enjoy a special 20% off their first Folio Society purchase. Visit www.foliosociety.com/par/lonlib and enter the code F20PFF at the checkout to receive a 20% discount on your order. Offer valid to new Folio customers only on the first purchase of any title (except Limited Editions). Offer cannot be used with any other discount offer or against delivery charges.
Gladstone's Library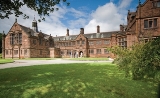 The UK's only residential library, Gladstone's Library, is one of the most important research libraries and collections in Wales boasting an outstanding collection of more than 250,000 books, journals and pamphlets on a wide range of subjects with particular emphasis in core subject areas of Theology and Victorian Studies. The heart of the Library is Gladstone's own collection of over 32,000 items.
Member Offer
London Library members can enjoy a 10% discount on accommodation at Gladstone's Library. Offer applies to bookings of 2 nights or more staying on a Bed and Breakfast rate during 2015.
To book call 01244 532350 or e-mail enquiries@gladlib.org, quoting London Library. Alternatively book online using the code LondonLibr to claim the discount.
ROSL
ROSL on St James's Street is a unique non-profit private members' club dedicated to championing internal friendship and understanding within the Commonwealth community and beyond. Benefits of Royal Over-Seas League membership include access to clubhouses in Edinburgh and London with accommodation, restaurants and bars, as well as 80 reciprocal clubs around the world. Members can also enjoy a vibrant events programme and a quarterly journal.
Member Offer
London Library members can apply for membership of ROSL and benefit from a 25% discount on the normal membership fee; with no need to provide a proposer or seconder.
Royal Society of Literature

The Royal Society of Literature organises around 25 events every year, exploring literature both past and contemporary through talks, discussions and readings from some of the most exciting writers at work today. Become a member and enjoy a literary festival all year round.
Member Offer
Attend RSL lectures for free and get a complimentary subscription to our acclaimed annual magazine, the RSL Review, for the special offer of £40 for the first year (annual subscription is usually £50). Call us on 020 7845 4679 or download the Membership form from www.rslit.org and post it to us quoting the reference 'LLibrary14-15'.
Slightly Foxed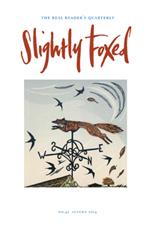 Delectable, collectable, companionable, erudite, informative...
These are just a few of the words our readers use to describe Slightly Foxed, the quarterly book review that refreshes parts that other literary periodicals cannot reach. London Library members, we've discovered, tend to be Slightly Foxed kind of people too, addicted readers who love its quirky tone, its neat format and elegant look. So if you haven't yet come across it, why not give it a try?
Member Offer
A year's subscription (UK) costs £40 and London Library members will get a free book bag (worth £7.50) with any subscription or gift subscription taken out. Go to www.foxedquarterly.com and check out using the offer code: 'LLGIFTBAG' or call 020 7033 0258 and order over the phone.
Expired Offers
The followings offers have now expired:
Berrys' Wine Club
Blacks