Latest News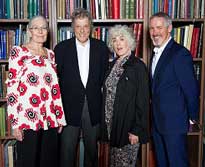 The London Library's annual Summer Party, hosted by President Tom Stoppard, has become an established and much loved feature of the capital's cultural scene. This year, guests enjoyed readings from Vanessa Redgrave, Eleanor Bron and Griff Rhys Jones. Packed with familiar faces - from Simon Schama to Emilia Fox, Tim Rice to Sheila Hancock, Sara Waters to Emma Dickens - the event was a great way to celebrate the summer!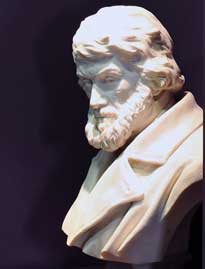 By 1840, Thomas Carlyle was actively pursuing the idea of establishing a lending library in London. A Committee had been formed, newspapers had taken an interest and early subscriptions were coming in. But more subscribers were needed if the idea was to be made a reality. A public meeting was arranged for "Wednesday 24th June at the Freemasons' Tavern in London's Great Queen Street. The floor belonged to Thomas Carlyle who 175 years ago today delivered the speech that effectively launched The London Library.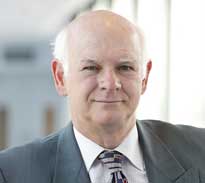 The Trustees of The London Library announced today that they have appointed Sir Howard Davies as the Library's new Chairman. Sir Howard will succeed Bill Emmott, whose second term as Chairman comes to an end in November 2015.
Alongside his prominent career in finance and industry, Sir Howard has long been a leading voice for literature and the arts. From 2002–10 he was a Trustee of the Tate Gallery (where he served as interim Chair 2008-09), and was a member of the governing body of the Royal Academy of Music from 2004–13. In 2011 he joined the board of the Royal National Theatre. A frequent book reviewer and author, Sir Howard was Chairman of the Man Booker Prize jury in 2007. He joined The London Library as a member in 1981.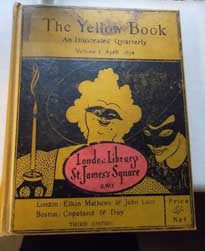 Eagle eyed viewers of the first episode of BBC 4's new series "How to be a Bohemian" would have spotted an array of London Library books in their distinctive bindings and labels making guest appearances throughout the programme. The Library's collections helped describe and illustrate the story at pivotal moments as it explored how bohemian subculture took root in Britain. Featured books included Arthur Ransome's Bohemia in London (1907) and the hugely influential and risqué avant-garde periodical The Yellow Book (1894-1897), illustrated by London Library member Aubrey Beardsley.
"NO SHELVES OFFER BETTER OPPORTUNITIES FOR SERENDIPITY"
Mervyn King
LIBRARY NEWS
Keep up-to-date with
the latest library news
and events with our
free e-newsletter
JOIN THE LIBRARY
A range of memberships is available. Membership is open to everyone.
Take a look inside The London Library
Beyond our front entrance
is a vast labyrinth
of books
See what's inside with our virtual tour