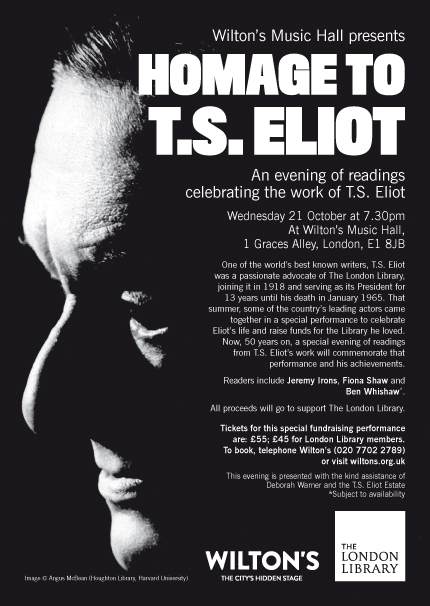 The London Library is delighted to confirm that Jeremy Irons, Sinéad Cusack, Simon Russell Beale, Fiona Shaw, and Ben Whishaw will be taking centre stage in the Library's special celebration of T.S. Eliot on 21st October 2015.
Being held at Wilton's Music Hall - one of the country's most atmospheric theatres - the single performance promises to be a unique tribute to one of the world's best known writers.
T.S. Eliot was a passionate advocate of The London Library, joining it in 1918 and serving as its President until his death in January 1965. Fifty years on, the Library - with the kind assistance of Deborah Warner and the T.S. Eliot Estate - has brought together this exciting cast for one to night to celebrate T.S Eliot's life and to raise funds for the Library he loved.
Philip Spedding, Development Director at The London Library said, "Jeremy Irons, Sinéad Cusack, Simon Russell Beale, Fiona Shaw, and Ben Whishaw are intimately associated with some of the most powerful recent performances of Eliot's work. We are delighted that they are coming together for what promises to be a memorable tribute to a genuinely great writer".
The evening of readings is looking to include extracts from a range of T.S. Eliot's work including The Love Song of J. Alfred Prufrock, Four Quartets, The Waste Land, The Hollow Men and Old Possum's Book of Practical Cats. As well as marking the anniversary of T.S. Eliot's death, the programme is designed to reflect the special Homage to T.S. Eliot show held fifty years ago, where leading lights of the day came together in a celebrated performance for The London Library.
Philip Spedding continued, "The show that was held shortly after T.S. Eliot's death demonstrated the affection in which he was held by so many of the leading artistic names of the day and was also a fitting tribute to his passionate support for The London Library. Fifty years on, his influence is as great as ever and we are delighted that a new generation of artists have come to join us for a special performance that will commemorate his achievements and the Homage that was paid to him after he died."
With tickets on sale to the public, alongside an invited audience of special guests, all proceeds from the evening at Wilton's Music Hall will go to support The London Library, a charity which is one of the world's largest independent lending libraries and will be celebrating its 175th year in 2016.
Tickets for this special fundraising evening are £55 (£45 for London Library members). The performance will take place at 7.30pm on 21st October at Wilton's Music Hall, 1 Graces Alley, London E1 8JB. To book, telephone Wilton's (020 7702 2789) or visit www.wiltons.org.uk.
For further information contact: Julian Lloyd, Head of Communications, The London Library; This email address is being protected from spambots. You need JavaScript enabled to view it.