Inside The London Library
The Reading Room
The magnificent Victorian Reading Room sits at the heart of the Library and has been successfully refurbished with bespoke furniture, new shelving and lighting. Housing a key part of our current Periodicals Collection and accommodating up to 40 readers at any one time, the Reading Room has a special place in London's literary life.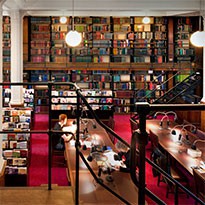 ---
The Art Room
The redesigned Art Room provides a spectacular space housing the Library's main art collection and accommodates 4 reading desks. The acclaimed design featured in architects Haworth Tompkins 2014 RIBA award.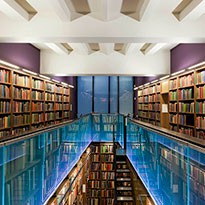 ---
The Writers' Room
Following an extensive programme of refurbishment The Writers' Room was opened in 2013. It can seat up to 26 at any one time and offers members state-of-the art working and studying facilities in an historic setting.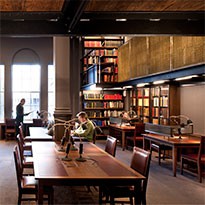 ---
The Bookstacks
The Library's collection now occupies 17 miles of shelving which has been built up over time with the progressive development of purpose-built bookstacks and shelving areas. The famous 1890s book stacks form part of the structure of one of the first steel-framed buildings in London. Extending to four floors of shelving and housing the bulk of the Library's History and Science & Miscellaneous collections, and much of the Literature collection, they provide a uniquely atmospheric way of easily browsing across thousands of books.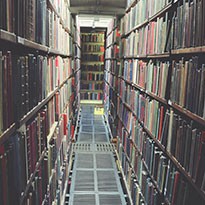 ---
The Sackler Study
The Sackler Study – a former Committee room – forms an impressive new working space for up to 15 members.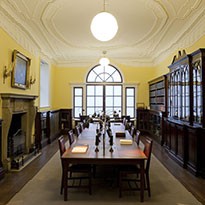 ---
The Times Room
The Times Room – a purpose built facility providing open access to back runs of hundreds of periodicals including original copies of over 200 years of the Times.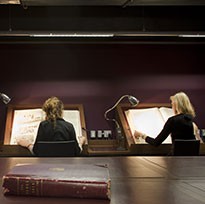 ---
The Lightwell Reading Room
The Lightwell Room - Created by roofing over an external courtyard, the Lightwell offers a spectacular new working space housing up to 8 readers.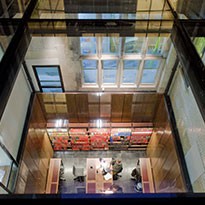 ---
The Issue Hall
The Issue Hall – the Library's historic entrance and reception area overseeing St James's Square. Refurbished in 2010, it features new locker facilities for members and our Member Services team are on hand to provide expert help about finding and borrowing books.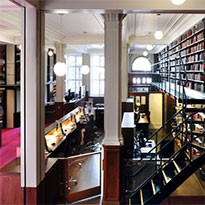 ---
St James's Square main entrance
14 St James's Square - The London Library's home since 1845. The exterior of the building was re-built in 1895 to accommodate major structural improvements inside.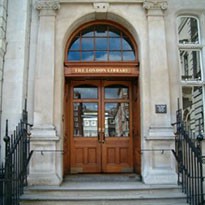 ---
Inside the Library video
---
"A TREMENDOUS ASSET TO HAVE A LIBRARY LIKE THIS"
Lynne Truss
LIBRARY NEWS
Keep up-to-date with
the latest library news
and events with our
free e-newsletter
JOIN THE LIBRARY
A range of memberships is available. Membership is open to everyone.
Twitter Feed
Announcements